One of the simplest ways to change the look and feel of a room is to add, remove, or change your window treatments. I have a thing for curtains lately, using them instead of my boring vertical blinds to bring color and light into my home. I'm always on the lookout for new ones now, since they're so easy to change, and I've found some gorgeous ones I'd love to have. Here are 7 beautiful curtains from Anthropologie.
---
1

Breeze-Blown Bouquet Curtain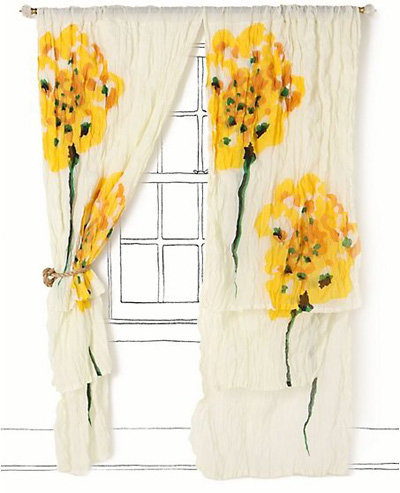 Price: $138-$198 at anthropologie.com
These light-as-a-wisp curtains are made to waft in the breeze, with three soft cotton tiers featuring red or yellow posies (two on each panel) and a tunnel at the top for hanging. They're ideal for summer, since they're so lightweight, and would look marvelous in a neutral-tone room. They come in one length: 108 inches.
---
2

Toorie Curtain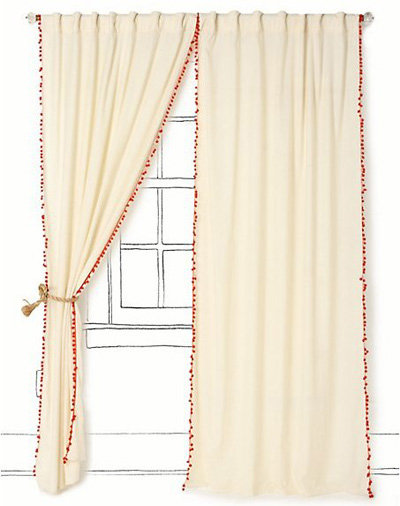 Price: $78-$108 at anthropologie.com
If you're looking for a curtain that's a little heftier, then give these a go! They're made of a creamy wool/cotton blend with tonal, orangey-red, or navy blue pom-poms at the edges to add a pop (or rather, a pom) of color. Hang them at your window by the tunnel top. These come in four lengths: 63, 84, 96, or 108 inches.
---
3

Midnight Courtyard Curtain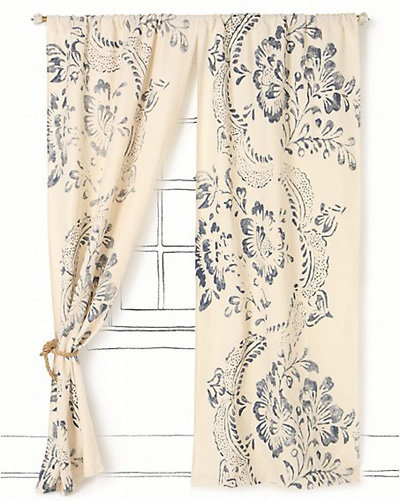 Price: $78-$108 at anthropologie.com
These gorgeous linen curtains are also available in four lengths, and feature a delicate but large batik print in either navy or tan, ideal for a sun room or just a summer-time bedroom. Use natural sun-washed wood finials and tie-back hooks to complete the "tropicali" theme.
---
4

Swatch Book Curtain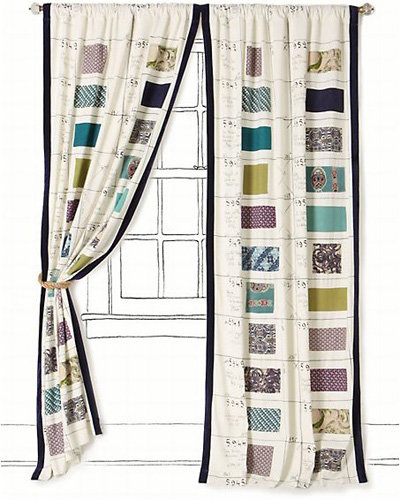 Price: $148-$208 at anthropologie.com
I love flipping through fabric swatch books for inspiration, and these clever curtains remind me of afternoons spent with the oversized tomes. They're made of a combination of fabrics and feature a variety of "swatches," edged in a thick band of navy blue velvet. I'd use these in my craft room or office.
---
5

Marrakech Curtain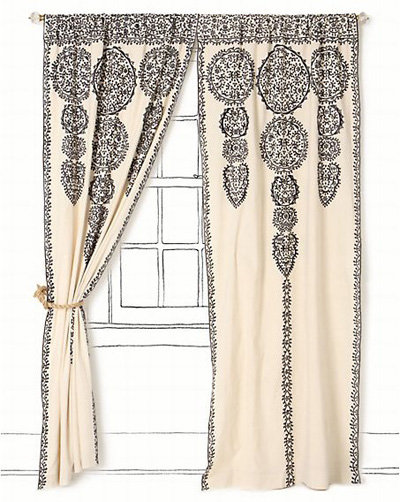 Price: $108-$168 at anthropologie.com
If you can't justify the expense of a trip to Morocco to find just the right curtains, these gorgeously embroidered panels may be the next best thing. They take their design cues from ornate Moroccan architecture, and are available in ivory with slate grey, turquoise, rust, or evergreen embroidery.
---
6

Deep Sea Curtain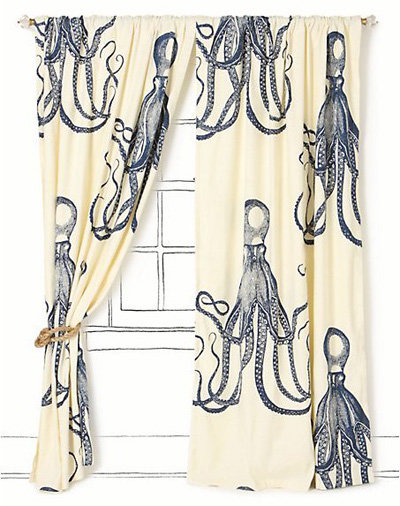 Price: $208-$248 at anthropologie.com
These octopi-enriched curtains are designed by Thomas Paul exclusively for Anthropologie, so you won't find them anywhere else, except perhaps the briny blue sea. Each panel boasts a soft cotton/linen blend construction and a family of vintage-inspired octopi, all curling tentacles. I don't know why I fancy these so, but I do!
7

Mantadia Curtain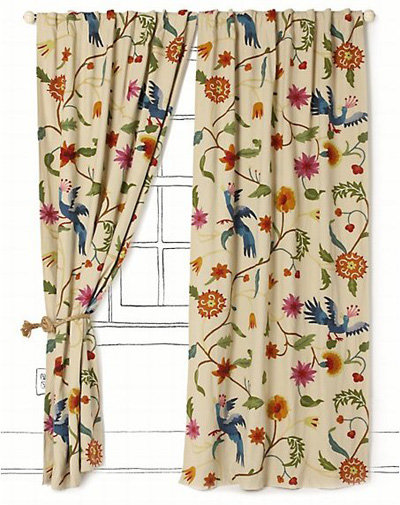 Price: $228-$268 at anthropologie.com
Add a pop, or another layer, of brilliant middle-eastern market hues with these gorgeous curtains. They're made of heavy wool/cotton blend, and feature a pattern of brilliant peacocks and ornate flowers, all on a creamy white background. They come in three lengths: 84, 96, and 108 inches.
These are just a smattering of the dozens of gorgeous curtains at Anthropologie, and once you have a peek, you'll understand why I love them so. As I said before, they're ideal for a quick room make-over, and can make all the difference between bland and beautiful! Which of these curtains do you like best, and why?
---
Comments
Popular
Related
Recent