One of my current favorite décor pieces is candlesticks, and I cannot stop myself from buying them, or at least coveting the ones I find that I adore. Naturally, all of my favorite online shops have gorgeous ones right now, and I can't help but imagine how they'd look grouped on my mantel or along the top of my bookcase, or on my vanity… here are 7 gorgeous candlesticks…
---
1

Chroma Candlestick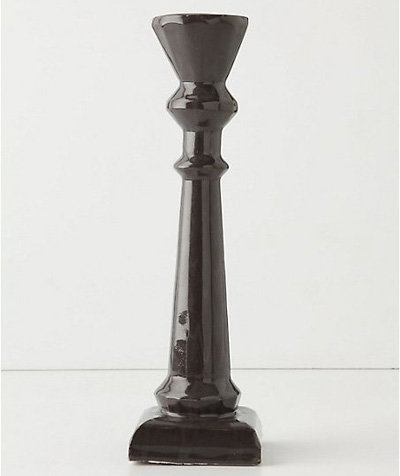 Price: $28.00 at anthropologie.com
Handcrafted by South African artist Mick Haigh, then glazed in a rainbow of vivid colors, these candlesticks would look amazing scattered across a mantel or coffee table. Each stands nearly ten inches tall, and is made of stoneware. I adore the rich blue and deep red, but all of the colors are gorgeous!
---
2

Country Cottage Candlestick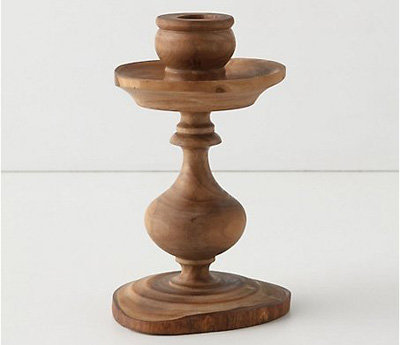 Price: $16.00 to $24.00 at anthropologie.com
Available in three sizes and made of mellow olive wood, these candlesticks are made on a woodworking lathe, by hand, so no two are identical, though they're all beautiful. They range in height from 5½ to 8 inches, and would look so pretty with almost any color tapers, but especially cream or dark red.
---
3

Society Taper Holder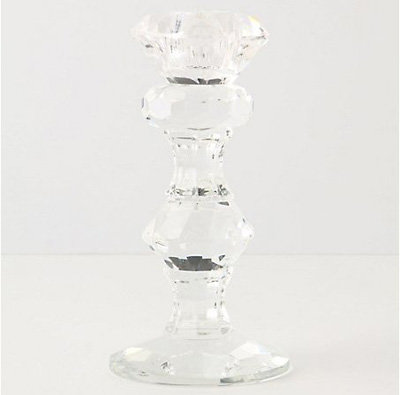 Price: $18.00 to $24.00 at anthropologie.com
These curvy crystal candleholders come in three sizes, measuring from 4½ to 7 inches tall. They're so elegant and glamorous, and would be ideal to cast a gentle glow during a romantic dinner! Mix and match and use all three sizes together, or line up three of the same height to create visual interest.
---
4

Analiese Taper Holder, Turquoise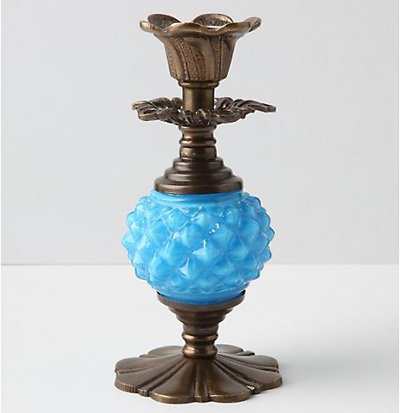 Price: $24.00 at anthropologie.com
How beautiful! This vintage-inspired candlestick features a solid metal base and stick with a round, opaque glass center in brilliant turquoise. It's ideal for adding a pop of vivid color on a side table or mantel, and stands 5½ inches tall.
---
5

Analiese Taper Holder, Orange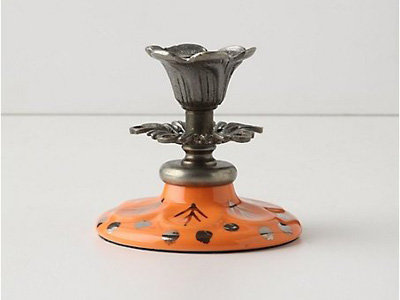 Price: $24.00 at anthropologie.com
Made of gleaming painted ceramic and heavy, rich-looking brass, this candlestick would look beautiful with a creamy taper, textured or smooth. It's short, but pretty, measuring 3 inches tall.
---
6

Analiese Taper Holder, Gold Leaves
Price: $24.00 at anthropologie.com
This gorgeous candlestick was clearly inspired by the ones our great-grandmother's used, elegant yet sturdy, made of antiqued iron and brass with a globe of gold-colored glass in the middle, etched with leaves. Add a creamy taper to complete it, and stand it alone or with the other Analiese candlesticks for a lovely centerpiece.
---
7

Analiese Taper Holder, Citrine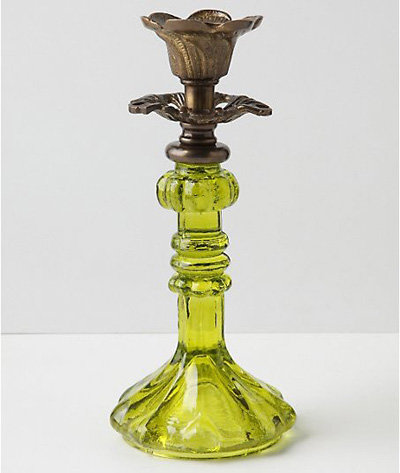 Price: $24.00 at anthropologie.com
How gorgeous! Imagine how lovely this would look on a mantel near a window, where sunlight shines through, casting prism of citrine light on the wall! The bottom half is transparent glass the color of sunshine, and the top is brass and iron. Add a taper and watch as the sunlight dances around you!
These are just a handful of the gorgeous candlesticks I'm coveting right now… I especially love the Analiese collection… which of these candle holders do you like best, and where would you use them? Please share!
More
---
Comments
Popular
Recent