Right now, in front of my couch, I have an antique bench serving as a coffee table, and it's about had it. It's time for it to move to the mudroom, time for a new coffee table. But I'm delaying because I just can't choose a replacement… I've found so many I love, all from Anthropologie, all of them gorgeous… here are 7 fabulous coffee tables…
---
1

Monarch Coffee Table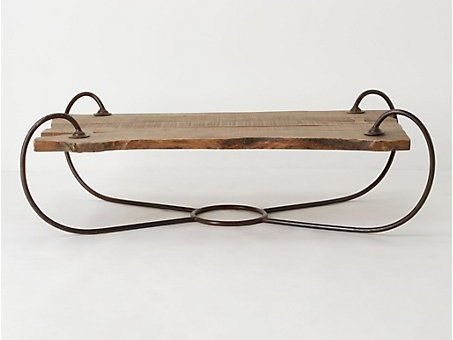 Price: $698.00 at anthropologie.com
At first, I couldn't figure out why this coffee table was so named — was it for its regal appearance? But a closer look revealed the truth, for the table is named after its butterfly-inspired design, with swooping, curvy legs that attach like wings to each end of the table. It's rustic and pretty… I love it!
---
2

Traveler Coffee Table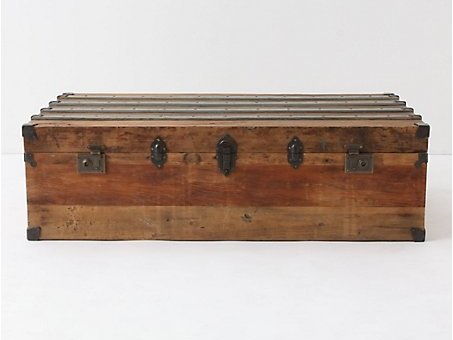 Price: $998.00 at anthropologie.com
Inspired by the steamer trunks used for travel in bygone times, this coffee table has all of the charm and romance of those days, made of reclaimed pine and poplar woods with steel hardware and a grey linen-lined interior. Store DVDs and CDs and board games inside, and use the outside for candles and magazines and more.
3

Plank House Coffee Table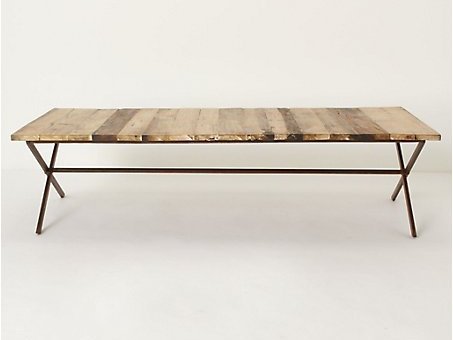 Price: $598.00 at anthropologie.com
Simple and refined, this coffee tables does indeed remind me of the ones in urban coffee houses.
It features a top mad of weathered wood in different colors and sturdy iron legs. It's also foldable, for ease of storage or moving. It's low-slung and beautiful.
---
4

Rotunda Coffee Table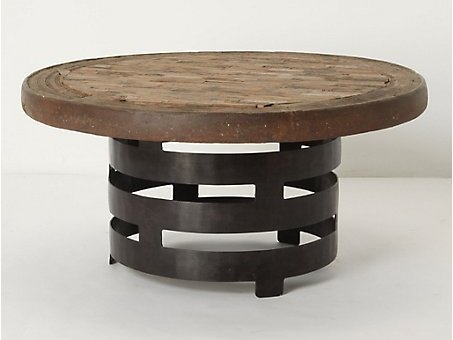 Price: $598.00 at anthropologie.com
How unusual! This coffee table is round, with a weathered reclaimed wood top and a cylindrical iron base with window-shaped cutouts all around. It looks sturdy and somehow vintage, though it doesn't look like it would stand up well in a house with small children.
---
5

Tightrope Coffee Table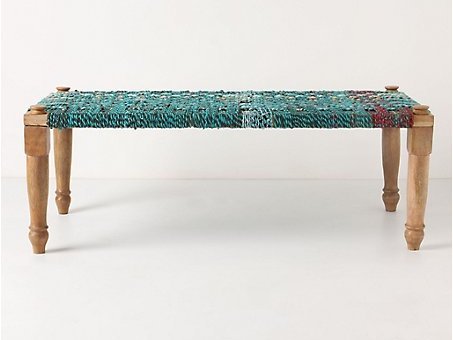 Price: $348.00 at anthropologie.com
Made of varying colors and textures or recycled ropes, the top of this coffee table is truly unique, adding a pop of color in a place one wouldn't expect. The frame and legs are made of sturdy natural-finish mango wood, and the table measures more than 50 inches long. I love the rich blue color!
---
6

Bello Albero Coffee Table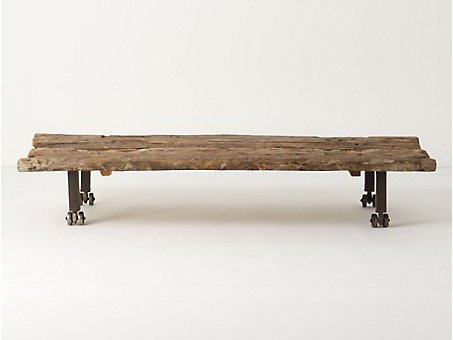 Price: $548.00 at anthropologie.com
Very modern, no? Check out the iron casters that double as legs, giving the coffee table ease of movement (for vacuuming, maybe?) and the very rustic rough-hewn repurposed wood plank top. It's very low-slung, standing only 14 inches tall, but it's gorgeous, ideal for a ski lodge or country cabin.
---
7

Dark & Light Coffee Table

Price: $598.00 at anthropologie.com
This coffee table is very interesting and unique, with very industrial-inspired metal bracket legs and a striped wood top. The wood alternates in narrow stripes of light and dark wood, finished to a smooth, sleek sheen.
Honestly, with so many gorgeous coffee tables to choose from, I just can't decide which one I prefer… I love the last one with the stripe top, but the tightrope one is marvelous too. Which of these tables do you like best, and why? Please share!
---
Popular
Related
Recent