When the rain is getting you down and the thought of venturing outside is less than favourable, maybe it's time to reassess your rainy day attire. Think of injecting a fun twist into your outfit. An instant mood lifter can be as simple as choosing a lively looking umbrella. Below are a few adorable umbrellas that will have you embracing rainy weather.
1

Modcloth Raindrops Keep Falling Umbrella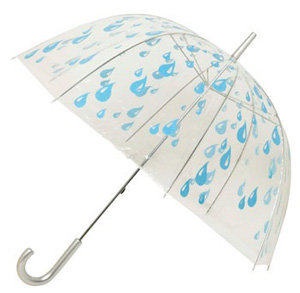 Price: $29.99 at modcloth.com
This umbrella is definitely worth saving for a rainy day. The raindrop print is by far my favourite feature. This umbrella features a manual open and close function and the framing offers a wind-proof design. It is 44 inches in diameter and is made from a mix of plastic and metal.
2

Urban Outfitters Clear Bubble Umbrella - Purple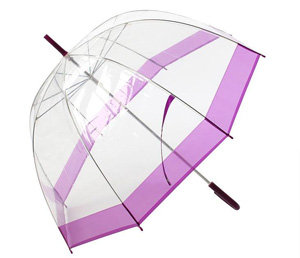 Price: $18.00 at urbanoutfitters.com
This transparent umbrella comes with a dash of bright purple at the trim. It also features a matching purple curved handle. The 'bubble' aspect of the design comes from its domed shape. It's made from mixed metal and plastic and can easily be wiped clean.
3

Modcloth Splash of Sunshine Umbrella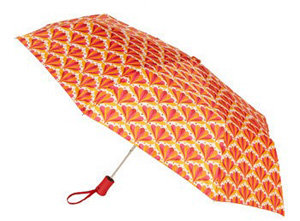 Price: $29.99 at modcloth.com
Designed by Jonathan Adler, this umbrella features a psychedelic orange and red pattern. It will definitely cheer you up when skies are grey. It has an automatic open button and is 32 inches in diameter. This colourful umbrella will no doubt protect you from any gloom brought on by rainy weather.
4

Polka Dot Parasol Umbrealla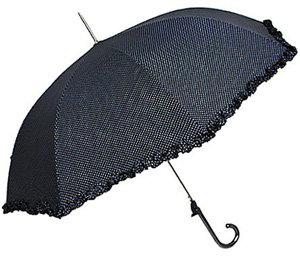 Price: $26.00 at shopplasticland.com
This black and white umbrella is simply adorable. It features a polka dot pattern and a frilly ruffled trim. Inspired by traditional-looking parasols, this umbrella is quite a fetching and waterproof alternative. It has a silver finial on top and also features curved grip covered in matching polka-dot fabric.
5

Modcloth Raindrops on Railways Umbrella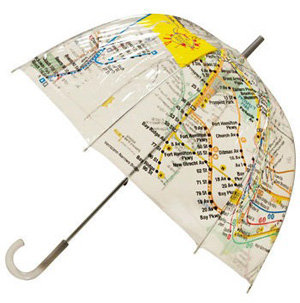 Price: $29.99 at modcloth.com
The printed map of the New York subway system is a quirky design feature of this umbrella. It could also come in handy if you just happen to be in New York! The frame is made from windproof steel and features a manual open and close function. I also like that this umbrella has a pinch-proof runner to help prevent any nasty finger injuries.
6

Modcloth Duck, Duck, Umbrella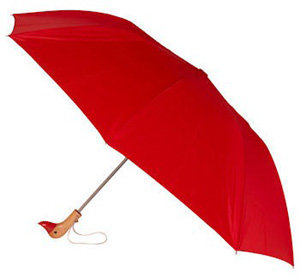 Price: $17.99 at modcloth.com
What caught my eye with this umbrella was the duck-shaped handle. When folded up, the wooden duck head appears to be peeking out from the umbrella. The handle also comes with a handy wrist strap, so you don't have to worry about the wind blowing this out of your hands. This umbrella is made from 100% nylon and is 37 inches in diameter.
7

Fornasetti Hot Air Balloons Umbrella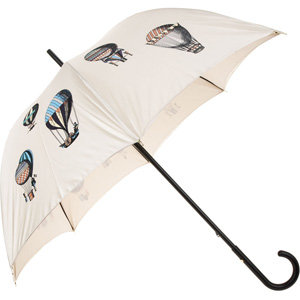 Price: $310.00 at barneys.com
I'm not sure who would actually pay $310.00 for an umbrella but this one by Fornasetti is nice to look at, at least. The hot air balloon print adds a quirky touch to an otherwise plain umbrella. It is made from nylon and features a curved handle. This umbrella was made in Italy and only a limited number were produced.
8

Modcloth Undercover Space Explorer Umbrella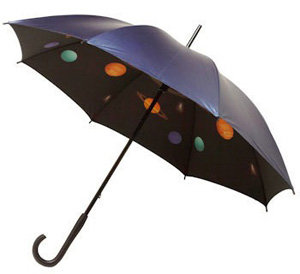 Price: $37.99 at modcloth.com
Escape the rain by looking up into the canopy of this umbrella. The planetary print will have you dreaming of outer space. This umbrella features a wood crook handle, pinch proof runner, and a manual open and close function. It also features a nylon shell and polyester lining, and measures 42 inches in diameter.
These adorable umbrellas are bound to not only cheer you up, but also everyone around you! Which of the above umbrellas do you like best?
Top image source: data.whicdn.com