Spring will be here before you know it, and with spring comes April showers (to bring May flowers)! Why not get ready for spring with a pair of cute new wellies or rain boots? There are so many cute pairs, and so many ways to wear them! Here's my list of the ten cutest rain boots…
---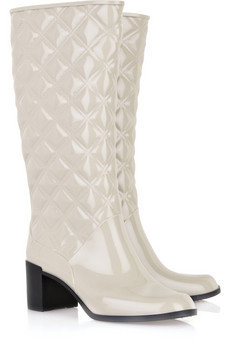 Price: $285.00 at net-a-porter.com
How many pairs of wellies have you ever seen with a stylist little heel? Not many! These are so cute! I love the quilted uppers and the shiny water-proof rubber! These would look perfect with a pair of skinny jeans or leggings and maybe a matching umbrella? Choose black or white. So cute!
---
2

Burberry Heart-Print Wellington Boots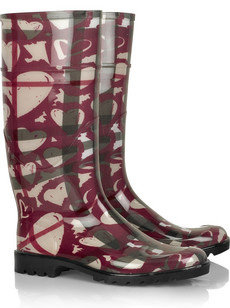 Price: $195.00 at net-a-porter.com
It's subtle, but the signature Burberry check is there, worked under the abstract but adorable crimson hearts! The treaded rubber sole provides fantastic grip (no embarrassing slip and falls!) and they simply pull on. Pair with a cute clicker and maybe even a Burberry scarf!
---
3

Chloe See Lace-up Rubber Wellington Boots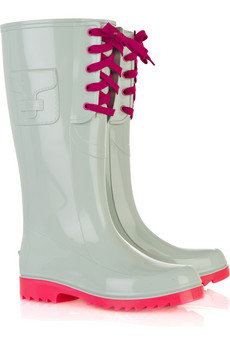 Price: $195 at net-a-porter.com
So much style for a pair of rain boots! Have you ever seen such cute wellies? These are light grey (like the rainy-day sky) but they have the brightest pink soles and laces! You can't see it in the photo, but these have a sweet little plaid lining and the Chloe logo on the side.
---
4

Hunter Original Tall Wellington Boots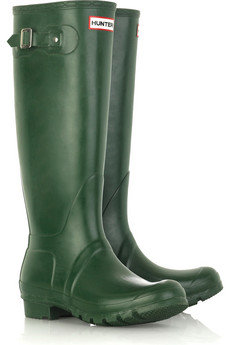 Price: $115.00 at net-a-porter.com
Black, navy, or green? Coffee or tea? Stay inside or go splash in the puddles? Make your choices and enjoy this chilly, misty day! Wear these with a pretty print dress or your darkest skinny jeans. These are tall and cozy with a one-inch heel and rounded toe. Didn't Paddington Bear have a pair like these?
---
5

Burberry Lisson Check Wellington Boots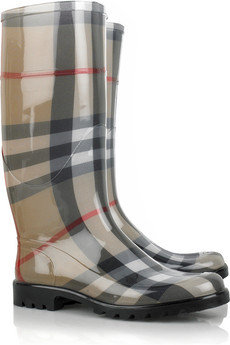 Price: $195.00 at net-a-porter.com
Instantly recognizable as the traditional Burberry plaid, these wellies are all style! Wear these with a pair of inky black leggings or jeans and a fitted trench-cut raincoat. Pull these on and set out for a day of errands in the country or the city!
---
6

Fendi Graffiti Rain Boot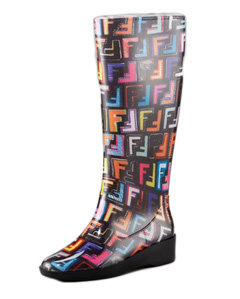 Price: $225.00 at neimanmarcus.com
I love the bright graphic print and the stylist wedge heel! These are made in Italy of rain-proof PVC and boast the most brilliant hues of blue, orange, pink, and more. Wear these with an otherwise quiet rainy-day ensemble and let your boots do the talking!
---
7

Cole Haan Air Devyn Rain Boots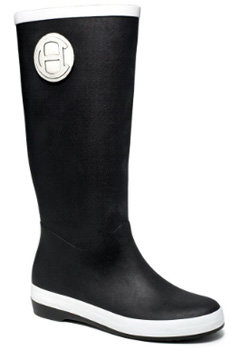 Price: $118.00 at macys.com
What happens when refined Cole Haan meets sporty, bold Nike? You get substance and style, and these rain boots are the perfect example of that. These are pure black and white with a white stripe up the back and the Cole Haan logo in white at the sides.
---
8

Dirty Laundry Dicey Rain Boots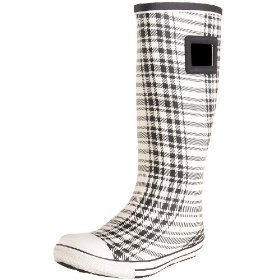 Price: $49.00 at amazon.com
These are the perfect shoes for a girl with urban chic! I love the sneaker styling and the bright red accents, like the cut-out on the sides to help slide them on and the white rubber tennis-shoe toe. They're a foot tall, perfect for staying dry while hailing cabs or skipping down the big city sidewalk, stomping in puddles as you go!
---
9

Dirty Laundry Roadhouse Rain Boots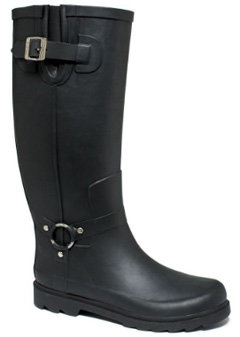 Price: $59.00 at macys.com
These wellies look just like biker boots, don't they! I love the leather-look upper and the tough-girl attitude! Wear these with a frilly, super-girlie shirt-dress. These run a little large, so size and buy with caution. Choose inky black or bright red.
---
10

Dirty Laundry Raindrop Rain Boots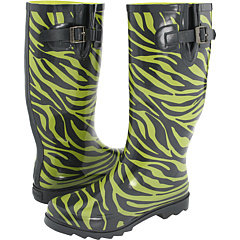 Price: $49.00 at zappos.com
What a perfect way to brighten up a grey, rainy day! Choose the same black zebra print with a bright yellow or stark white background. Get a perfect fit with the silver buckle at the side. These have a treaded rubber sole, so you won't slip and fall while splashing through puddles!
I know it silly to have more than one pair of rain boots, but I can't help myself — I want at least three of these! Which of these rain boots (or wellies) do you like best? What would you wear them with? Please let me know!
More
Comments
Popular
Recent