Some designers are so cutting edge, so incredibly chic, I don't consider myself hip enough to pull them off — but I can dream, can't I? And when I do have these day-dreams, I always imagine myself wearing something by Alexander McQueen. His accessories are stylish and unique, with enough funk and panache for a group of girls, not just one. Here are 7 hot accessories by Alexander McQueen.
1

Alexander McQueen Skull Cocktail Ring

Price: $280.00 atsaksfifthavenue.com
This ring makes quite a statement, eye-catching and interesting. It features a grinning skull with a charming bee accent, and glittering Swarovski crystals for eyes, teeth, and more. Choose from gold-tone finished brass with either red or clear crystals.
2

Alexander McQueen Koi Tail & Cherry Blossom Ring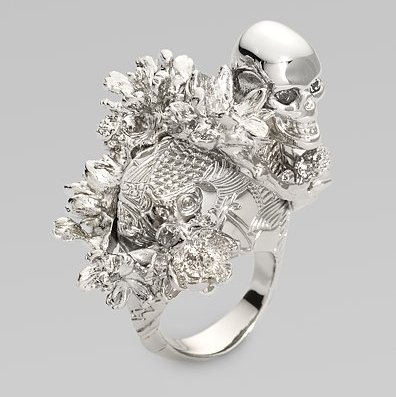 Price: $295.00 at saksfifthavenue.com
This statement ring by Alexander McQueen features a single koi fish, splashing in a cherry blossom-covered pond and a small signature skull. It's very detailed, incredibly realistic, with sparkling Swarovski crystal accents and a gold-tone finish.
3

Alexander McQueen Lace Skull Ring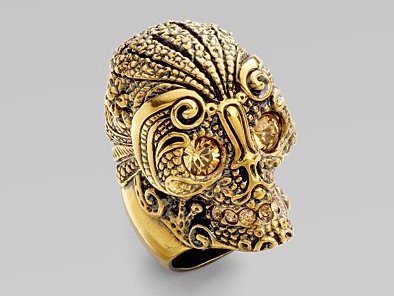 Price: $280.00 at saksfifthavenue.com
Pre-order this gorgeous cocktail ring right now, and enjoy it all spring and summer long. The ring features on very ornate, beautiful skull, made in Italy of heavy brass with bright crystal accents. Wear this with a demure LBD and a pair of gold chandelier earrings for a gallery opening and prepare to steal the show!
4

Alexander McQueen Patent Leather & Skull Wrap Bracelet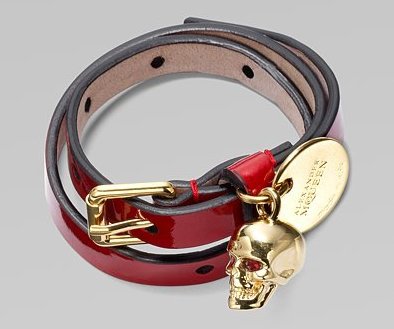 Price: $250.00 at saksfifthavenue.com
What an exciting way to add a pop of color and an entire week's worth of urban chic to one day's outfit… this bright red patent leather belt wraps twice around your wrist, fastened with a gold-tone skull charm and a coin stamped with the Alexander McQueen signature. I'd wear this with dark-wash skinnies and a sheer tunic, or with a vintage floral-print dress.
5

Alexander McQueen Iris Skull Cuff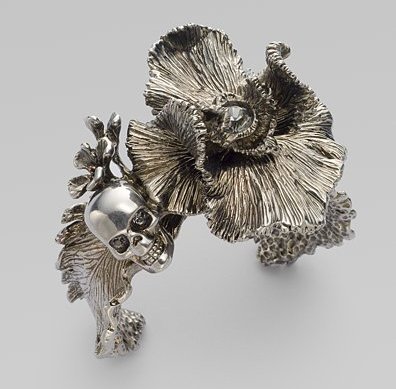 Price: $550.00 at saksfifthavenue.com
Oh how I adore irises, frilly and delicate yet somehow tough. This pewter-tone bracelet features one delicate iris, detailed and lush, with a single skull balanced on one side. The skull's eyes are accented with brilliant Swarovski crystals, and the cuff is made in Italy.
6

Alexander McQueen Small Skull Cuff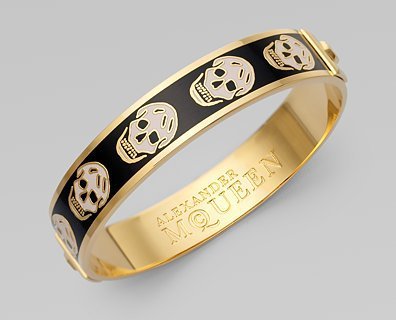 Price: $195.00 at saksfifthavenue.com
Choose your poison from bright green, pale ivory, or sleek black, all three decorated with a row of glittery gold skulls. The bangle is decorated inside with the Alexander McQueen signature. Stack all three to wear together or wear them one at a time… any way you wear them, they're so chic!
7

Alexander McQueen Bird Skull Pendant Necklace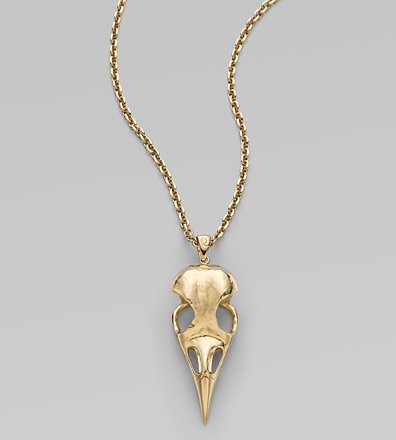 Price: $425.00 at saksfifthavenue.com
This gorgeous long-line necklace measures a stunning 31" in length, with a delicate gold-tone bird's skull dangling at the end. Layer with other gold-tone necklaces, or wear it alone over a black tunic and patterned leggings.
I love the McQueen signature skulls… some might find them morbid, or odd, but they remind me of the Day of the Dead, celebratory and ornate rather than scary. I adore the lace skull ring, and the skull bangles… which of these Alexander McQueen accessories do you like best, and why? What do you think of the skulls?