There is no rule that says your office or your office supplies must be boring. Am I right? So, if you find colors stimulating, why not surround yourself with bright, positive things all day long? Yup, that includes your office too! Don't think that's possible? Well take a look at these 9 colorful office supplies first:
---
1

Vera Bradley Poppy Fields Petite Organizer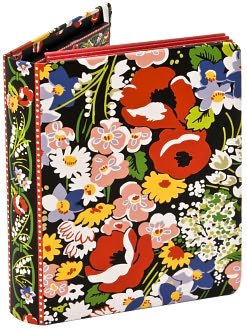 Price: $14.00 at gifts.barnesandnoble.com
This cute, colorful organizer will be your favorite of all office supplies I mean, organizers usually spell boring and most people kind of get depressed before even opening them. Isn't that right? Well, this one is fun, inviting and girly so it doesn't matter what you chose to keep inside – I can guarantee it's going to become less boring and much easier to deal with.
---
2

Henry Road File Folder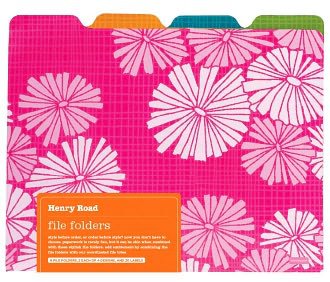 Price: $8.95 at gifts.barnesandnoble.com
Eight colorful file folders are just what you need to store your documents and make sure they are not only easily spotted but stylish too. Oh, don't give me that look, I'm not a big kid, I just don't think workspaces should be bland. The best way to feel good is to surround yourself with a lot of colors or whatever puts you in the creative mood. Do you agree with me?
3

Invisible Floating Book Shelf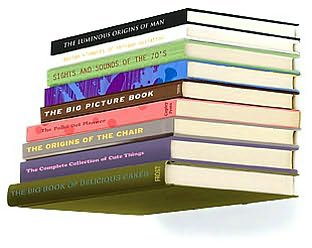 Price: $13.95 at gifts.barnesandnoble.com
Now this shelf isn't colorful at all but it sure belongs on this list! Why? Because it's so thin that it can't be seen so an onlooker will see nothing more than 20 pieces of your must-have literature floating in thin air! Pretty cool, huh? I bet this would make a great gift too!
---
4

Vera Bradley Symphony in Hue Mouse Notepad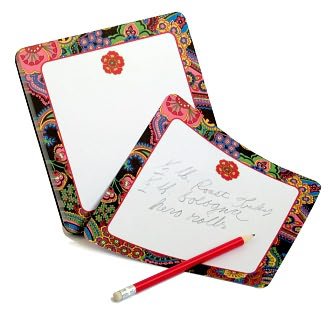 Price: $9.95 at gifts.barnesandnoble.com
Multifunctional office supplies are something a working girl can't live without so, if you appreciate comfort, usefulness and style, I bet you'll go head over heels for this mouse pad/notepad. So, let go of your mouse, grab a pen and feel free to take notes because this pad is good for both! But let's not forget its lovely appearance either – Now that's one stylish, colorful accessory to make sure that every working day is indeed a happy and successful one!
---
5

Vera Bradley Very Berry Paisley Note Cube
Price: $16.00 at gifts.barnesandnoble.com
Your notes and little reminders don't have to look scary anymore and I bet they won't, once you adopt this colorful little thingy, of course! It's going to look great on your desk, help you organize yourself better and make sure the must-dos and to-dos are delivered to your brain in the most non-threatening way possible. Bet's the hell out of post-its, I'd say…
---
6

Palette for Pens Set with Inks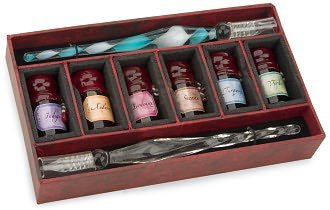 Price: $21.95 at gifts.barnesandnoble.com
What is your favorite color? Well, have you ever thought about customizing your signature by using this mix of modern and traditional methods? Use one of these colors or mix them to get the one that you like best and then use this retro pen every time you're supposed to sign something.
---
7

Vera Bradley Very Berry Paisley Pencil Set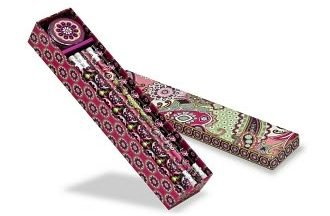 Price: $14.00 at gifts.barnesandnoble.com
A set of these interesting, colorful pens will make you smile every time you reach for them to write something down. The cute box and the matching sharpener make this a perfect set you can choose to keep for yourself or give someone as a gift. Nice, isn't it? If I were you, I'd keep a close eye on my office supplies!
---
8

Jonathan Adler Highlighters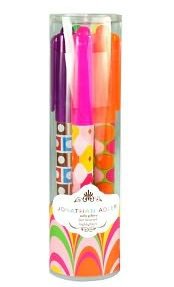 Price: $9.95 at gifts.barnesandnoble.com
This set of five bright highlighters will definitely brighten up your working space as well as your documents. The designer has made sure that each highlighter in the set has a different but equally colorful retro pattern and, according to Sears, your $9.95 will be well spent because these highlighters aren't only pretty but long-lasting too.
---
9

Jonathan Adler Desk Dock Organizer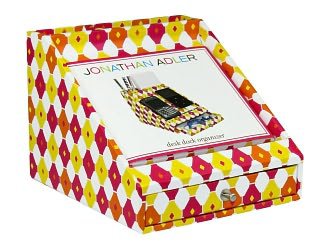 Price: $24.95 at gifts.barnesandnoble.com
Well, if you like Adler's retro patterns, you can also choose to make them the centerpiece of your desk. This interesting desk organizer, for example, will be the perfect keeper of all your small office supplies or personal technology. Or, in case you don't like it, you can always send it to me and I'll make sure it's put into a good use. LOL! Come on, you gotta love it! Do you?
So, are you ready to introduce colorful office supplies to your working environment or you prefer less eye-catching ones? If I ever decide to quit writing and find a desk job, you can rest assured my desk is going to look like a beautiful spring morning. LOL! Although I'm not really sure if my potential colleagues would share my passion for colors, interesting designs and unusual office supplies…
---
Popular
Related
Recent