When I was little, my mother collected little mushroom accessories for every room in our house, and I would spend hours playing with them, making mini forests for my pretend deer and squirrels and bears. Every time I see a cute tote bag, apron, or peppermill with a mushroom motif, I think fondly back to my mother's collection and take a quick trip back through time. And I've been seeing these little portabellas and porcinis everywhere lately, and have considered starting my own collection. To get me started, here are 8 adorable mushroom accessories…
---
1

For Richer or Porcini Bag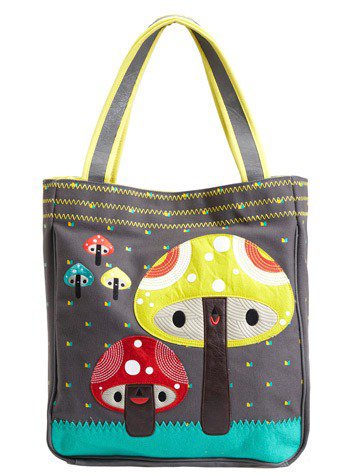 Price: $64.99 at modcloth.com
This roomy canvas and faux leather tote by Crowded Teeth has a lot to offer a girl, from its pretty leafy-lined interior to its mushroom-covered exterior. There's even a matching wallet available, if you're so inclined, featuring the same sweet smiling mushrooms.
---
2

Enchant-erelle Tote Bag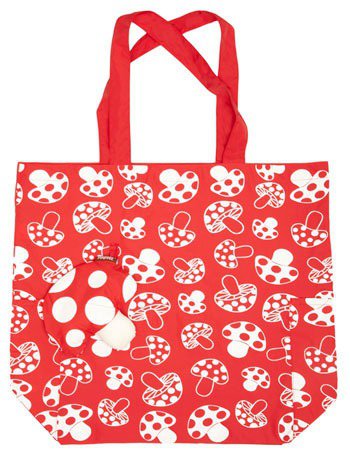 Price: $29.99 at modcloth.com
Add another choice to the age-old question: paper, plastic, or porcini? For this polyester tote folds easily into its little shroom-shaped coin purse, perfect for tossing in your handbag for last-minute shopping trips and planned bargain-hunting excursions. I love the vibrant red-and-white color scheme!
---
3

Garden Friends Earring Set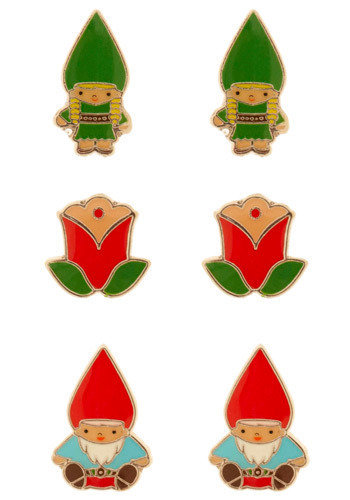 Price: $13.99 at modcloth.com
Why buy just one pair of adorable post earrings, when you can have six? All six pairs are made of gold-tone metal and enamel, and each feature a different woodland or garden friend, from two darling mushrooms to a pair of brown squirrels to a couple of clever gnomes. Wear each pair together, or mix and match for a little more fun!
---
4

Mushroom Kingdom Eraser Pot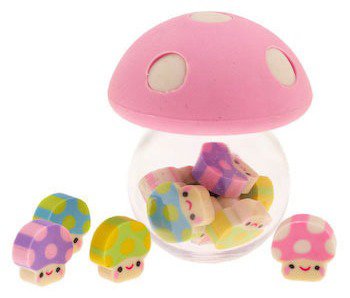 Price: $4.99 at modcloth.com
We all make mistakes, but now we can mitigate the misery of a misplaced pencil mark with these colorful little mushroom erasers, housed together in a pink-and-white pot. The set would look lovely on your desk, and contains 8 tiny erasers in purple, pink, blue, and green.
---
5

Shining Shiitake Lamp Set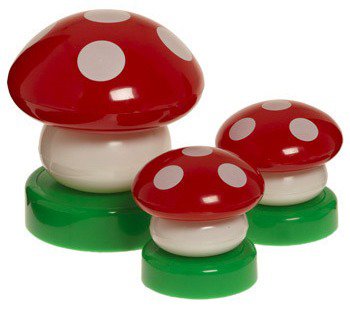 Price: $17.99 at modcloth.com
Press the tops of these delightful little mushrooms to see them shine — literally! The set contains 3 touch-lamps, ideal for adding a little woodland charm to a room, either clustered together or spread about. Don't forget the AAA and AA batteries!
---
6

A Little Bit More-l Handle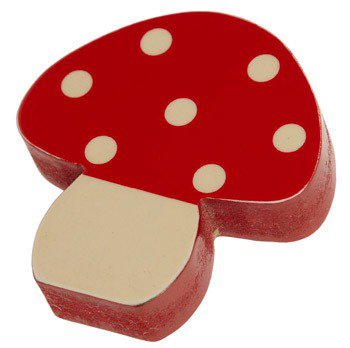 Price: $7.99 at modcloth.com
Add a little bit of fungi flair to that vintage side table you found at the flea market last weekend with these adorable little wooden knobs by Pakhuis Oost. They measure 2 ¼ inch across and tall, and include all of the hardware you need to mount them. And they're so adorable, all in red with white stems and dots!
---
7

Mushroom for Change Bank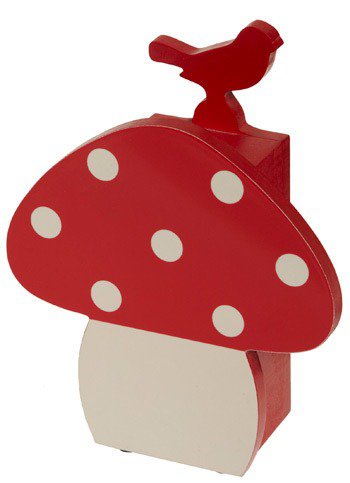 Price: $29.99 at modcloth.com
Perhaps once you've mounted your pudgy portabella mushroom knobs on that vintage end table, you'll place this matching coin bank on top, with or without a doily underneath. It's made of the same brilliantly painted wood, with a sweet little birdie perched on top. What a great way to save your pennies and add a little whimsical charm to a room!
---
8

Something is Brewing in the Woods Mug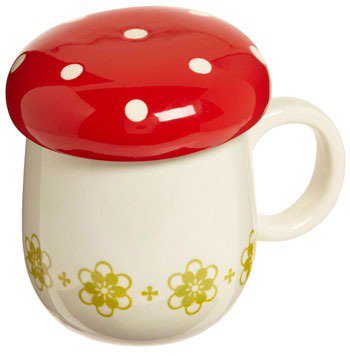 Price: $27.99 at modcloth.com
This adorable ceramic mugs hold generous amounts of cocoa, tea, or coffee, with a lid on top to keep everything warm and even a tea strainer in case that's your drink of choice. Look closely and you'll notice the set resembles a mushroom, with its spotted top and leaf-printed mug. What a sweet way to enjoy your morning beverage!
With so many adorable mushroom accessories for your home, and your closet, maybe you'll be inspired to start your own collection, too! I really want to order that tea mug for my mother (I know she'd love it) and that tote bag for myself! Which of these mushroom-inspired accessories do you like best?
More
Comments
Popular
Recent