I'm so glad fascinators are back in style! They're such a simple way to add instant elegance to an outfit, to make a casual skirt and jacket into a more formal affair. There are lots of fascinators to choose from too, and I've found so many I love online at ModCloth! Here are 7 pretty fascinators. Some are one-of-a-kind vintage and may not be in stock by the time you read this, but they ought to at least give you some fashion inspiration.
1

The Formal Fascinator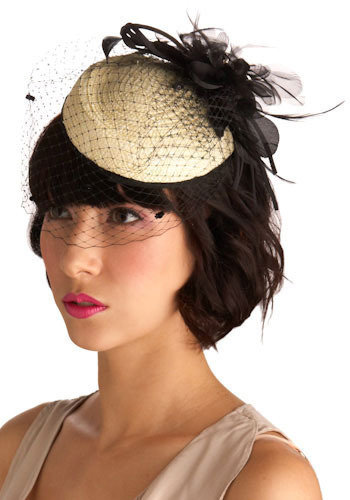 Price: $39.99 at modcloth.com
This fascinator is ideal for adding a little more elegance to an otherwise gorgeous LBD. It's ivory straw, with a plain black net highlighted with a grosgrain ribbon detail and glittering rhinestones and topped with an inky black feather and a trio of sequined rosettes. Wear with a sequined LBD and carry a small clutch bag. Beautiful you!
2

Hats in the Belfry Fascinator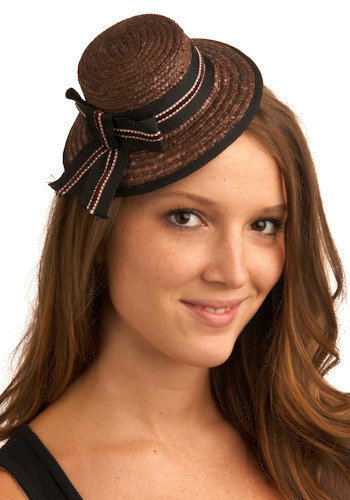 Price: $34.99 at modcloth.com
I'm not sure I'm bold enough to wear this miniature hat, perched jauntily above a plain thin black headband, but I know a few of my friends who could carry it off with ease and style. Wear with a ruffled, flounced floral dress (and a cardi for winter) with patterned tights and classic heels. C'est parfait!
3

Cocktail Reception Headband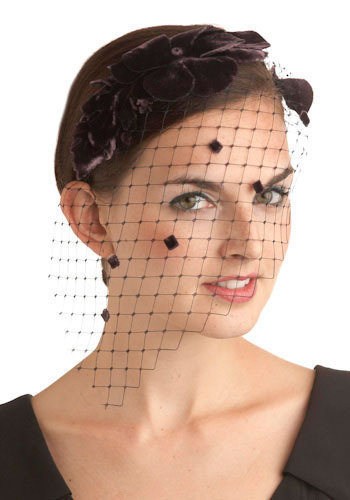 Price: $64.99 at modcloth.com
This gorgeous veiled headband by Ophelie Hats features a band of violet velvet flowers and a thin black veil, perfect for adding mystery and allure to your best LBD and patent leather heels. Add a clutch and perhaps some wristlets for max impact.
4

Vintage Bumble Fascinator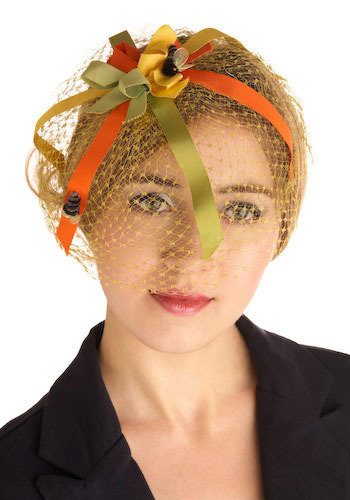 Price: $39.99 at modcloth.com
This vintage fascinator reminds me of spring, with a duo of dainty bees buzzing across the beribboned band. It's oh-so-pretty and delicate, and could be worn with anything, from skinny jeans and a retro fitted blouse to a jacket and skirt combo for work.
5

A Modern Fascinator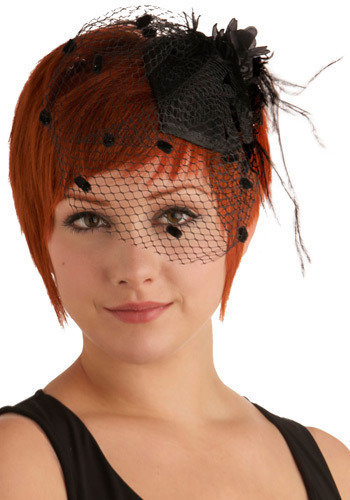 Price: $23.99 at modcloth.com
This gorgeous fascinator attaches with a comb and looks so sleek, so chic, you'll want to wear it every day! It features a dotted mesh net and pretty black flowers, so it's perfect for wearing with any of your punk sass or dressy outfits! I'd wear this with an LBD and cardi, or with patterned leggings and a silky satin tunic.
6

Petal Perfect Hat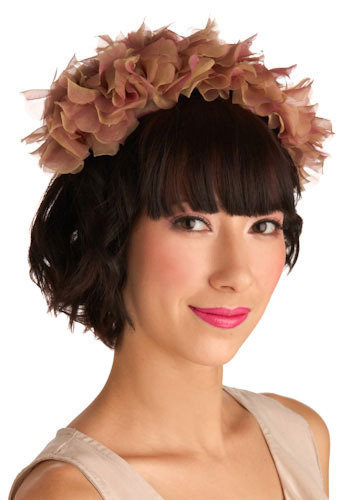 Price: $129.99 at modcloth.com
While this isn't technically a fascinator, it's close enough to be included in my list, and can you blame me? It's gorgeous, with that same play on vintage hats. It's a headband made of delicate, fluffy dusty pink and golden roses, perfect for wearing with a floral print dress or just a blazer and full, flirty skirt. Or wear it with skinny jeans, knee-boots, and a Boho bag.
7

Vintage Pristine Petals Fascinator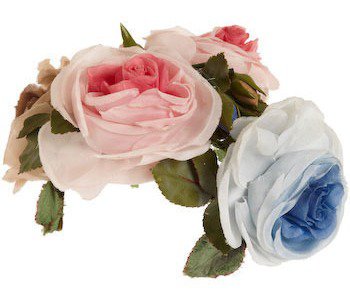 Price: $39.99 at modcloth.com
This is another vintage find, a gorgeous posy of flowers in pink and blue. I love the realistic look of the leaves… wouldn't this be perfect for a garden party this summer? Pair with a floaty, sheer blouse and a pencil skirt, or with your favorite patterned dress with a wide belt. So girly!
With so many gorgeous fascinators, how will you choose just one? I especially love the Modern Fascinator and both of the vintage ones… which one(s) do you like best, why, and what would you wear them with? Please share!