Ever since Grace Kelly wore them, pearls have been a treasured accessory for the most stylish of women. With winter on the way, here are some fantastic additions to your jewelry box, all new takes on the classic strand of pearls, for every occasion!
---
1

Simulated Pearl and Crystal Bib Necklace by RK by Ranjana Khan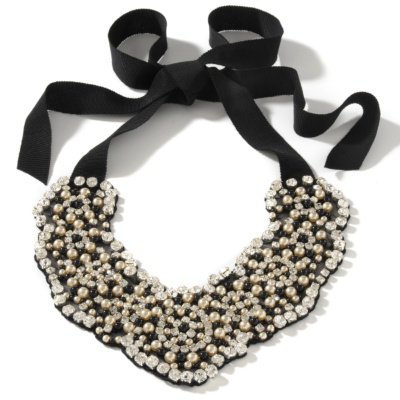 Price: $229.90 at jewelry.hsn.com Gorgeous! This necklace looks fit for a pretty winter queen or any princess on her wedding day! The black version would be perfect with a slinky, simple black dress for New Year's Eve, wouldn't it? I love the simple, elegant ribbon tie.
---
2

Mixed Deadly Pearl Necklace by Fallon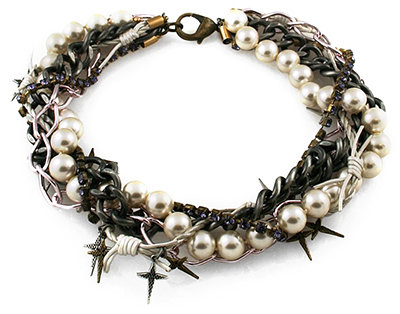 Price: $200 at charmandchain.com The perfect necklace for any punk-rock girl! Jump off the tour bus and hit the stage! Wear it with your most beat-up skinny jeans, a white t-shirt, and a black velvet jacket and TONS of black kohl for your eyes! Dramatic and unforgettable!
---
3

Glass Pearl Ribbon Necklace by Oscar De La Renta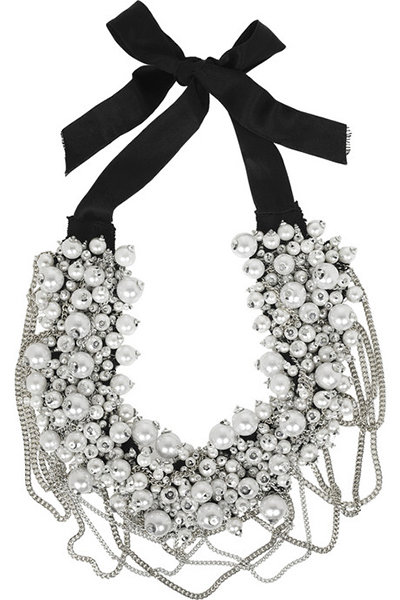 Price: $1,150 at net-a-porter.com Lavish and luxurious, this necklace looks fab with a slinky strapless dress, a classic up-do, and tall black stiletto heels. The black ribbon tie is sweet and simple, and the sliver-tone chain accents add a bit more sparkle and shine.
---
4

Multi Layer Necklace by Nordstrom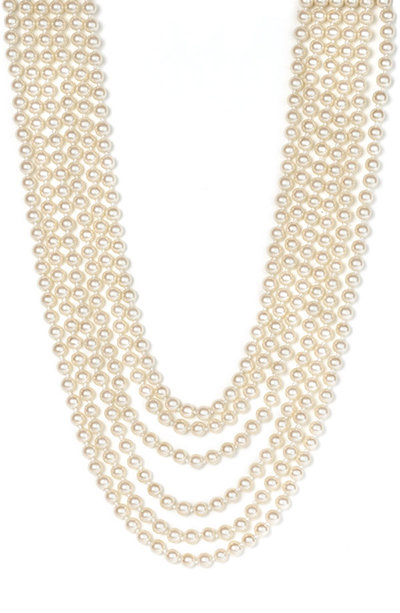 Price: $88 at shop.nordstrom.com An update on a classic. These layered ropes of classic creamy pearls are great for dressing up jeans or to pair with a pencil skirt and cropped jacket. Elegant, simple, and refined. So lady-like!
---
5

Monogram Twisted Bead Necklace by BR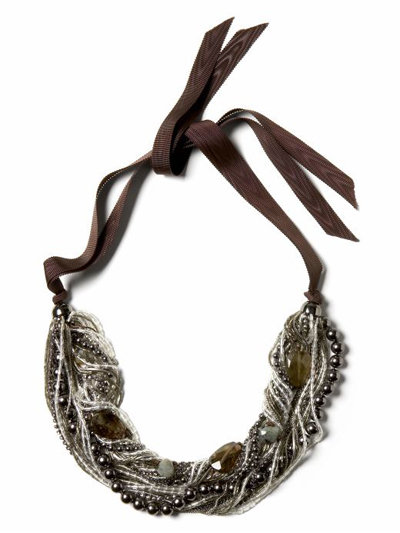 Price: $198.00 at bananarepublic.gap.com Funky and chunky with just the right amount of sparkle! The mixed colors ensure it will match just about everything in your closet, from that creamy cashmere sweater to those tall brown suede boots. Fun!
---
6

Pearl Bead Multirow Necklace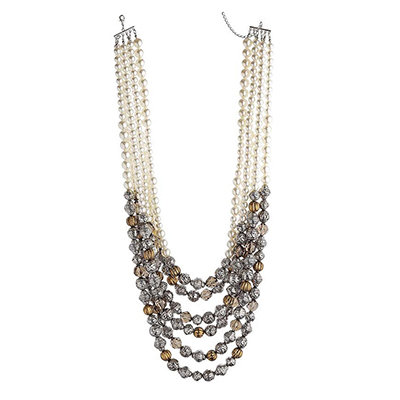 Price: $80 at us.topshop.com Another take on the multi-row pearl necklace. I love the different colors and textures! This necklace manages to look simple and playful at the same time. A must-have!
---
7

Pearl Ribbon Necklace by Dorothy Parker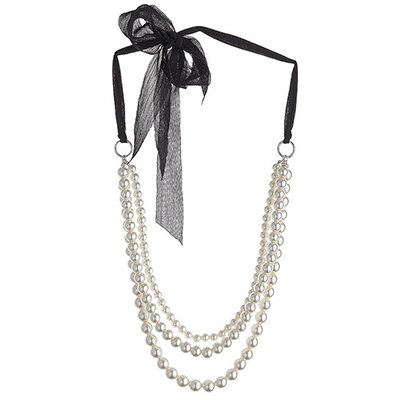 Price: £6.00 at dorothyperkins.com Simple, pretty, and elegant, but anything but plain! Long skinny strands of perfect white pearls, tied together with a long black ribbon. So versatile!
---
8

Multi Row Pearl Necklace by ASOS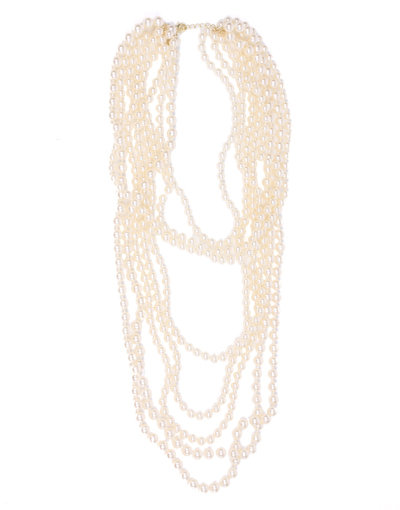 Price: £15.00 at asos.com Rhianna's style your own way! Tons of long, looping strands of gorgeous pearls. Eye-catching with style to spare! Pair with an off-the-shoulder sweater and skinny jeans or leggings.
---
9

Large Wood and Pearl Necklace by Lanvin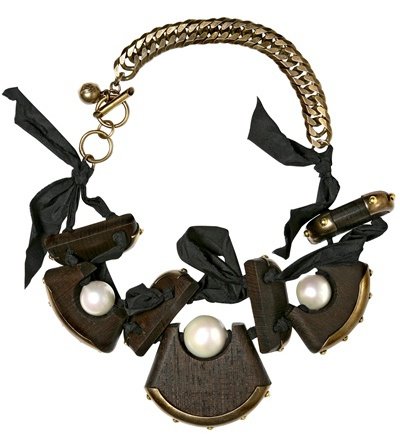 Price: $2,462.90 at luisaviaroma.com Chunky and bold! Even the gold-tone t-bar closure is stylish. This necklace is truly unique, a statement for the most fashion-forward woman. Art you can wear!
---
10

Pearl Bow Necklace by Dorothy Parker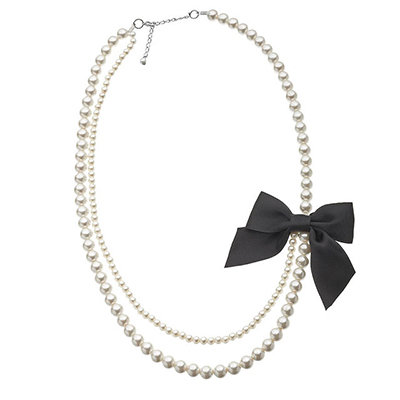 Price: £10.00 at dorothyperkins.com So sweet! Two strands of perfect white pearls with a romantic velvet bow. Pair with a pretty baby-doll dress and leggings with ankle boots and a knit hat.
---
11

3 Row Pearl Necklace by Kenneth Jay Lane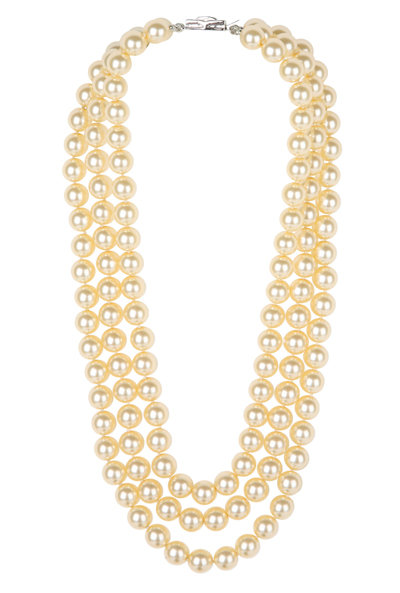 Price: $222.75 at my-wardrobe.com Another update on the classic multi-strand pearl necklace. These are a fashionista essential, perfect with jeans or a wedding gown. I love the whipped-cream color.
---
12

Pearl and Grosgrain Necklace by Lanvin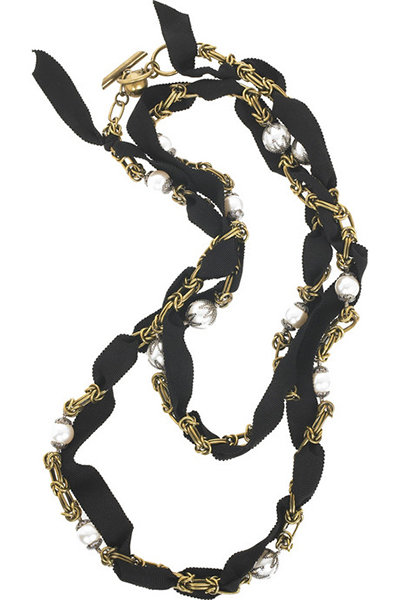 Price: $1,155 at net-a-porter.com A few creamy pearls scattered along this chunky black and gold necklace. A unique way to wear your pearls, isn't it?
---
13

Mother of Pearl Necklace

Price: $880.00 at kirnazabete.com A Goth girl's dream. Long dark hair, milky-smooth skin, and this gorgeous black necklace. Edward Cullen would be sure to approve. Pair with a corset and you'll have a tough time keeping the vampires — and regular guys! — away! So there you have it! I can't wait to see which of my favorite celebs wears these gorgeous necklaces first! But we regular girls can wear them too, to dress up jeans or to celebrate our wedding days… pearls really are that versatile! Have you spotted any celebrities wearing pearls this season? How do you wear them? Please share!
More
Comments
Popular
Recent