Only a couple of days until I get to see the film! I am excited for so many reasons. In fact, I am so excited that I have made myself a dress just to see the movie. Silly, right? And when I saw that this spring will see the release of Alice in Wonderland-inspired jewelry, my excitement just shoot through the roof! Without a doubt, this film and everything related to it will be a perfect combination of visual orgy, realization of childhood fantasies, whimsy, and jaw-dropping explosion of cute. Here are my favorites from the collections that will soon be released:
---
1

Tom Binns Tea Party Pendant Necklace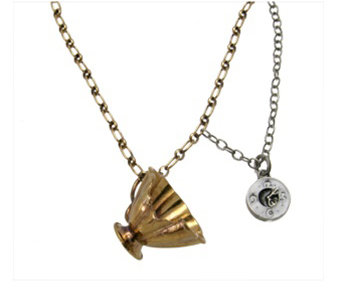 A whimsical combination of silver and gold. I love tea and I just adore this.
---
2

Stella McCartney Alice in Wonderland Necklace and Bracelet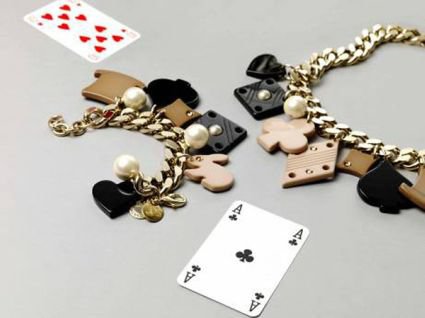 Rabbit, spade, and heart. I know someone who counts those three as her favorite things. She will go gaga over these.
---
3

Tom Binns Alice Keyhole Necklace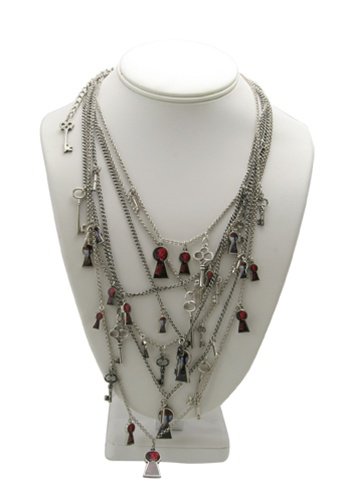 I am in love! What could be better to spice up a single-color outfit? I am crushing on this because it's not your typical skeleton key necklace. It has keyholes! How very Wonderland is this! Cute, right?
---
4

Tom Binns Rabbit Clock Necklace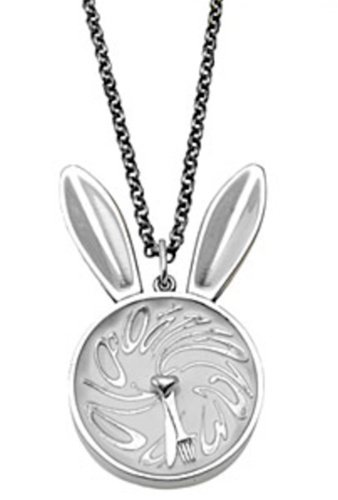 Now this one is quirky and very Lewis Carroll.
---
5

Tom Binns Multi-Layered Queen of Hearts Necklace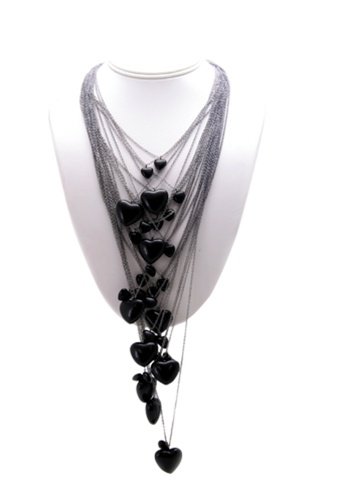 Classy, right? You would not assume that this was released in conjunction to a film based on a classic children's book.
---
6

Tom Binns Queen of Hearts Charm Bracelet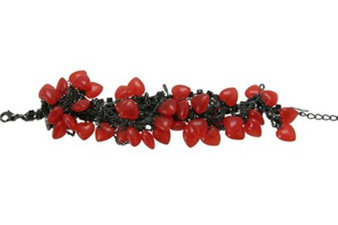 This bracelet is definitely sassy. Wear it, point to people you don't like, and shout, "Off with their heads!" I kid, I kid.
7

Tom Binns Mad Hatter Charms Key Chain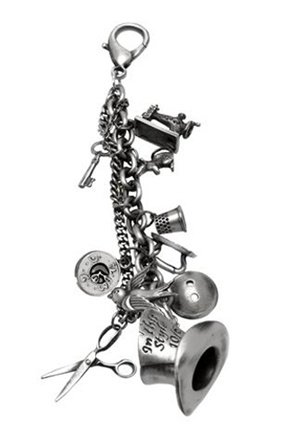 This may have to be my absolute favorite. Why? Because it has charms related to sewing! I am a crafter, FYI.
---
8
Tom Binns Keyhole Alice in Wonderland Ring
**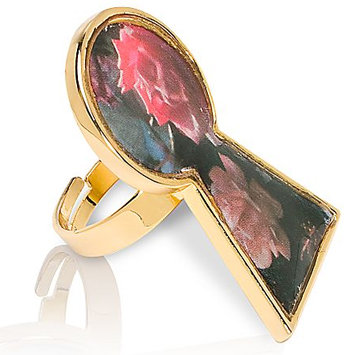 **
Another whimsical keyhole creation. I adore the floral "wallpaper" style.
9. Swarovski Tea Party Alice in Wonderland Necklace
**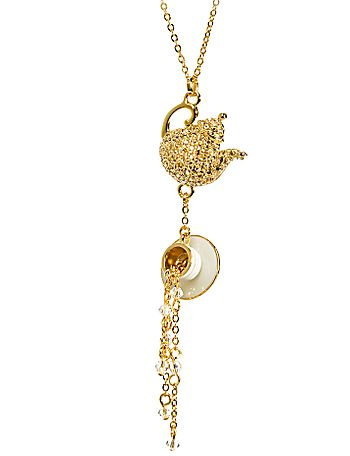 **
I can never resist tea and anything shiny. This necklace was definitely made for me.
10. Swarovski Red Queen Alice in Wonderland Rings
**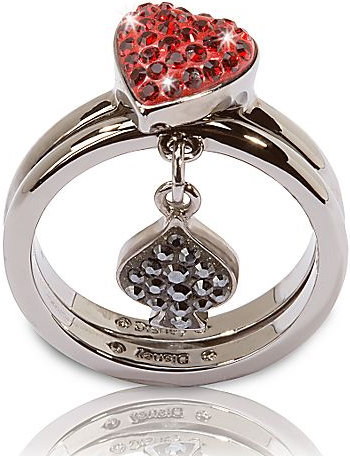 **
This may be a better accessory for shouting "Off with their heads!"
**11. Swarovski White Rabbit Alice in Wonderland Necklace **
**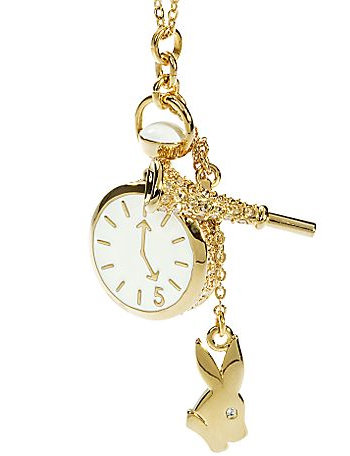 **
The clock charm sure is cute.
**12. Swarovski Red Queen Alice in Wonderland Earrings **
**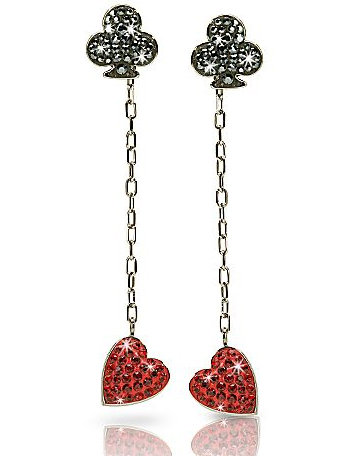 **
Very sexy. Have you noticed that the Red Queen-inspired pieces are all sexy?
13. Tom Binns Mad Hatter Tea Party Charm Bracelet
**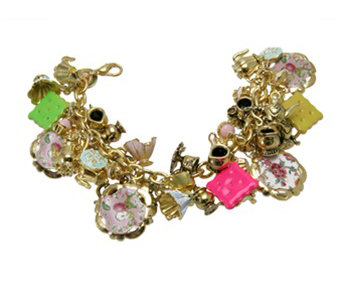 **
This one is a bit too colorful for my taste but I cannot resist the porcelain-like charms.
---
14

Tom Binns Mad Hatter Wrap Bracelet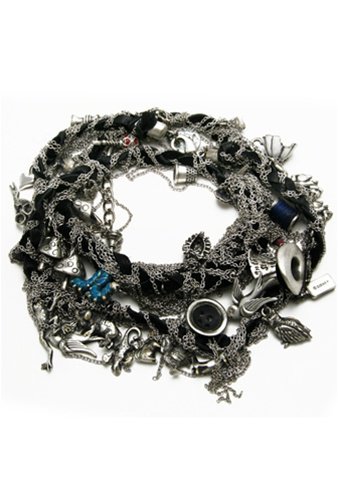 Alice with a touch of grunge? I want one! Or two.
---
15

Tom Binns Mad Hatter Button Earrings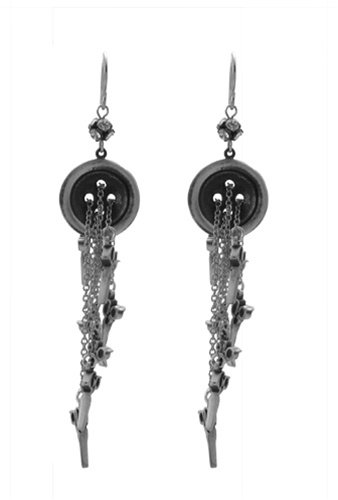 Again, crushing on these because they're related to sewing.
Buy here and here.
**
**
---
Comments
Popular
Related
Recent