While they say that diamonds are a girl's best friend, I, meanwhile, say that jewelry, regardless of the stone, is a girl's best friend. Who doesn't love jewelry, right? Whether the stone is a sparkling yellow citrine or an elegant ruby or if the jewelry piece is composed of silver and diamond studs, we ladies love, love, love them! If only we could swath our entire body with jewelries, I bet we all will! And what better way to pick classic jewelry pieces but among those included in the Tiffany line? Check out these **classic Tiffany jewelry**** pieces **and let's all sigh happily together!
Tiffany in Diamonds
** **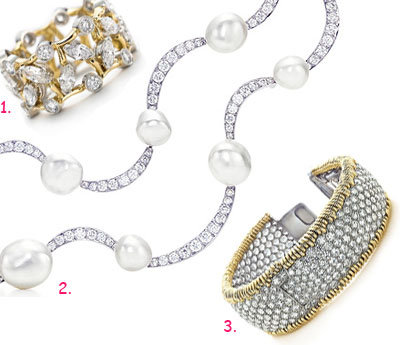 ---
1

Jean Schlumberger Vigne Ring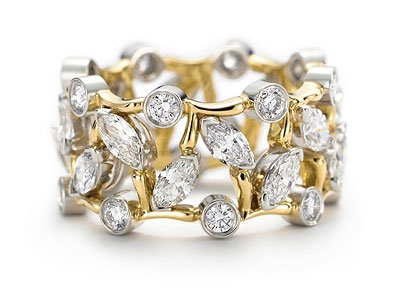 Pardon my French but I am a big sucker for rings and this Jean Schlumberger **creation is **breathtaking! The ring has 18K gold with marquise cut and round brilliant diamonds in platinum. Talk about beauty and amazing structure all in one! This ring can be put around your finger for $16,500.00
2. Double Wave Necklace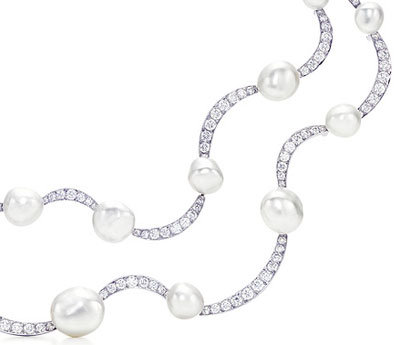 Pearls are timeless and very versatile. They can jazz up just about any outfit or look. This Tiffany necklace has South Sea pearls with round brilliant diamonds in platinum. This necklace can be yours for $59,500.00.
3. Jean Schlumberger Diamond stitches bracelet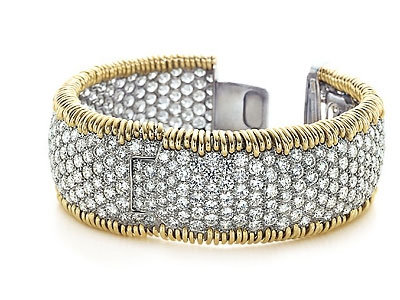 Hold your breath — this one costs $145,000. Yes, not for the f**aint of heart**…but really for everyone who adores diamond bracelets…a 300-diamond bracelet, to be exact. This Schlumberger creation has over 300 diamonds, all embraced by a border of golden stitches. The diamonds are all round and the bracelet itself is platinum with 18K gold.
Tiffany in Silver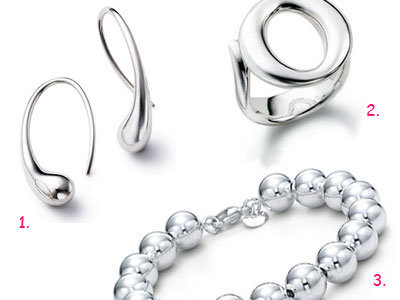 1.Elsa Peretti teardrop Earrings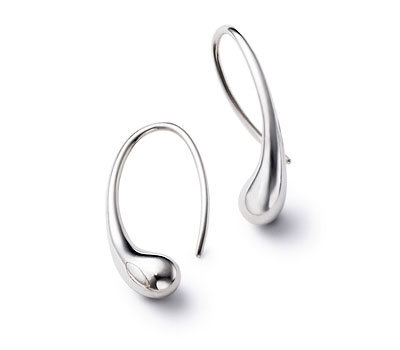 Okay, these are REALLY magnificent. The silhouettes **are amazing and the way the earrings are made is just **creative! This pair of hoop sterling silver earrings **remind me of architecture. Priced at **$275, this original design by Elsa Peretti is a good buy. Only for pierced ears, though!
2.Bead bracelet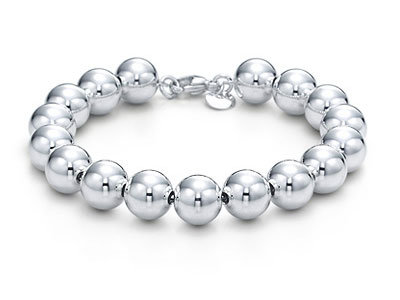 This **sterling silver bracelet **can prove to be a simple yet attractive everyday accessory. Get this for $175.00
3.Elsa Peretti Sevillana ring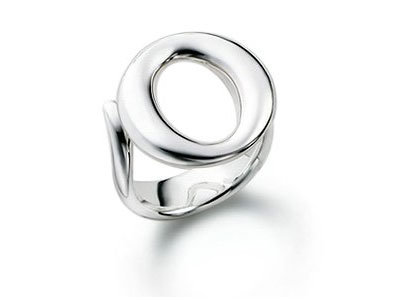 Ever wanted a ring that can easily become a conversational piece? Then this Peretti creation, which has a very intriguing shape, can be the best solution. Made of sterling silver, this $275 original Peretti design is a brilliant addition to your jewelry collection. I wish they could come out with another version…this time with at least a few diamond studs!
Tiffany in Gold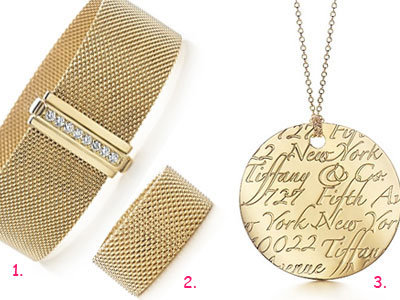 1.Tiffany Somerset Bracelet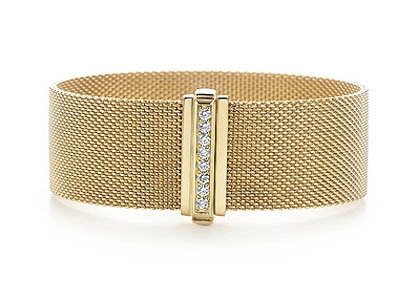 Tagged at $4,300, this bracelet can be used for both casual and formal occasions. Engineered with** round brilliant diamonds** in 18k gold, you can have this in medium size.
2. Tiffany Somerset ring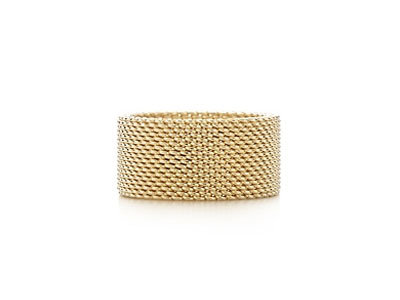 Another simple but definitely beautiful Tiffany ring! This $900 creation is in 18K gold.
---
3

Tiffany Notes round Pendant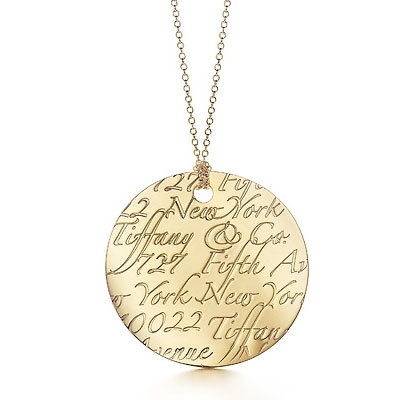 For $1,750, you can forever carry **Tiffany handwritten invitations **around your neck. This pendant is in 18K gold and has an 18? chain.
The Heart of Tiffany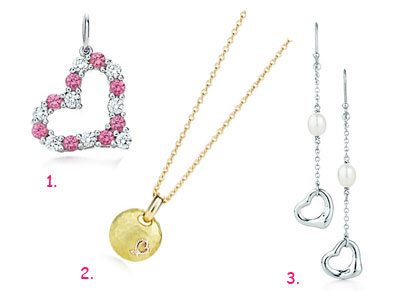 1.Tiffany Hearts charm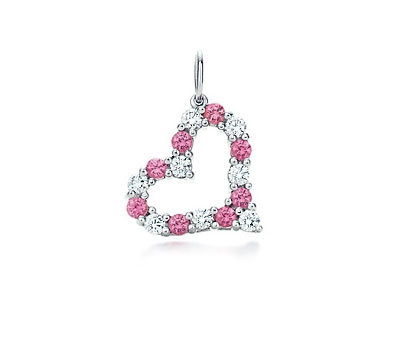 This charm is…well…charming! For $1,475, you get a mini charm with pink sapphires and round brilliant diamonds in platinum. This can give a very nice touch to any existing jewelry piece you have.
2. Paloma Picasso Hammered disc pendant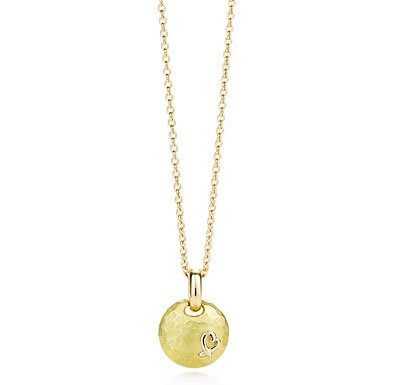 The metal of this creation is hand-hammered to add texture and drama. Sold for $500, this pendant in 18k gold **with Loving Heart has a 16? chain. Original designs copyrighted by **Paloma Picasso.
3. Elsa Peretti Open Heart earrings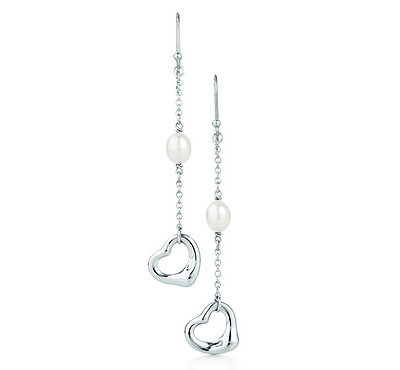 This is the talented Elsa Peretti's most celebrated piece. For only $295, you get cultured pearls **and **sterling silver. Definitely a great steal!
Tiffany Celebration Rings"Celebrate with Tiffany"
Don't forget to View more Tiffany Celebration rings at Top 10 Celebration Tiffany Rings!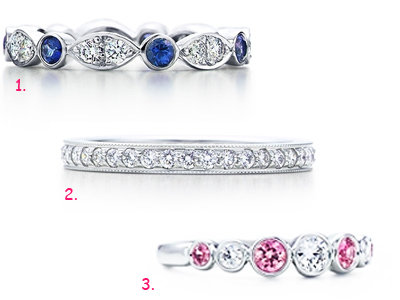 1. Tiffany Swing ring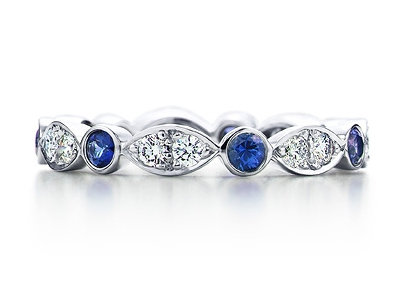 Looking for the perfect gift for your wife? Want to thank her for the many years you've been happy with her? This beautiful Tiffany ring has diamonds that** lead to another**. It's like a celebration where you want to thank destiny, fate and all that**for leading you to your beautiful wife. This **$3,400 ring has round sapphires and round brilliant diamonds in platinum.
2.Tiffany Legacy Collection Band Ring

One look at this and you know that this can evoke a big smile from your girlfriend or wife. Want to celebrate the birth of your first child after years of anticipation? Want to congratulate your girlfriend for a recent achievement? This Edwardian period-inspired creation is the perfect choice.
3. Tiffany Jazz graduated band ring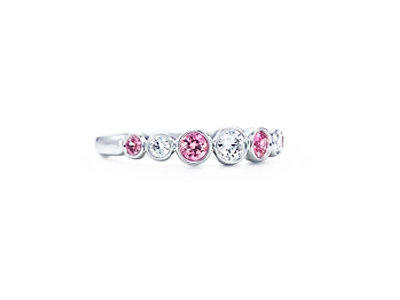 Did your daughter just accomplish something amazing? Like perhaps top the bar or pass the physician's board exams? This Jazz ring is a perfect accessory for her as she embarks on a new phase of her life. This Tiffany ring has pink sapphires and round brilliant diamonds in platinum.
Tiffany Classic Engagement Ring"Tiffany for the most important moments"
View more Tiffany Engagement rings at Diamond Engagement Ring - Tiffany's Top 10
All right, people, get the "oohs" and **"aahs" **ready!
Here are classic Tiffany engagement rings. All together now…"aaaawwwww"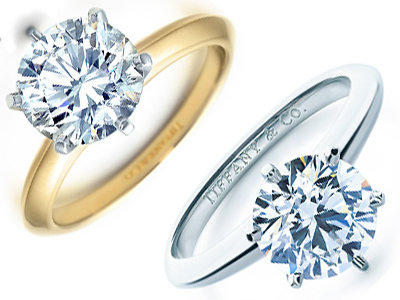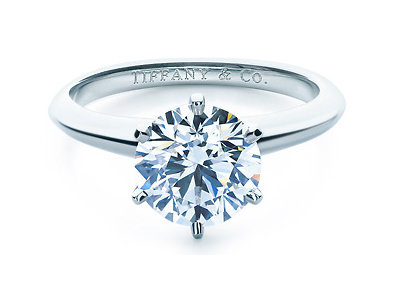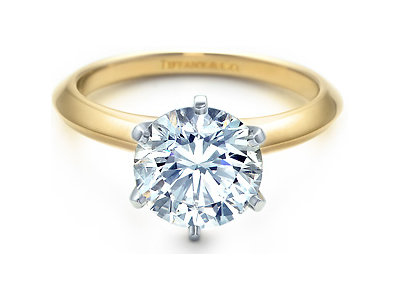 Return to Tiffany™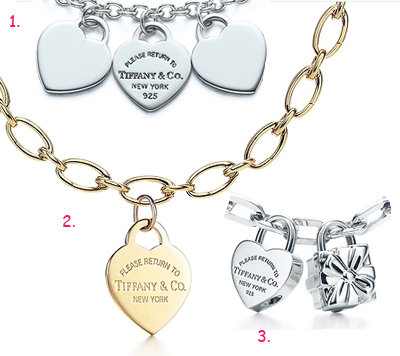 1. Mini heart tags bracelet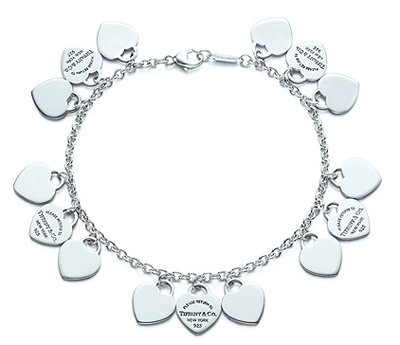 Who doesn't like this $375 classic **mini hearts **charm bracelet?
2. Heart tag charm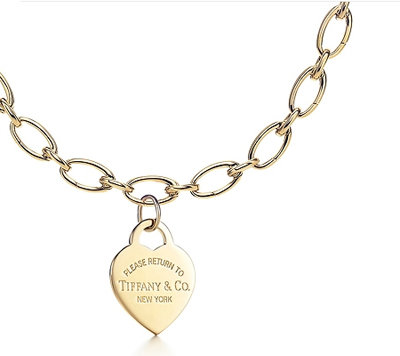 This pretty "Please Return to Tiffany Co." heart tag charm is a cool addition to your existing jewelry collection. You have 18K gold…plus the link open and close!
3. Heart and Tiffany box charm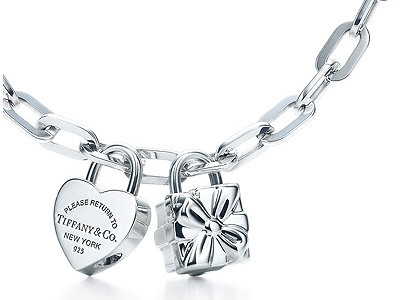 In search for sterling silver charms? We all know that this Return To Tiffany heart and Tiffany box lock charm necklace has become the favorite of many. You get sterling silver and locks that open and close.
More
---
Popular
Recent