Summer is my favorite season, but I also adore fall! I love the change of colors and the chance to wear all my new fall clothes! We all look great in our cozy soft sweaters, skinny jeans, and cute boots… and our new fall coats! If you're looking for a new fall coat you can wear to welcome in the gorgeous new season, I can help! Here's my list of 7 beautiful fall coats.
---
1

Alice in Autumn Sweater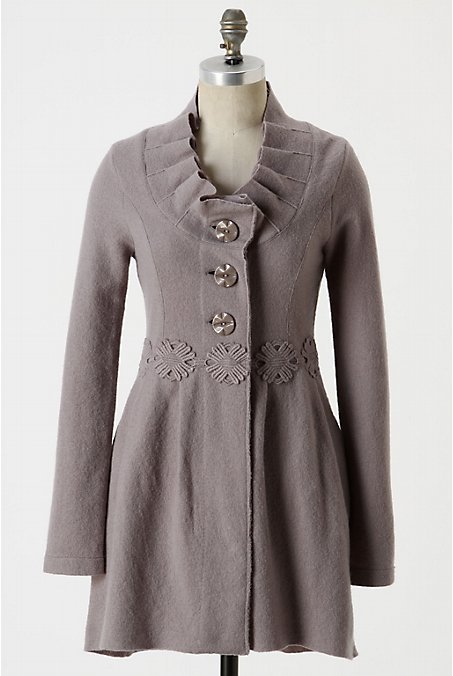 Price: $168.00 at anthropologie.com
Had sweet Alice needed a coat during her adventures in Wonderland, surely she would have picked this one, though would she have chosen demure dove grey or daring maple gold? She would have loved it in either color, for its cozy but soft wool, darling ruffled neck, and perky flowers at the waist. And, my dear, I love it, too! I'd layer it over long leggings with riding boots and a gorgeous jewel-tone scarf.
---
2

Frill Force Jacket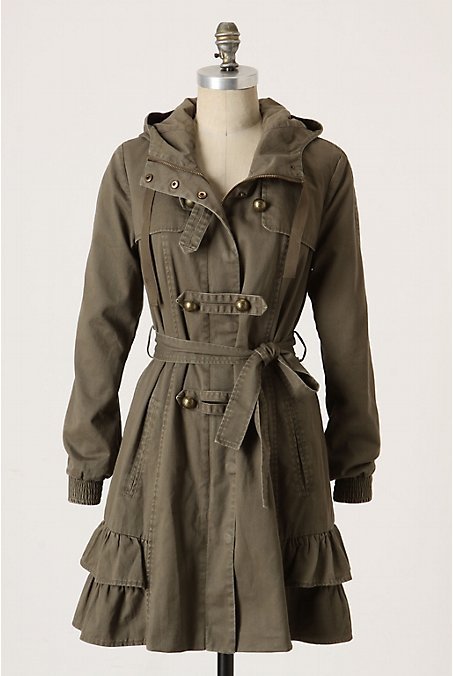 Price: $188.00 at anthropologie.com
The army surplus trend is very hot this fall, though the weather is taking a turn for the chilly. Keep yourself warm and everyone else at attention in this ruffled, romantic, but utterly surplus-inspired jacket by Idra. I really like the brass button toggles and the cuff sleeves…
---
3

Wanigan Coat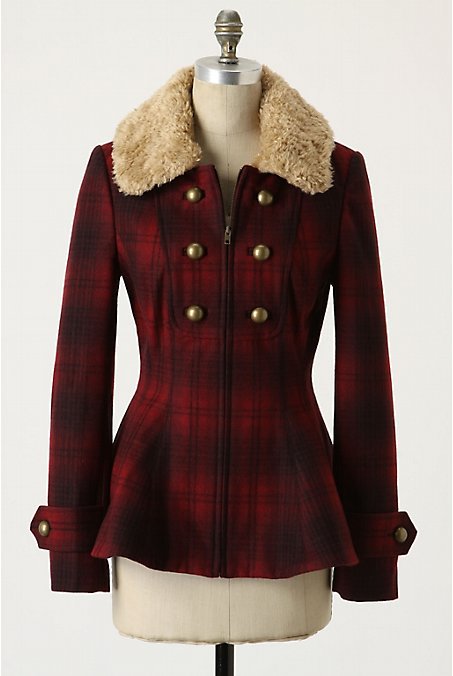 Price: $188.00 at anthropologie.com
Are you mad for plaid? This gorgeous fall coat boasts a bold red plaid and a fuzzy warm collar, perfect for celebrating the season at the cider mill, while raking leaves, or just out shopping! I love the slightly cropped shape and the front zip means it's warm enough to wear the whole season through! I also like that it's available in petite and regular sizes, so if you're a tiny thing, you won't have to swim in a coat that's just too big.
---
4

Harvested Honey Coat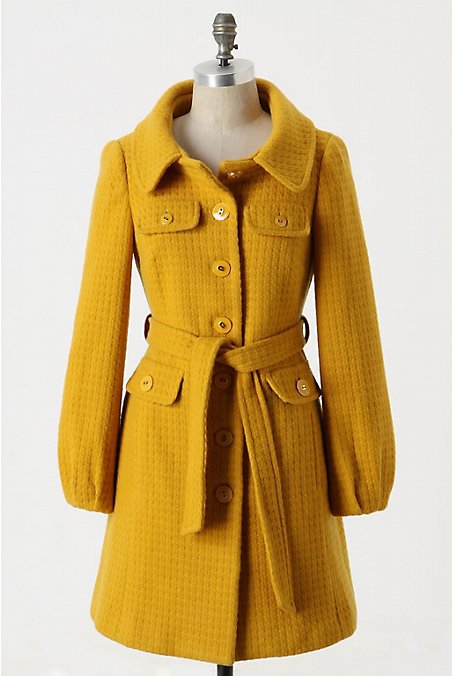 Price: $398.00 at anthropologie.com
This, to me, is everything a fall coat ought to be. It's wool with a silk lining (comfortable and warm), it's a gorgeous maple-golden hue (so you'll stand out in a crowd) and it's a very flattering shape. Wear all season long and even into winter, and pair with a glorious jewel-tone scarf for maximum impact.
---
5

Curtsey Coat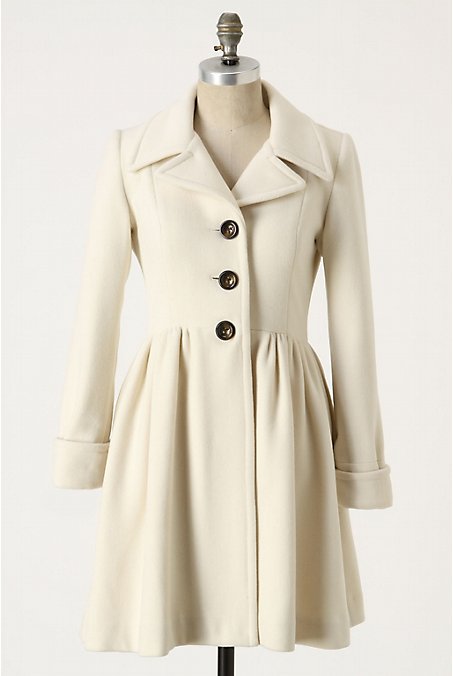 Price: $298.00 at anthropologie.com
Such a very ladylike coat! It's all feminine details, from the swing-sewn hems to the nipped in waist and the very pretty collar. For some reason, I want to wear this with something pink, maybe a crushed velvet hat and gloves, or a pair of cropped trousers…
---
6

Phlox and Coral Coat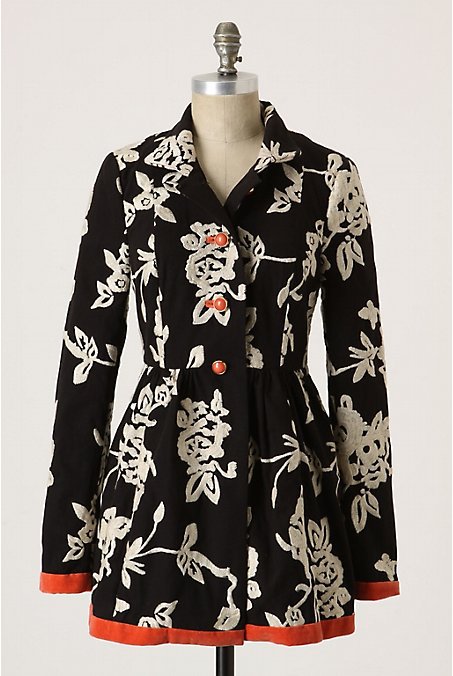 Price: $288.00 at anthropologie.com
Flowers aren't just for announcing spring or enjoying during summer. They're also perfectly acceptable during the fall; after all, isn't that what mums and phlox are all about? Wear this coat to prove those floral stereotypes all wrong, and flaunt your gorgeous coral-colored velvet trim, too.
---
7

Puckered Plaid Trench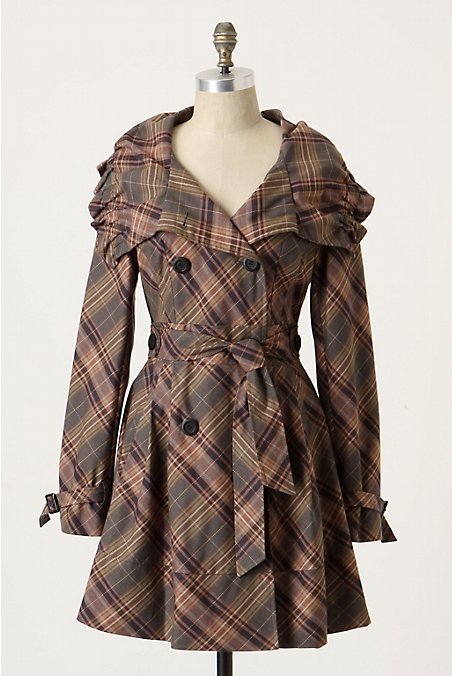 Price: $188.00 at anthropologie.com
Plaid trenches are wonderful for fall, because they're all about style, and very little about warmth. This one's got style to spare, too, with its ultra-lush ruffled collar and pretty tartan pattern. I love the cinched waist and the classic double-breasted styling. Pair with cropped denim or even shorts for an enviable fall ensemble.
With so many gorgeous fall coats in so many versatile styles, however is a girl to choose? Shall I buy the gold one, or the curtsey? The plaid trench or the plaid with the fuzzy collar? Which one do you like best, and what would you wear it with? Please let me know!
More
Comments
Popular
Recent