There are so many fab fall trends this year, and I'm excited about so many of them… but most of all, I'm delighted that vests have finally gotten the attention they deserve! They add so much style to an otherwise yawn-inducing outfit, and there are so many styles, flattering to so many body types! If you're with me on the vest thing, or if you need a little inspiration to catch the vest-trend bug, keep reading! These are my picks for 7 pretty vests for fall…
---
1

Turn the Page Boyfriend Vest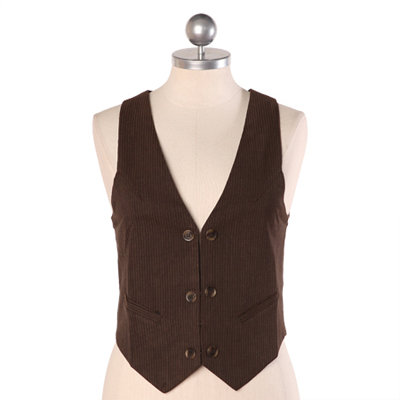 Price: $34.99 at shopruche.com
If I could only pick one new vest this season, it would have to be this one, for all its kitschy details. I love the way the pinstripes on the outside contrast with the sweet polka-dot lining, and the two rows of buttons (rather than just one) add a little extra style. This vest is adjustable in the back for a perfect waist-nipping fit, and would look so cute over a ruffled blouse!
2

Throw Me on Anytime Vest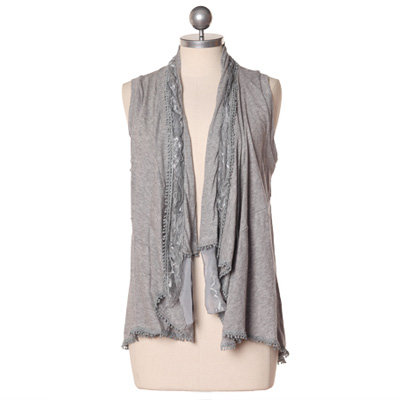 Price: $37.99 at shopruche.com
If you're looking for a vest to add style, not necessarily extra warmth, then this may just be the vest you're been searching for. Layer over a long-sleeved tee or a tank, and add a multi-strand necklace over the top. The color is soft and pretty, perfect for wearing with blacks, reds, or pinks!
---
3

Through the Vineyard Double Layer Vest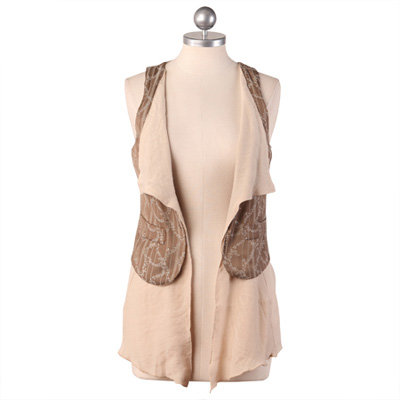 Price: $54.99 at shopruche.com
This vest is two layers in one, making early-morning office dressing a snap! Add thick leggings and tall boots with a tank, or a long skirt, blouse, and flats. Keep the accessories to a minimum, though, and let this clever little vest steal the show… if you feel you must, though, go ahead and wear an amazing cocktail ring!
---
4

Cloudy Morning Crochet Vest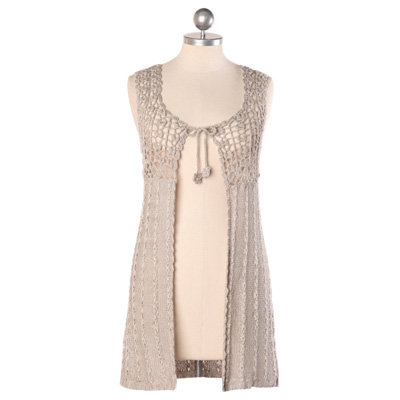 Price: $32.99 at shopruche.com
It may be the color of a spun-sugar rain cloud, but it won't darken your day. In fact, this soft, long-line open-knit vest will make you feel bright and warm, not gloomy or chilled. Add it as the final touch to any of your fall outfits, but it will look especially sweet with tall boots, high-waisted pants, and a starched blouse.
---
5

My Vest Friend

Price: $39.99 at modcloth.com
Look no further for a vest that's got miles of charm and extra-bold style! I love the soft double-lapel detailing and the flap pockets at each side. I'd wear this over a floral-print dress with boots, or with a long-line blouse and leggings.
---
6

Dramaturge Vest

Price: $64.99 at modcloth.com
Add a little more curve to your already enviable hour-glass figure with this waist-nipping double-layer vest! Wear with a blouse underneath, thick black leggings, lace-up booties, and prepare for stares, glances, and smile from a new troop of admirers.
---
7

Rogue Studded Vest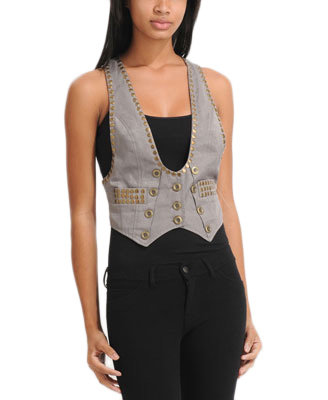 Price: $24.80 at forever21.com
Choose from black or grey, but either way, this very trendy studded vest will add a little more style to your fall wardrobe! Pair with any of your favorite tops, ad add skinny jeans or even just shorts to complete your look.
Layer any of these pretty vests over your favorite fall outfits and see how much style and pizzazz they can add! I've already ordered the Boyfriend vest and I can't wait to wear it! Which of these vests do you like best? And how would you wear it this fall? Please share!
---
Popular
Related
Recent