All of my photos from this summer are so colorful, with bright blue water, a rainbow of flowers, and so many gorgeous summer dresses. So I loathe to put these brilliant photos into boring black or silver photo frames. I've been looking for a bunch of colorful photo frames instead, and I've found quite a few in a range of styles and prices. Here's what I've found! This is a list of 7 very colorful photo frames, all available online.
---
1

Glass Bird Photo Holders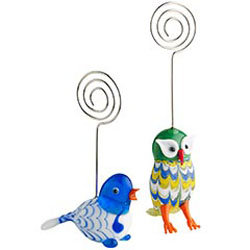 Price: $4.00 each at pier1.com
Would you prefer a pretty blue bird or a wise green glass owl? Both would be ideal for displaying smaller photos, and both look so lovely along a bookcase or desktop - maybe you ought to get both! And again, they're so inexpensive, you really can get both.
---
2

Blue Moulded Desk Frame
Price: $8.98 at pier1.com
I love the faux-retro feel of this pretty frame, perfect for displaying your favorite summertime snaps. It comes in this bright blue, but it's also available in pretty purple and brilliant pink. I'd buy all three and display them together - they're so pretty, and so affordable!
---
3

Far-Flung Frame

Price: $19.95 at anthropologie.com
All pretty blues and greens, all hand-woven together to make a lovely frame for the photos from your summer holiday at the ocean. The window is large enough to hold your favorite 5 by 7 inch photo, and stands a sizeable 11 inches tall.
---
4

Sunburst Frame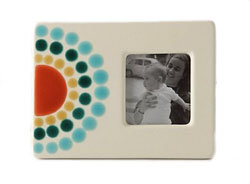 Price: $68.00 at anthropologie.com
This beautiful, glossy, colorful photo frame by Xenia Thaler is made of ceramic, so each one is a little different from the others. I love the design, and that it's made to hold a photo 3 inches square. Doesn't the design remind you of a summertime dandelion or allium?
---
5

Pink Tadaaaa Curtains Photo Frame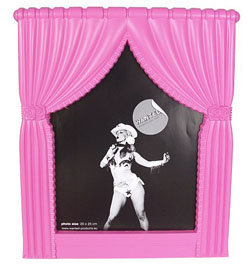 Price: $10.40 at shopplasticland.com
This bright pink molded photo frame is perfect for displaying a photo of your little princess doing her best grand jete or front flip - or anything else she does with panache! While it's also available in black, I prefer the bright pink - it's just so much more eye-catching!
---
6

Multi-colored Wall Gallery Frame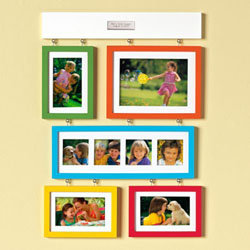 Price: $49.99 at gifts.redenvelope.com
Celebrate all of your family's summertime memories with this bright all gallery - it's got spaces for so many photos (8 of them in all!) in so many sizes. It's well-made and I love the bright kaleidoscope of colors. You can also order a tiny plaque to display at the top, perhaps something that says - Summer 2010!
7

Rose Frame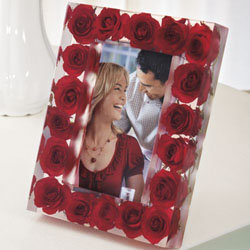 Price: $49.95 at gifts.redenvelope.com
What a beautiful way to display your wedding or anniversary photo! This frame is made with genuine rose buds, chosen because they're all the right size and shape and color for each other. The rest of the frame is clear acrylic, and it holds a 4 by 6 inch photo.
Aren't all of these frames pretty as well as colorful? I love the wall gallery frame, and the pretty pink and blue and purple frames from Pier One! Which of these frames do you like best, and what photos or snaps would you display in them? Please let me know!
---
Comments
Popular
Related
Recent