The bathing suit season... Some of us love it, some of us dread it (including your humble author), but despite the bad light and the horrible fat mirrors in the fitting rooms we'll all have to face this challenge yet again, Ladies ...
I've been working hard on getting in shape this spring (see my posts on weight loss for the ideas), so I'm really hoping bathing suit shopping this year will be a little less painful. And I even made a little research online to see what bathing suit trends are the hottest this summer. I also discovered that buying the right bathing suit for your body type will go a long way in helping you raise the temperatures!
So check out my 10 current favorites and see if these fabulous bathing suits will work for you!
---
1

Calvin Klein Halter Swimsuit ...

I love this black halter swimsuit! I think that halters do such a great job of lifting and supporting, and they give such a flattering line to my neck and shoulders. This bathing suit, with the super cute bead detail, would look great on the beach this summer.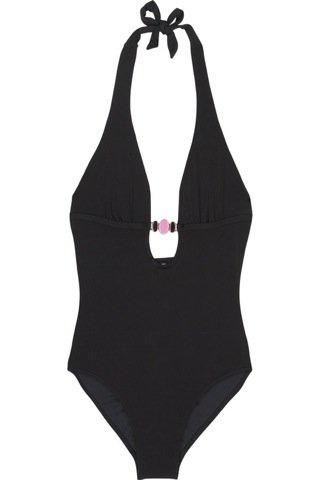 Check it out for $120 at Net-A-Porter.com
---
2

JETS by Jessica Allen Lustre Hater Swimsuit ...

Did I mention that I love halters? My wedding dress was a halter top, my favorite swimsuit last year was a halter... I just think they look great on all body types. I think this cool green color would look amazing by the pool, and the neckline and back detailing on this suit is really neat.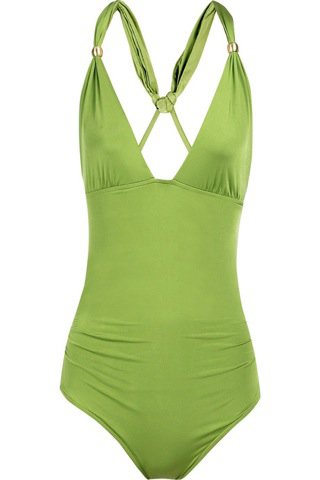 This suit is available at Net-A-Porter.com for $210
3

Melissa Odabash Monaco Cutout Swimsuit ...

I think this suit is so cute because it combines the best of a one-piece and two-piece... from the back, it looks like a two-piece bikini, but the front has that added little panel for sexy coverage. I also love the silver color, the embellishments on the chest, and that neat little connector between the top.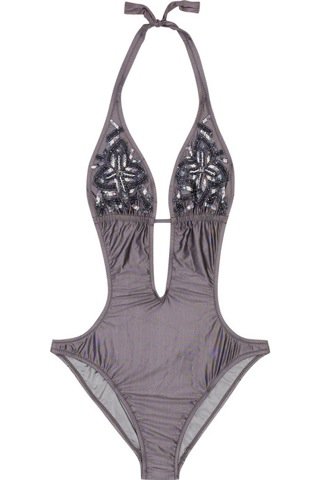 Find this one at Net-A-Porter.com for $340
---
4

Michael Kors Triangle Bikini ...

I love anything by Michael Kors ever since I've watched him on Project Runway... its one of my favorite shows, and he's one of my favorite judges! This cute little triangle bikini is embellished with little jewels. I love the blue, white, and green pattern. I think this one would look great on me this summer!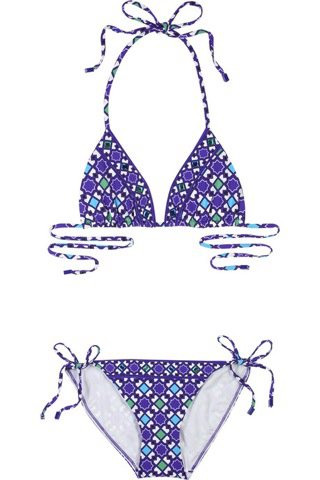 See it at Net-A-Porter.com for $225
---
5

Milly Plunge Swimsuit ...

I know that most people think that two-piece bikinis are the sexiest swimsuits around, but I have to disagree. Sometimes, a hot little one-piece suit can reveal just enough without revealing too much, and I think that's what this plunge suit does. I love the unusual colors and patterns, and I think the plunge neckline is too sexy! It would look great with a summer tan.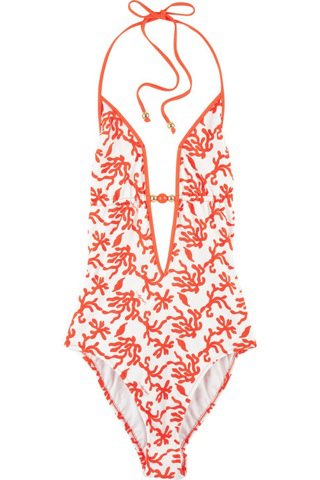 Look at the Milly Plunge at Net-A-Porter.com for $154
---
6

JETS by Jessica Allen Tuxedo Swimsuit ...

Oh my gosh, I totally love this one! I say that with each swimsuit I see on Net-A-Porter, but this one I truly adore. I love the tuxedo styling and unusual design of this suit. I think this looks just like something a Bond girl would wear! I love the flattering black color, too. I'd love to try this one on and see what my husband thinks about it!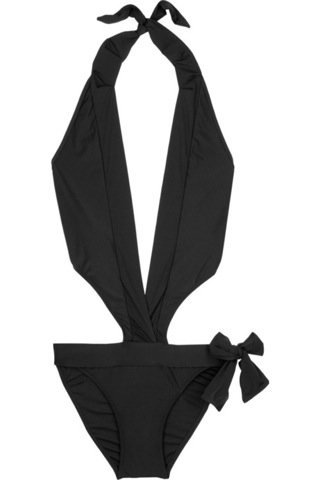 Take a look at it on Net-A-Porter.com for $270
---
7

Zimmerman Honey Rider Swimsuit ...

I love the retro vibe of this swimsuit! All things vintage are so hot right now, and I think this swimsuit has such a unique look. I love the black background and bright floral pattern, and the cute little neckline is great, too. There's even a matching coverup for sale on the site to give me a totally coordinated look!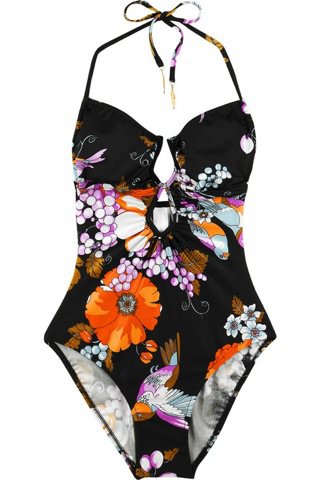 See it at Net-A-Porter.com for $255
---
8

Calvin Klein Twist Front Swimsuit ...

I love this little pink suit for so many reasons. First of all, I love the bright salmon pink color ... I think it would really show off a great tan. Then, I love the twist front detailing ... I think that would be such a flattering look. I also think the built in underwire bra would be a great support and be really uplifting. Finally, who doesn't love this price?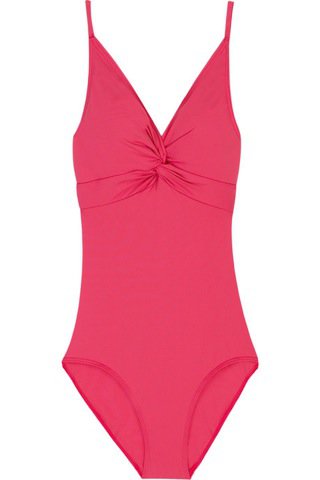 Look at this suit at Net-A-Porter.com for only $110
---
9

Michael Kors Cutout Necklace Swimsuit ...

Is it just me, or is this suit white hot? I absolutely love this one! I think this gorgeous white color would look amazing with a bronze glow this summer. Plus, I've never seen a swimsuit with this kind of design.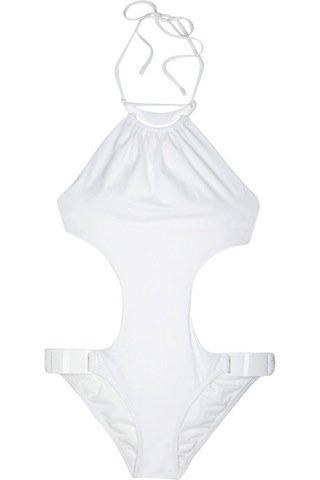 See it at Net-A-Porter.com for $175
---
10

Melissa Odabash Metallic Bandeau Swimsuit ...

This gold shiny swimsuit will definitely make a splash at the pool this summer! I bet no one would have a swimsuit like this one where I'm vacationing. I definitely think I'd need a tan to rock this gold color, but I just love the bandeau neckline, ties, and cutout sides, too.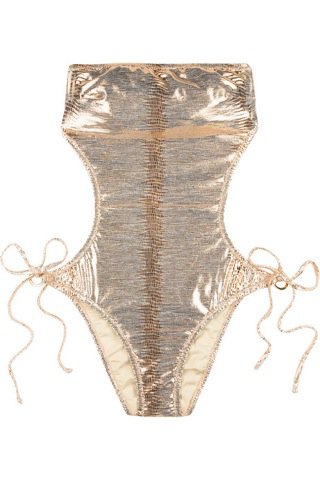 Look at this one at Net-A-Porter.com for $230
There they are - my current favorite suits for the summer! I'm so excited to try some of these and then wear them to the beach this year. And what bathing suits are you looking at?
Please share your links with me, I'd love to see what bathing suits you guys want to try!
This post was sponsored by Only In A Woman's World.
More Fabulous Posts on Summer Fashion:
Summer Fashion Trends:
• Great Summer Clothes - Top 35 Picks …
• 8 Hottest Fashion Trends for Spring-Summer 2009 …
• 7 Runway Fashion Trends for Spring-Summer 09 …
• 15 Most Daring Shorts for Spring-Summer 09 …
Summer Shoes:
• 27 Coolest Platform Shoes for Summer 2009 …
• 12 Coolest Cut-Out Shoes for This Summer …
• 17 Most Fabulous Flats for This Summer …
Jewelry & Fashion Accessories:
• 60 Most Fashionable Accessories for This Spring-Summer …
• 15 Hottest Big Earrings for This Spring-Summer …
• 7 Best Dior Diorette Rings …
• Which of 3 Harry Winston Diamond Rings Would You Choose?
Handbags:
• 7 Top Designer Handbags
• 10 Hottest Gucci Handbags …
• Prada Handbags - Hot 16!
• Chanel Classic Bags …
More
---
Comments
Popular
Recent