Bikinis seem to be the favourite beach wear, but have you ever noticed that the catwalk prefers stylish one pieces? For every model in a bikini, there are a few more in rocking a stylish, sexy and flattering swimsuit, so I decided to see what I was missing out on, and found some amazing suits! Here are my top ten one piece bathing suits...
---
1

Pistol Panties Bandeau Costume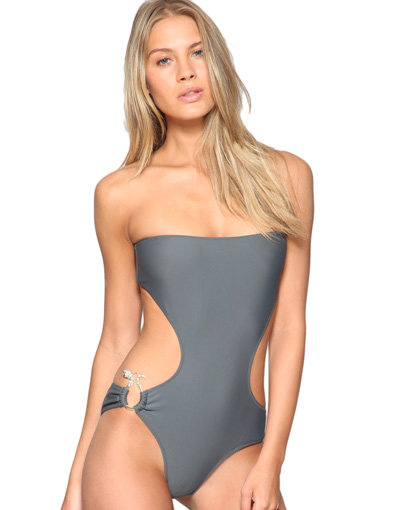 Price: $230 at asos.com
This sexy silver costume is tight fitting but not uncomfortable, and really makes you look amazing! The killer feature is the sexy silver buckle, though, starring a diamante snake... This costume is amazing, and will make you feel a million dollars!
---
2

Girly Pink Deep V Suit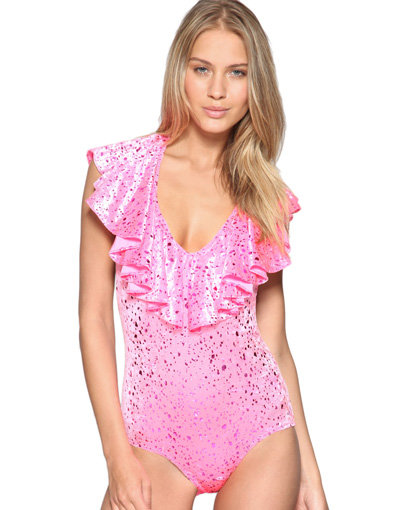 Price: $275 at asos.com
This cute costume combines bright pink colouring and sparkles with a deep V neckline and tight fit to make the perfect mix of girly sexiness. I love the ruffle neckline! The cut out back looks amazing, too, and wherever you are going, you'll be mesmerising in this.
---
3

Insight Print Deep V Suit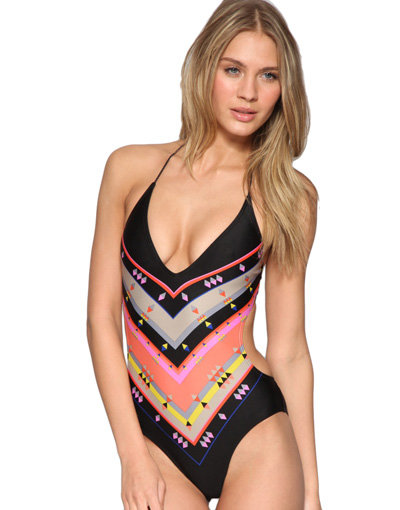 Price: $85 at asos.com
If you are body conscious, this is the costume for you. It has a very flattering fit, and a sexy deep V neckline, but the bright geometric pattern is positioned perfectly to distract from your stomach and keep you looking very on trend. The cut out sides add the perfect injection of sexiness, too.
---
4

Peter Jensen Rabbit Suit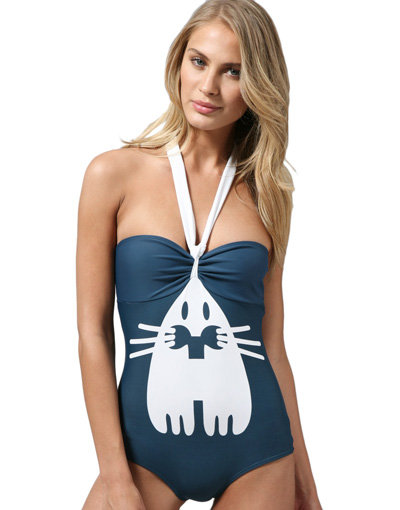 Price: $160 at asos.com
I love this costume! From the cute bunny print to the sexy neckline and navy/white colour scheme, everything about it is utterly perfect, and the black doesn't disappoint with a retro neck tie. I've already ordered mine!
---
5

Moschino Nautical Charm Suit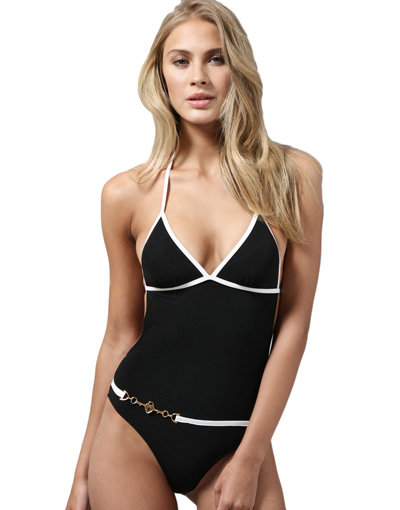 Price: $230 at asos.com
This suit looks like a tankini, but is actually a very flattering suit, which will smooth any body shape and make you look luscious. The black and white colourings give it a retro yet modern feel, but its the very cute lock charm which sets it off! I can't wait to wear this.
---
6

Maaji Cut out Print Costume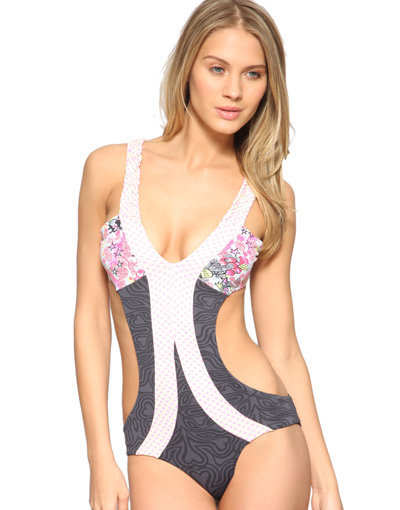 Price: $130 at asos.com
I love the pastel colourings of this suit, which perfectly compliment the cut out shapes. The back is super cute, with a tie up top, and the white 'V' shape is very slimming... perfect for a swim after a big meal! Pastel colours are huge this season, so why not rock the look on the beach?
---
7

Seafolly Print Cut out Suit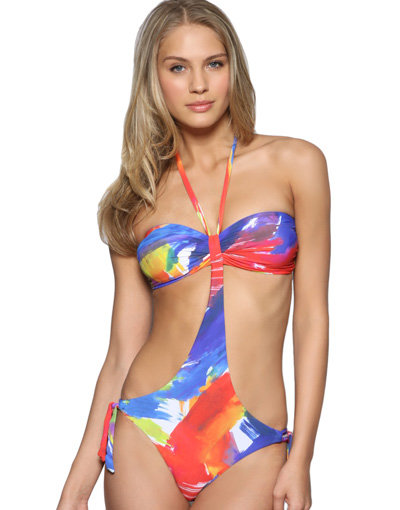 Price: $140 at asos.com
One piece doesn't necessarily mean covered up! This suit has barely more fabric then a bikini, but buckets more style. From the gorgeous colours to the ties and retro feel... It's an amazing costume, and I can't wait to wear it!
---
8

Seafolly Pixel Cut out Costume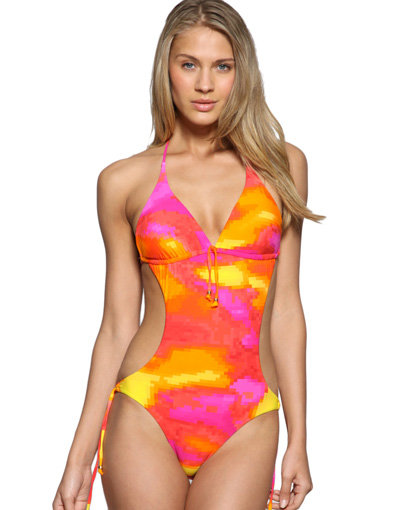 Price: $150 at asos.com
Neon is set to be huge for seasons to come, and this suit is very on trend! The under bust drawstring means you can alter it to fit you perfectly, and it's so slimming... It makes you look amazing, and the bright colours mean you'll demand the attention of everyone on the beach. And when your looking this good, you won't mind at all!
---
9

Marc Jacobs Skull Costume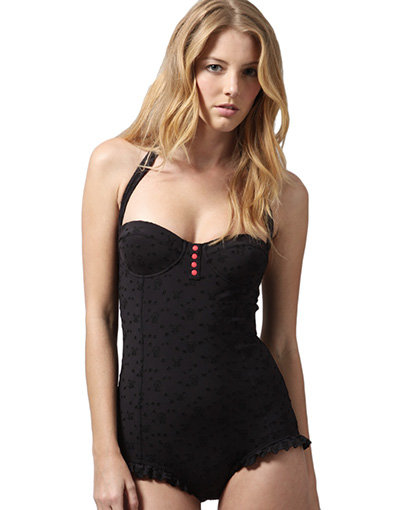 Price: $290 at asos.com
This super cute suit proves you don't have to be flashing the flesh to look amazing. From the flattering black colour to the retro styling and underbust support, it'll give you an amazing body shape, and the cute skull print makes it irresistible. There's no awkward tan line in sight, either! Bingo!
---
10

Retro Spot Suit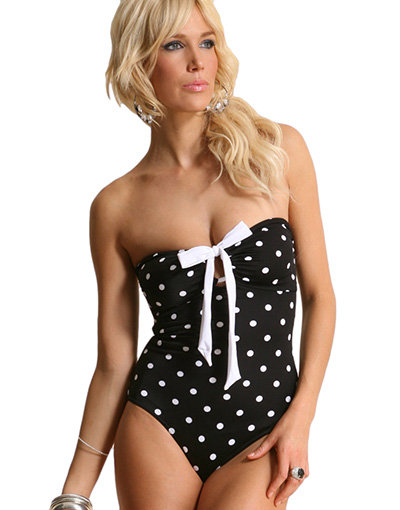 Price: $37 at asos.com
My friend has bought this ready for her Summer holiday, and spends half of her time wandering around her house in it. As well as giving an amazing silhouette, it combines the amazing retro colours and styles with modern knowledge, meaning you look and feel fantastic... the keyhole front gives it a sexy look, too!
I don't know how I'll choose between these, so it looks like I'll have to spend my entire holiday on the beach this year! One thing is for sure, I'm ditching bikinis for much sexier, and more stylish, one pieces. Have you got a favourite one piece? Please show it to me!
More
Comments
Popular
Recent