Have you had time to watch all the Spring-Summer 09 fashion shows to know what's hot for this Spring? No worries if you haven't, cause we have! And here are the 7 Major Runaway Fashion Trends**** for ****this Spring to look out for!
---
1

The Funky Leggings ...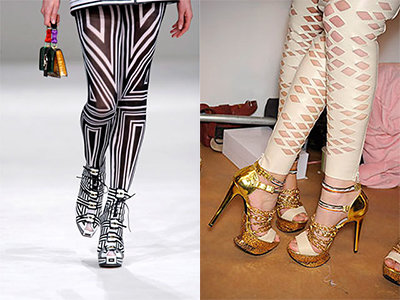 The runways were full of brightly designed leggings, meaning that they'll be around for a while yet! Team floral styles with denim skirts, or geometric shapes with some fancy shorts, and attract attention to your gorgeous legs! It's worth making sure that your shoes match, though, and then strut your stuff with the confidence that you look great!
---
2

Miles of Legs ...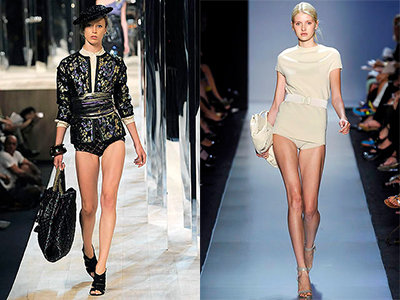 A more daring look was the very short shorts look that a few designers modelled. These were detailed shorts that were no bigger than normal underwear, often worn with jackets and knee high boots. While this is a look that'll be very hard to get right, if you've got the confidence for it, it's sure to be show stopping!
<a title="15 Most Daring Shorts for Spring-Summer 09 …" rel="bookmark" href="http://allwomenstalk.com/15-most-daring-shorts-for-spring-summer-09/">15 Most Daring Shorts for Spring-Summer 09 …
---
3

The Gold Rush ...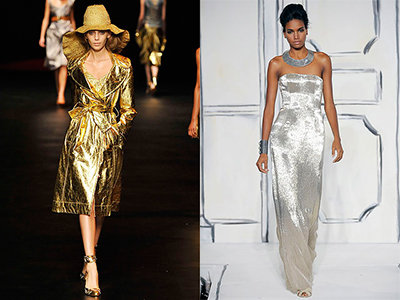 It's a good day for magpies, as the runways featured lashings of glitter and shiny materials. Invest in a black sequin dress, or a bright pink or gold jacket, and team it with black jeans and heels for a girly, up to date look.
---
4

The Bare Shoulder ...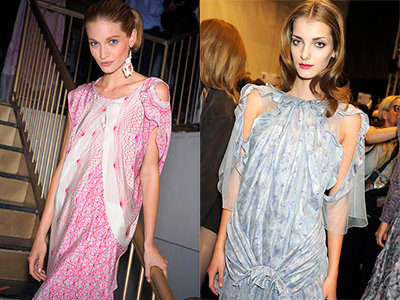 A trend that's already started is the one shoulder look. On anything from dresses to shirts, this gives an edgy, confident look, which is sure to be sexy. Team with boots and shorts for a night time look, or jeans and slippers for a day court.
---
5

Girls Play Boys ...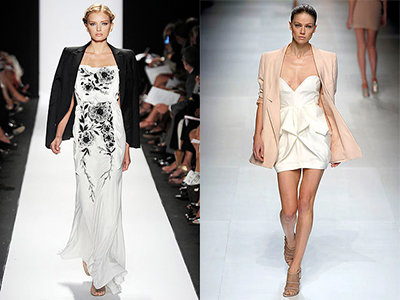 Choose a manly blazer, and team with skinny jeans and a tight fitting top, for a powerful yet feminine look. This was all over the high street, so expect to see male tailored jackets in the women's section soon, if there isn't already, but for a cheaper option, just steal your mans blazer and team with some super sexy heels.
---
6

The Bold Earrings ...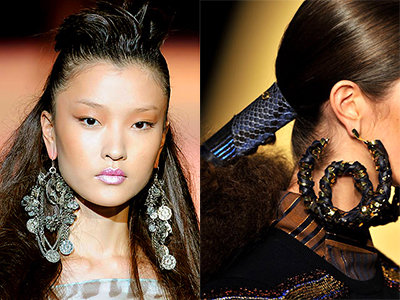 The catwalk decorated most of its models with big earrings. While their range was huge, I'd advise you to look for retro designs, and if you're feeling bold go for feathers and beads too. Avoid wearing a necklace too, and check that the earrings are made of quality material so that they won't hurt your ears or weigh too much.
---
7

Fluffy Details ...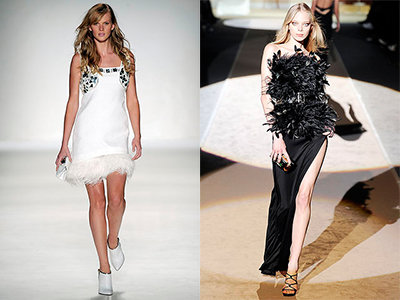 The catwalk featured lots of clothes with fluffy details, and this is sure to be a massive trend. From fluffy waistcoats to sandals with feathers, there fluffy details everywhere, and the look is fairly easy to pull off. Invest in a fake fur waistcoat and pair it with jeans and heels for a cosy look when the nights are still a little chilly. Or get yourself a pair of gorgeous earrings made of feathers!
Your sure to be bang on trend if you try these looks now, and they will be big all through the Spring and Summer. Do you have a different way of wearing these looks, or did you spot a different fashion trend for this spring-summer? Let me know, I'd love to hear from you!
More
Comments
Popular
Recent