Girls! I just looked at the calendar and realized that Spring Break is only a few weeks away! Time to start on that bikini-body workout, and time to start shopping for a hot new bikini for Spring Break! Schedule that bikini wax, pack your sunscreenand trashy romance novel, and check out my list of the ten hottest swimsuits for Spring Break!
---
1

Estancia Peacock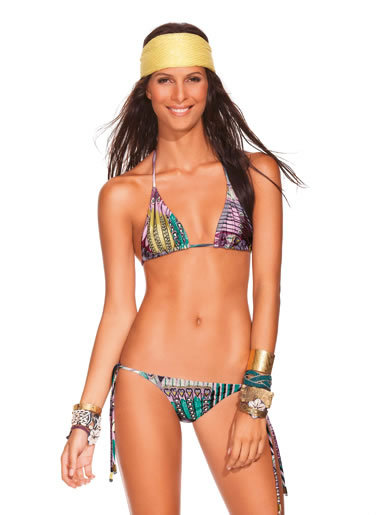 Price: $168 at ondademar.com
Clearly inspired by peacock feather, this hot little bikini features a sliding triangle top that ties in the back and behind the neck. The tiny bikini bottom ties at the sides. Choose a generous size 8, 10, or 12, and cover up with a timid sarong. Wear with chunky, funky bangles and a sweet pair of sunglasses, and don't forget your gladiator sandals! So hot!
---
2

Native Skin
Price: $158 at ondademar.com
This sexy swimsuit is perfect for Spring Break somewhere tropical and warm! I love the zebra print fabric with the floral-print piping and ties. Cover with cute cut-offs and a black tank, or a zebra-printscarf. Super-cute with a white sunhat and sunglasses, and a few animal-print bracelets.
3

South Sea Brown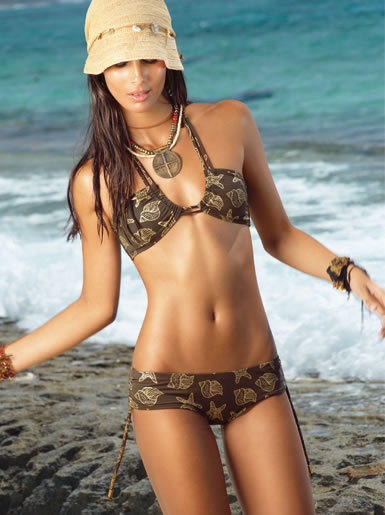 Price: $168 at ondademar.com
Looking for something a little different, with maybe a little more coverage? This two-piece is sizzling, with a double-strap top and modified boy-short bottoms. The seashell print is whimsical, and I love the long ties at the sides of the boy-shorts for ruching. Wear with a linen tunic and some earth-tone fabulous flats, and go bold with a necklace or bracelets.
---
4

Zingara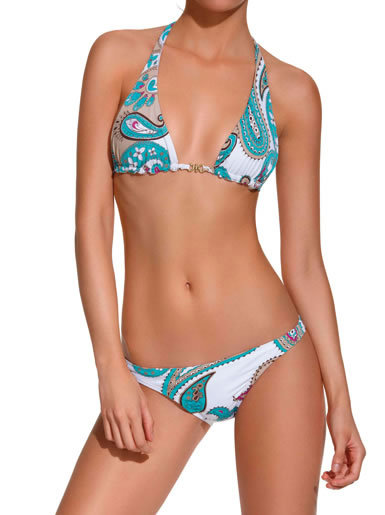 Price: $158 at ondademar.com
Considering paisley is one of this season'smust-have prints, this bikini is going to be a hit! I love the pretty paisley print, and the halter top! If you've got the bod, show it off in this sweet little bikini! Cover up with anything you like, the more boho, the better, or better yet, just wear this bikini, your sunglasses and sandals, and a smile!
---
5

Blue Moon Two-Piece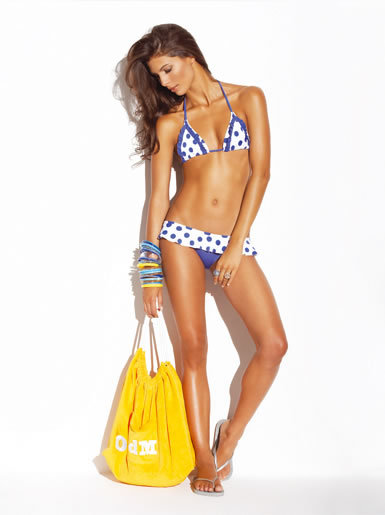 Price: $105 at ondademar.com
Have you ever seen such pretty polka-dots? Pair them with these sweet ruffles, and you have the perfect bikini for your Spring Break! White background, pretty blue dots, what more could you ask for? Pair withfashionable accessories like neon plastic bangles and funky sunglasses.
---
6

Creole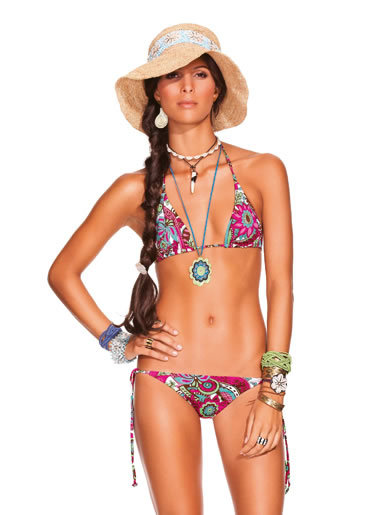 Price: $174 at ondademar.com
Are you breaking in the Big Easy? Why not? New Orleans has thebest food, the best music, the best party for Spring Break! Wear this bright, funky Creole print two-piece on Bourbon Street with a pair of pretty sandals and a sun-hat… and get ready to stay up all night! The bottom ties at the sides, and the triangle top ties at the neck and in back.
---
7

Cocoa Stripes Two-Piece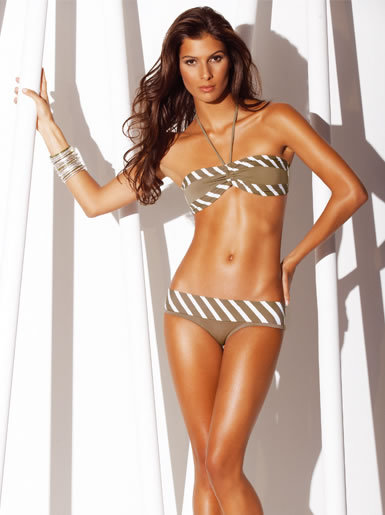 Price: $84 at ondademar.com
Demure, sophisticated diagonal stripes in alternating cocoa and white. A halter top and modestly-cut bottom. But then, wait! A band of shiny silver along the bottom of the halter top… instant grown-up glam! Pair with a stark white tunic cover-up and silver gladiator sandals, white sunglasses and a cocktail in your hand. So pretty!
---
8

Siete Mares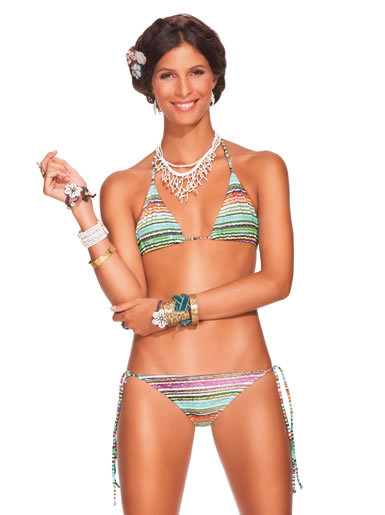 Price: $164 at ondademar.com
Seven Seas, indeed! What a gorgeous embroidered, sequined bikini! I love the sherbet and sorbet colors and the nubby texture. The top is a halter with removable soft cups, and the bottoms feature long ties at the sides. Wear with any and all of your favorite summer accessories, like sunglasses, hair clips, and bangles!
---
9

Vintage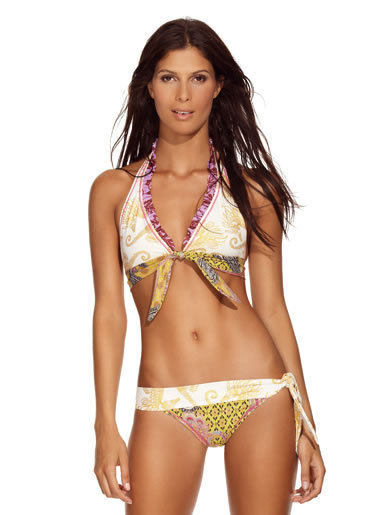 Price: $138 at ondademar.com
Are you a retro girl? Then this is the bikini for you for this Spring Break! The pretty ruffled halter top features a front tie detail, and the bottoms tie at the left side. The best part? The funky vintage-inspired prints! Pair with retro sunglasses and a long, flowy skirt, and your grandmother's vintage cameo… hot and pretty, too!
---
10

Crazy Leopard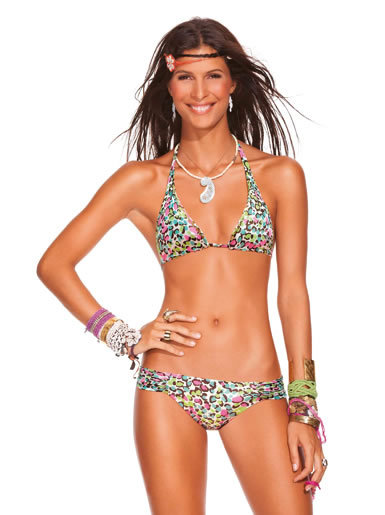 Price: $166 at ondademar.com
Who wouldn't love this bright, funky two-piece? If you love animal prints in neon colors, then give this a go! The top is a halter with gold embroidery and studs, the bottom is modest full-coverage. Pair with purple accessories or any other bright colored bracelets and a bright pink or green sarong. You can't go wrong!
I love every single one of these bathing suits, and now I really can't wait for Spring Break! Which of these do you plan to pack? Or is there another swimsuit for Spring Break that's caught your wandering eye? How will you accessorize? Please let me know!
---
Comments
Popular
Related
Recent