Well, Winter is over, and the Summer is around the corner. And while I love the hot weather, gorgeous clothes and new looks, I must admit that I dread putting on my bikini. I just never feel ready, and I never feel entirely comfortable…this year, I decided to quiz some experts on ways I could feel happier, and here are my tips for getting a bikini ready body…
---
1

Start with the Skin…

Your skin needs to feel ready for Summer, so give it a helping hand by exfoliating regularly. This will get rid of Winters rough skin and promote the growth and nourishment of some softer, sexy Summer skin. I've been using this Philosophy wash which smells divine and leaves my skin in great condition!
---
2

Keep It Hydrated…

Available at sephora.com

Skin can dry out fast, especially when its being exposed to the Sun. To counter this, use an oil based cream once a day, which will lock in moisture. I've recently been recommended these Pagnea Organic oils, which as well as hydrating the skin also revive tired muscles and smell divine! It comes in a few different scents, too, and I'm already a huge fan.
---
3

Feet First

Available at sephora.com

Have you ever noticed that some people seem to completely ignore their feet? Well if you are going to be showing off your body, your feet need to look their best too. The best way to look after them? Invest in some foot soak, and use it once a day. Follow this by applying a cream similar to this divine smelling Shea Butter, and use spa socks to keep it in. After a few days, you'll have the prettiest feet in town!
---
4

Acne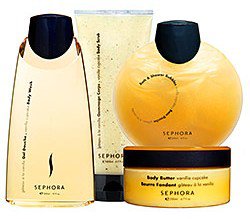 Available at sephora.com
Theres nothing worse then putting on your bikini only to discover that you've got spots, so its time to start looking after those trouble areas! I've recently discovered this gorgeous Sephora set, which smells like vanilla cake and contains everything I need to keep my skin looking radiant and spot free. If you really suffer, try using a bath product for acne sufferers, or see your doctor for a prescribed medicine.
---
5

Keep Hair at Bay

Available at sephora.com

No one looks good covered in hair, but if you leave it to late, you'll be looking like a lobster before you even hit the beach. Get your body into the habit of a hot shower, exfoliate, wax and shave. If you can handle the pain of waxing, it's really worth the extra time, as it keeps hair at bay for much longer. I've got this great mini wax kit, which keeps me looking great when I'm on holiday!
---
6

Glow on!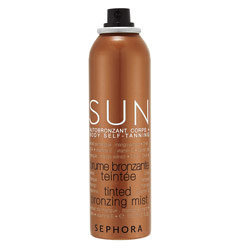 Available at sephora.com
Get a head start on your tan by beginning to use a light coloured self tan. Avoid tanning beds as these will damage skin, and apply self tan once a week or as necessary to build up an even and gradual colour. Just make sure you don't go too dark, or you won't notice your natural tan!
---
7

Accentuate Your Tan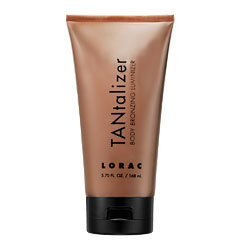 Available at sephora.com
Use a body bronzer to highlight your favourite parts of your body. From decorating your collar bone to flattening your stomach, in the right places this can really make a difference to how you look (and how confident you feel!)
---
8

Go Waterproof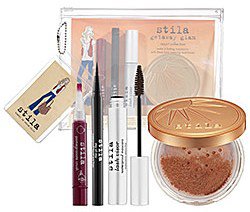 Available at sephora.com
This sounds easy, but is really easy to forget. Invest in some high quality waterproof make up, and practice applying it. Knowing that you look good will make a real difference to how confident you feel! I've bought this great Stila set, which has everything I'll need to feel great, and comes in a great container too. It's perfect for holidays!
I've been testing these tricks for a few weeks, and they are really making a difference! From just swimming to preparing for the beach, I feel a lot more ready to bare all, and I'm even thinking of investing in a few more bikinis…Have you got a tip on getting my body bikini ready? Please let me know!
More
Comments
Popular
Recent