The bikini has been a firm favourite for years, but this year, the one piece has made a return. No longer just used by the shy, it's been given a stylish update, and it's never looked better! And it makes beachside eating much less of a problem. Here's the hottest styles so far!
---
1

AS0S Classic Cut out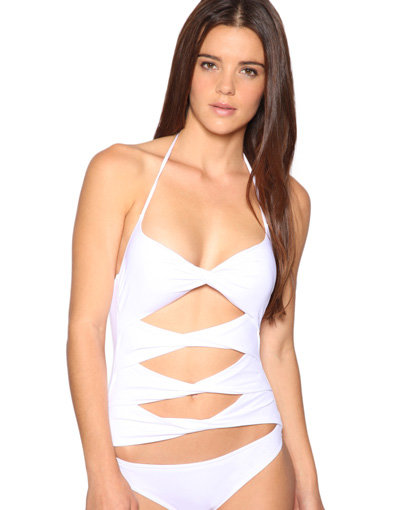 Price: $50 at asos.com
This bikini is the ultimate new cut out...the gorgeous pure white colour looks stunning against a tan, and the gaps are specially placed to be flattering. Whether you are swimming or drinking cocktails at the poolside bar, this swimsuit will look classic and amazing! Team with tan shoes and surfer-girl hair for ultimate sex appeal.
---
2

ASOS Retro Plunge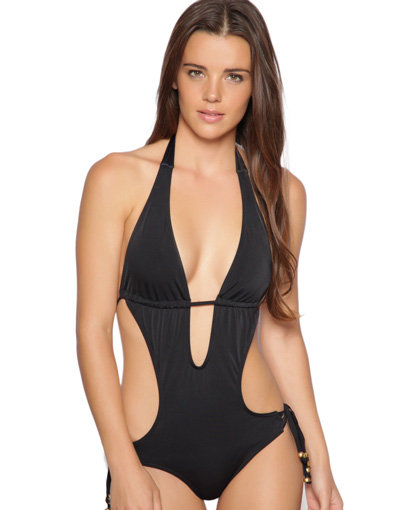 Price: $47 at asos.com
Kelly Brook has always been a fan of the retro swimsuit, and with styles like this about it's not hard to see why. The low plunge neck is daring and sexy, and the tassles bring it right on trend. Go for black for a classic silhouette, or pick an electric or neon colour for a modern look.
---
3

Mango Deep V Neck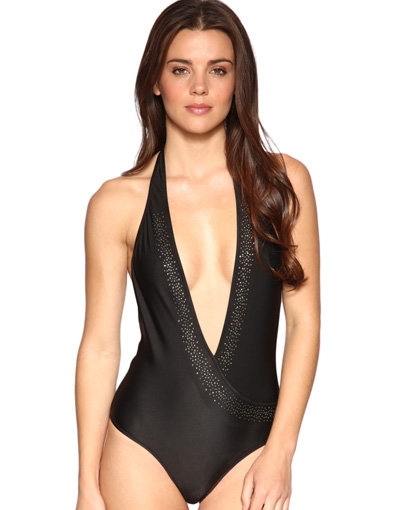 Price: $75 at asos.com
This Mango swimsuit combines a slimming black colour with rocky stud detailing, and a plunging neckline. It's a great cossie for pool side posing, and looks amazing teamed with nude heels and sunglasses..it even goes well with low cut jeans. A definite favourite!
---
4

Karen Miller Tropical Print Swimsuit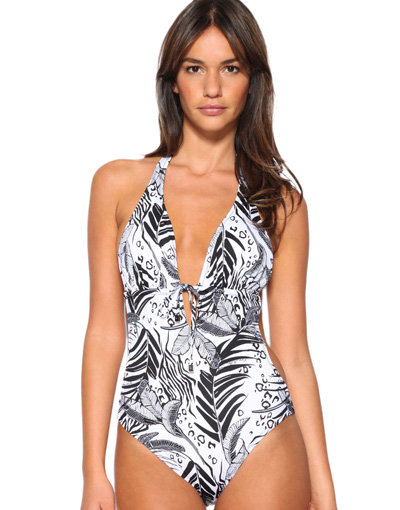 Price: $117 at asos.com
Prints are set to be huge long into the Winter, and this gorgeous cozzie combines a pretty tropical print with monochrome colourings to make one stylish swimsuit! I love the back, too...It's gorgeous and stylish, and it's conservative enough to wear around his parents too.
---
5

Insight Paint Splash Bandeau Suit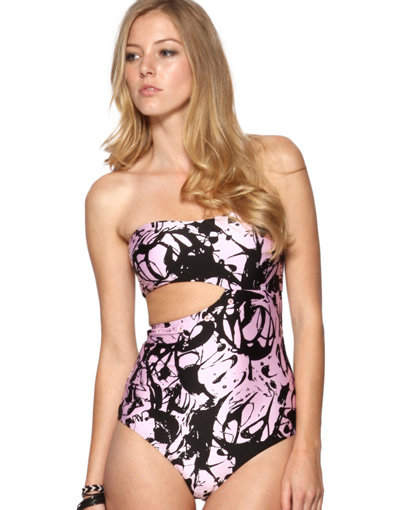 Price: $84 at asos.com
This suit hits all the right buttons...the paint splash effect is an amazing way to wear graphic prints, and I love the bright colours! It's cut out is stylish without being too revealing, and the bandeau top makes it very high-fashion... strapless swimsuits were all over the catwalk. Team with some rock-themed jewellery, and wear with a pout!
---
6

ASOS Fringed Suit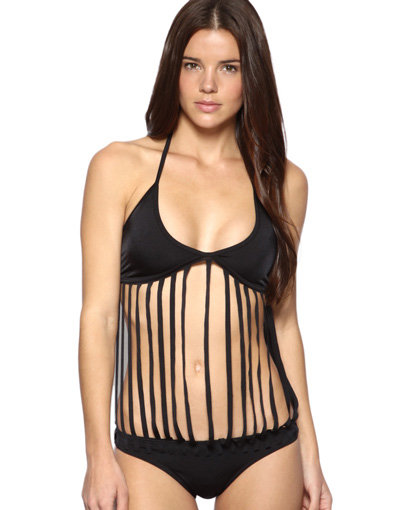 Price: $47 at asos.com
Fringing is so hot right now, and this bikini rocks fringing to the max. The simple, classic black top is updated with long fringes, which are flattering yet tight enough to seamlessly join the black bottoms. The back has a much more understatd look, with just a tie, meaning you can ensure it fits you just right. Keep accessories to a minimum with this one, and let your suit do the talking.
---
7

Tavik Leaf Stripe Suit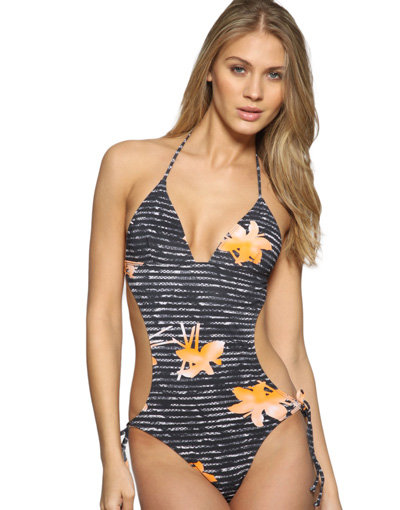 Price: $163 at asos.com
I love the striking print on this swimsuit, which combines the gorgeous monochrome trend with an Autumn touch. It looks so glamorous and elegant! The tie sides and halterneck ensure it's flattering for your body shape, and the simple lines really compliment the toned look of a tan. It's at the top of my "Must Have" list!
---
8

ASOS Cut out with Ring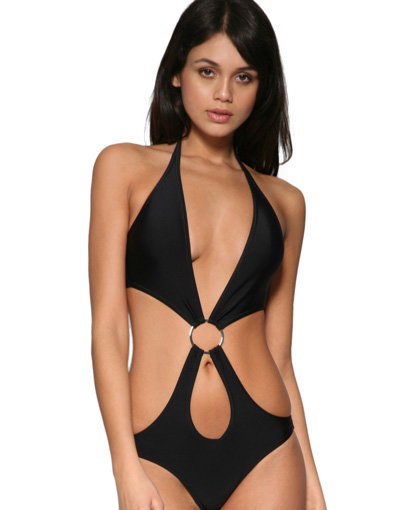 Price: $37 at asos.com
This is a daring suit...it offers only a little more coverage then a bikini, but it's bursting with attitude and it looks amazing on. I love the assymetric shape, and the silver ring in the middle is the perfect finishing touch. Team with silver silhouettes or nude wedges for leg-lengthing height and jaw dropping gorgeousness!
---
9

By Caprice Cobra Print Cut out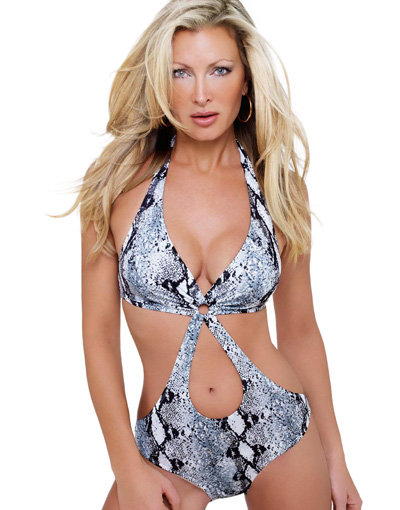 Price: $47 at asos.com
Caprice's range was made to maximise sexiness and make you feel good about yourself, and this suit will definately do that. From the snake print to the shape, it's perfect for boosting your body and your spirits. It seems to hold in all the right places, and it's so comfortable! Team with just some earrings and casual shoes, and watch for admiring glances...
---
10

ASOS Spot Tie Front Swimsuit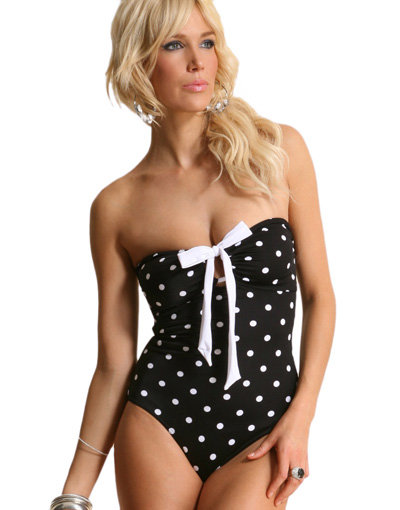 Price: $37 at asos.com
The retro look is huge right now, and this swimsuit is a super-easy way to wear it. From the stunning monochrome polka dots to the flattering shape, bandeau styling and cute tie front, it's perfect for looking gorgeous lounging by the pool or taking a swim! Wavy hair and cute earrings are essential, and of course the red lips!
I love these swimsuits...I can't remember the last time we had such an amazing choice, and whether you are after something a little different or you aren't brave enough to wear a full bikini, they are perfect for creating an impact! Have you spotted an amazing one piece? I'd love to see it!
Top Photo Credit: Historicus
More
Comments
Popular
Recent