It's nearly swimsuit season again, and I don't know about you, but while I love the warmth and the sunshine, I dread searching for a new suit that flatters my figure. I'm on the slender side with not much on top… but I don't want to shop for swimsuits in the little girl's section! What to do? I've been doing some digging, and here are the eight swimsuits I've found for eight different body types… including mine, and probably yours, too! They're all from Victoria's Secret, too, so they're all sexy, not bland, boring, or anything your granny would wear…
---
1

Carmen Marc Valvo® Skirted Bottom with Retro Twist-Front Bandeau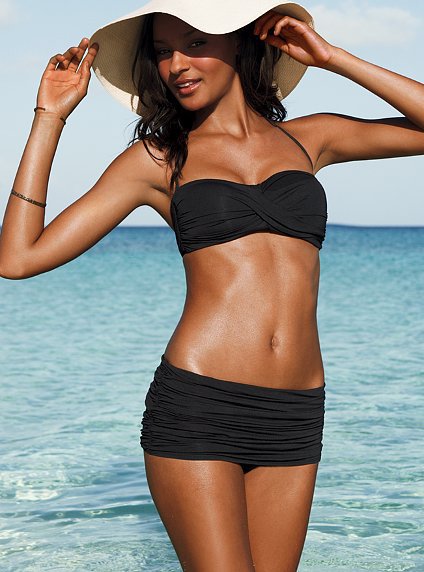 Price: $154.00 at victoriassecret.com
Perfect for: Bootilicious Babe!
I'm always so jealous of women with round bottoms, and men love curvy, bootilicious babes, too! But if you're just a little uncomfortable with baring all at the beach, then this is the swimsuit for you! Leave the old-granny skirted suit and the sarong at home, and show off those curves in this two piece. So sexy!
---
2

Victoria's Secret Magicsuit® Firm Control Shaping Halter One-Piece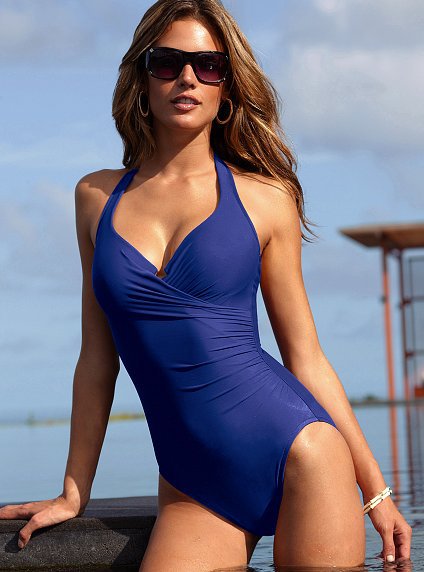 Price: $132.00 at victoriassecret.com
Perfect for: Curvaceous Cutie!
If you're one of those lucky girls who's curvy all over, then you're probably already used to the wolf-whistles and cat-calls at the beach! Get ready for even more of them in this hot little one-piece swimsuit! It's made of Miratex®, a light-weight, figure-shaping fabric that will keep your hot curves looking just a little more sleek. Choose from one of four gorgeous colors!
---
3

Coco Reef Bamboo-Trim Halter and Scoop Bottom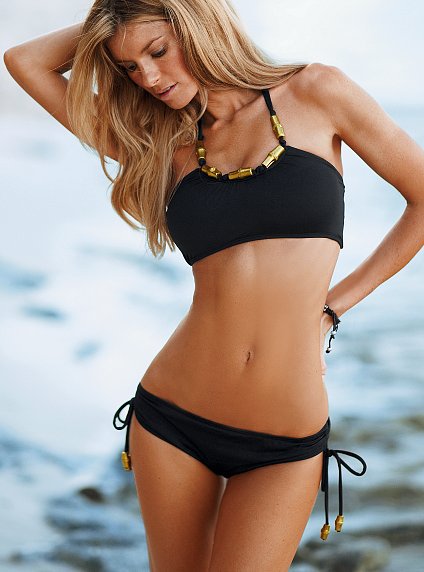 Price: $98.00 at victoriassecret.com
Perfect for: Buxom Beauty!
If you're a buxom beauty who needs just a little more support and control in a swimsuit, but who doesn't want to sacrifice style, read on! This two-piece swimsuit provides a just the right amount of coverage, support, and sexiness! It's fully-lined with ties at the neck and back and interesting bits of bamboo trim.
---
4

Victoria's Secret Very Sexy Draped Wireless Push-up Halter Top and Draped Scoop Bottom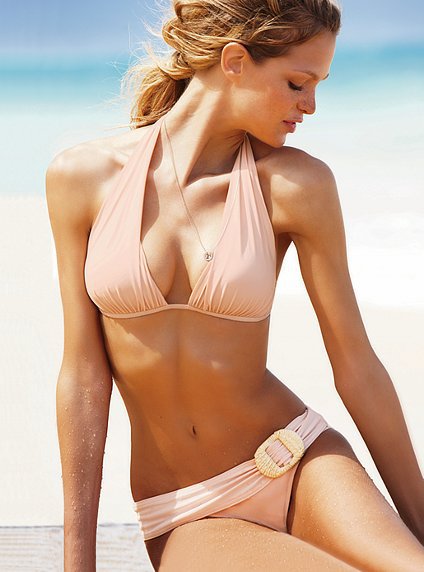 Price: $64.00 at victoriassecret.com
Perfect for: Tiny Ta-Tas!
If you're anything like me, you'd love to have a somewhat bigger chest to help fill out some of the sexy swimsuits you see, or at least the illusion that you do! I tried this one on recently and went from feeling like a 12-year-old flat-chested thing to a va-va-voom pin-up girl! The pink blush color is slightly more flattering than the black, but choose whichever you prefer and get ready for some dangerous curves!
---
5

Victoria's Secret Magicsuit® Firm Control Crisscross Shaping One-Piece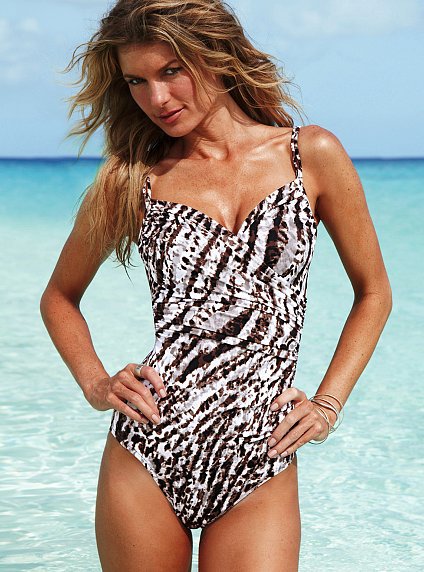 Price: $138.00 at victoriassecret.com
Perfect for: Tummy Love!
If your personal secret issue is your tummy (whose isn't?), then you probably avoid bikinis like the plague. But most one-pieces can be so… boring! Not this one, though. It's hot, gorgeous, and best of all, is made to flatter your shape! It's available in two sexy prints and two solid colors. Pair with big white sunglasses and loose, wavy hair and prepare for stares!
---
6

Victoria's Secret Beach Sexy® Paisley Shimmer Triangle Top and String Bottom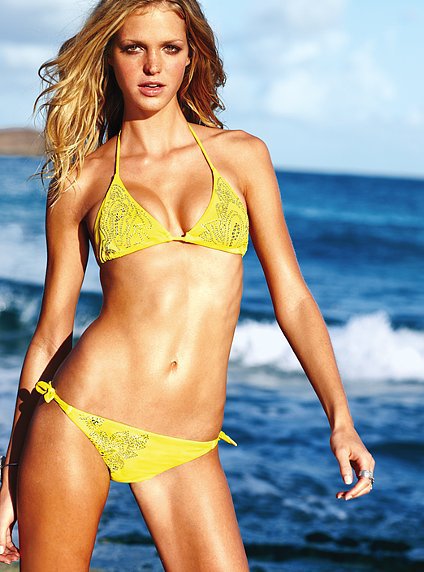 Price: $58.00 at victoriassecret.com
Perfect for: Perfect Princess!
You lucky thing! Your body is perfect and you're not afraid to flaunt it! In that case, indulge in an entire closet full of the sexiest bikinis you can find, like this one! You can choose your top size and bottom size separately to ensure a perfect fit. I love the on-trend bright yellow color, and the gold paisley detailing is so hot!
---
7

Victoria's Secret Magicsuit® Firm Control Convertible One-Piece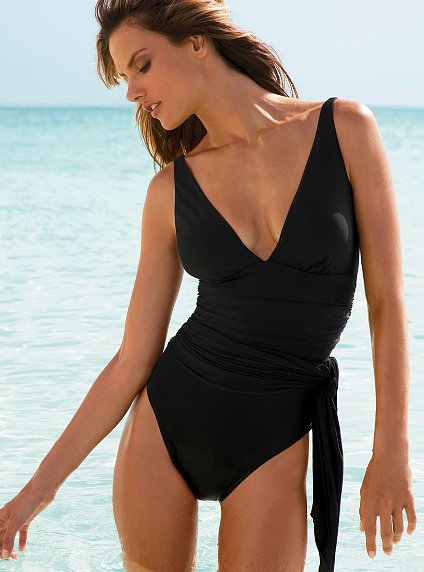 Price: $158.00 at victoriassecret.com
Perfect for: Gorgeous Gams!
All of the women in my family are very self-conscious of our ample thighs, but I love mine! If you've also got generous, gorgeous gams, then this is the suit for you! The high-cut legs and low-cut top call attention to your best assets… even if you don't like this suit, promise you'll never wear one with the short attached skirt — they tend to make your legs and hips look wider, and call attention away from your other curves!
With these tips, you'll be able to choose the perfect new swimsuit to flatter your gorgeous figure for sure! Now the only problem is how to find the perfect line to let guys down easy at the beach or pool-side — after all, hot mama, you're going to need some way to deal with the attention! Which of these body types is you (I'm the Tiny Ta-Tas)? Have you found the perfect swim suit for your body type? Please let me know… it's time to ditch the sarongs and hit the beach!
More
Comments
Popular
Recent