Let's face it — I'm a stick person. 12-year-old boys have more curves than I do. While I've grown comfortable with my body, I still covet the gorgeous curves other women have, and I love that we're all built differently. Imagine how boring the world would be if every woman was a size 6! One of the best ways to show off womanly curves is in a flattering, pretty swimsuit, no matter where those curves are or how generous they are. Case in point? Here are 7 gorgeous plus-size swimsuits.
---
1

In a Daze-y One Piece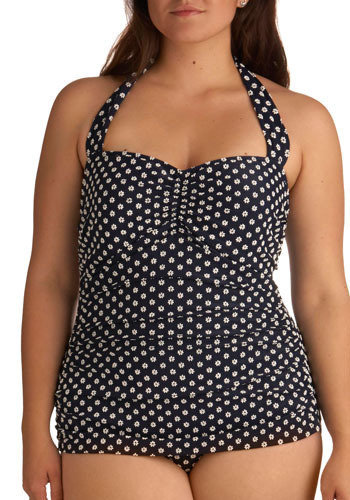 Price: $89.99 at modcloth.com
This lovely navy-blue halter swimsuit is scattered all over with tiny white daisies, making this a constant reminder of warmer climes and times, even when you're swimming in January in an indoor pool. It's retro-inspired, so run with it, and wear this with a crisp white cover-up and big sunglasses. Choose your size from 16 through 26.
---
2

By the Boardwalk One Piece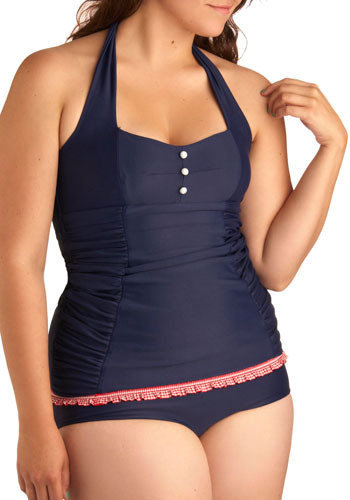 Price: $105.99 at modcloth.com
So gorgeous! Be a curvy retro pinup in this one-piece swimsuit with cute details, like the red and white gingham ruffle on the hem of the overlay and the three decorative buttons on the bust. Wear with red sandals and a tote, and a sassy ponytail for maximum impact.
---
3

Bathing Beauty One Piece in Violet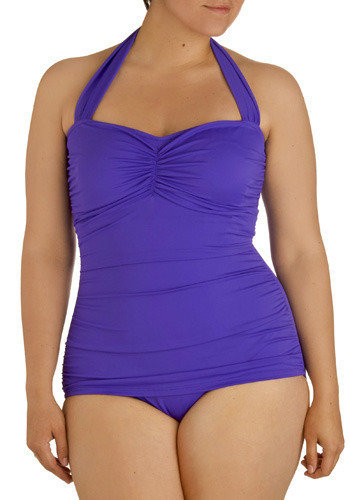 Price: $89.00 at modcloth.com
Be a bathing beauty in this gorgeous one-piece suit, replete with flattering ruching in all the right places to flaunt the curves you love. It's a lush violet color, ideal for wearing with white accessories, or even red!
---
4

Rainbow Graph Two Piece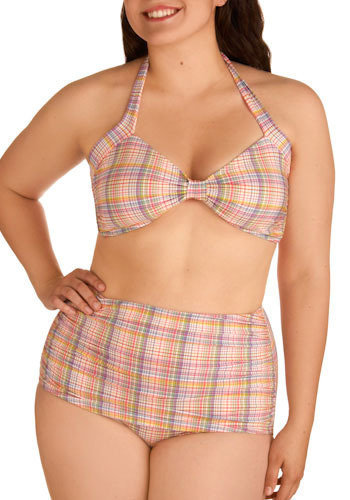 Price: $89.99 at modcloth.com
If you're mad for plaid, then this suitie by Girl Howdy is for you! It's available as a two piece (pictured) or a one-piece, both with modest bust and rear coverage and superlatively vivid colors. Carry a straw tote and wear a big floppy straw hat… you're gorgeous!
---
5

Beach Blanket Bingo One Piece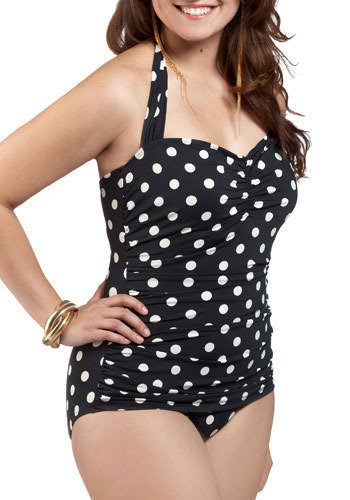 Price: $89.99 at modcloth.com
This is the Holy Grial of swim wear, a pretty, flirty, incredibly flattering swim suit. It's a brilliant black and white (or red and white) polka dot one-piece, ideal for pairing with any of your fave bright accessories (I recommend yellow or green).
---
6

Bathing Beauty One Piece in Black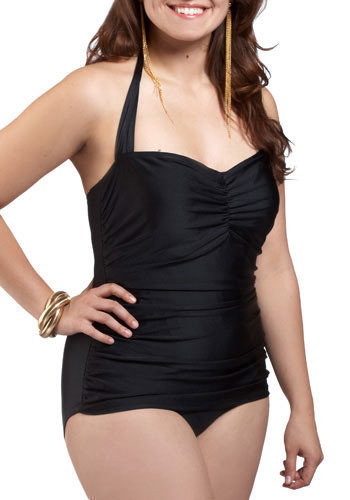 Price: $89.99 at modcloth.com
We all have our best LBD, and this, my dear, is the bathing suit equivalent, flattering, pretty, chic, ready to be dressed up or dressed down, depending on the accessories. Id' wear it with red accessories, or with black, or even with white…
---
7

Bathing Beauty One Piece in Wine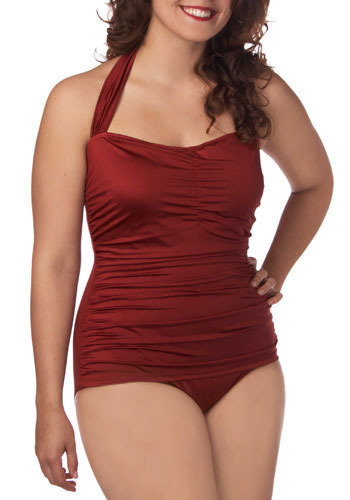 Price: $89.99 at modcloth.com
The color of this swimsuit is sure to flatter any complexion, and any lovely set of curves! It's a deep wine color, shiny and sleek and ruched in all the right places. Pair with chocolate brown accessories or with black…
With so many gorgeous ways to flaunt your curves pool-side or at the beach, I predict it will be difficult to choose just one! Which of these plus-size swimsuits do you like best, and what would you wear with it? Please tell!
More
Comments
Popular
Recent