Mixing and matching can be fun and is very fun in all cases but one – when you're forced in doing it because you can't find the matching top. Some ladies even claim there are no nice bikinis for large busted women these days and, trying to find some interesting ones to show you, I had a chance to experience just a tiny piece of their problems. Yes, nice bikinis for large busted women are indeed hard to find but I have managed to run into a few which I would like to share with you today…
---
1

Freya Polka Dot Bikini Top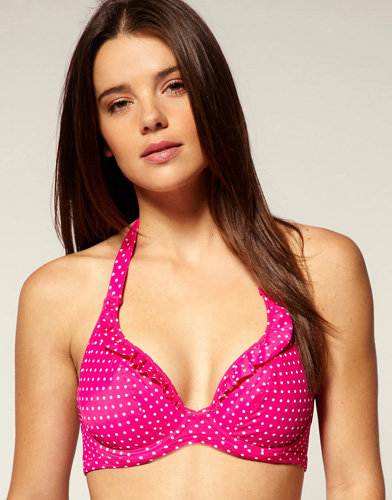 Price: $56.89 at asos.com
This lovely retro bikini top has everything you'll need to feel both gorgeous and comfy at the beach this year. The cups are just perfect so you can allow yourself to be very active and totally unconcerned about potential boob spillage.
---
2

ASOS Coquette Ruffled Bikini Top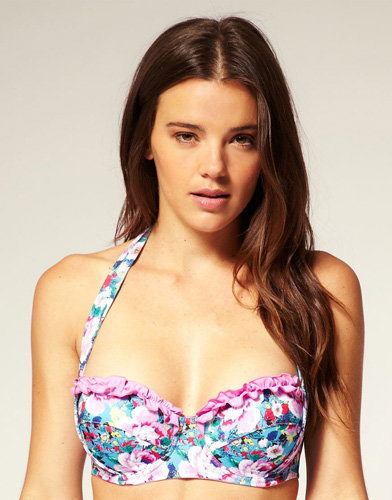 Price: $44.82 at asos.com
Oh, la, la! Now, in case you thought bikinis for large busted women look like something only your grandma would want to wear – guess again! Yup, this fab bikini definitely brings the sexy back in that comfy, good-for-your-back-and-even-better-for-your-style way! The print is very bold and the cut… well, I don't need to tell you much – do I? Matching bottom features the same girly prints as well as the same eye-catching ruffle details, so check it out as well.
---
3

ASOS Leopard Print Bikini Top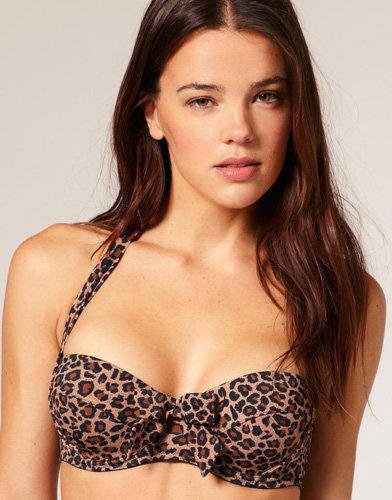 Price: $31.03 at asos.com
Meow! Wide straps, underwire and all that support never looked sexier, I can tell you that! Animal print is THE print for this summer and this gorgeous bikini is everything you'll need to drive everybody crazy. Wear it with the matching bottom or choose a standard black one and, whatever you do, don't worry because gravity is not your enemy anymore!
---
4

Miss Mandalay Ruffled Bikini Top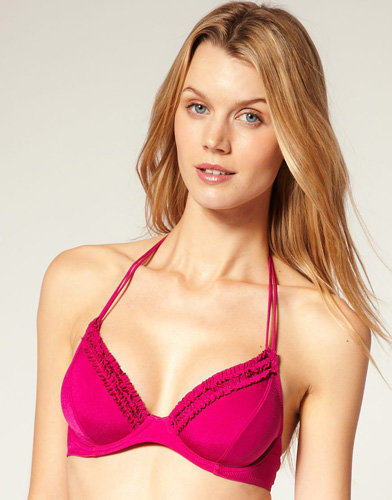 Price: $79.30 at asos.com
Ah, the ruffles, you gotta love those! Ruffles are also a huge hit and, although big busted ladies should be very careful with these, there is no rule that says ruffles are out of the question. This underwired totally adorable bikini top will enable you to move freely while the thin straps and a standard triangle shape reveal more skin, helping you to achieve better tan with thinner, less noticeable tan lines.
---
5

ASOS Multi Strand Bikini Top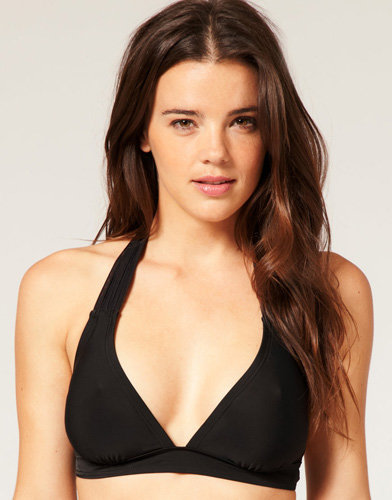 Price: $31.03 at asos.com
Some say bikinis for large busted women should be very simple and, although I disagree, I just had to show you this one, too. Choose it if you're not into prints or bright colors or if you think your "girls" could be just a bit smaller. Wide straps and soft cups provide lift, support and comfort to even the most free willed of girls while black makes them appear smaller which might come handy if you're tall and slim with a LOT going on in the chest area.
---
6

Baku Frill Bikini Top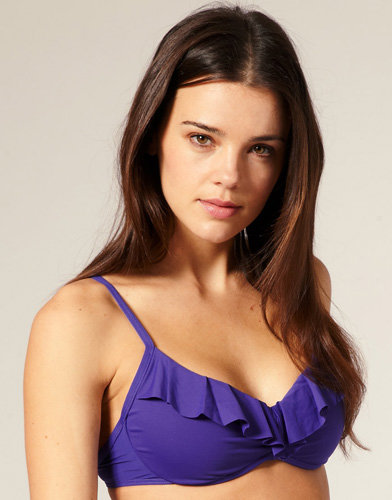 Price: $99.99 at asos.com
Speaking about style and comfort – what do you think about this one? Soft cups, thin straps, color that is dark but not black and a very girly frilled trim – could this be the one for you? No slippage, no spillage and check out this fab shade of blue! Add a totally adorable matching bottom and you've just got yourself one stylish bikini that's not only very sexy but a kind of elegant as well.
---
7

Lepel Marilyn Bikini Top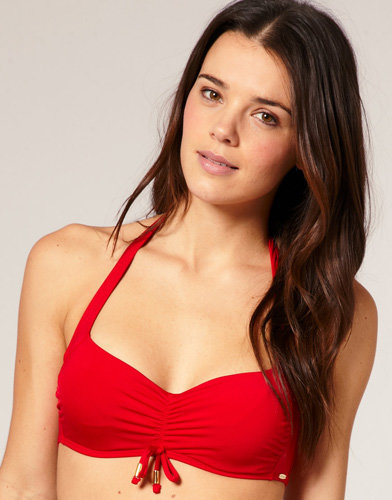 Price: $46.55 at asos.com
If bandeau top is what you want then a bandeau top is what you will have! The rules have changed so even the big busted ladies can enjoy this style now without the fear of losing their tops. But halter tie straps are not the only thing that makes this style "work" for big busted ladies –oh no, no, no! Furthermore, if you look closer you will discover a concealed underwire and a strong impossible to get undone clasp whose main purpose is to provide support for your girls and make wearing a bandeau style possible and fun for you, too.
---
8

Freya Magic Soft Triangle Bikini Top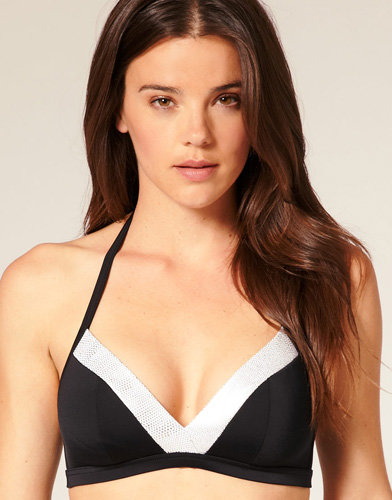 Price: $49.99 at asos.com
The last one on my list of bikinis for large busted women is this classic triangle style that's available in all the right sizes. Yes, they do make triangle bikinis for large busted women so, if that's your fav style, don't worry because you don't have to give it up. Shiny silver trim really looks amazing on black and oh, imagine how much better it would look on bronzed skin. Knock them dead, girlfriend!
And let me point out that these are all special bikinis for large busted women, meaning that you don't have to mix and match if you don't want to as both the top and the matching bottom are sold separately and are available in many different sizes. Have you ever had a problem when shopping for a bikini?
More
Comments
Popular
Recent