April showers bring May flowers, but that does not always mean that you and your children have to get cabin fever! Don't let a small drizzle bring your parade down. Whether it is raining cats and dogs or barely drizzling, I like to make the most out of any type of wet day. I am not talking about staying inside andreading a book, writing, watching movies or playingvideo games. As long as there is no lightning, why not consider these outdoor activities that have been designed especially for those boring rainy days?
---
8

Go outside and Play!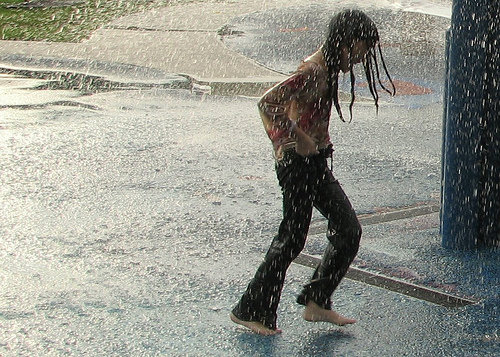 Photo Credit: neloqua
Adults have a tendency to discourage children from jumping in mud puddles. Youngsters are going to be excited and surprised when you start a splash contest! Grab those rain boots and raincoats and see who can make the biggest splash of water.
---
7

Color on Yourselves
Photo Credit: .robbie
Put those bathing suits on, then color all over yourselves with some bathtub crayons or something that easily washes off. Draw funny faces or write messages. Go wild with this! Then go out into the rain and wash yourselves out. Think of it as nature's shower.
---
6

Wet and Wild Race!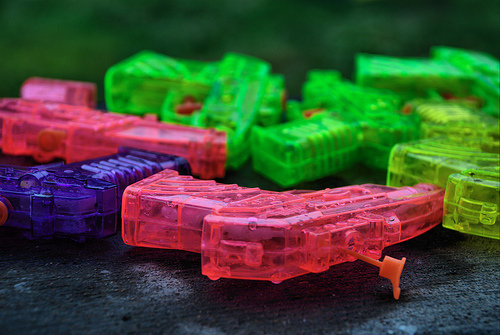 Photo Credit: Jeremy Sloan
Don't let the drizzle keep you cooped up in your home. Use some waterproof toys and create the best obstacle course for a funrace with the family. Split up into teams. If there are only two of you, then compete against one another. Now that would make for a funfamily night, no?
---
5

Document Your Day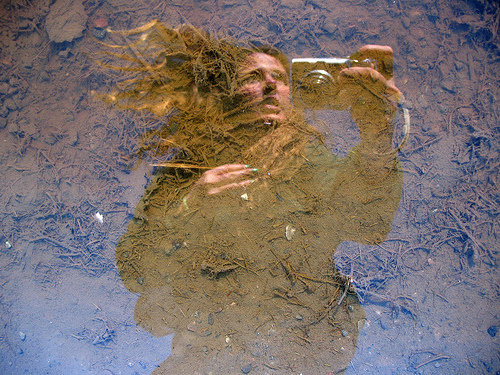 Photo Credit: shannonkringen
Do you own one of those disposable waterproof cameras? These can be used in order to capture the rainy weather. Spring showers offer the perfect opportunity to get those rare images of water drops. Along with the reflections in puddles, cloud formations, and do not forget about those beautiful rainbows. Beautiful photoswill instantly make a rainy day seem better.
---
4

Make a DIY Waterpark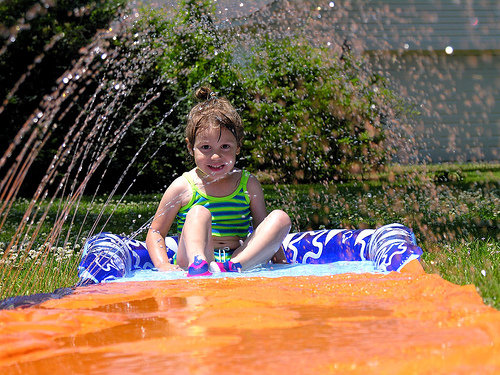 Photo Credit: Wilson (Army Gal)
When those clouds have been let loose, don't fight to stay dry. Put on those swimsuitsand plan on getting drenched! Just like you would if you were in a water park. Pull out the plastic slide, fill the inflatable pool, and create a wet and wild park! Any kind of amusement park has to be fun!
---
3

Camp out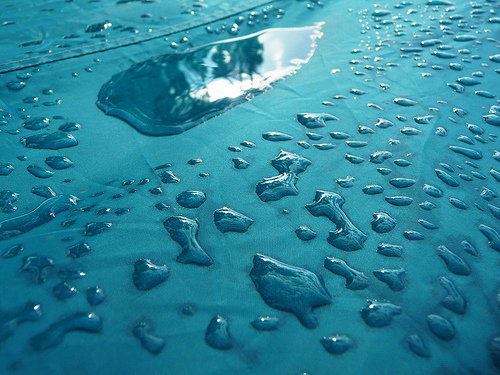 Photo Credit: Coda
Find your tent and pitch it in the backyard when those clouds start to gather. You will stay nice and dry when the rain sets in but the change in the weather is going to make it feel like a true camping adventure. Once the rain starts, you can enjoy the soothing rhythm of the drops as they hit the tent. Opt for some ghost stories for some added fun.
---
2

Paint with Raindrops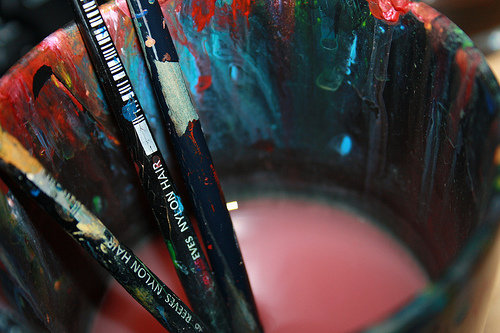 Photo Credit: jessicamelling
Have you ever heard of painting with raindrops? With spring sprinkles, you will be able to create a lovely work of art. Start by putting some colors of some powdered tempera paint into some empty containers that have plastic shaker tops. Give your kids some heavy white construction paper and let them sprinkle some colors on the paper. Lay a trash bag on the ground and help the kids put their powdered paper on the plastic. Watch the drizzles turn the powder into a work of art and take the picture inside to dry. The best art can later be displayed in funways!
---
1

Sit on the Porch and Watch the Rain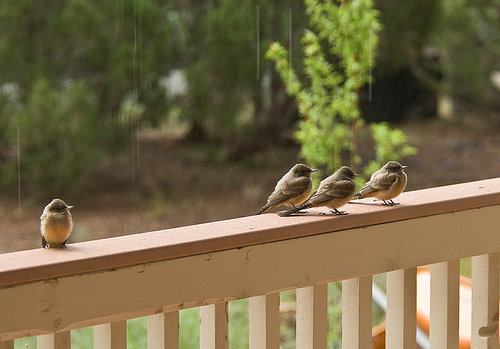 Photo Credit: freeopinions
One of my favorites is sitting on the porch and watching the rain. This is also a good time to spend with your family as you can play catch up and take a trip down memory lane with a hot cup of cocoa or some tasty tea.
Top Photo Credit: Lori Greig
Do you like the rains or detest them and what's your favorite thing to do when it's pouring outside?
More
Comments
Popular
Recent