My grandmother proudly displays all of her photos of us grandkids in her living room in matching gold frames. It works for her, all across the bookcases and ledges, but it just doesn't work for anyone else. Matching or identical same-sized frames are no way to display different photos, especially with so many other creative options! If you haven't looked around in the shops in a while, then you might be missing out on some great photos display options, like these!
---
1

Pier 1 9-clip Window Wall Frame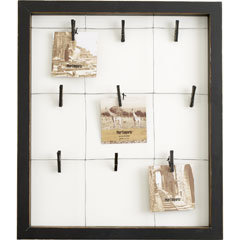 Price: $28.00 at pier1.com
I have this hanging in my foyer right now, loaded with photos of my boyfriend's and my own children in black and white. This is such a creative and unique way to display snaps, and it has such a rustic feel! The little clips make it easy to swap out photos, and you can get really creative with how you orient the photos, too… mix portrait with landscape, and small snaps with large.
---
2

Pier 1 Triple Photo Wall Frame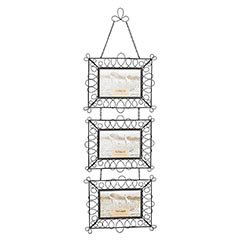 Price: $20.00 at pier1.com
If you have a series of three photos that just go together oh-so-perfectly, then this is the way to display them! This pretty black iron frame hangs delicately on the wall, and holds three 4" by 6" snaps. It matches just about any décor, and can hold more than just photos, if you choose…
---
3

Pier 1 White Open Wall Frame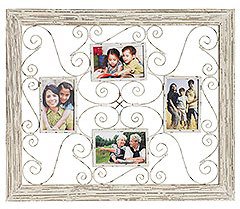 Price: $25.00 at pier1.com
Is it a vintage farm-house window frame, or so much more? This shabby-chic frame holds up to four photos of your loved ones with style to spare. It's pretty antiqued look and scroll pattern go well with any light and airy décor, even in your office!
---
4

Pottery Barn Studio Wall Easel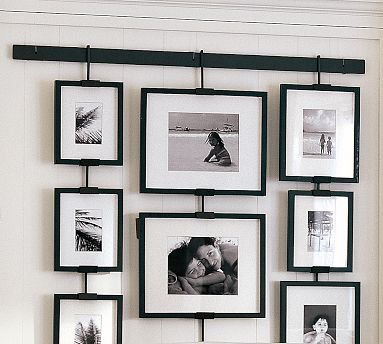 Price: $10 - $30 at potterybarn.com
This is far and away one of the most unique ways to display your photos. The single antique-finish brass bar hangs across the wall, then one or three thin bars hang down, with your photos in matching frames in between. The easel system is versatile and customizable, with either an 18" or 48" top bar and just about any size photo frame you'd care to use.
---
5

Pottery Barn French Wire Photo Display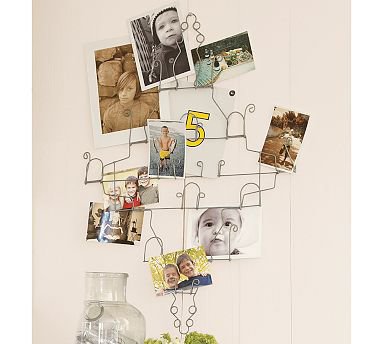 Price: $24.99 at potterybarn.com
The name implies that this pretty little display is just for photos, but it's not. You can display ticket stubs, postcards, notes, artwork, doodles, or just about anything else you'd like, along with your photos. It measures 29" by 22" in all, and is made of sturdy galvanized wire. If you choose to use this photo display at work, there's also a matching desk organizer set!
---
6

Criss-Cross Photo Clip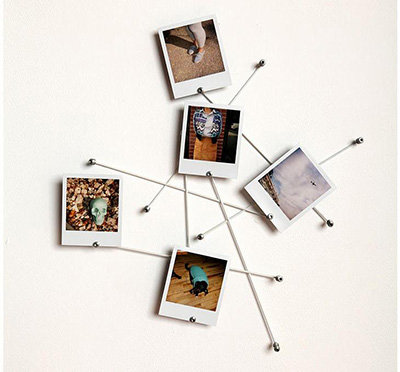 Price: $12.00 at urbanoutfitters.com
I suppose you COULD just use a plain black or brown photo frame, but why not jazz it up a bit with this funky urban-looking clip-style holder? It holds up to 14 photos, perfect for displaying photos from girls night out or that night clubbing in NYC…
---
7

Family Handprint Frame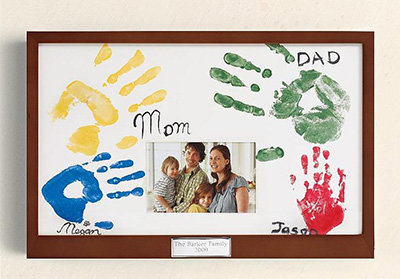 Price: $39.95 at gifts.redenvelope.com
A little corny, I know, but what better way to display a 4" by 6" family photo at work? It's bight, cheery, and will serve as a fantastic reminder of why you work so hard in the first place. It would also make a great gift for Father's Day or Mother's Day…
---
8

Graduate's Tassel Frame
Price: $39.95 at gifts.redenvelope.com
Most graduation tassels end up in one of three places — dangling from a rear-view mirror, in an old "memory" shoebox, or unceremoniously tossed in the garbage. Why not display a fab photo of the proud graduate along with that hard-earned tassel in this clever shadow-box? It would make a thoughtful graduation gift!
---
9

Deluxe Wall Gallery Frame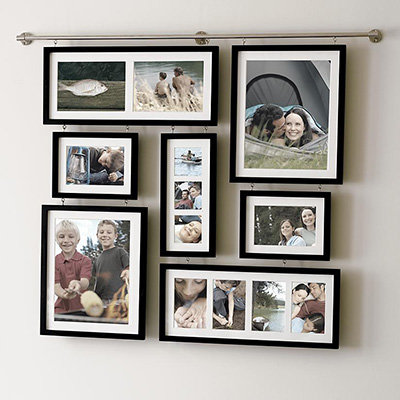 Price: $89.95 at gifts.redenvelope.com
This is somewhat similar in concept to the Pottery Barn version in Item 4, but the execution is very different! Choose from basic black or espresso finish, and get ready to spend at least two hours choosing photos and deciding just how you want to hang them in this museum-quality wall gallery.
---
10

Chelsea Glitter Photo Cuff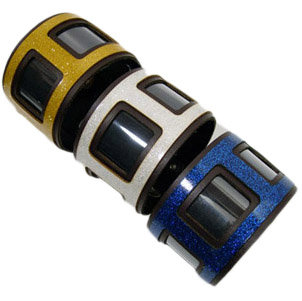 Price: $18.75 at shanalogic.com
I had meant to make this a post about unique photo displays for your walls, but there ARE other ways to display photos! This charming snap-on adjustable cuff bracelet has room for four snaps of your pet of your BFFs, and you can choose from three glittery galactic colors, gold, blue, or silver.
I'm sure there are dozens, or maybe even hundreds, of other fantastically creative ways t displays your photos… these are just a few! I love my Pier 1 frame from Item 1, and I get compliments on it all the time! Which of these photo displays do you like best? Or have you found another way to show off your snaps? Please let me know!
More
Popular
Recent