Along with back-to-school time comes hundreds of pieces of your child's best artwork in every size and shape you can imagine, from the autumn leaf rubbing collage to the crayon-drawn or watercolor family tree. How is a mom supposed to display all of this top-notch artwork without resorting to a constant fridge rotation? I've been looking for unique ways to display my own daughter's artwork, and I've found a lot of great ideas! Here's my list of 7 great ways to display your child's artwork, so she'll be encouraged to try more, and you won't have to worry about clutter!
---
1

Flower Art Cable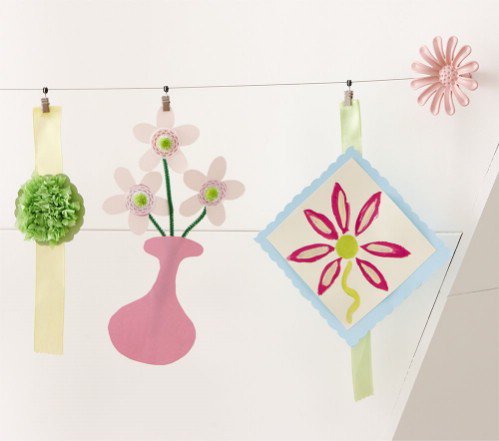 Price: $39.00 at potterybarnkids.com
Hang one end of this cable with a pretty flower at one end of the room, then the other with another flower at the other end, and in between, use the clever little clips to display your little girl's precious works of art! The flowers match with just about any décor, and the clips-and-cable is a brilliant, easy way to display all sizes and types of art!
---
2

Childrens' Art Frames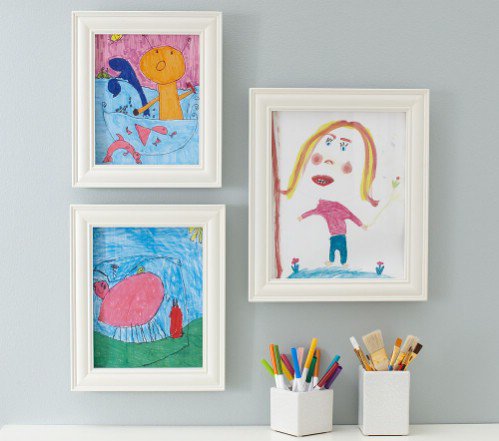 Price: $19.00 - $29.00 at potterybarnkids.com
Every once in a while, little Jane or Jack will create such a masterpiece, it's worthy of its own frame, and these frames are just the thing! They come in three artwork-ready sizes and are designed to make it easy to slip new artwork in and out. Choose the white or espresso finish, whichever matches the room… Perfect!
3

Clips Ruler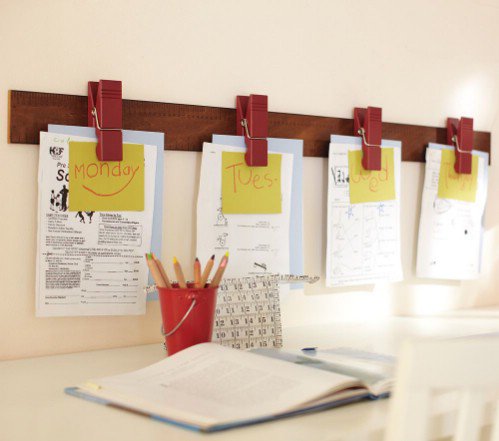 Price: $49.00 at potterybarnkids.com
This vintage-inspired ruler has something most other don't — a row of sturdy clips for holding and displaying all sorts of things, from homework to photos to (of course!) art work. The set includes one big ruler and four clips.
---
4

Pastel Schoolhouse Utility Decor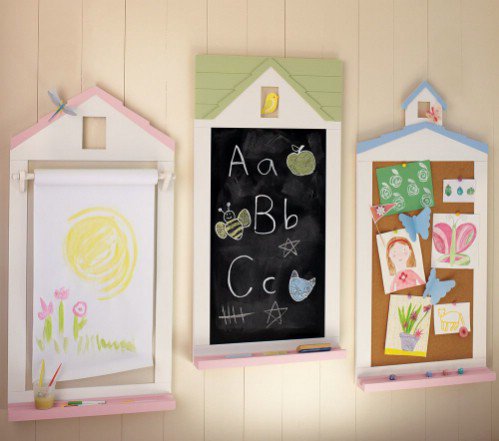 Price: $129.00 at potterybarnkids.com
Perhaps your little princess likes to play teacher, and this retro set of one chalkboard, one corkboard, and one paper-roll is a great way to encourage her artistic and pretend-play whims! I love the pretty pastels and the corkboard makes a great display area for all sorts of her artwork.
---
5

Gingham Ribbon Pinboard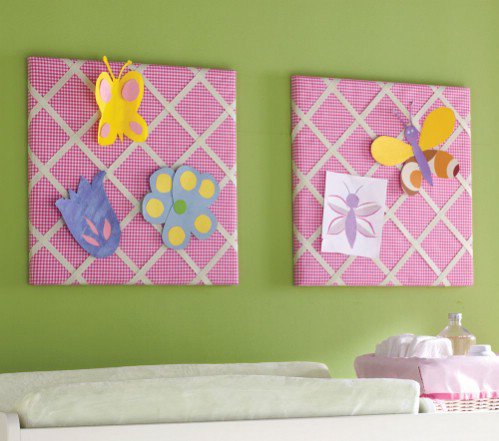 Price: $39.00 at potterybarnkids.com
This 18" square corkboard is covered with pretty pink or green gingham to match just about any little girl's room, and is made with criss-crossing ribbon to make it easy for your sweetie to hang her own little notes, bits of art, and even photos. Hang it where she can reach, and let her design her little display!
---
6

Star Art Cable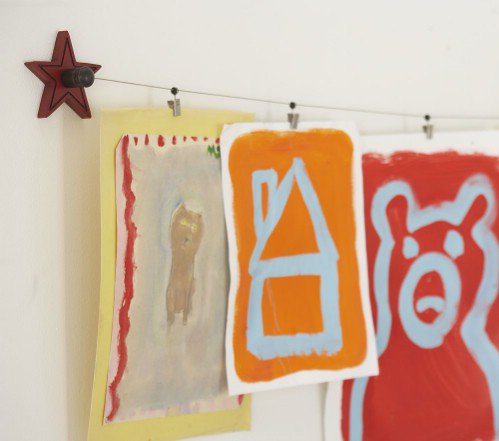 Price: $39.00 at potterybarnkids.com
Perhaps you liked the idea of the flower art cable from item 1, but aren't too keen on hanging flowers in your little boy's room? This is the same concept, only with dark red stars to do the anchoring… perfect! The set comes with two stars, one long cable, and ten little clips.
---
7

Baseball Bat Corkboard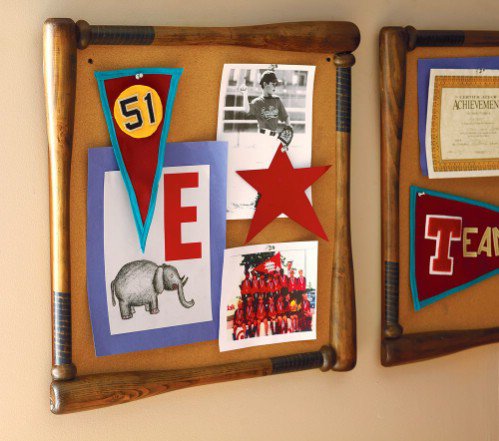 Price: $99.00 at potterybarnkids.com
Maybe your little Picasso is also a miniature slugger, so why not indulge both fancies at once? Let him hang his artwork, baseball cards, or pennants on this unique corkboard, bordered with vintage-inspired wooden bats. Each board is roomy enough to display all sorts of goodies!
With so many great ways to display your child's artwork, you'll be tempted to add one to every room… bedroom, playroom, family room, rec room… maybe the hallway and foyer, too! I love the flower art cable, and can't wait for the one I ordered to arrive! Which of these display ideas do you like best, or have you discovered another creative way to display your little one's works of art? Please let me know!
---
Comments
Popular
Related
Recent