I'm certainly not a tea snob, but for generations, the women in my family have been ardent tea lovers. We cantrace our roots back through the female line to the Otleys of ancient Wales, and I'm sure even back then, our women were great tea drinkers. They'd be ashamed of me, I'm sure, since I drink bagged tea but believe it or not, there are lots and lots of tasty teas that are bagged! Here's my list of the ten tastiest teas, ancient family line or tea lovers or not!
---
1

Mount of Olives Earl Grey with Pomegranate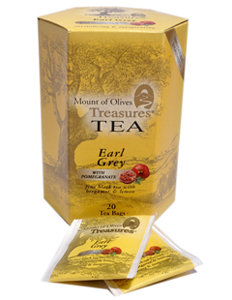 Price: $3.79 at sweetgourmet.com
Earl Grey tea is my favorite, so I was excited to try this when I found it in a local gourmet food shop. It's tasty, but it's not what I expected from an Earl Grey — it's just not as aromatic as other Earl Greys. Still, it is very ,very good tea, especially with just a little honey...
---
2

Tazo Earl Grey Tea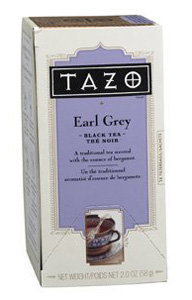 Price: $9.90 at cooking.com
Ah! this is my very favorite tea, a true Earl Grey. Th flavor and scent of the traditional bergamot is strong, but not overpowering. I love that you can actually SEE the tea and spices inside the generously-sized tea bag... avoid drinking this at night, though, since it is a black tea, with quite a bit of caffeine, especially if you have trouble getting a good night's sleep.
3

Tazo Zen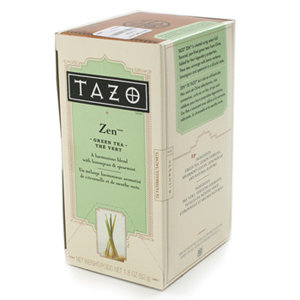 Price: $4.99 at igourmet.com
This little tea is sweet, citrusy, and has just a little zing to it from zesty mint. The secnt is utterly divine — I wish they'd make this into a perfume! It's the perfect parter to delicate tea biscuits and, in case you need to know, it's also certified kosher by the KSA.
---
4

Numi Money King Jasmine Tea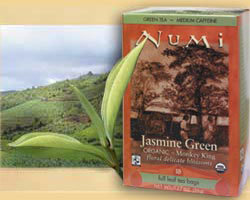 Price: $6.99 at worldpantry.com
This organic green tea is lovely, there's no other word to describe it! The scent of the jasmine blossoms (from Hunan Province) is gorgeous, subtle, soft. The taste is divine, rich, and soothing. I love it!
---
5

Numi Moroccan Mint, Simply Mint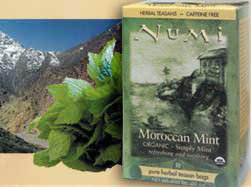 Price: $6.99 at worldpantry.com
This tea smells invigorating and lively, but at the same time, very relaxing. Drink it in the morning to help you wake, or in the afternoon to help perk you up. It also makes a marvelous iced tea for summer!
---
6

Numi Chamomile Lemon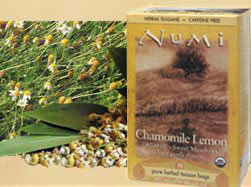 Price: $6.99 at worldpantry.com
Strictly speaking, since this infusion doesn't contain any tea leaves, it's a teasan, not a tea. It's gentle and calming, perfect for soothing away daily stress. Steep it in your favorite cup, wrap your hands around it for warmth, and snuggle into your favorite spot.
---
7

Numi Chocolate Puerh Black Tea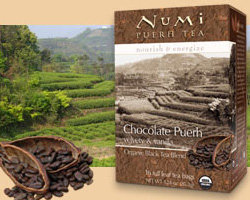 Price: $9.99 at worldpantry.com
I love this tea! It combines two of my favorite indulgences, tea and delicious chocolate! It's spicy, rich, and a little decadent, with organic ingredients like black tea, vanilla beans, cocoa nubs, orange peel, nutmeg, and cinnamon. It's also guilt-free, since it's rich in antioxidants! Enjoy!
---
8

Bewley's Dublin Morning Tea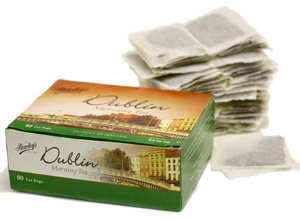 Price: $9.99 at igourmet.com
This is a traditional hearty breakfast tea, rich, simple, and strong. It's a blend of African teas that will perk you up when the alarm goes off. I make a thermos full and bring it to work or to school when I have a difficult time getting motivated. It's delcious with a little lemon or honey...
---
9

Tea Forte Vienna Cinnamon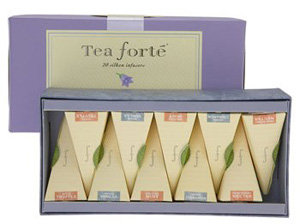 Price: $24.00 at teaforte.com
This tea comes in a neat pyramid bag for steeping, and is made of black tea with cinnamon and cloves. It's sweet and spicy, perfect for serving with delicious dessert! Be careful, though! Because this is black tea, it does have caffeine, so you don't want to drink this too late at night!
---
10

Trader Joe's Black Mango Tea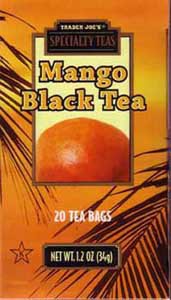 Price: $1.99 at Trader Joe's Stores (can't buy online!)
Though you can't buy this one online, I just had to list it because, aside from Earl Grey, this is the best tastiest tea out there! It's fruity and sweet, but not cloying. Brew a pot and set up the Scrabble tiles, and you have the perfect combination for a fun night in.
With so many tasty, wonderful bagged teas available, I'm sure you'll find one you'll love too! Or have you already found a favorite? Please share with me... I'm always eager to try a new tea!
Top Photo Credit: Détailliste
---
Comments
Popular
Related
Recent