Summer is the time of year whenhaving funand keeping cool are the main goals. Snack time can even be fun, no matter what your age is. I've listed the 8 best snacks for summer that both my kids and I enjoy. I try to avoid firing up the oven during the day, especially for snack time. None of the snacks described below require an extensive amount of cooking.
---
8

Gelatin Squares with Whipped Cream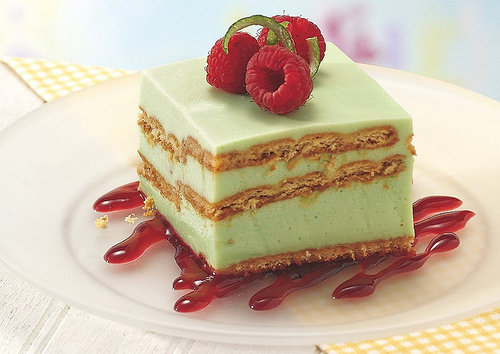 Photo Credit: Pillsbury.com
You'll need to boil water for this awesome snack, but that's the only heat involved. I usually heat the water in the microwave, so I don't heat up the house with the stove top. If I'm feeling creative, I'll make two kinds of gelatin that are each a different color and mix the squares in the same bowl. The whipped cream can be mixed with the squares or plopped on top of the heap.
---
7

Vegetables and Dip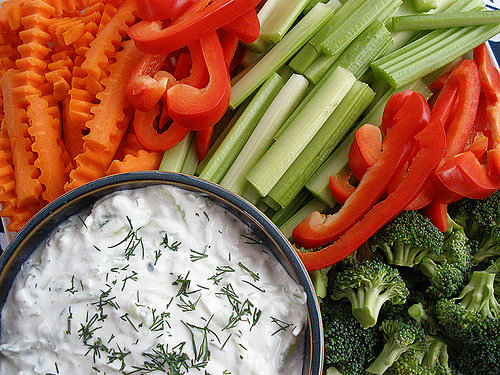 Photo Credit: culinarycory
This is probably one of thehealthiest snacks I can think of that is both cool and easy to make. There are tons of dips already made up in the store's dairy aisle. I usually have a bottle of ranch or buttermilk dressing already chilled in the fridge, which is what I use for the dip. Any veggiecan be cut into long strips or sticks to go with the dip; carrots, celery, red and yellow peppers, and jicama. Broccoli and cauliflower can be cut apart into little sprigs to make them easier to dip.
6

Chilled Deviled Eggs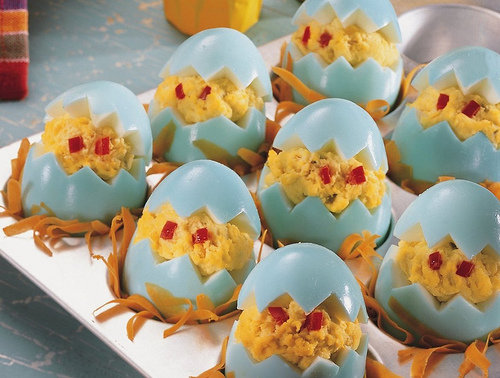 Photo Credit: Pillsbury.com
Boiling the eggs for ten minutes might heat up the kitchen a bit. I try to remember to do this the night before, so the eggs can be cooling in the fridge. If you don't remember to boil the eggs until the next day, then you can put the entire tray of deviled eggs in the freezer for a few minutes to cool them off. When I feel like adding a bit more detail to these, I put the yolk mix in a plastic baggie, cut the corner out of it, and squeeze the mix onto the white half of the egg. You can also use a cakedecorating kit if you have one.
---
5

Dried Snack Mix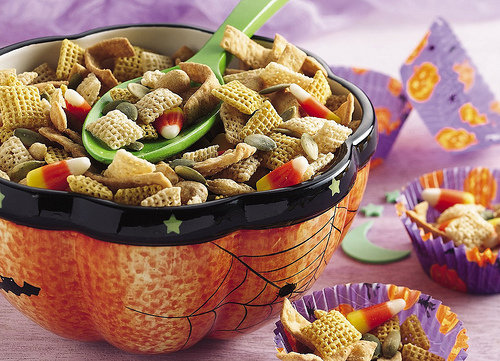 Photo Credit: Pillsbury.com
This is a super quick snack that doesn't require any heating at all. I get a variety of dried goods, such as pretzel sticks, Goldfish, Cheerios or Honey-nut O's, and combine these with raisins, craisins, or dried cherries. I might even throw in some chocolate chips or carob chips if I don't have to worry about them becoming a melted mass of goo. Instead of leaving all of this in one container for everyone to dip out of, I divide it into separate baggies ahead of time. This is the easiest way to distribute the goods at snack time and the extras can be stored in the pantry for later. The best part is, you can choose whether you want to keep itlow calorie or not!
---
4

Homemade Ice Cream Sandwiches

I prefer making my own chocolate chip cookies to make the ice cream sandwiches with, but store-bought ones will work well also. These might take a while to make, but they are well worth it and are perfect for when you cravecomfort food. I usually bake the cookies one day and then add the ice cream the next. I'll wrap each ice cream sandwich in plastic wrap and keep them in the freezer as long as possible. If I have some sprinkles on hand, then I'll roll the edges of some of the sandwiches in the sprinkles. It makes them a bit more festive and the kids get a kick out of the additional color.
---
3

Bananas with Peanut Butter

I've tried a couple variations with this snack and all have been successful. One variation is to slice the banana width-wise, so it is in small circles. Spread each banana piece with peanut butter and put a toothpick in the middle for easier handling. Another way is to cut the banana into fourths, length-wise, then cut these long strips in half or thirds. Spread peanut butter on each spear and freeze.
---
2

Melon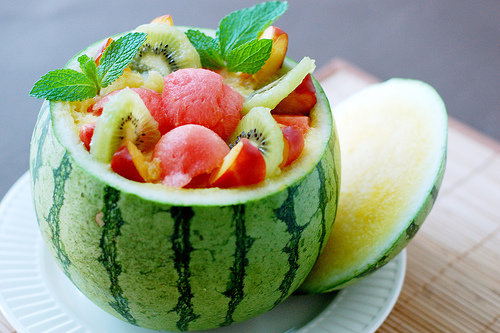 Photo Credit: dapan
I grew up with melon being one of the main staples of summer. My mom or grandmother would cut the watermelon into some creative shape and fill it with melon balls. There were not only balls of watermelon, but also of cantaloupe and honey dew. Each person can have their own melon bowl if you use the small round watermelons and cut them in half. I make a zigzag cut around the melon, just for an interesting design. This natural bowl also eliminates the need for dishes, which is why this snack is high on my list!
---
1

Frozen Juice Bars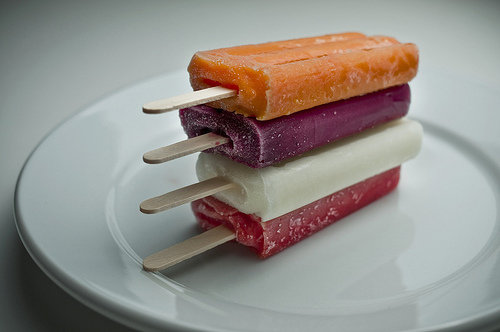 Photo Credit: thelightgatherer
If you don't have juice on hand, then you can use Kool-Aid, lemonade, or any other drink mix that your family likes. I use paper cups when I have them, but have gotten plastic cups to work well also. You can use ice cube trays if you don't have anything else on hand. Actual popsicle sticks can be purchased or I've used drinking straws. When using the straws as handles, fold them in half and place the two ends in the juice. Keeping summer in mind, this is divine!
These are what I feel to be the 8 best snacks for summer. Most of them are quick and easy. I hope I've given you some new ideas to use. Do you have a favorite summer snack that you or your family enjoy? Please feel free to share your favorite snack!
Top Photo Credit: Betty Crocker Recipes
More
---
Comments
Popular
Recent