Today we might be more health-conscious, but we still need our food to taste good, too! Why not add some tasty new meals into the rotation? Here are some of my favorites...
---
1

Veggie Pizza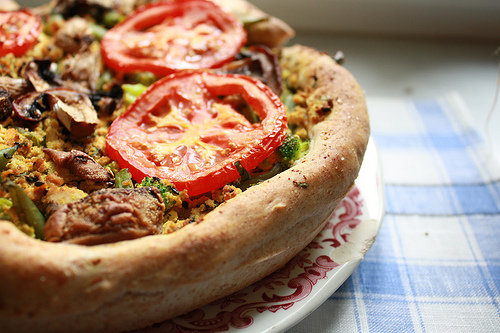 Photo Credit: super ninon
Great and easy way to eat your veggies. Add, peppers, onions, tomatoes, small sliced carrots, broccoli, mushrooms…
2

Chicken Pot Pie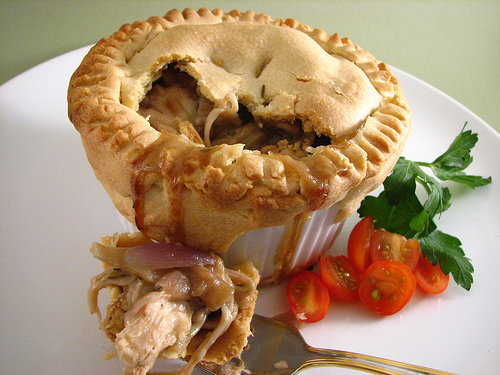 Photo Credit: Sashertootie
Here's another easy way for sneaky vegetables to make their way into our food. Carrots, peas, corn, green beans... yum!
---
3

Spinach Quesadillas

Cook ½ small onion in oil, add 10 oz. of frozen spinach, cook for 3 or 4 minutes, transfer to bowl and add 6 oz. cheese. Spoon into soft tortilla, fold, and warm in skillet until cheese melts. So delicious... and there's spinach in there!
---
4

Grill Chicken Instead of Beef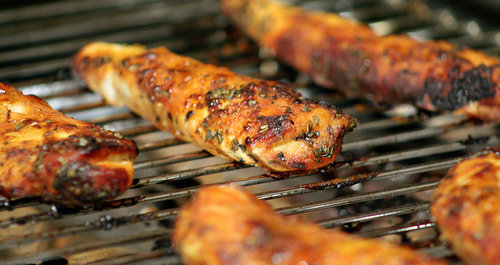 Photo Credit: Sunshine Hanan
Spring is a great time to fire the grill back up after it's lonely imprisonment in the garage. Sauté some carrots in light butter, add a sprinkle of cinnamon and sugar, and serve with buttered peas. Mmm…
---
5

Grill out

Grilled Turkey hot dogs are fun at the grill out in the park

(or at home!)... Serve with chunks of watermelon and cantaloupe. Tortilla chips and salsa are better for you than potato chips and dip, too, so give those a try!
---
6

Fruit Toppings

Add fruit as toppers to low fat ice cream, low fat cheesecake, multi-grain pancakes, and angel food cake. Slice up bananas, strawberries, or blueberries for your cereal. These are easy ways to add fruit to your diet without sacrificing flavor.
---
7

Broccoli Soup

Lightly boil your package of frozen broccoli. Fry a pound of turkey sausage (trust me, they will never know it's turkey, and it's much better for you!). Mix broccoli and sausage, and add some Velveeta cheese – I use the entire 2 lb. block. After the cheese has melted (keep stirring, or it will stick) Add a cup of milk ad simmer for 10 minutes. Serve with whole-wheat crackers.
---
8

Spaghetti Pie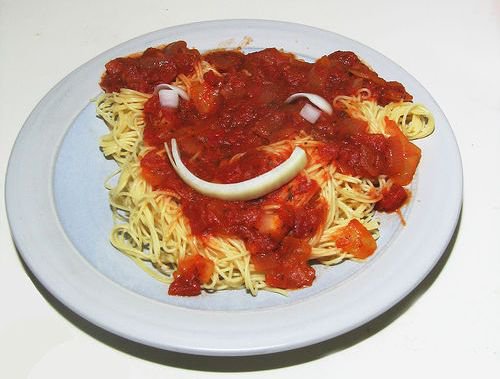 Photo Credit: wirehead
Cook 8 oz. of spaghetti, and toss with 1 cup shredded mozzarella cheese, 2 eggs, and ¼ tsp. pepper. Spray nonstick skillet with cooking spray. Place noodles in pan, heat for 5 minutes. Pour 1 16 oz. jar of Alfredo cheese sauce, top with ½ cup of shredded cheese, 16 oz. frozen meatballs, 1 cup frozen vegetables, and cover. Cook for 5 more minutes; let stand 5 minutes before serving.
---
9

Add Fish to Your Diet for a Boost of Omega!

Not as healthy for you as baked or grilled salmon, if you don't like fish, you can try lightly breaded, real meat, not minced, fish sticks. Serve these with a fresh salad and multi-grain bread slice. Cook green beans in light chicken broth for a healthy side dish. I like to add a pinch of sugar, but just a pinch!
---
10

Tuna Fish Sandwiches Taste Great Grilled

Serve with apple wedges, and carrot sticks. This makes a great take along lunch for an afternoon at the park... add some lettuce or bring some apples to snack on, too!

See? There are so many ways to cook the foods you love, and make something different your family will love! Do you have any other meal ideas to share? Please let me know...

Top Photo Credit: Frank_BB
---
Comments
Popular
Related
Recent