On a night when I just don't have the time or energy to make a big production out of dinner, I reach for my favorite easy stand-by dinner — pasta. I keep a few jars of my favorite sauces and a few bags or boxes of my favorite noodles handy, and dinner can be ready in a snap! And with so many pastas to choose from, you can have something new and delicious every time. Here's my list of 7 tasty pastas to keep in your pantry… give them a try!
1

Sapori Antichi Farfalline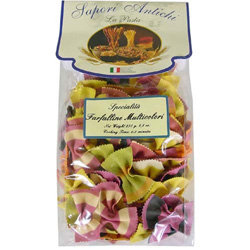 Price: $9.99 at amazon.com
Colorful and fun! These little bowties in all sorts of stripes and solids are sure to be hit with your kids. The little bows are made of 100% durum wheat semolina and are imported from Italy.
2

Dreamfields Healthy Low Carb Angel Hair Pasta

Price: $2.59 at amazon.com
This healthful pasta comes with an actual money-back guarantee, so you know from the start you'll love it! It's low-carb but with lots of fantastic fiber, and it tastes fantastic!
3

Al Dente Spinach Fettuccine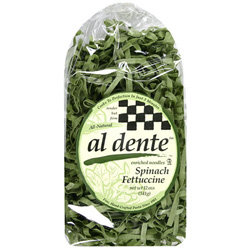 Price: $16.13 for 6 bags at amazon.com
I love fettucine alfredo, and it tastes even better when you use these delicious spinach noodles. I love that these cook in just three minutes, and that they're hand-made here in Michigan.
4

Bionaturae Organic Fusilli

Price: $14.88 for 6 bags at amazon.com
This USDA-certified organic pasta is imported from Italy, and has a more firm, al dente texture to it that I love. It's great with red sauces, and doesn't ever get mushy or fall apart. My kids love it!
5

Schar Naturally Gluten-Free Penne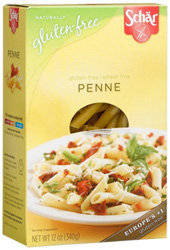 Price: $18.92 for 5 boxes at amazon.com
My close friend Kathy follows a gluten-free diet, and it's hard to find a tasty pasta that she can enjoy. This is one we've found recently, and it's delicious … and it's gluten-free! It's wheat-free, lactose-free, and also doesn't contain any nasty trans fats, hydrogenated oils, or preservatives. So it's tasty and healthful!
6

De Boles Pasta Organic Rotini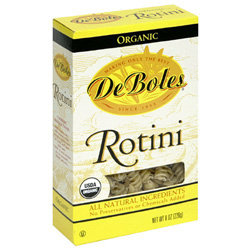 Price: $26.40 for 12 boxes at amazon.com
This is another gluten-free, organic pasta choice, and this is the one I use for making cold pasta salad. It's easy: just make one box of this pasta, add a pint of grape tomatoes (sliced), a half a green bell pepper (diced), a carton of crumbled feta, and a small tin of sliced black olives. Add a dash of Italian dressing, and you're done!
7

OrgraN Ris'O'Mais Rice & Corn Tortelli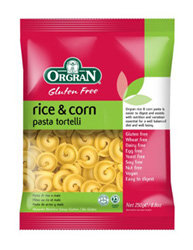 Price: $20.46 for 7 bags at amazon.com
This is my favorite tortellini because it's not sticky and it's got a unique, very delicious nutty flavor to it. I cook this with a white sauce, and it's so yummy!
Keep these pastas on hand with a variety of your favorite sauces, and you'll never feel hassled or stressed about a last-minute supper again! Which of these pastas do you think is the best, and how do you make it? Or is there another one you like more? Please let me know, so I can stock up!