I freely admit it: I am completely hooked on Etsy. Who wouldn't be? The hand-made jewelry,gorgeous accessories, home goods, and artwork… it's all so wonderful! It can be daunting, though, to browse, if you haven't been a frequent visitor, so I'm here to help. This is my list of the top eight most adorable Etsy finds, but prepare yourself — you're going to want to buy them all!
---
1

"Dream" Necklace

Price: $45.00 at etsy.com
What a sweet little bird! She hangs from an 18" sterling silver cable chain, and she is hand-made with one simple word, "dream," etched on her back. Hang her round your neck and keep that thought close to your heart, always. Pair with practically anything! Personally, I'd wear it with a cutesummer dress.
---
2

Tiny Smitten Necklace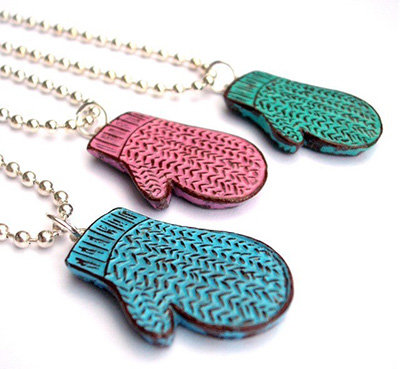 Price: $22.00 at etsy.com
What a lovely way to warm a girl's heart than a pretty little mitten on an 18" silver-plated ball chain necklace? Choose from sky blue, turquoise, or bubble gum pink. Each mitten is nearly two inches long, and is made with a hand-pressed stamp, distressed, then sealed with clear gloss. Each one is unique, and each one is so lovely!
Trendinig Stories
More Stories ...
3

Bird on a Branch Vinyl Passport Case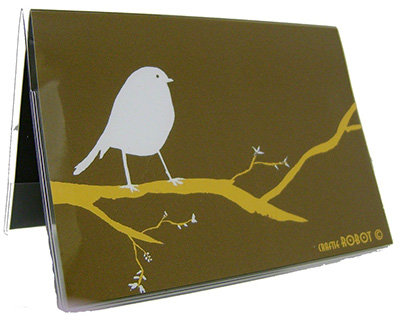 Price: $8.00 at etsy.com
Protect your passport and keep in handy in this adorable little cover. It has two pockets, one for your passport, one for other essentials, like cash, debit cards, and the like. It's made of thick, durable 12-gauge vinyl, and features a white bird on an olive-green branch.
---
4

Freddie the Felted Frog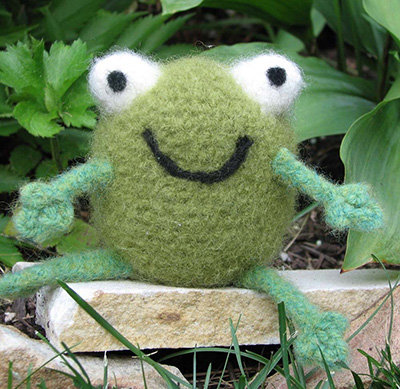 Price: $20.00 at etsy.com
Isn't he just the cutest little green frog you've ever seen? He's begging for kisses (or maybe just flies), and he needs a new home! He's soft, crocheted with love, and is even machine washable! He measures 3.5" tall by 3" wide, not including his little arms and legs. Display him on your desk, tuck him into a corner of your bookshelf… I must have one!
---
5

IPOP Clicks Crow Magnet Set

Price: $10.00 at etsy.com
Artist Katie Endle's iPOP clicks magnets are renowned for their strength and durability, and in my view, they're also completely fabulous! This quartet of winsome shiny black crows is ideal for sticking on the fridge, in your locker, anywhere! Each glass-dome magnet measures 1" across, with a thin silver trim around the edges.
---
6

Mother's Bracelet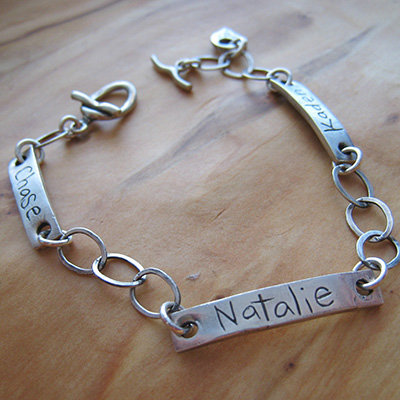 Price: $70.00 at etsy.com
Can you think of a better gift for mum, or if you are a mum, a better way to boast about your charming little ones? Each bracelet is handmade with three or fewer charms etched on the front with each child's name, and on the back with their date of birth. The clasp is a pretty toggle with a single heart charm. So pretty!
---
7

Hydrangea Blossom Flower Ring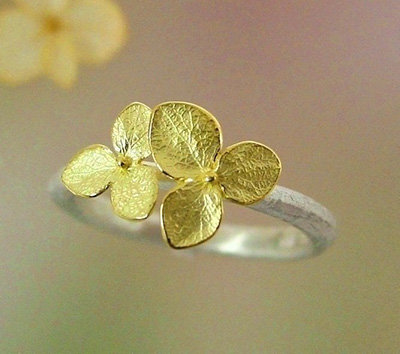 Price: $188.00 at etsy.com
So delicate, so life-like, so perfect for spring! Each ring features a pretty pair of hydrangea blossoms, crafted in 18 karat gold, then affixed to a distressed sterling silver band. The flowers are so realistic, with tiny veins and delicate shapes… I love it! If florals are your inspiration this season, you must get this!
Can you tell I have a particular THING for Etsy jewelry? Can you blame me? Everything on the site is so unique, so lovely, I can't help myself! Which of these Etsy finds do you like best? Or is there something else you've found on Etsy that you love? Ah-ha! Are you hooked on Etsy too? Let me know!
---
Comments
Popular
Related
Recent