Everyone loves to score a good bargain. There is no better place to find super-bargains than in thrift stores. Those who have never gone thrift store shopping are missing out on one of the best adventures a shopper can experience. Thrift stores are a great place to find every type of item imaginable for practically nothing! Drop in to a thrift store and browse around; you are apt to find clothing, jewelry, tools, appliances, electronics and more. Here are the top 7 thrift store finds to give you an idea of what you may find on your thrift store adventures.
1

Clothing Photo Credit: chicorgeek
Thrift stores generally feature a whole section devoted to apparel. Just like in department stores, clothing is sectioned by gender and size. It is also common to find entire sections dedicated to name brand apparel. It is entirely feasible to buy a super outfit for $5-$10. For example, in LA, skirts and tops frequently sell for $2.50. Name brands generally sell for about double the price of more generic names.
2

Shoes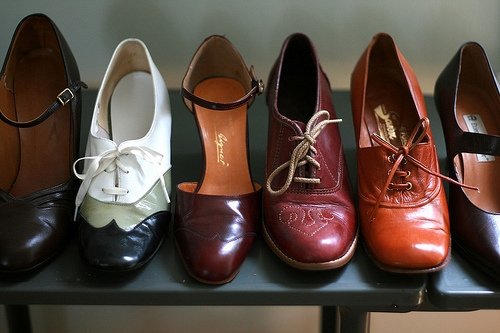 Photo Credit: simple tess
Many shoppers are repulsed at the idea of buying someone else's cast off shoes. However, if the idea does not bother you, shoes are a terrific buy at thrift stores. A brand new pair of Old Navy casuals will only cost you a dollar!
3

Dishes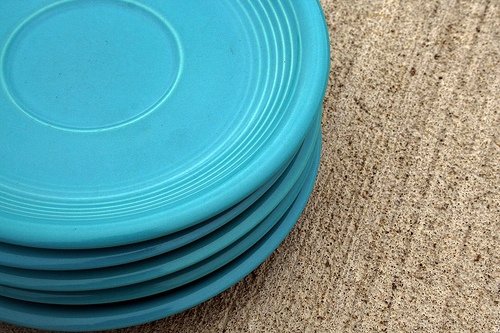 Photo Credit: danilouwho
There are many reasons to browse the dish department of any thrift store. For those of us who use their china for everyday, pieces often get broken or chipped. Thrift stores are a great place to look for replacements matching our set. It is fun to pick a various designs of tableware to create a colorful table setting. Look closely and you may even find a genuine antique buried in the pile.
4

Art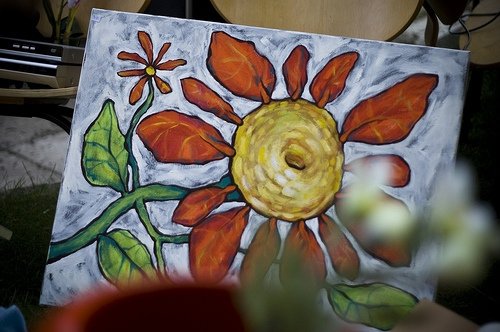 Photo Credit: ppelisek
There are many instances of shoppers buying valuable art pieces for next to nothing from a thrift store. While valuable scores are rare, thrift stores generally offer a wide assortment of artwork at very inexpensive prices. If you are looking for something for a special spot on the wall you are very likely to find a real deal in a thrift store.
5

Furniture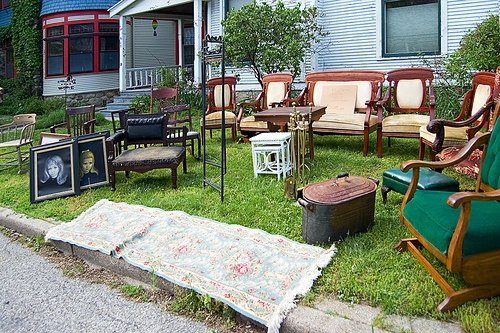 Photo Credit: docksidepress
Especially for the do-it-yourself crowd, thrift stores are Mecca for furniture shoppers. Usually furniture at thrift stores is either broken or worn. Someone who has the eye to spot potential and the skills to repair and refinish will be rewarded with super-bargains at thrift stores.
6

Fabric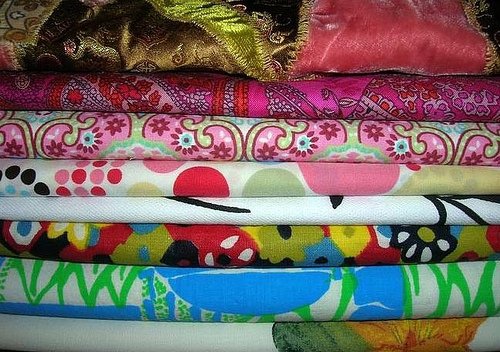 Photo Credit: kokoleo
Thrift stores often have piles of fabric for sale. Whether you are sewing up a new outfit or creating items to enhance your home décor, thrift store fabric is incredible inexpensive.
7

Jewelry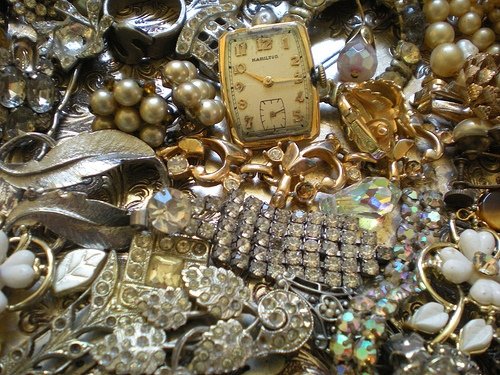 Photo Credit: HA! Designs - Artbyheather
If you have an eye for fine jewelry, browse the jewelry section of your local thrift store. Often people dispose/donate items not realizing that the jewelry has real value. Perhaps genuine gemstones are set in a real gold pendant for instance; what a find that would be!
It is hard to depart a thrift store without making a purchase. Almost everyone can find at least 1 of these top 7 thrift store finds when they are shopping. What would you like to find on your next trip to the thrift store?
Top image source: data.whicdn.com