When it's my turn to host a play date, I panic just a little. How on earth am I going to keep four or five little 6-year-old girl entertained for a few hours? Sure, snack time will take fifteen minutes, and we can always do our nails… then I discovered easy to make crafts that the girls love. Even better, they come pre-packaged, all from Oriental Trading, so I don't even have to gather all of the items! Sound too good to be true? Here's my list of eight great play-date crafts… I included some seasonal ones, too!
---
1

Smile Face Sun Magnet Craft Kit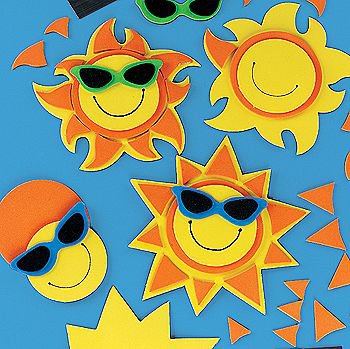 Price: $3.99 at orientaltrading.com
This craft is perfect for a play date at the beginning of spring, or really anytime! The sunshine-y smile face magnet is perfect for hanging a great report card or a play date photo on the fridge once the play date is over, too!
2

Candy Corn Magnet Craft Kit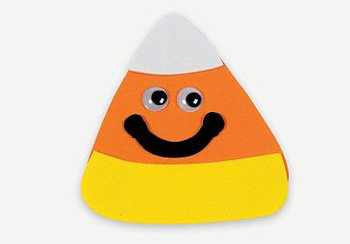 Price: $4.49 at orientaltrading.com
This little craft is perfect for putting together during any fall play date, especially around Halloween! Both boys and girls will enjoy it, and it gives them something nice to give to a parent or grandparent after the play date is done! Perfect!
---
3

Jeweled Snowflake Magnet Craft Kit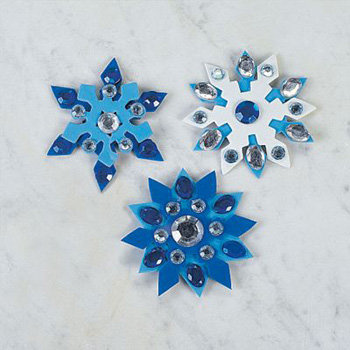 Price: $4.99 at orientaltrading.com
What a great craft to make during winter! Make it before Christmas, and the kids can give it as a holiday gift. Kids love the glittery rhinestones they can apply anywhere on the snowflakes they like, and even though all of the snowflakes are blue or white, little girls enjoy this one just as much as the boys do!
---
4

Beaded Shamrock Charm Pin Craft Kit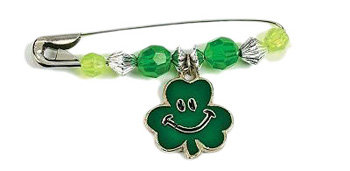 Price: $4.99 at orientaltrading.com
This is another play date craft that's great for gift-giving! Make this a week or so before St. Patrick's Day and let the kids choose who they want to give their pin to… maybe a teacher, or a grandparent, or maybe even the mom who hosted the play date! The little shamrock charm is so adorable, too…
---
5

Save Our Planet Key Ring Craft Kit
Price: $5.99 at orientaltrading.com
The little beads for this craft spell out the words that kids are learning from everyone now — save our planet! Do this craft on Earth Day, or anytime, and theme the play date… ask the kids how they take care of our earth, and maybe make more crafts out of recycled items, like paper towel rolls, newspapers, and more…
---
6

"Sheriff" Badge Craft Kit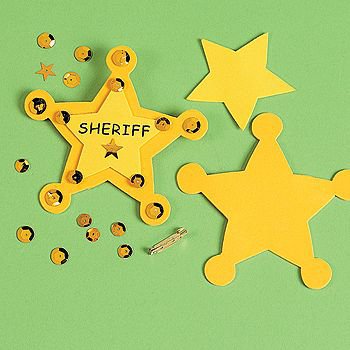 Price: $4.99 at orientaltrading.com
All little boys, and most little girls, love playing cowboys (or cowgirls) especially when they get to wear a Sheriff's badge! Send the kids on a Wild West scavenger hunt, and let them wear the cool yellow baged they made!
---
7

Beaded Crocodile Key Chain Craft Kit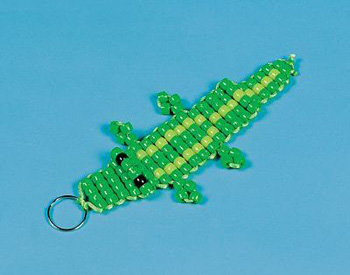 Price: $7.99 at orientaltrading.com
These crocodile beaded keychain crafts are a staple at summer camps all across the country, and now they can join your play date, too! This craft is a little more difficult than some, because there's really only one way to do it, so be prepared to pitch in!
---
8

Color Your Own Handprint Mother's Day Photo Frame Card Craft Kit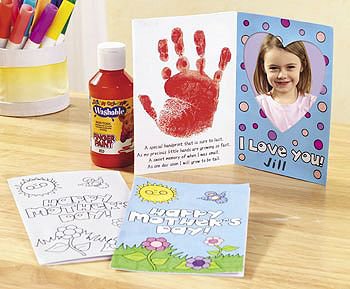 Price: $5.99 at orientaltrading.com
Plan a play date before Mother's Day so each little one can make this clever craft as a gift for their own mum! This can get messy, so make sure to spread newspaper down before you open the paint. The kids will love it because it's almost completely customizable so they can make it nearly any way they want!
There are definitely enough crafts here to keep even the busiest little bees occupied for at least a couple of hours! So grab a box of juice pouches and a couple of glue sticks, and let the play date begin! Which of these do you think your play group will like best? Or have you found another play date craft to share?
---
Comments
Popular
Related
Recent