COMMENT
Here are 10 hottest Juicy Couture bags that are currently on sale in online stores. So, those of you who can't get enough of Juicy Couture bags - hurry up while these fab bags last!
10. Juicy Couture No Drama Hobo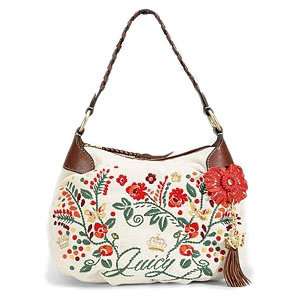 What we have here is a wonderful juicy couture no drama hobo bag, which is a must have. This is a terry bag, which has some beautiful details for it. Honestly, I believe that it is perfect for the spring time. However, it will look great any time of the year. It has floral embroidery with a tassel hanging from it. It also has butterfly ornaments and a strap that has been braided. I personally like this bag and found that it was adorable.
Juicy Couture Blake Quilted Nylon Bag
Explore more ...