If I have a spare hour on a Saturday or Sunday afternoon, there's something I love to do, something to pamper myself… I love to do home pedicures! I don't want to have to rush out at the last minute though, looking for a scrub or polish, so I keep a basket handy of all the things I need for a DYI pedi. Here's my list of 7 items to keep on hand for anat-home pedicure!
---
1

Sephora by OPI Nail Polish Remover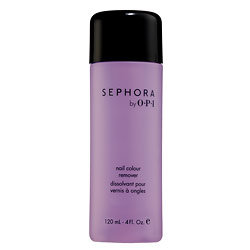 Price: $9.00 at sephora.com
This nail polish remover, made exclusively for Sephora, is gentle but effective, removing even the darkest of shades with just a few swabs with a cotton ball. It won't dry your nails, or leave behind that icky white residue, like some removers. Keep some of this handy for taking off the polish from your last pedicure before you get started!
2

Bliss Blood Orange+White Pepper Sugar Scrub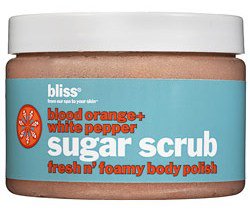 Price: $36.00 at sephora.com
After you're done soakingyour feet in warm water for about 5 minutes, give them a good scrub, from toes to ankles, with this lush, sweet-smelling sugar scrub! It foams up nicely, and will leave your feet ready for the next pedicure step!
---
3

Tweezerman Pedro Callus Stone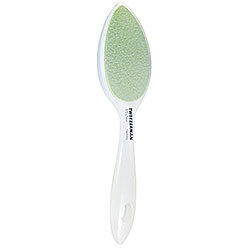 Price: $20.00 at sephora.com
After your sugar scrub, rinse well, then gently file away those pesky rough spots and calluses with this ergonomic foot file! I like this one because it's washable, which is nice, so you can keep it clean between home pedicures.
---
4

Tweezerman Pink Deluxe Nail Clipper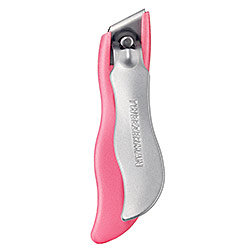 Price: $10.00 at sephora.com
Now that you've soaked and scrubbed your feet, it's time to trim those nails. Make snipping and clipping your toe nails a snap with these pretty pink clippers! They're designed to fit just right in your hands, and they even catch the little snips as you go!
---
5

Bliss Foot Patrol
Price: $18.00 at sephora.com
Three treatments all in one! This peppermint-infused lotion exfoliates, softens, and invigorates your tired tootsies before or after your at-home pedicure. There's enough lotionin this little tube for dozens of pedicures… cool!
---
6

Sephora by OPI Nail Treatment - Base Coat
Price: $9.00 at sephora.com
Prep those toes for color with this sleek base coat by OPI. It will make sure the color you choose lasts and lasts, without staining your naked nails. Before you apply this base coat, use a set of toe separaters, to make sure you don't smudge your polish!
---
7

Dior Vernis in Cherry Flower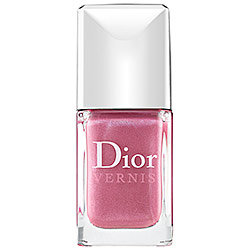 Price: $21.00 at sephora.com
Now it's time for the fun part — putting on the prettiest pink polish you can find! This one's gorgeous, too, perfect for using all year long… it's a pinky-mauve color that flatters every skin tone.
---
8

Sephora by OPI Nail Treatment - Top Coat
Price: $9.00 at sephora.com
The final step, one to make sure your color stays pretty and proper for at least a week, maybe even longer… the top coat! Apply a thin coat over your pink polish and allow it to dry fully (for about ten minutes) before you walk around. You don't want to muss it so soon after all your work!
Now it's time to sit back, relax, read a magazineor a book andsip some teawhile you wait for everything to soak in and dry… what a great way to spend an hour at home! Which of these goodies do you keep at home for a DYI pedicure? Or is there something else you like to have on hand (or foot)? Please let me know!
---
Popular
Related
Recent