I've been a fan of Philosophy for years, since I first tried their legendary Chocolate Chip Cookie body wash. It smelled divine, just like the real thing, and it left my skin so smooth… I loved it, and I've been a loyal shopper ever since. Now, all these years later, there are so many other products I'm just as devoted to. Here are my 7 must-haves at Philosophy…
---
1

Philosophy when Hope is Not Enough Serum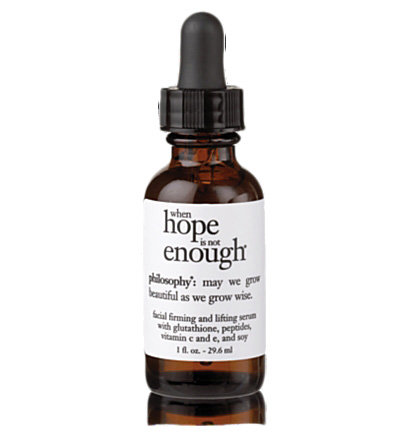 Price: $38.00 at philosophy.com
Just five tin drops of this miracle serum mean the difference between dry, irritated skin and smooth, radiant skin. I use it in the morning after my wash. In the summer, I use it instead of a moisturizer, and in the winter, I use it after. It's wonderful.
2

Philosophy Help Me Retinol Night Treatment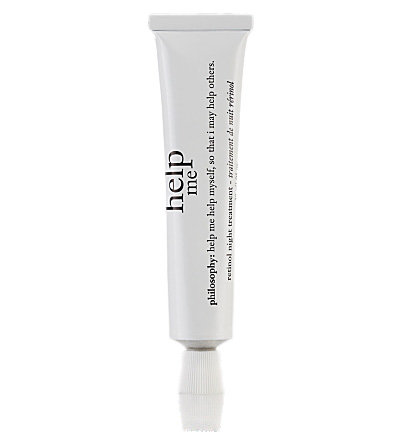 Price: $45.00 at philosophy.com
After just the first two weeks I used this night treatment, I saw results. The little lines on my forehead were smoothed away, and more importantly, my skin was clear, with no acne… it's unfair that some of us have to worry about acne and wrinkles at the same time, but this miraculous night cream will make a big difference. It's a must-have in my skin care regimen!
---
3

Philosophy Kiss Me Exfoliating Lip Scrub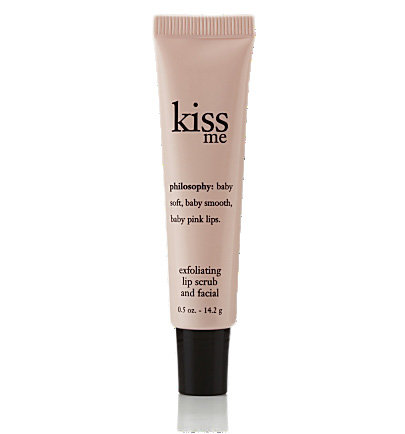 Price: $15.00 at philosophy.com
We exfoliate away dead skin on our elbows, our feet, our hands, our faces… so why do we ignore our lips? No more! Give your pucker the attention it deserves with this wonderfully gentle scrub. I promise, it will leave your lips soft, supple, and utterly kissable.
---
4

Philosophy the Microdelivery Exfoliating Wash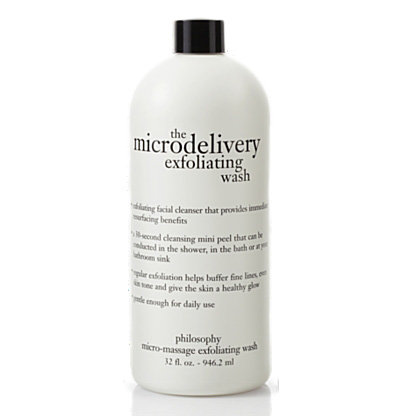 Price: $37.00 at philosophy.com
If you're like me, you get dry, itchy skin in the winter no matter how much you moisturize. So I use an exfoliant, and I want something gentle but effective. This is my favorite, with enough scrubbing power to reveal my skin at its best, but gentle enough not to irritate it. Perfect!
---
5

Philosophy Be Somebody Shower Gel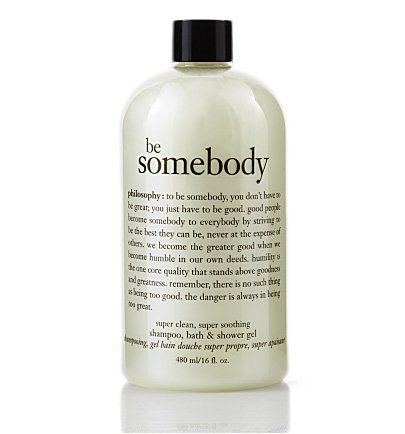 Price: $16.00 at philosophy.com
Philosophy is famous for its lush, divine-smelling shower gels, and this one is no exception. It's highly functional, too, great as a shampoo, a body wash, and a bubble bath, and it smells fresh and clean, but won't compete with your conditioner, body lotion, or perfume.
---
6

Philosophy Be Somebody Green Tea Scrub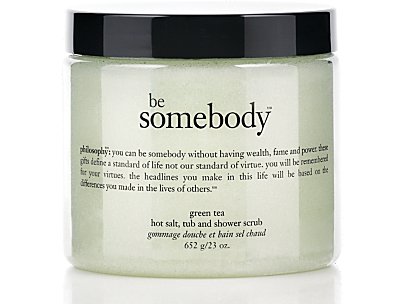 Price: $25.00 at philosophy.com
Flaunt your fresh, smooth skin all winter long with this scrub! A little goes a long way, so use it sparingly. Rub it over your body in each shower, and you'll never have dry, itchy skin… finish with a light lotion and you're set for a season of beautiful skin.
---
7

Philosophy Soul Owner Exfoliating Foot Cream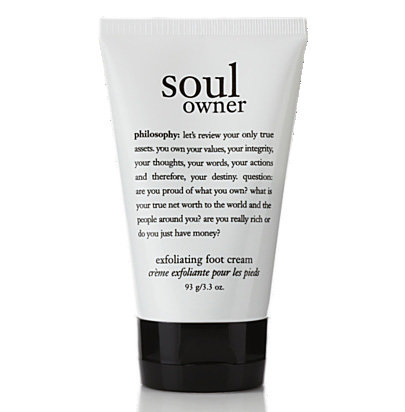 Price: $14.00 at philosophy.com
Our poor feet! Think of everything we put them through each day… the gym shoes in the morning, the heels at work, the stilettos at night. Reward them with this scrub, rich in emollients and such. It smells so sweet, and if you use it every day, you'll notice smoother, silkier soles.
This is my standard Philosophy shopping list, but I'm always adding new products, and I always find another one I adore. This month I've been addicted to the pumpkin spice line… it smells so good! Which of these Philosophy products are you addicted to, and why? Or is there another one you love more? Please let me know, so I can try it!
---
Popular
Related
Recent