Trendinig Stories
More Stories ...
3

Christian Bale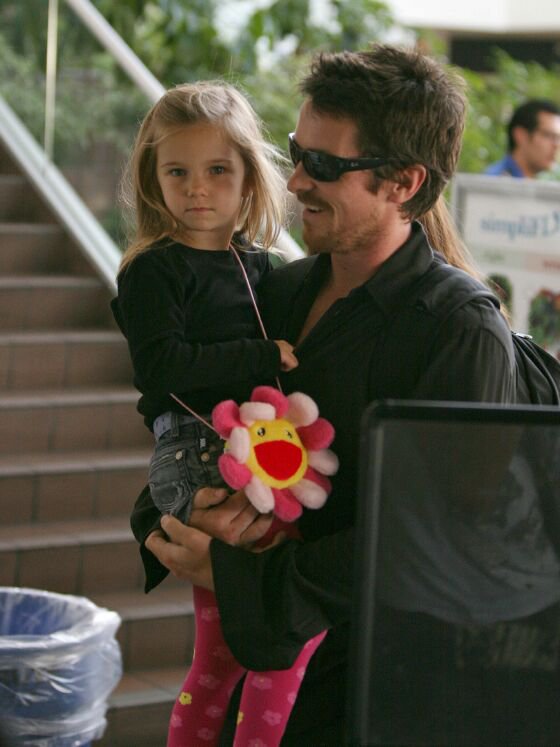 Christian Bale and Sibi Blazic are all smiles with their daughter Emmaline (b. 27 March, 2005) as they prepare to depart from LAX Airport
---
4

Nigel Barker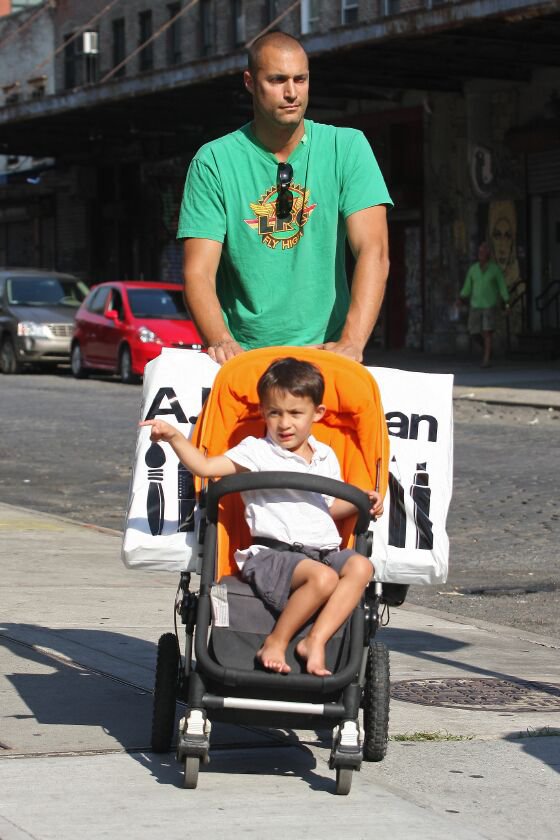 Nigel Barker walks through the Meat Packing District with his son, Jack.
---
5

Jason Batemen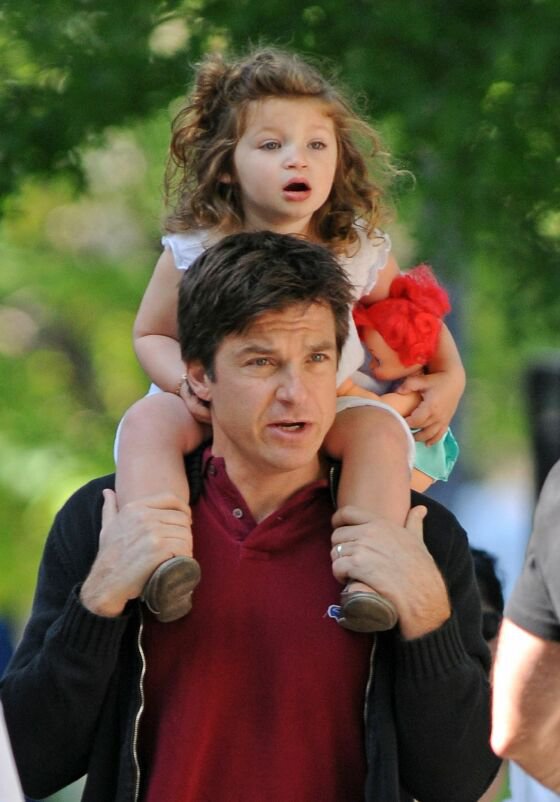 In-between takes while filming for "The Bater", Batemen gives his daughter Francesca Nora Bateman (b. October 28, 2006) a ride on his shoulders
---
6

Larry Birkhead
Doting father Larry Birkhead at Los Angeles International Airport with his adorable young daughter Dannielynn (b. September 7, 2006), whom he fathered with the late Anna Nicole Smith.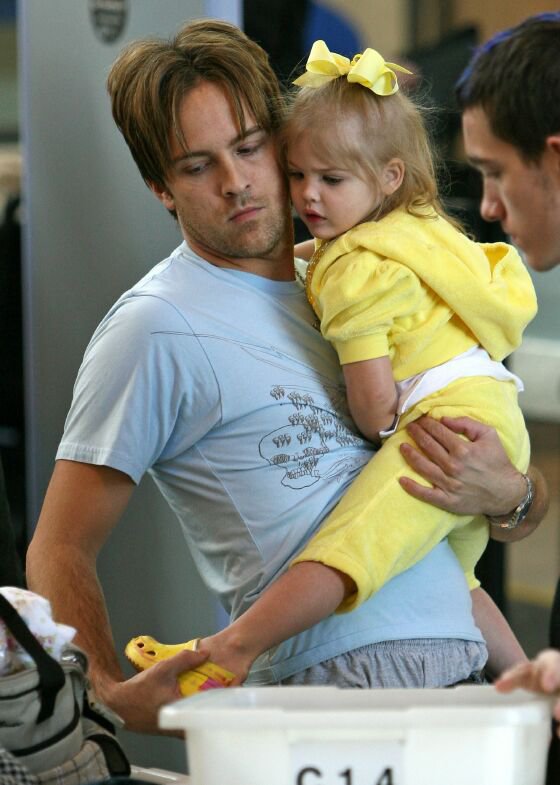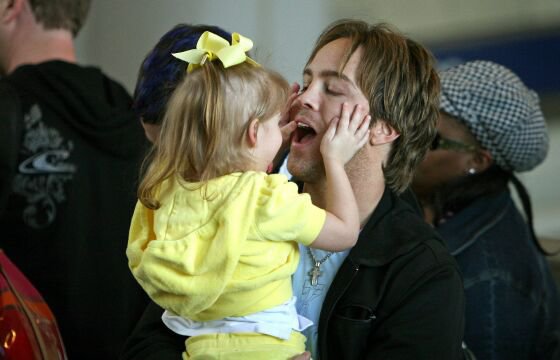 ---
7

Tom Brady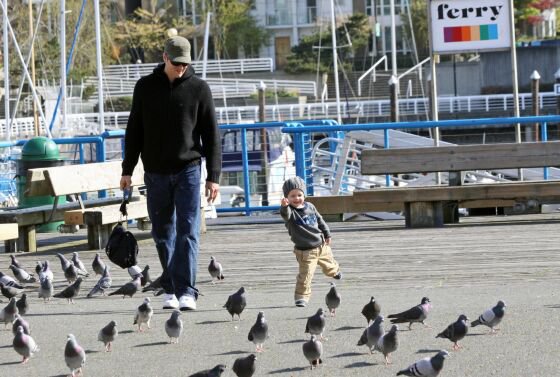 Supermodel Gisele Bundchen and American Football star Tom Brady honeymoon with baby John Edward. Gisele and Tom walked in downtown Vancouver and then jumped on an AquaBus to visit the Famous Granville Market. John Edward's mother Bridget Moynahan is filming in Vancouver.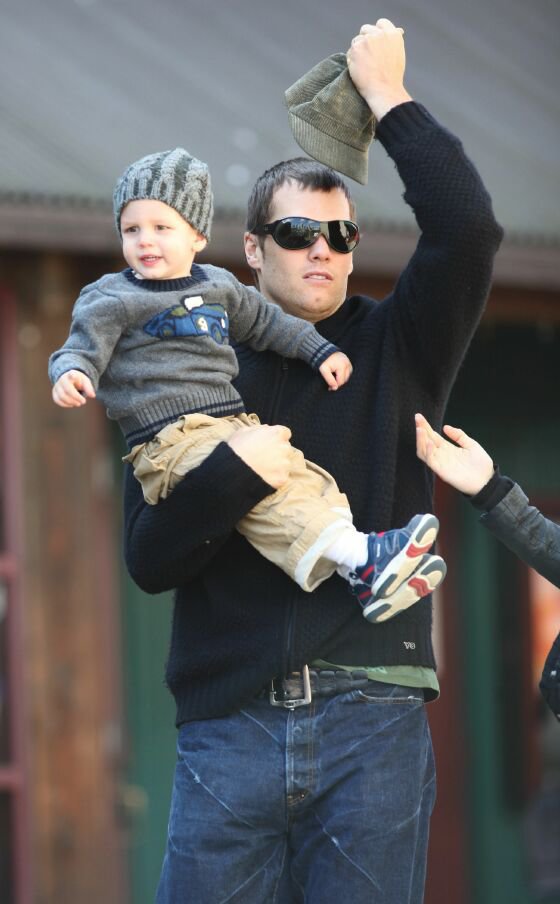 Supermodel Gisele Bundchen and American Football star Tom Brady honeymoon with baby John Edward. Gisele and Tom walked in downtown Vancouver and then jumped on an AquaBus to visit the Famous Granville Market. John Edward's mother Bridget Moynahan is filming in Vancouver
---
8

Matthew Borderick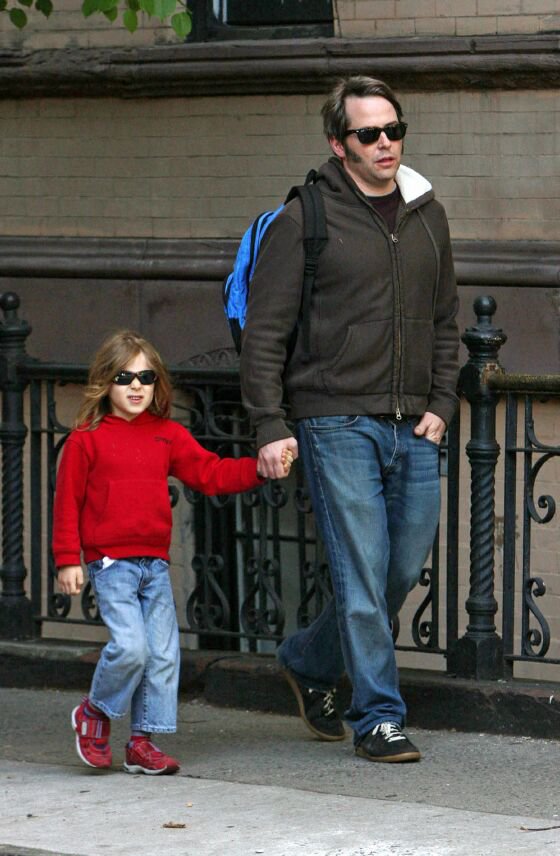 Actor Matthew Broderick walks his son James Wilkie (b. October 28, 2002) to school as they each sport a pair of shades.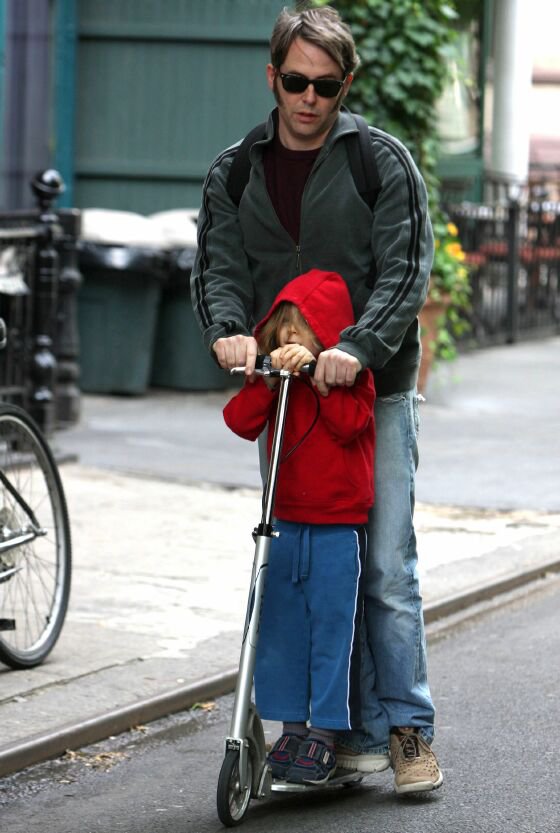 On their way, the two stop for a moment and chat with a sanitization worker who gives Matthew a pat on the back, then hop on their scooter for the last leg of the journey.
---
9

Harry Connick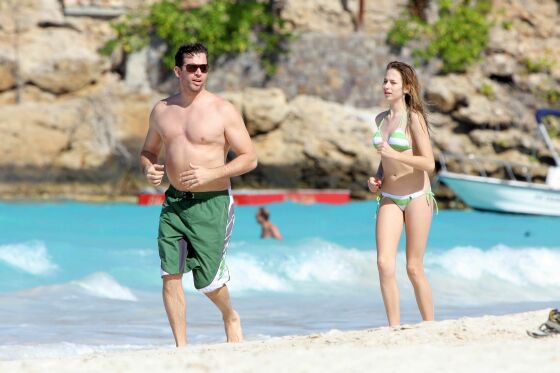 Harry Connick, Jr. enjoys a weekend trip in St. Barts with his wife and 3 daughters.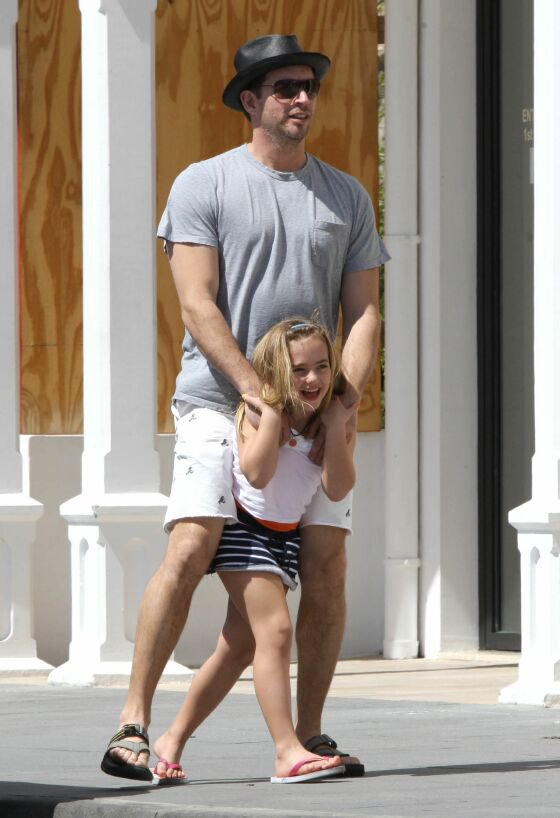 ---
10

Chris Cornell
Audioslave frontman Chris Cornell spends the day in the park with his daughter Toni (b. September 18, 2004) and son Christopher Nicholas (b. December 5, 2005)
---
11

Kevin Costner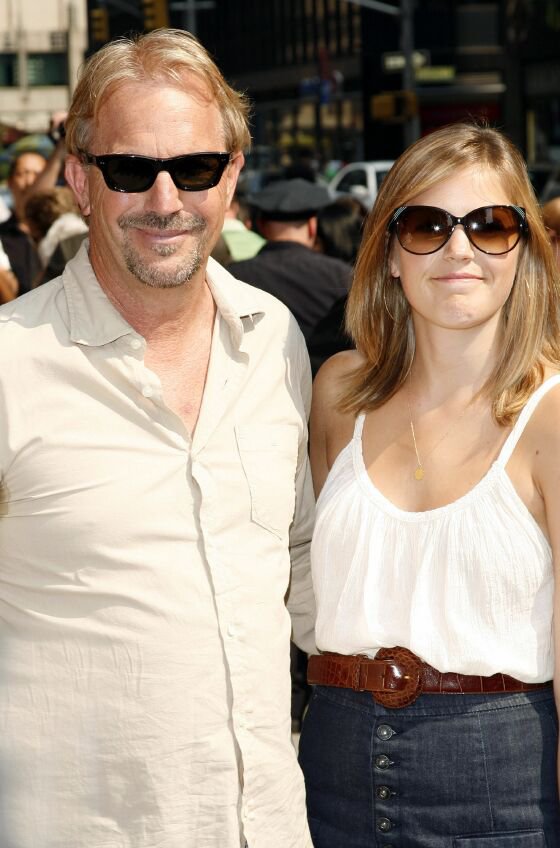 Actor/director Kevin Costner arrives at the "Late Show with David Letterman" studio to promote his latest film, "Swing Vote." His second eldest daughter, Lily, was also in attendance.
---
12

Russell Crowe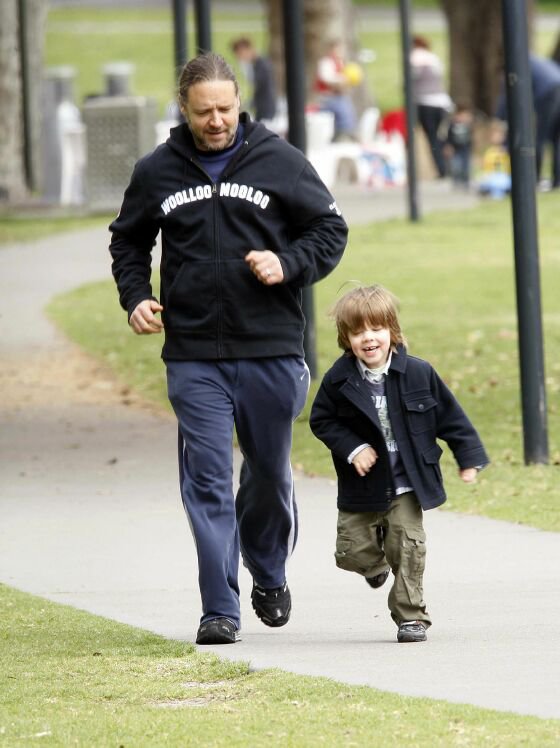 Actor Russell Crowe takes son Charlie (b. December 21, 2003) to Rushcutters Bay Park for some quality father-son time.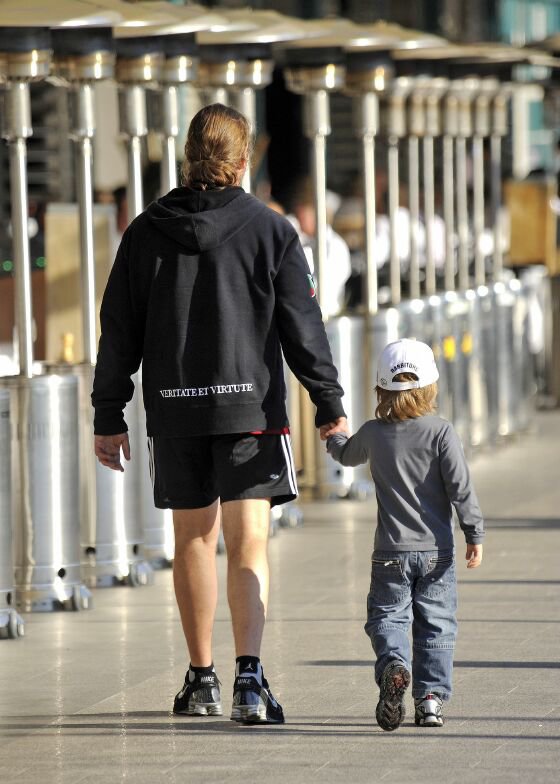 ---
13

Tom Cruise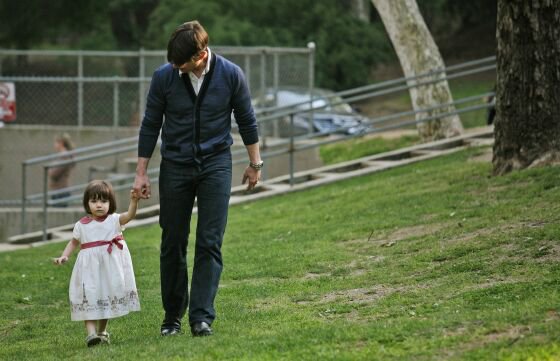 Tom Cruise and his daughter Suri Cruise (b. April 18, 2006) enjoy a daddy-daughter day at a Los Angeles park.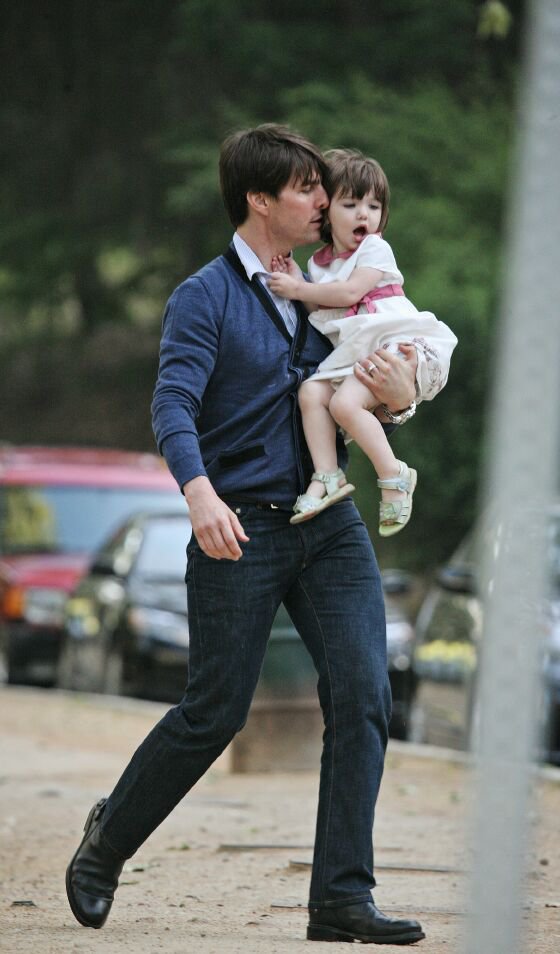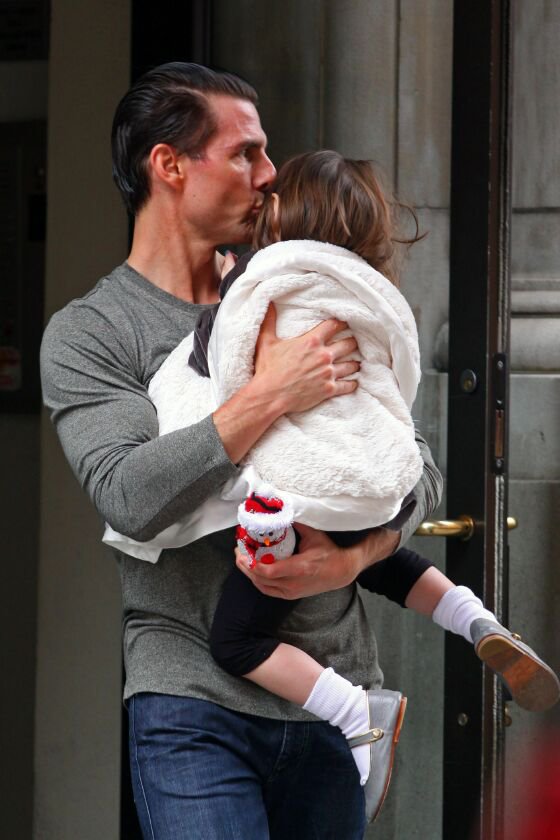 Tom Cruise carries daughter Suri out of their downtown apartment.
---
14

Billy Ray Cyrus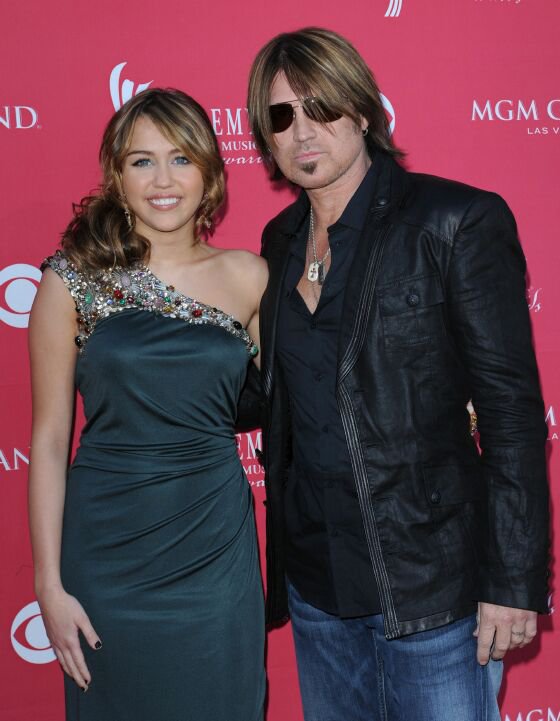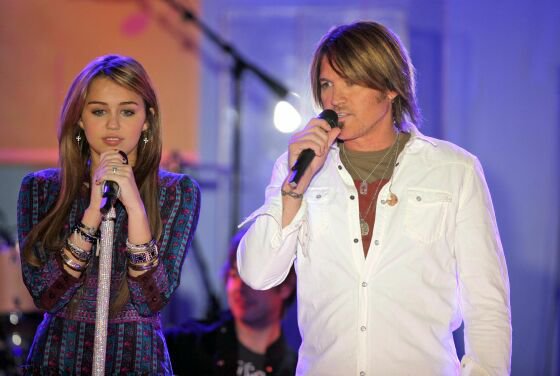 Teen starlet Miley Cyrus and her father Billy Ray Cyrus take the stage together at the Hard Rock Cafe to perform for "Good Morning America's" spring concert series.
---
15

Kevin Dillon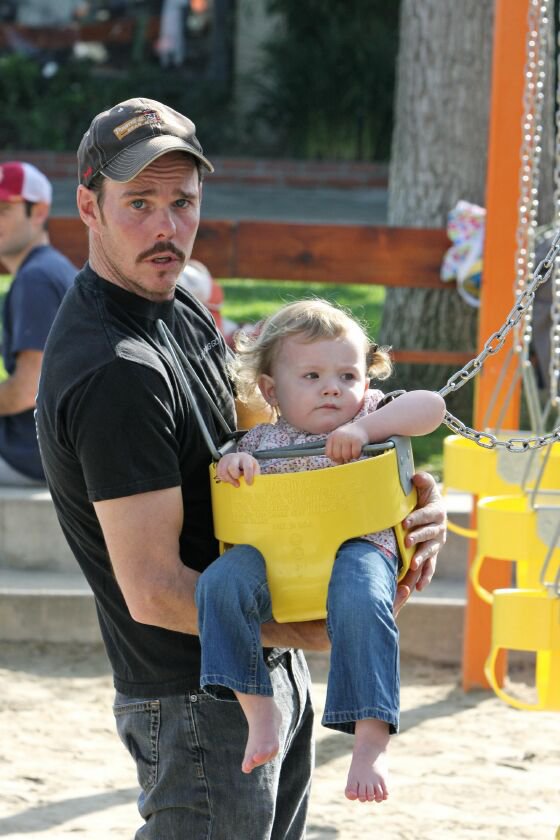 Kevin Dillon helping his daughter, Ava (b. May 17, 2006) play on the swings.
---
16

Bill Gates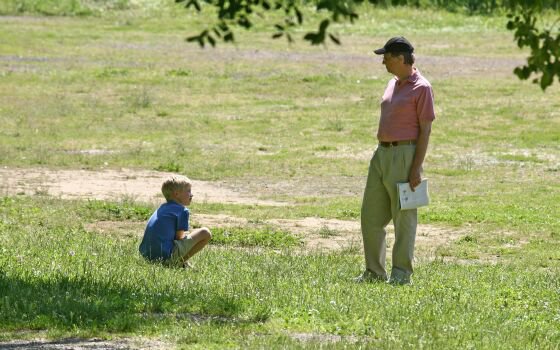 Microsoft chairman Bill Gates with son Rory John (b. 1999) during their trip to Rome.
---
17

Tom Hanks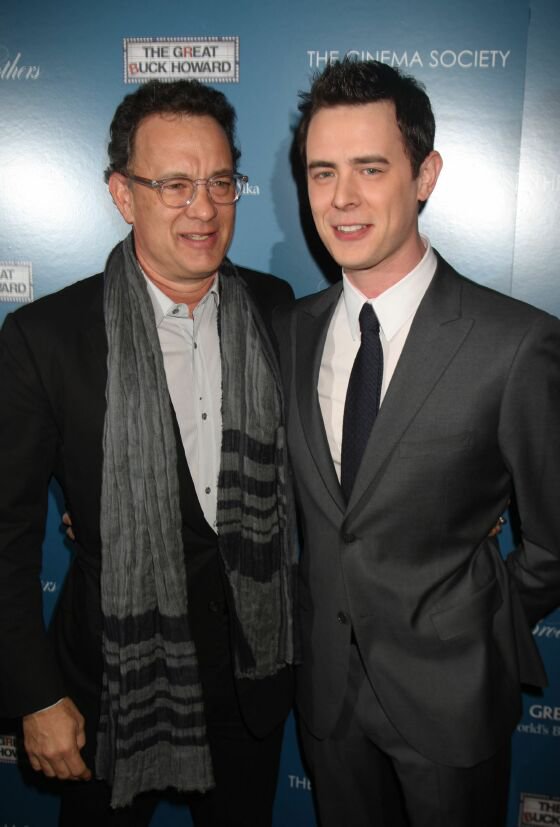 Tom Hanks with son Colin Hanks attend the Cinema Society screening of "The Great Buck Howard" at the Soho Grand Hotel.
---
18

David Hasselhoff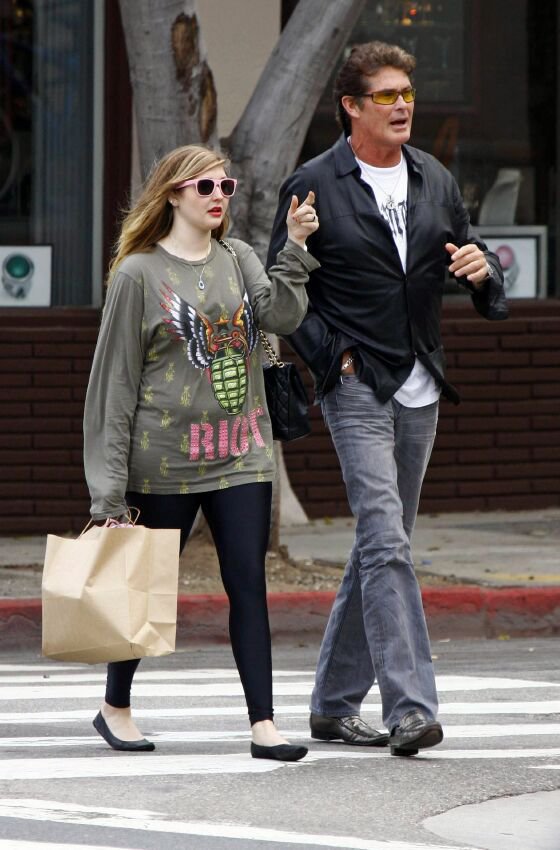 Former "Baywatch" star David Hasselhoff and his youngest daughter Hayley spend some quality time together shopping at Planet Blue along Main Street.
---
19

Hugh Jackman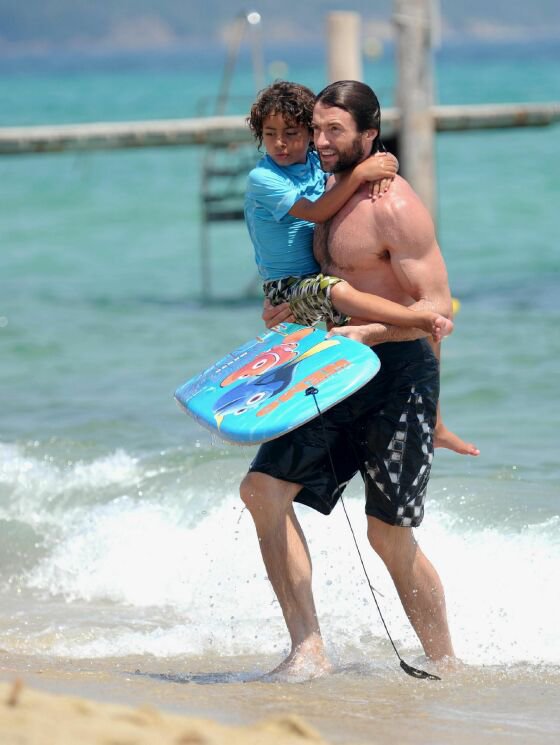 Hugh Jackman and his son son Oscar (b. May 15, 2000) splash around together whilst on vacation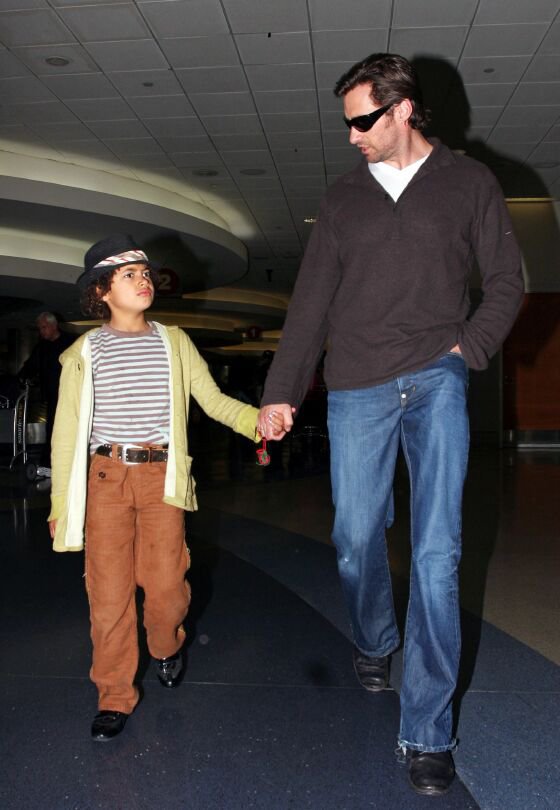 Hugh Jackman and son Oscar Maximillian (b. May 15, 2000) arrive at LAX Airport and wait curbside for their ride.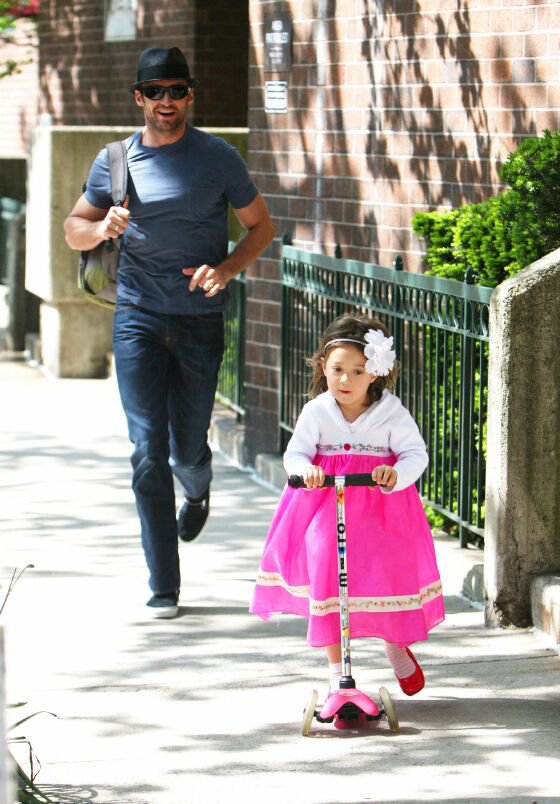 Hugh Jackman spends his morning jogging with his trainer before picking up his daughter Ava (b. July 10, 2005) and meeting up with his wife Deborra-Lee. Ava happily rides her scooter around town while Hugh signs some autographs and chats with fans.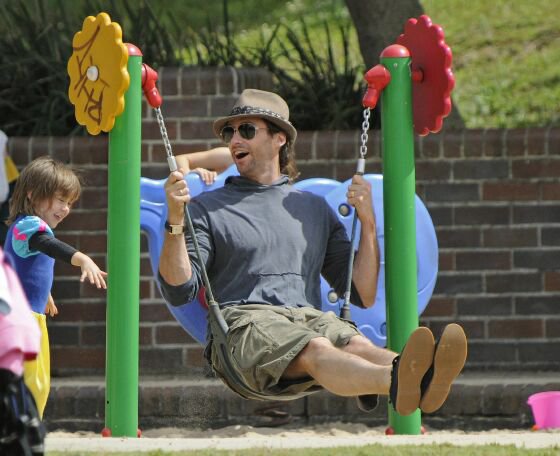 Hugh Jackman enjoys a day in Bronte Park with his daughter Ava (b. July 10, 2005) and his son Oscar (b. May 15, 2000).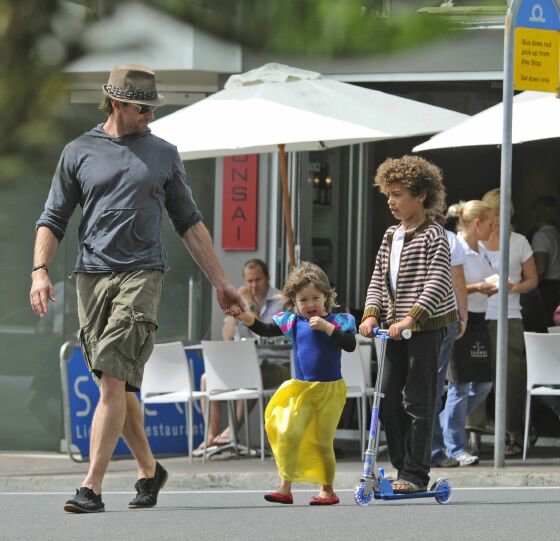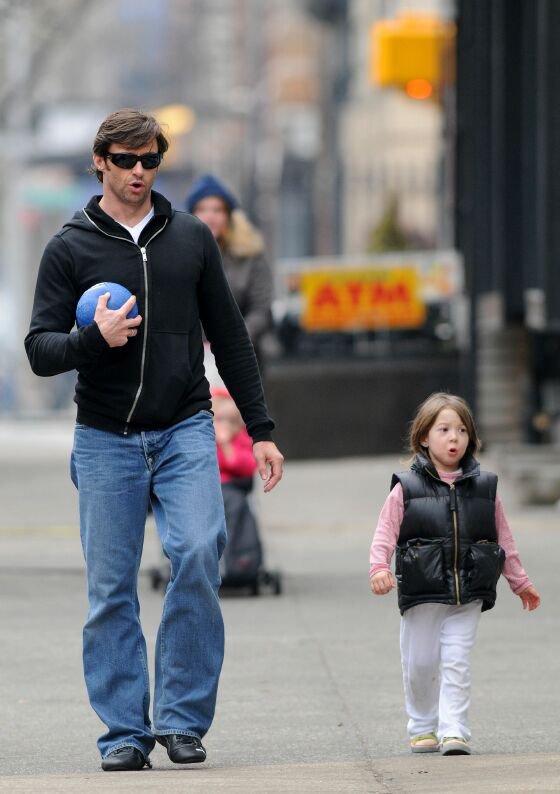 Hugh Jackman plays with daughter Ava during an afternoon walk in the West Village.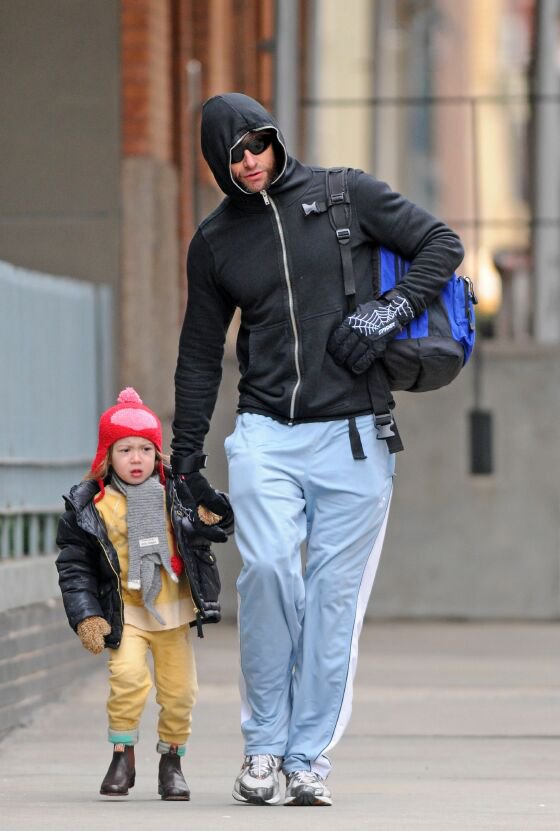 Actor Hugh Jackman and daughter Ava Eliot (b. July 10, 2005) stroll through the morning cold in the West Village. By the looks of her face it seems little Ava is a bit moody this morning.
---
20

Anthony Kiedis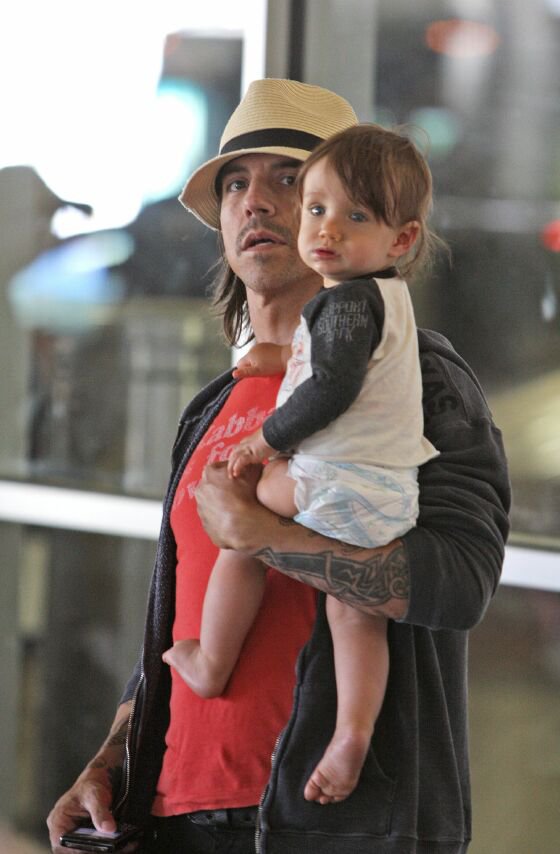 Anthony Kiedis, sporting a "Kabbalah is for Lovers" t-shirt, lands at Los Angeles International Airport with his son, Everly Bear (b. Oct. 2, 2007).
---
21

Lorenzo Lamas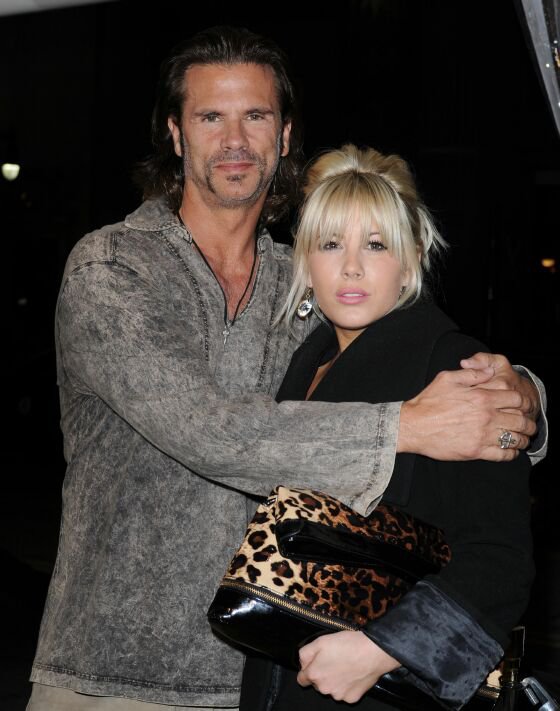 Lorenzo Lamas with his daughter Shayne Lamas during the Los Angeles Premiere of "Watchmen".
---
22

Jude Law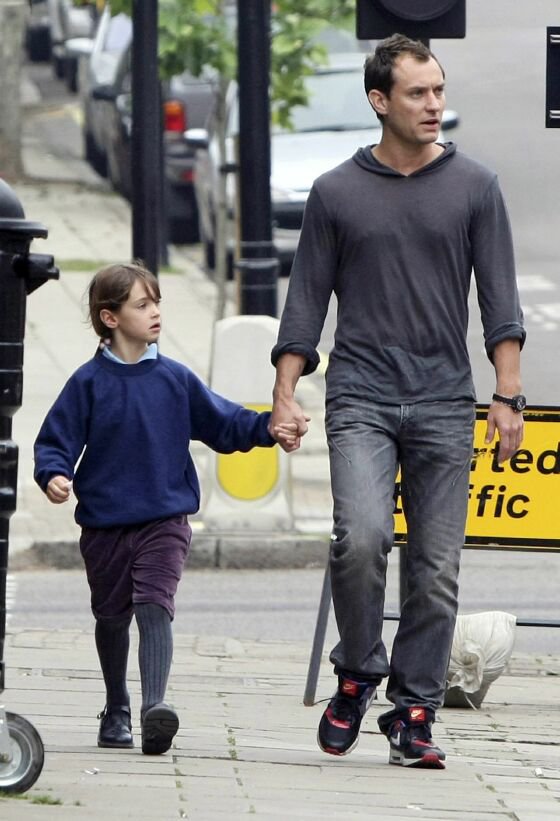 Actor Jude Law takes his daughter Iris (b. October 25, 2000) with ex-wife, Sadie Frost, for a stroll and some shopping in London, including a Starbucks run.
---
23

Ray Liotta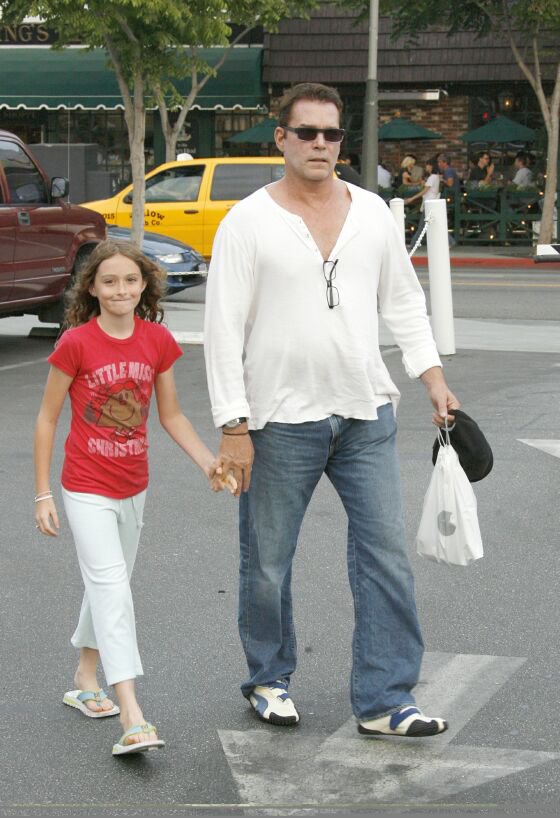 Ray Liotta and his daughter, Karsen, stroll the Third Street Promenade in Santa Monica after shopping at The Apple Store and Puma Store.
---
24

Joel Madden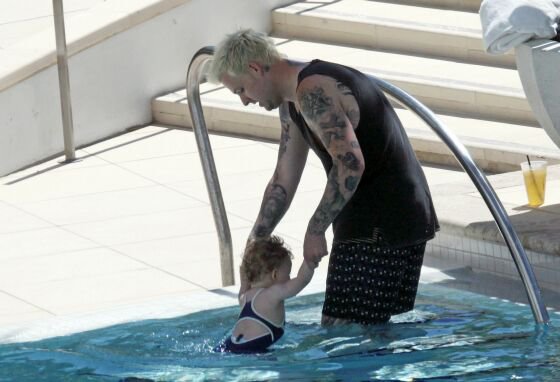 Joel Madden takes his daughter Harlow Winter Kate [b. January 11, 2008] for a dip in the pool
---
25

Tom Mahoney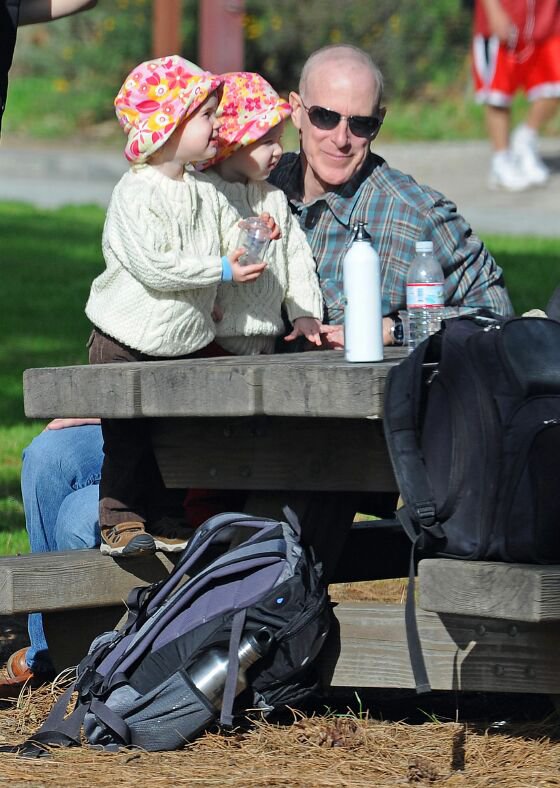 Marcia Cross' twin daughters Eden and Savannah Mahoney turn two-years-old today. Their father Tom Mahoney (diagnosed with cancer and reportedly undergoing chemotherapy sessions) spends the afternoon with them and other families at the Temescal Gateway Park in Pacific Palisades.
---
26

Matthew McConaughey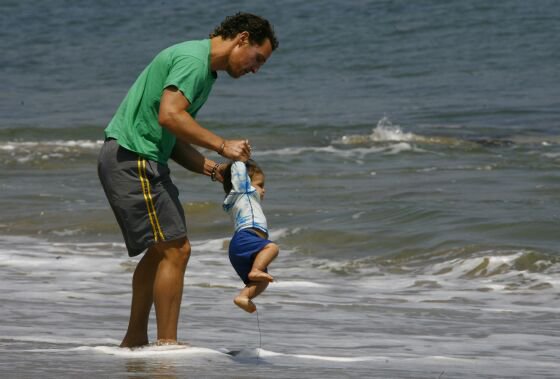 Actor Matthew McConaughey brings his son Levi Alves (b. July 7, 2008) to the beach, then later goes for a jog.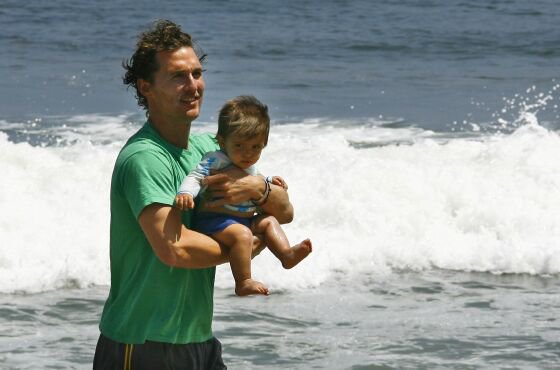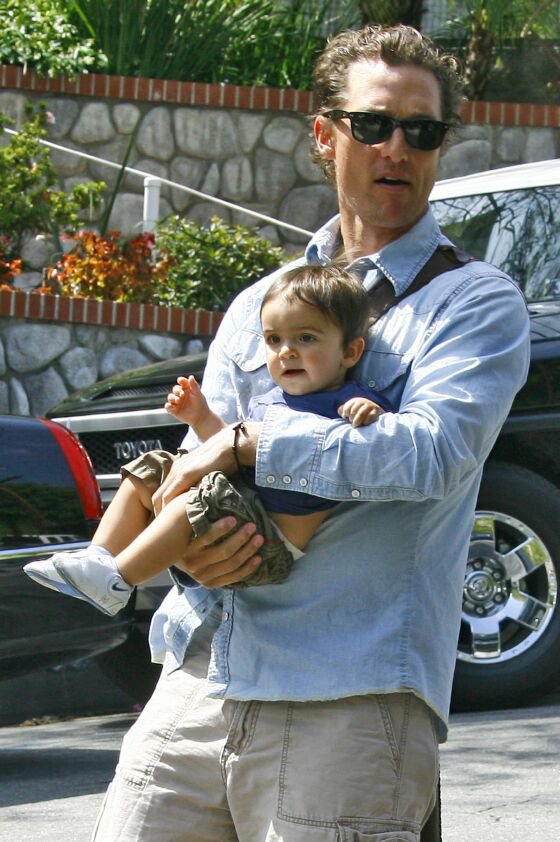 Actor Matthew McConaughey carries his son Levi Alves McConaughey (b. July 7, 2008) into the Sunset Marquis in West Hollywood.
---
27

Dean McDermott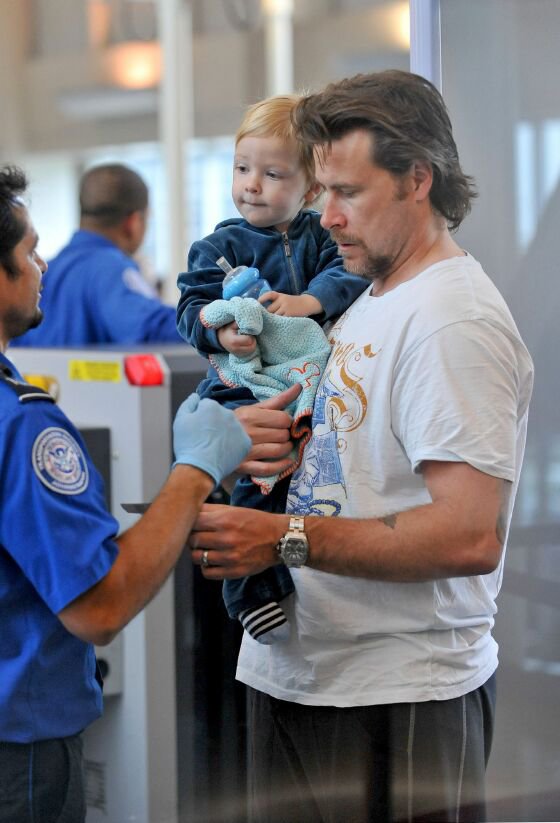 Dean McDermott with son Liam Aaron (b. March 13, 2007) while checking into Los Angeles International Airport.
---
28

Ryan O'Neal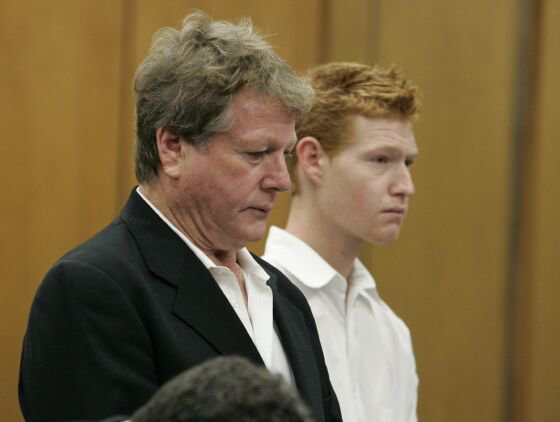 Ryan O'Neal and his son Redmond O'Neal appear at the Malibu Courthouse on felony drug charges.
Sweet_and_Sour
really made me laugh sadly... The one picture they...
---
29

Francois- Henri Pinault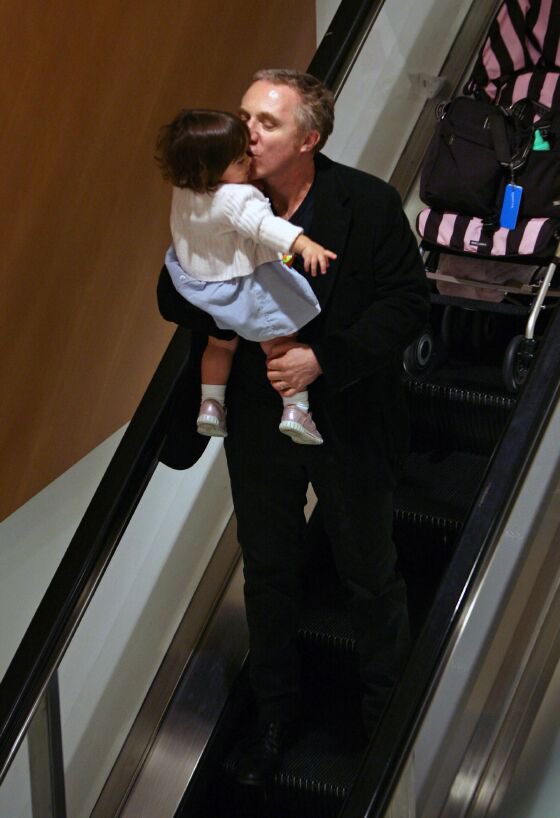 Francois-Henri Pinault and daughter Valentina Paloma Pinault (b. September 21, 2007) enjoy an afternoon of retail therapy at Westfield Century City Shopping Center accompanied by a nanny. The doting father was spotted treating his daughter at Bloomingdale's and showering her with kisses.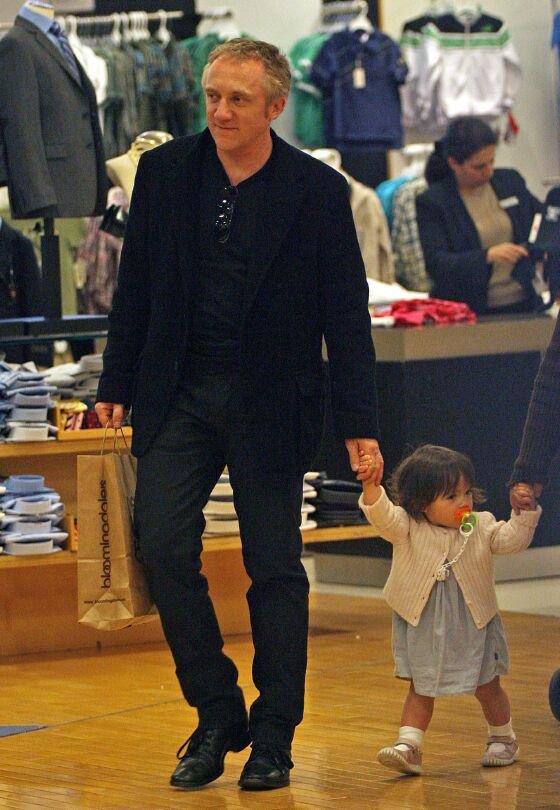 ---
30

Brad Pitt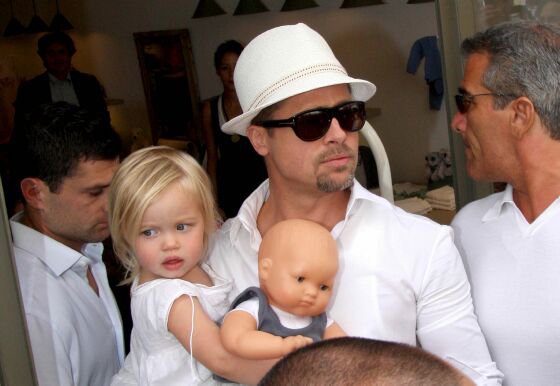 Brad Pitt with daughter Shiloh (b. May 27, 2006), babydoll in tow, shopping at Bonpoint in Cannes.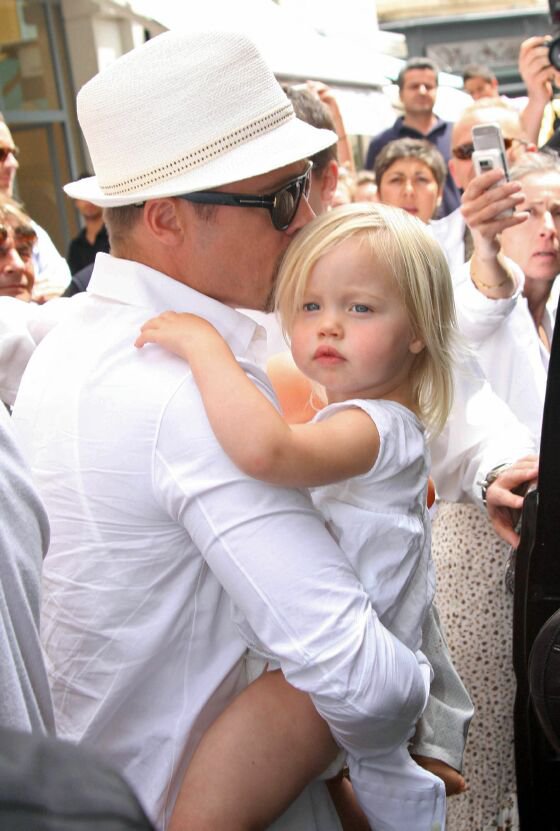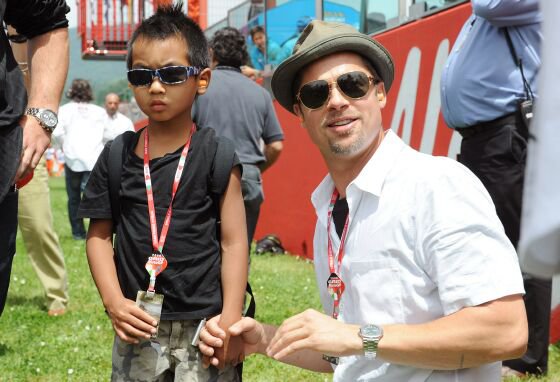 Brad Pitt and Maddox Jolie-Pitt (b. August 05, 2001) enjoy a day at the Moto GP race in Italy. As special guests, Brad and Maddox view the race from the sidelines. While viewing the race, Brad makes sure Maddox's hearing is protected with ear plugs and ear phones.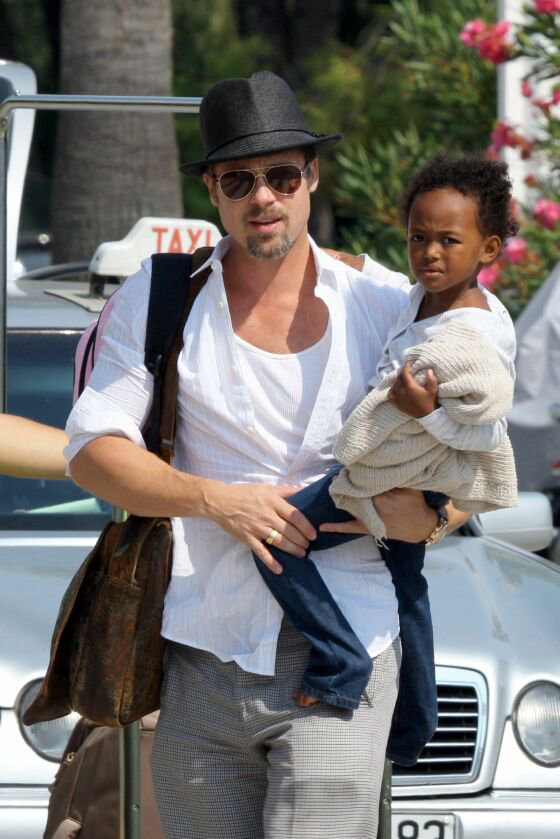 Brad Pitt and his daughter, Zahara Jolie-Pitt (b. Jan. 08, 2005) depart from Mandelieu Aiport in Cannes. It seems their departure was delayed due to a slight electrical problem.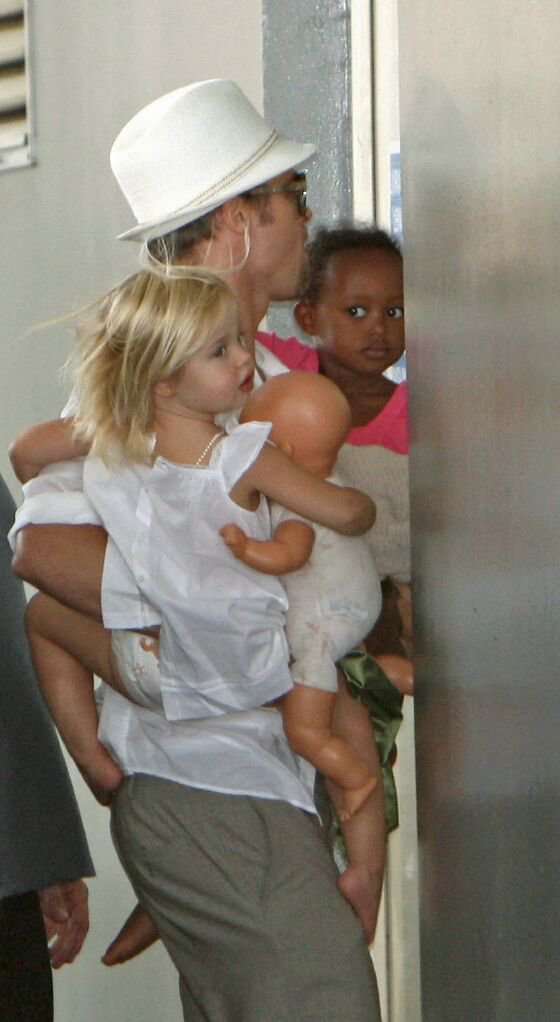 Brad Pitt arrives at Lenval Hospital with Zahara (b. Jan. 08, 2005) and Shiloh (b. May 27, 2006).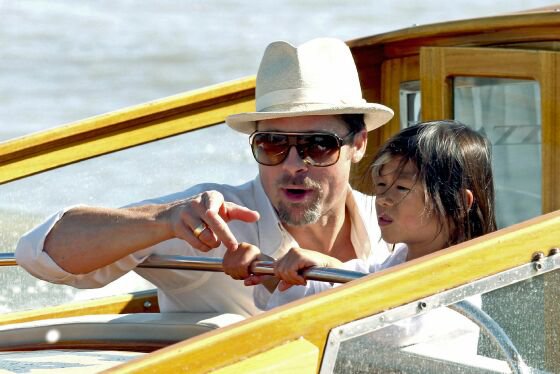 Brad Pitt and son Pax Thien (b. Nov. 29, 2003) in Venice for the 65th Annual Venice International Film Festival running from August 27th to September 6th.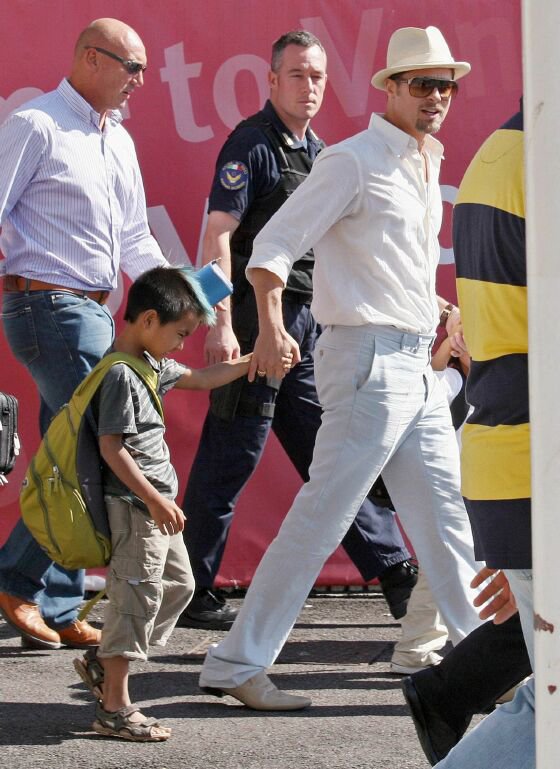 Brad Pitt and his son Maddox Jolie-Pitt (b. August 05, 2001, arrive in Venice for the 65th Annual Venice International Film Festival.
---
31

Michael Rapaport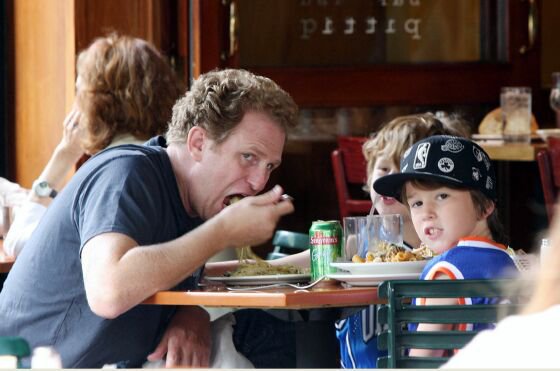 Actor Michael Rapaport spends an afternoon with his sons Maceo Shane (b. 2002) and Julian Ali (b. 2000) having lunch at Bar Pitti in the West Village.
---
32

Guy Ritchie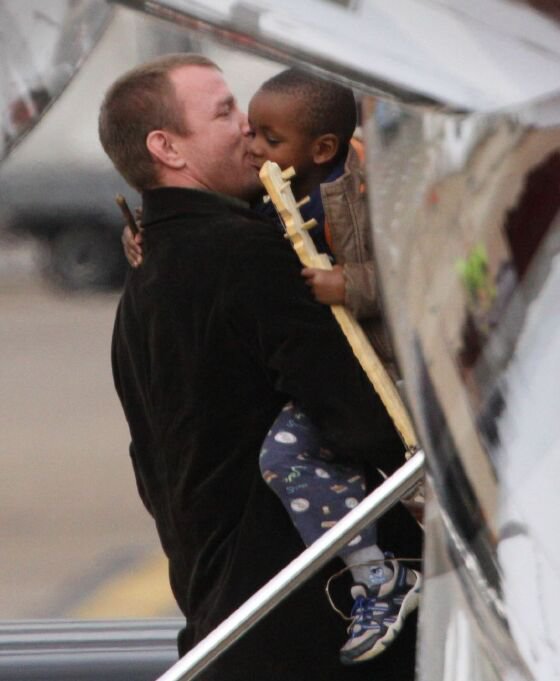 Guy Ritchie is reunited with his family at Luton airport. His adopted son David runs to him for a big hug.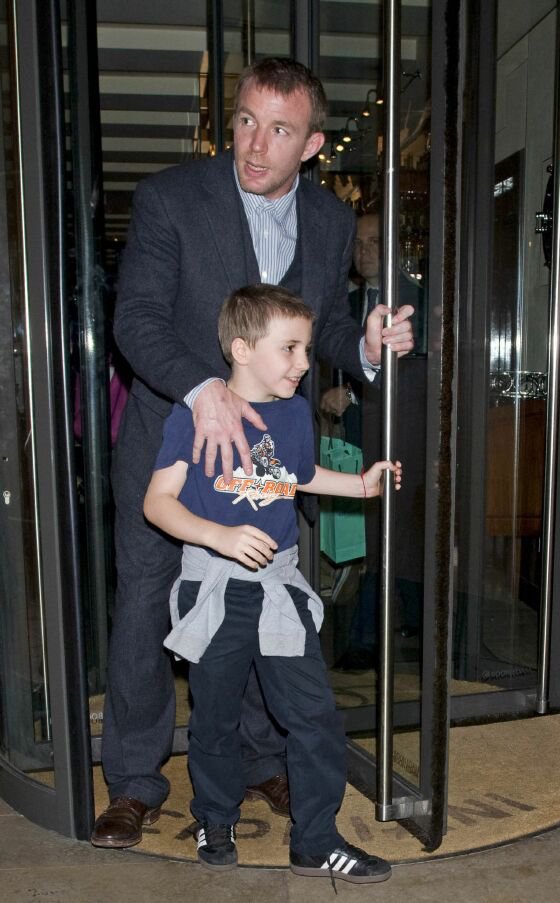 Guy Ritchie and son Rocco Ritchie (b.11 August 2000) leave Cipriani restaurant.
---
33

Chris Robinson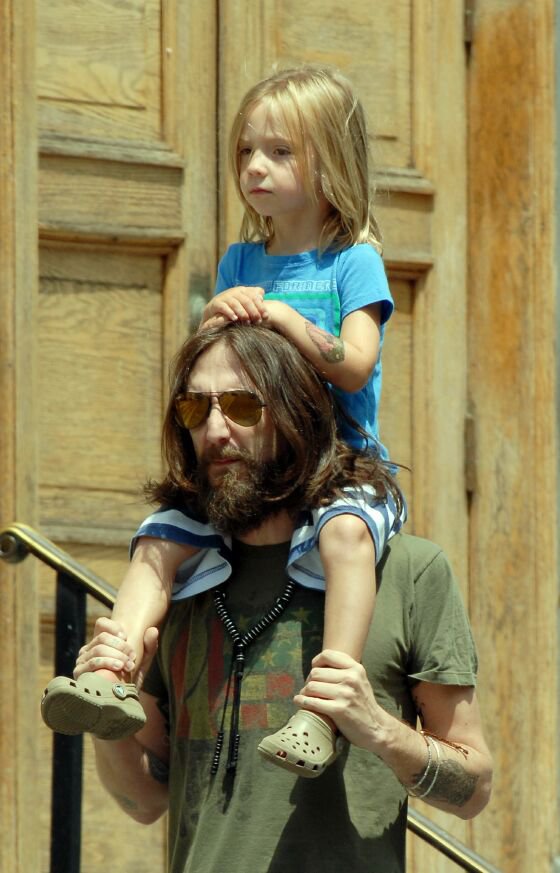 The Black Crowes frontman Chris Robinson carries son Ryder Russell (b. January 7, 2004) on his shoulders through the West Village. Robinson shares joint custody with former wife, actress Kate Hudson.
---
34

Chris Rock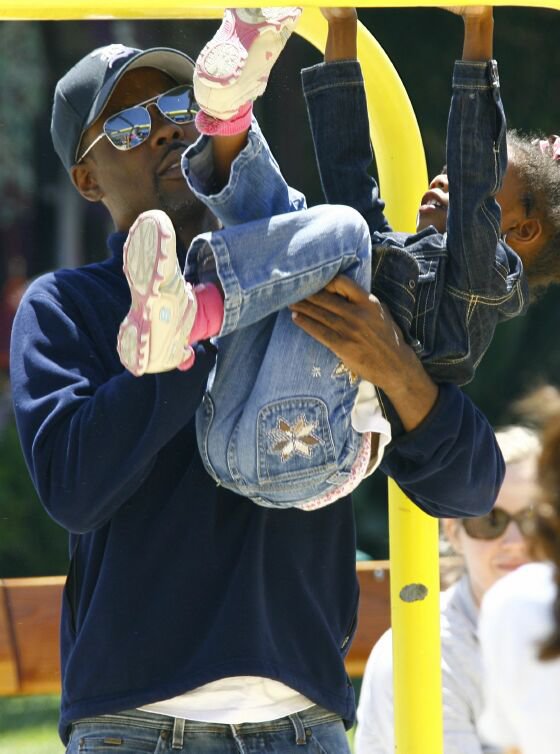 Chris Rock and his wife Malaak Compton enjoyed a sunny day out at a park in Malibu with their two daughters, Zahra Savannah (b. May 22, 2004) and Lola Simone (b. June 28, 2002).
---
35

Peter Sarsgaard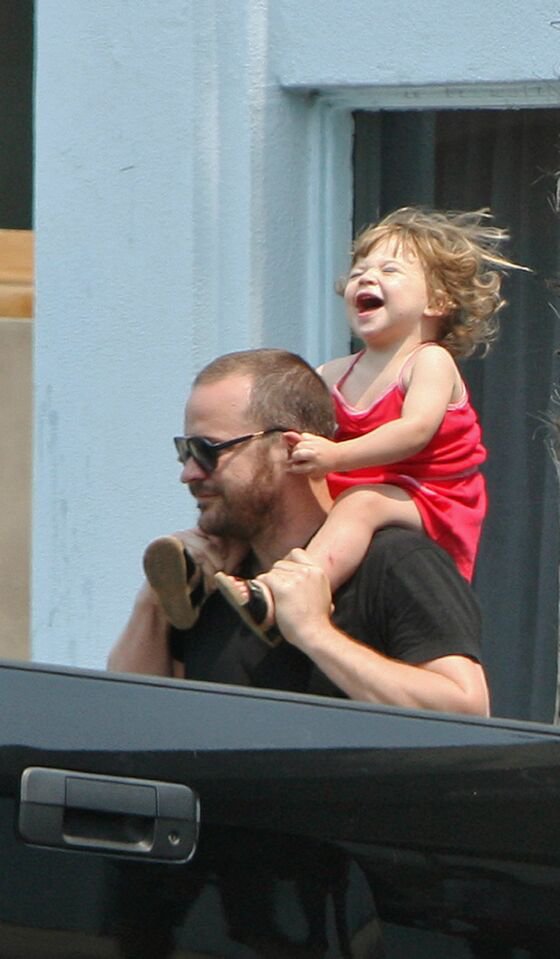 Peter Sarsgaard enjoying a day out in Venice with daughter Ramona Sarsgaard (b. Oct. 3, 2006)
---
36

Liev Schreiber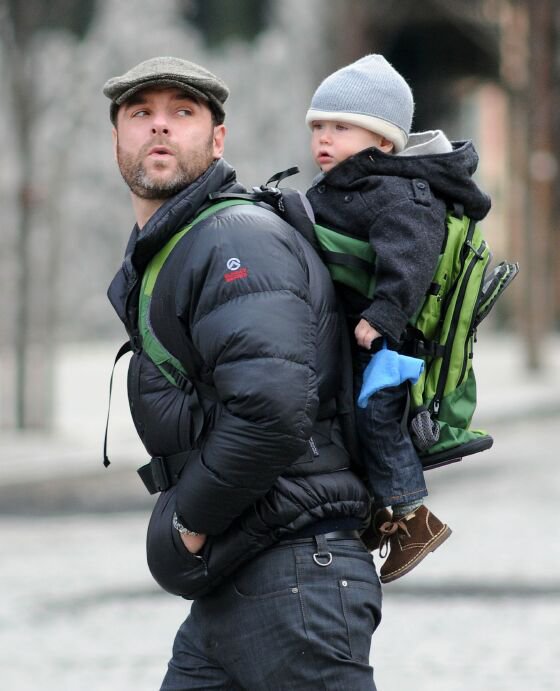 Actor Liev Schreiber takes son Alexander Pete (b. July 25, 2007) for a stroll bundled up in winter wear as they brave the cold.
---
37

Seal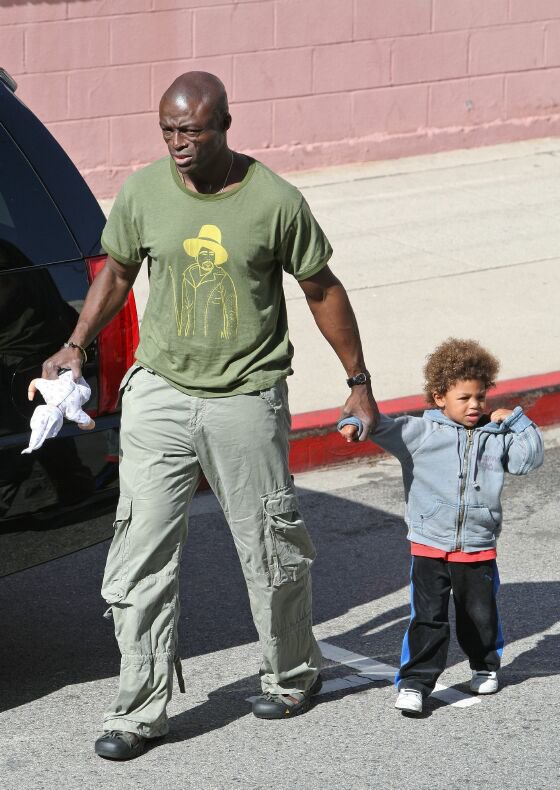 Seal leaves for the Kids Only clothing store with son Johan (b. Nov. 22, 2006).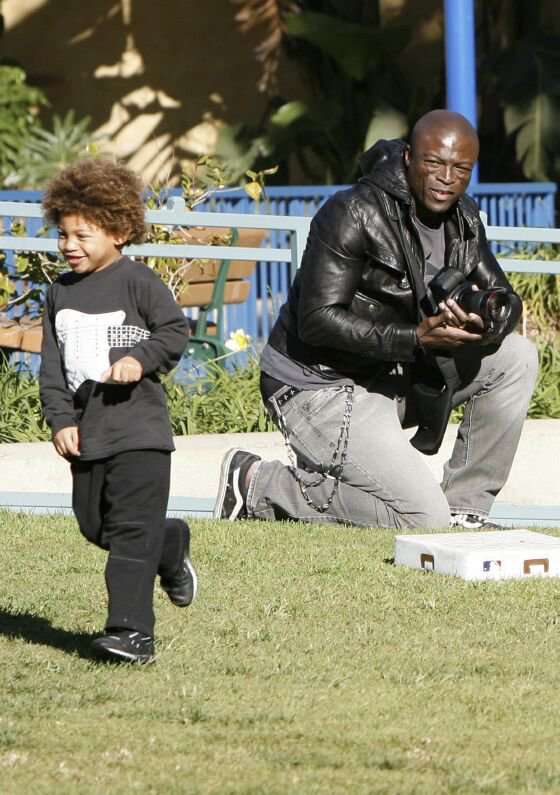 Seal with son Johan Riley Fyodor Taiwo Samuel when the family spent the day at a park.
---
38

Russell Simmons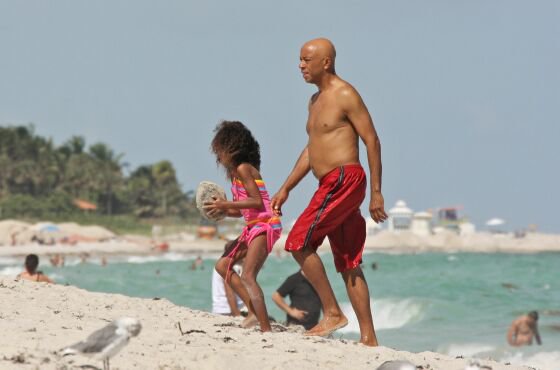 Russell Simmons enjoys a day at the beach with his daughters, Ming Lee Simmons (b. January 21, 2000) and Aoki Lee Simmons (b. August 16, 2002).
---
39

Will Smith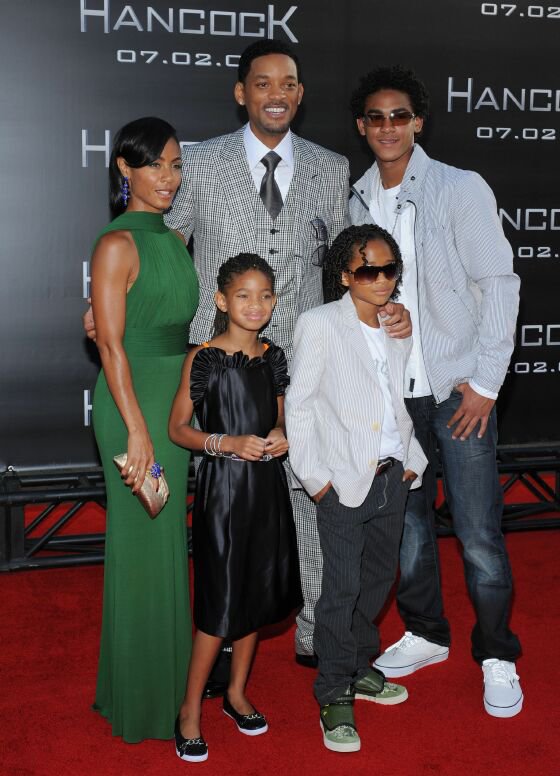 Will Smith with wife Jada Pinkett, sons Willard Christopher Smith (b. Nov 11, 1992), Jaden Smith (b. July 8, 1998) and daughter Willow Smith (b. Oct 31, 2000) at the Los Angeles Premiere of "Hancock".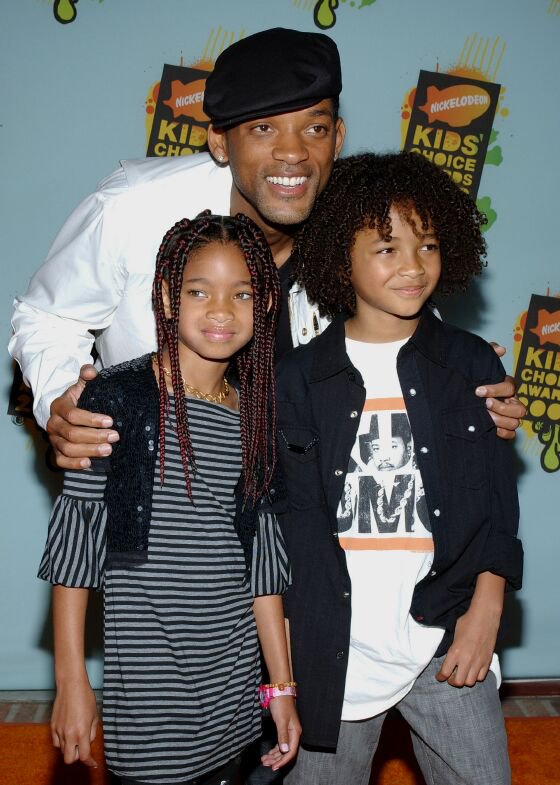 At the Nickelodeon's 2008 Kids' Choice Awards.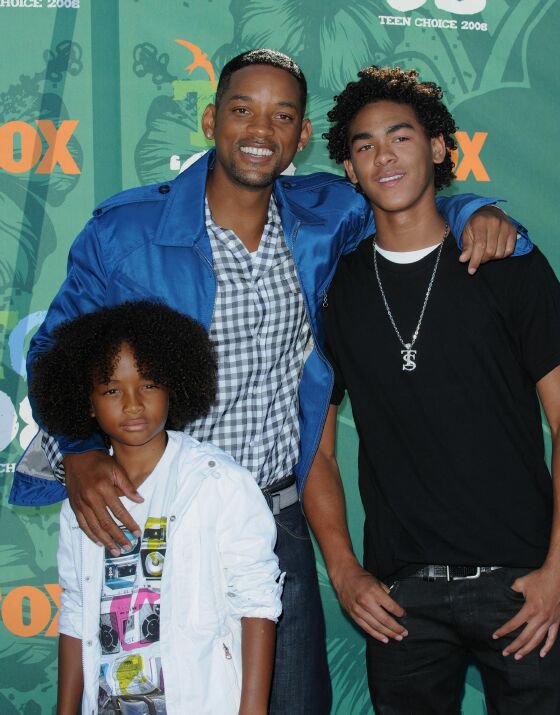 At the 2008 Teen Choice Awards.
---
40

Sylvester Stallone
Actor Sylvester Stallone arrives in Rome with daughters Sophia Rose (b. August 27, 1996), Sistine Rose (b. June 27, 1998) and Scarlet Rose (b. May 25, 2002), after some time in France to continue their European vacation.
---
41

Jon Stewart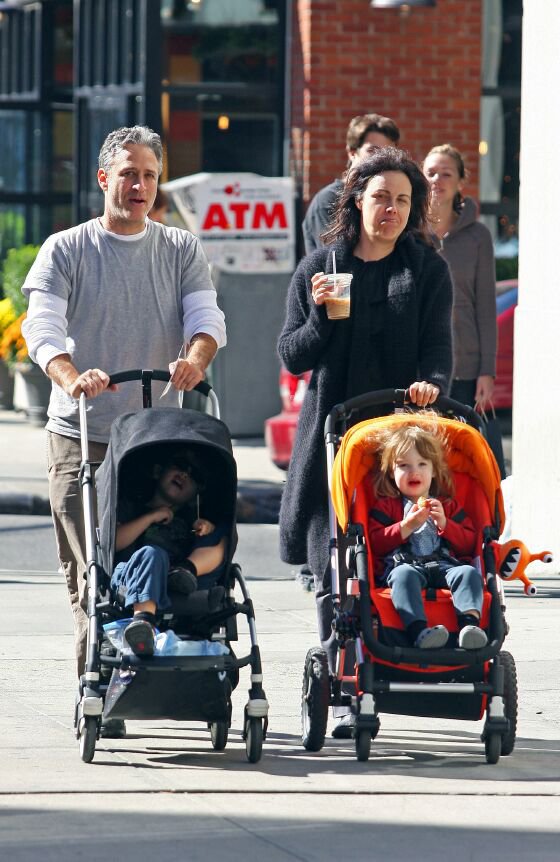 "The Daily Show" host Jon Stewart and his wife Tracy take their kids, Nathan Thomas (b. July 3, 2004) and Maggie Rose (b. February 4, 2006) for a stroll through Soho. Jon and his family even get stopped by a street vendor selling posters and t-shirts.
---
42

Kiefer Sutherland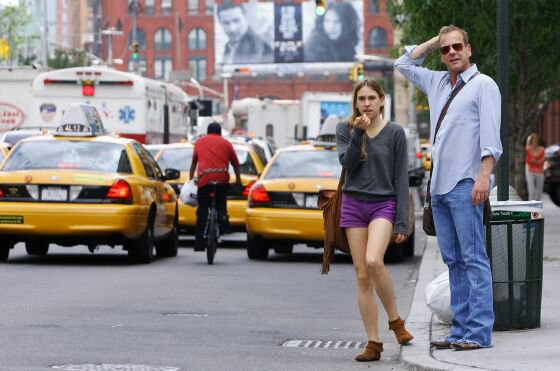 Kiefer Sutherland walks in Soho and tries to hail a cab with his daughter, Sarah Jude.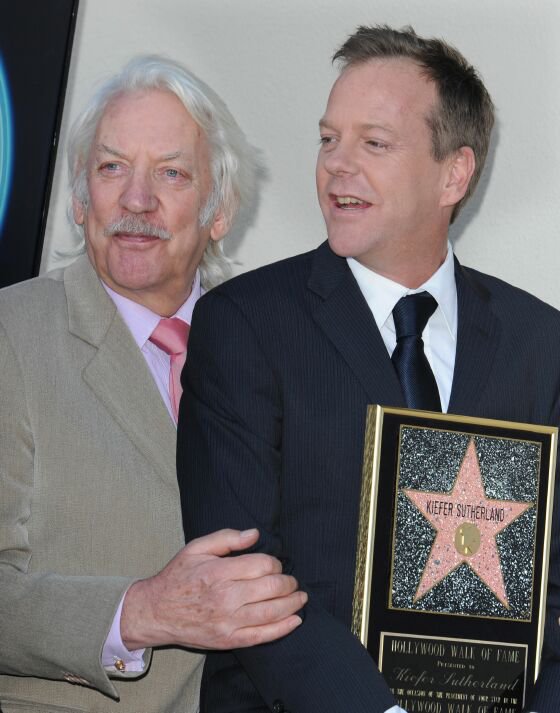 Kiefer Sutherland honored with a star on the Hollywood Walk of Fame.
---
43

Donald Trump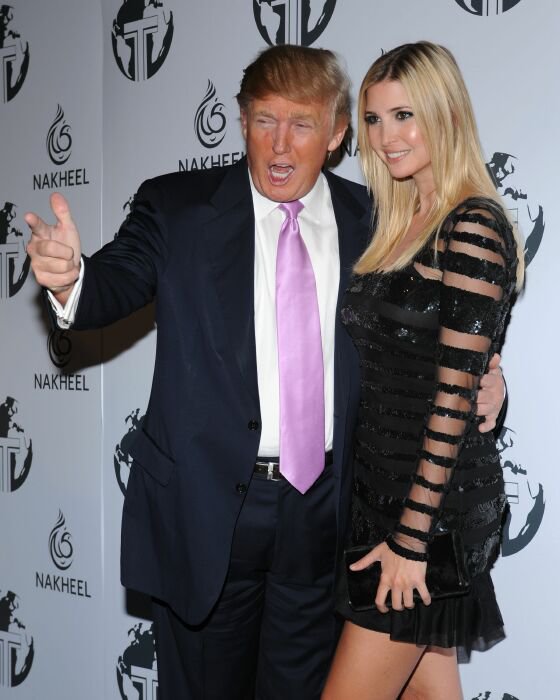 With daughter Ivanka Trump.
---
44

Usher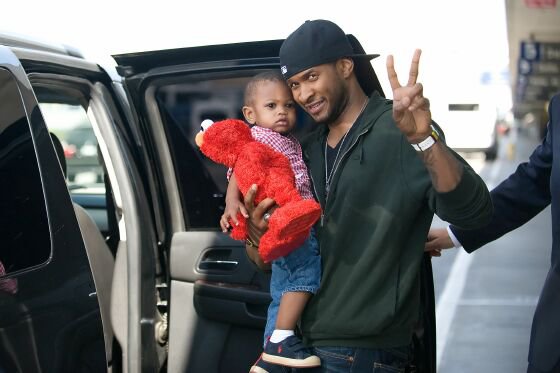 Usher arrives at LAX carrying son Usher Raymond V (born November 26, 2007) and an Elmo Sesame Street doll. He is escorted by a bodyguard. Usher flashes the peace sign to photographers before leaving.
---
45

Bruce Willis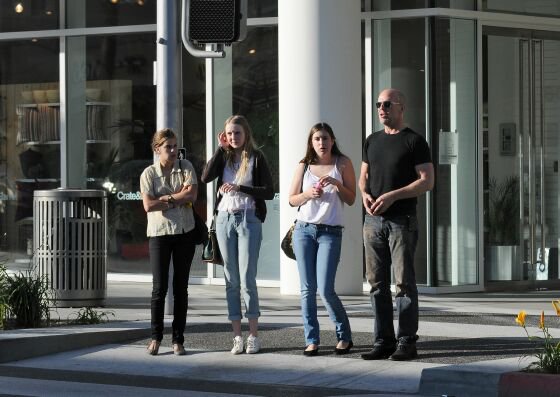 Bruce Willis spends Memorial Day Weekend with his daughters Scout LaRue and Tallulah Belle and their friend.
Wasn't that simply priceless? I love happy pictures like these. Tom Cruise, Brad Pitt and Hugh Jackman on the beach were my favorites! Who are your favorite celebrity dads?
---
46

Ryan Reynolds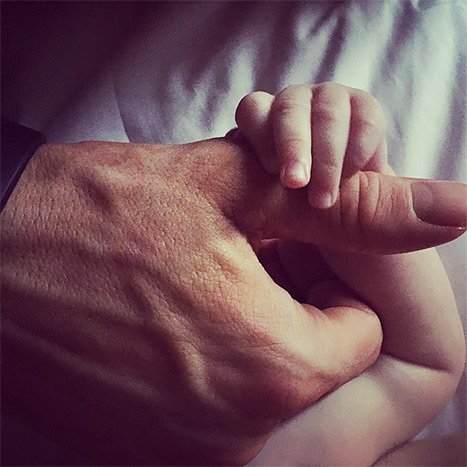 This is the first (and only!) photo new dad Ryan Reynolds and mama Blake Lively have shared with the public, and it's so sweet! I can't wait to see what this little girl looks like, but with parents are gorgeous as Ryan and Blake, she's sure to be darling.
---
47

Chris Hemsworth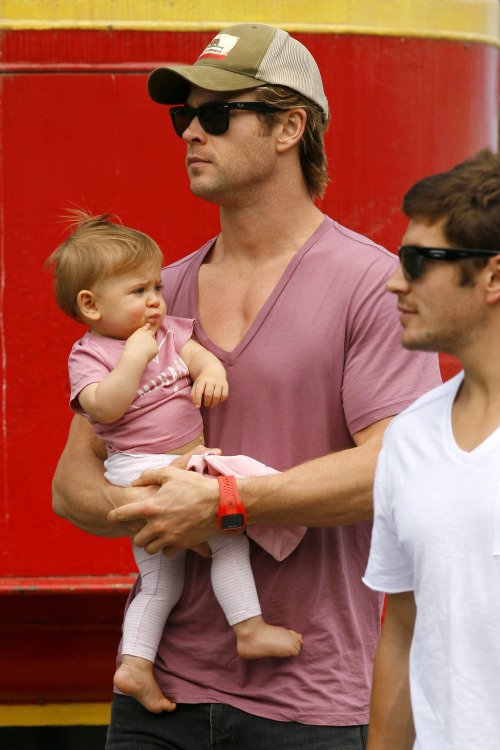 Here's Thor, with his lovely daughter, India. This is almost too much cuteness for one photo.
---
48

Prince William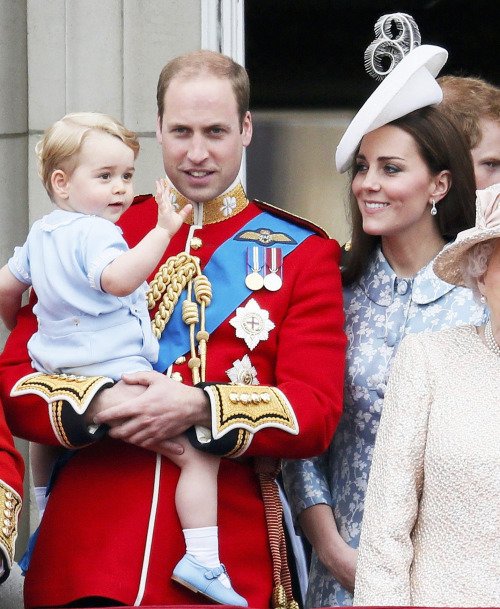 Royal or not, I'm sure Prince William's changed his share of nappies, for both his first baby, Prince George, and his new baby girl, Princess Charlotte.
---
49

David Beckham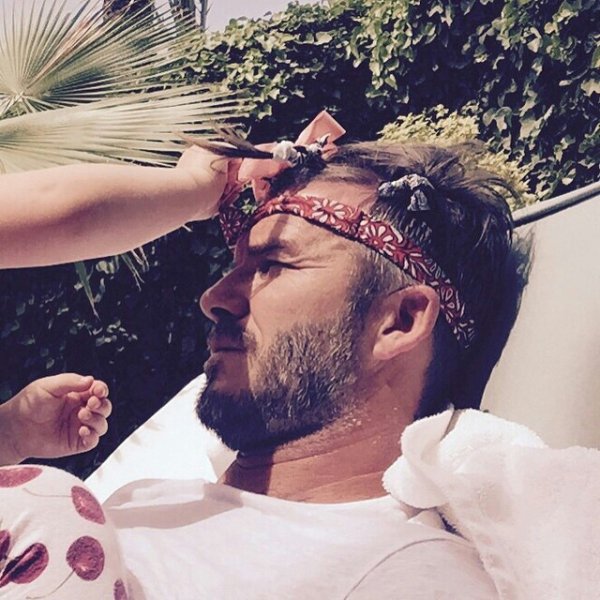 When he's not playing soccer or wowing us with his model good looks in glossy magazines, David Beckham's an excellent dress-up dollie for his littlest, Harper.
She's just darling, isn't she?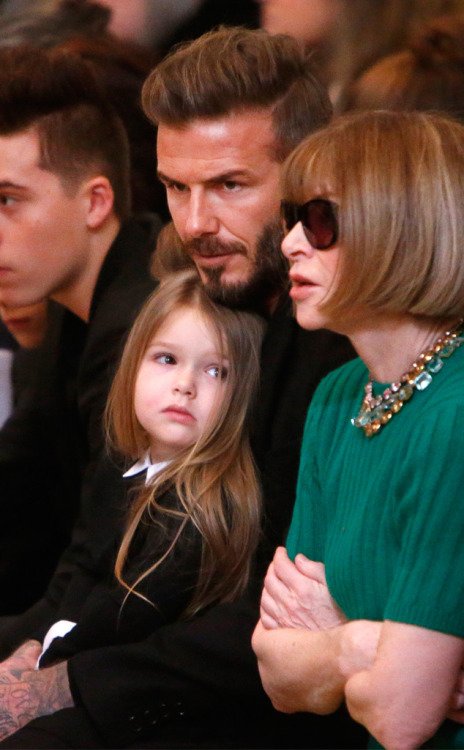 ---
50

Kanye West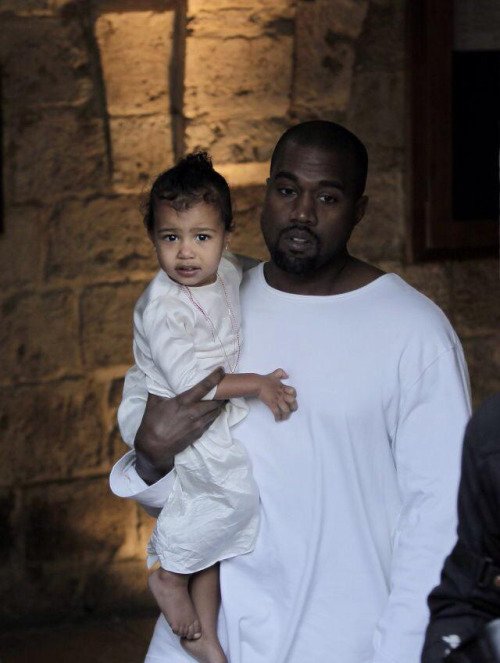 With the recent announcement of the imminent arrival of baby #2, this is the perfect time to share a photo of Kanye with baby North.
---
51

Chris Pratt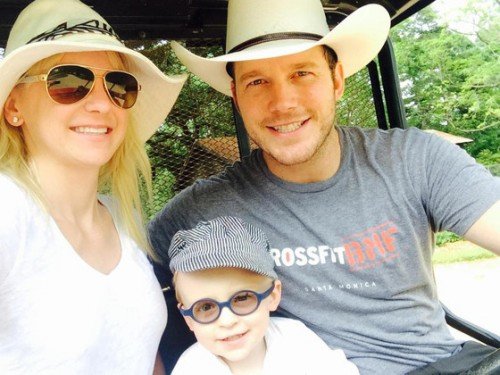 When he's not being chased down by dinos, Chris Pratt makes a pretty darn good daddy-o, too.
---
52

Robert Downey Jr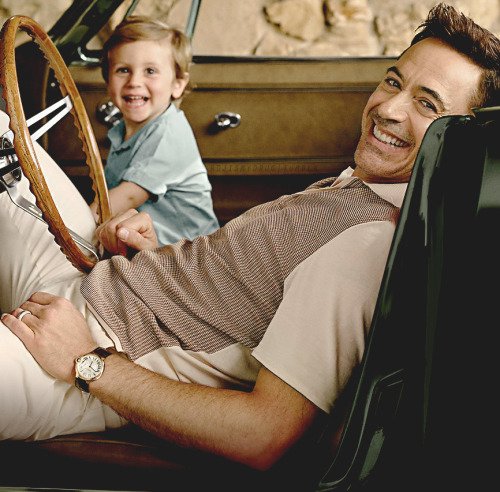 RDJ and his son, Exton - I mean, really. CUTE.
---
53

Chris Martin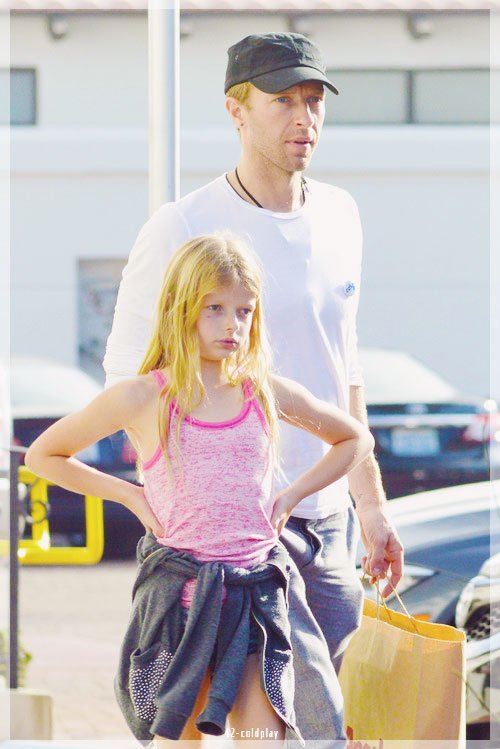 Coldplay frontman Chris Martin is still very involved with his kids (including wee Apple), though separated from their mother.
---
54

Neil Patrick Harris and David Burtka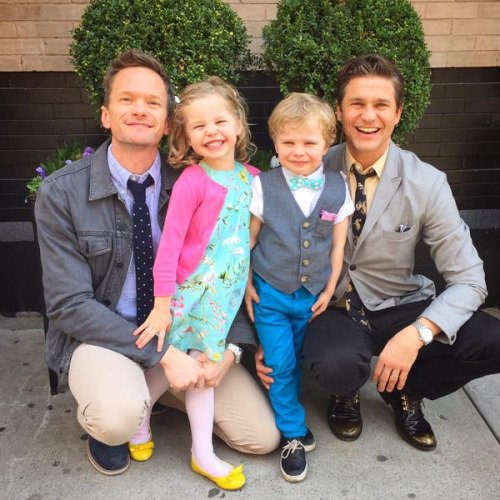 Two dads can be better than one, and these two daddies are the perfect parenting pair!
Here they are on Halloween...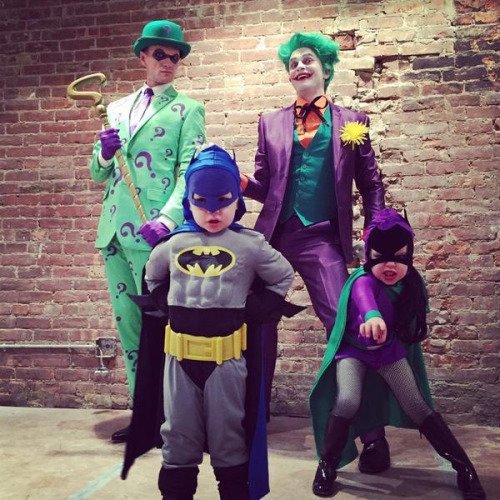 ---
55

Jay Z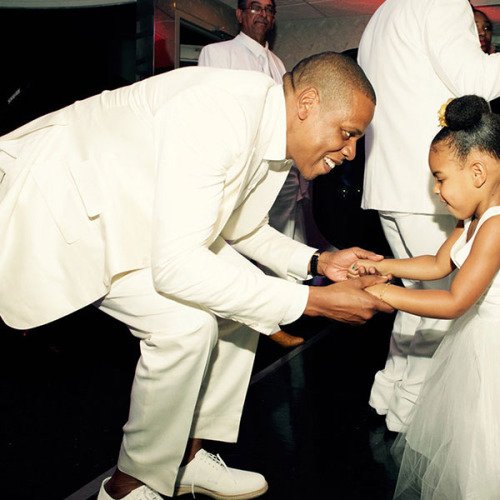 You can tell: this man is mad about his baby girl!
---
56

Gerard Pique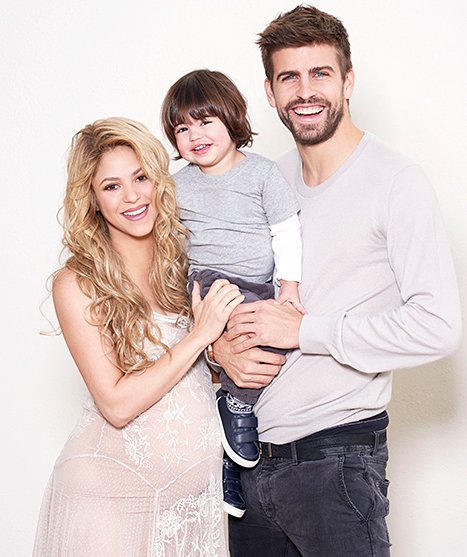 This entire family, including mama Shakira, of course, is ridiculously good-looking.
---
57

Justin Timberlake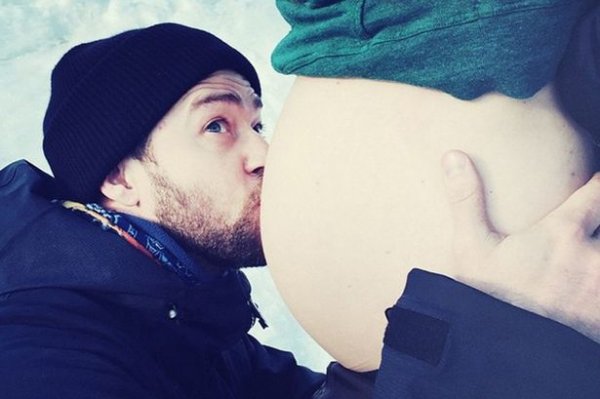 Whyyy aren't there any photos of JT with his new baby with Jessica Biel? I mean, there's one of HER with little Silas...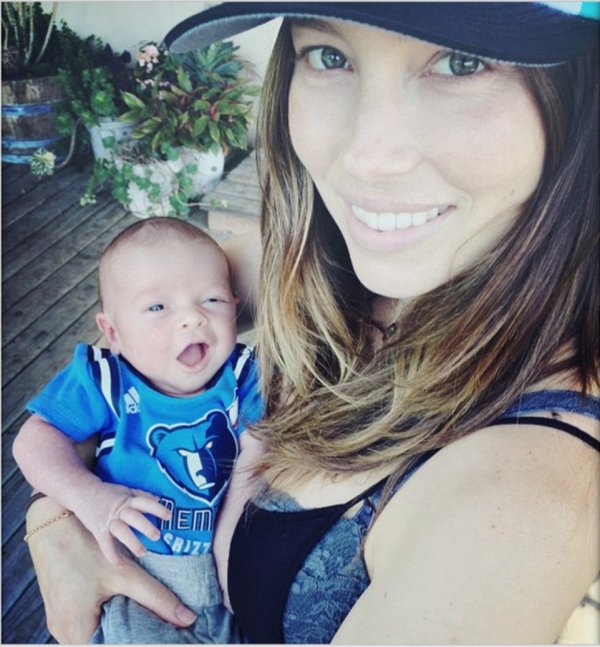 ---
58

Mark Ruffalo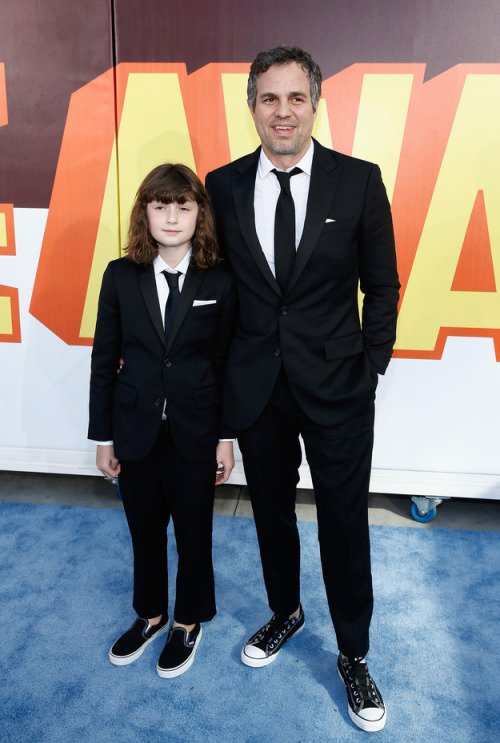 Noted feminist and all-around good-guy Mark Ruffalo is likely the best. dad. EVER for little Bella.
---
59

President Obama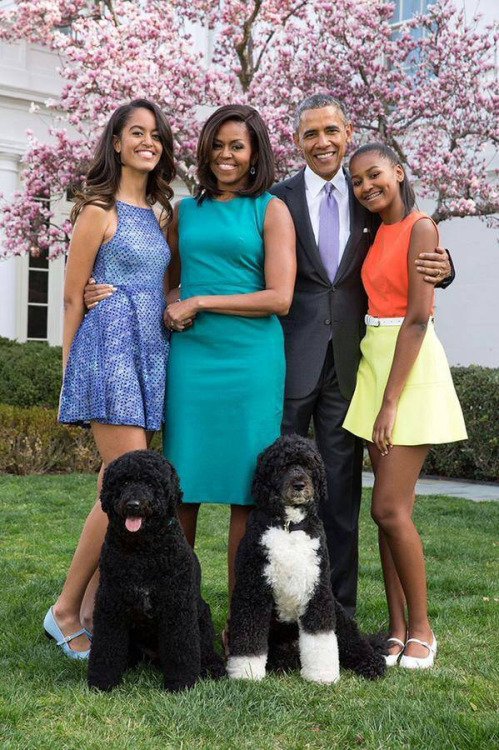 I love that, even though he's focused on running the country, the President is also a fantastic father to his two lovely daughters.
---
60

50 Cent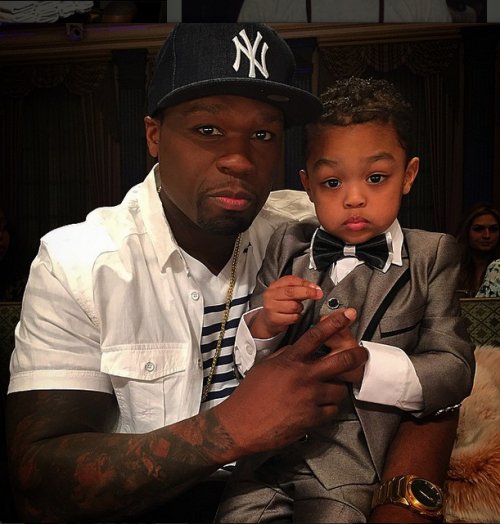 50 Cent proves that famous rap stars with hard exteriors are really just piles of goo when it comes to their kids.
---
61

Benedict Cumberbatch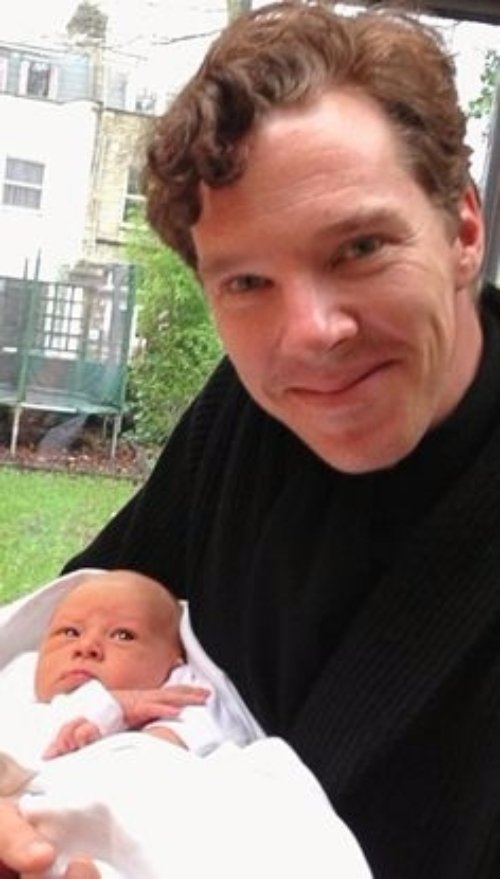 And the very latest in the line up of celeb dads is British hottie, Benedict Cumberbatch. Congratulations to he and Sophie on the birth of their son on June 13, 2015.
---
Comments
Popular
Related
Recent