Hollywood is full of hot celebrity dads and I know that it's not Father's day but we'll find any excuse to stare at some eye candy, won't we? Besides being downright divine, these hot celebrity dads certainly deserve a standing ovation for everything they manage to do career-wise and for their families. Here's a list of our favorite hottest celebrity dads! Enjoy ;)
---
25

Matthew Fox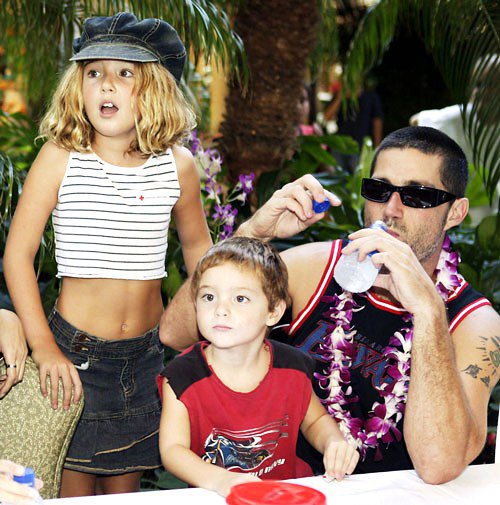 Both smart and funny, this Lost star is one hell of a daddy. He'd rather spend his Friday night playing video games with his children than walking the red carpet! Aww! You warm our heart Mr. Fox.
---
24

Ewan Mcgregor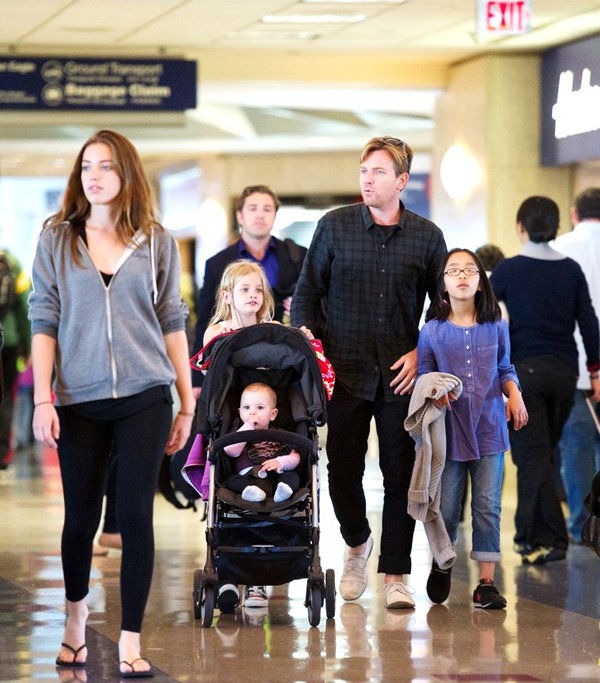 Despite once battling cancer and in other circumstances Darth Vader, Ewan looks healthy as ever and we LOVE the Scottish man who stared at goats. He has three lovely daughters with Eve Mavrakis, his wife of 15 years. Barring those pictures of him, walking hand-in-laced-hand with actress Melanie Laurent, Ewan is still the epitome of perfect family man or so I'd like to believe.
23

Tobey Maguire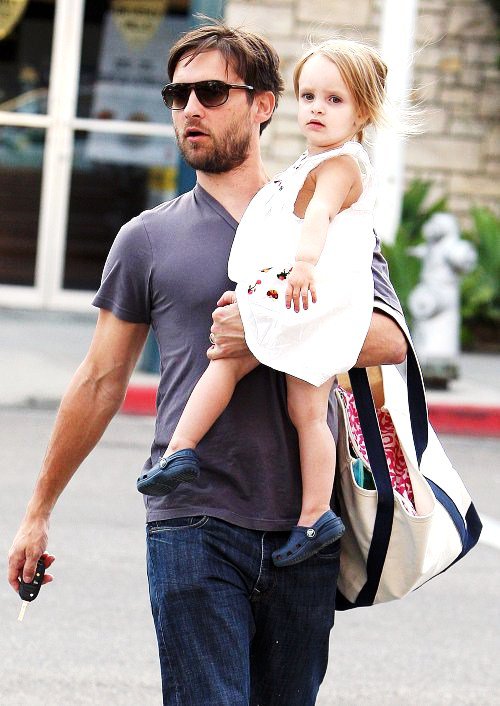 Adorable Tobey certainly deserves a spot on our list of hottest celebrity dads. He is one heck of an actor, a total cutie and a great dad to his darling kids, Ruby and Otis. In his own words, he loves being a dad and we love that about you Tobey!
---
22

Jason Bateman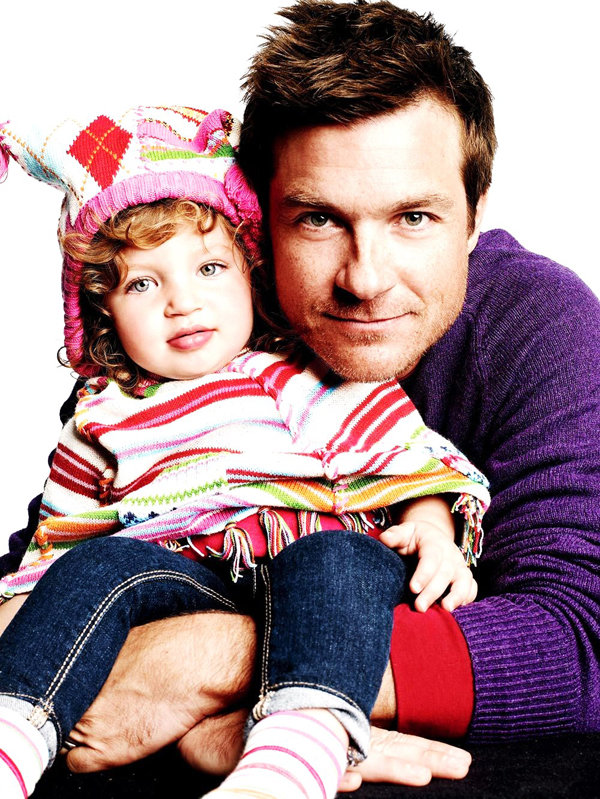 I can't believe this Arrested Development cutie with a mischeivous smile and intense blue eyes is 43 years old! Whether Jason has discovered a secret youth fountain or is just a classic case of men who look better as they age, this list is incomplete without him. Congratulations to Amanda and him on the newest addition to their already adorable family.
---
21

Chris Martin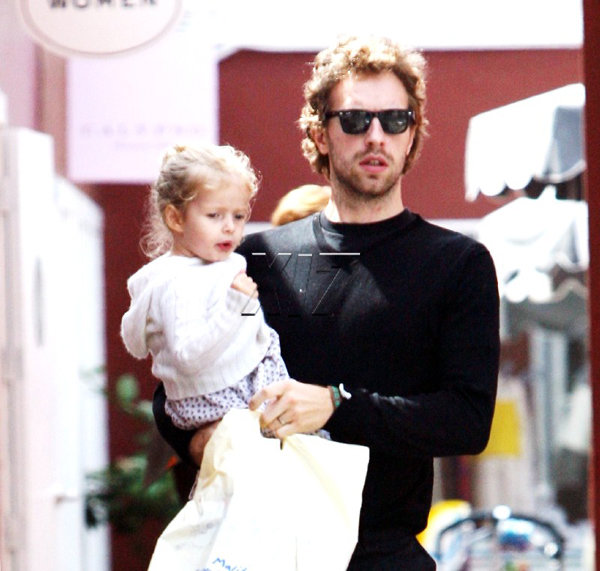 Judge me all you want but Coldplay has always been among my favorite bands and I love that Chris Martin actually wrote a song (I am your Baby's Daddy) for his daughter, Apple. Regardless of what music you're into, I imagine having a Coldplay daddy is pretty damn sexy.
---
20

Liev Schreiber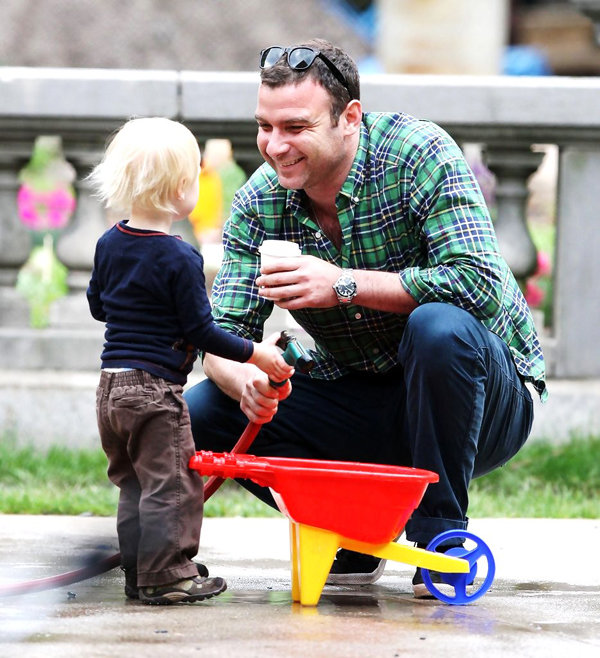 We love that the scruffy Sabretooth transforms into a harmless putty cat instantly when it comes to his two sons, Alexander and Samuel. Reportedly, the couple would love to have a daughter. Now that would make a picture perfect family!
---
19

Tom Brady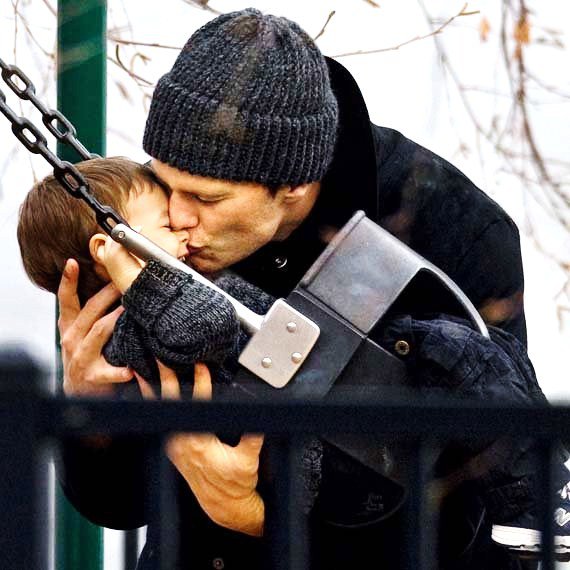 If he's good enough for Gisele Bundchen, he's good enough for us. Tom may be tough on the field but he melts like silly putty when it comes to his two sons. Remember the photo of him planting a big smooch on his son Benjamin at the park? Could they be any cuter?!
---
18

Gavin Rossdale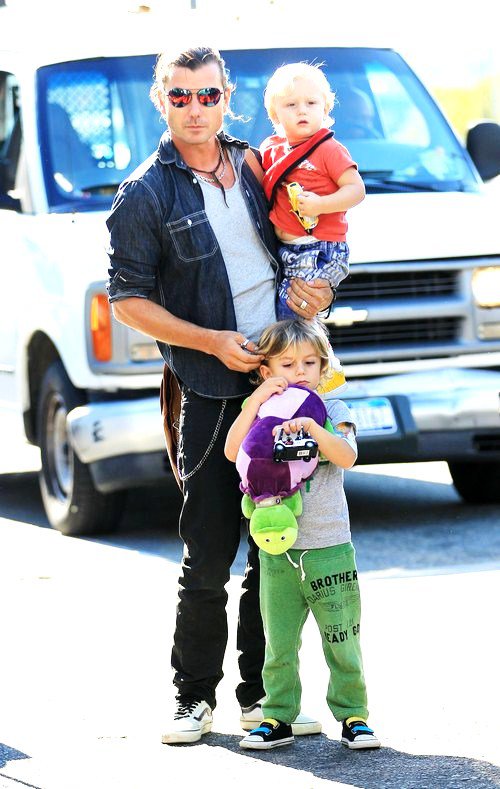 There's just something incredibly sexy about a musician dad but that's not the only reason Gavin Rossdale is on our list of hottest celebrity dads. You can literally see what a doting dad he is when he's with his two adorable sons, Kingston and Zuma and I love it when his little ones are dressed just like him. Aww!
---
17

Mark Wahlberg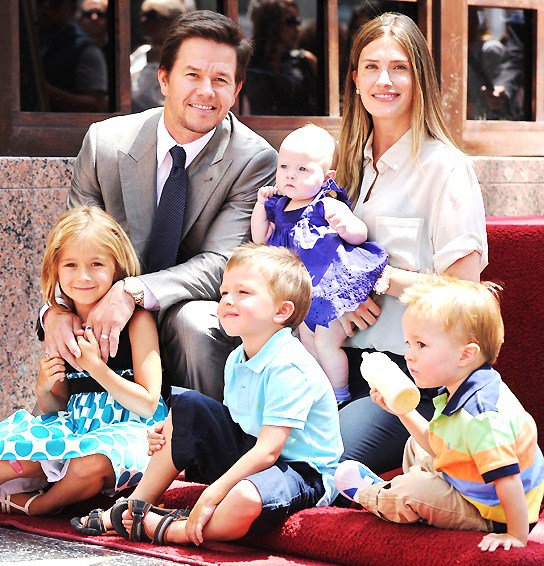 Four kids can be quite a handful but Mark makes it look oh-so-easy and looks oh-so-good doing it! Is it just me or does Mark Wahlberg get yummmier with each passing year? Either way, he's one yummy daddy!
---
16

Patrick Dempsey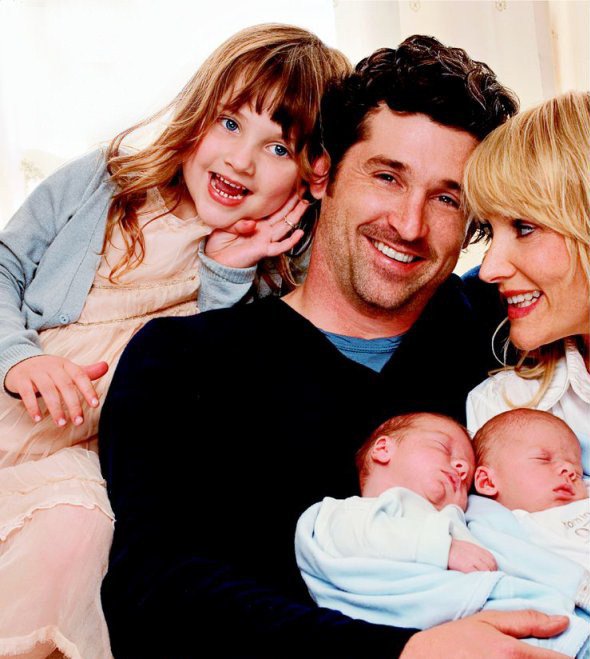 I adore Patrick as McDreamy in Grey's Anatomy and he certainly melted our hearts in Made of Honor but apparently that wasn't acting! According to his loving wife, McDreamy is a devoted husband, race car diver (Mmm!), charity lover and an incredible father. If his twins get his looks the world's women are in grave danger. Look out for the broken hearts!
---
15

Ben Affleck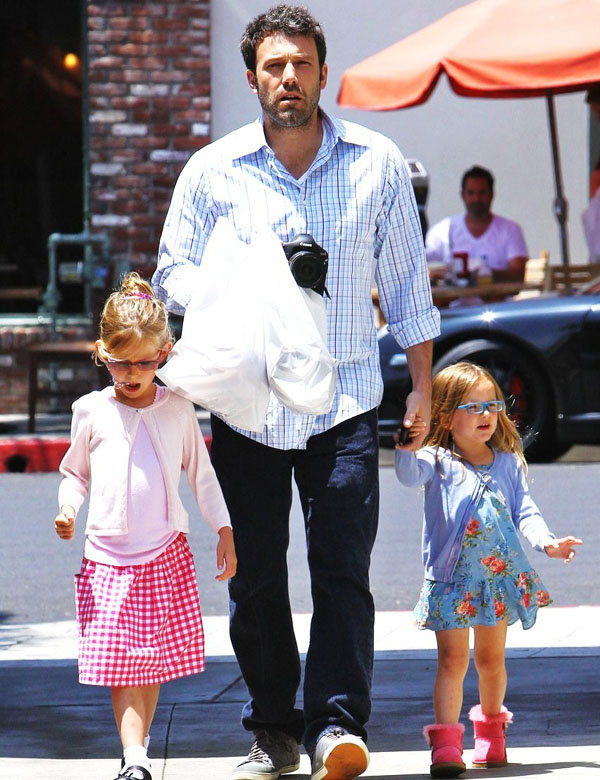 He may not be the greatest actor (sorry fans) but there's no doubt that he is an amazing dad and husband! Congratulations to the couple on their newest family member, little Samuel Garner. Most men take their women for granted, not Ben though. In a recent Facebook post, he called Jen an 'incredible, spectacular, world-class mom.' Now there's a true blue family guy!
---
14

Eric Dane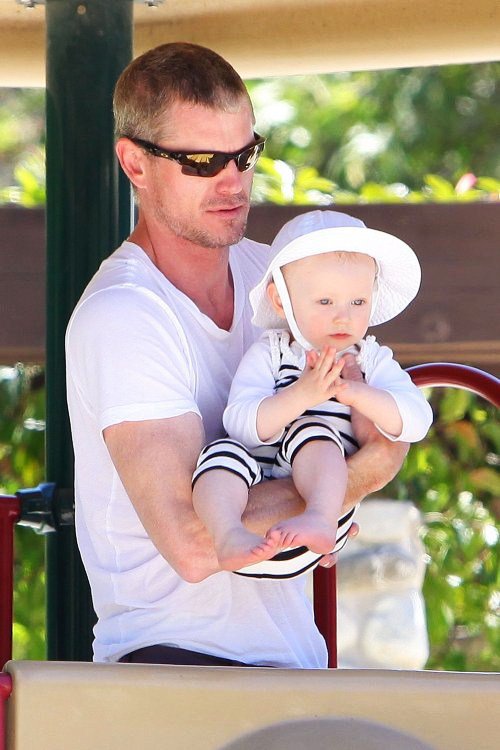 Have you seen him shirtless?! Eric is without a doubt a McSteamy dad but what makes him deserve this spot is how he gushes about his two daughters, Billie and Georgina. Any dad who calls the birth of his daughters the greatest moment in his life gets a thumbs up from us.
---
13

Matt Damon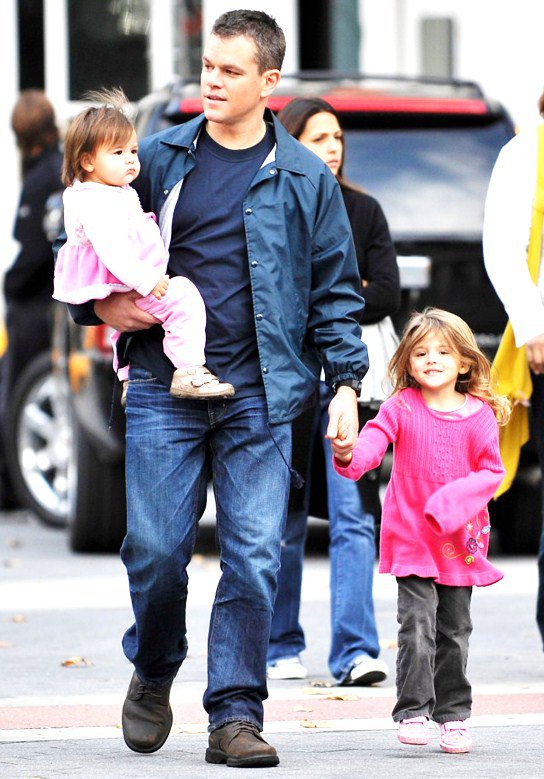 Best known for his kick-ass role as Jason Bourne, the handsome Matt Damon stays sharp with top secret missions at home with his 3 daughters! He is an absolute hottie and while he may look like a tough guy, I'm sure his darling daughters find it relatively easy to crack through that exterior.
---
12

Colin Farrell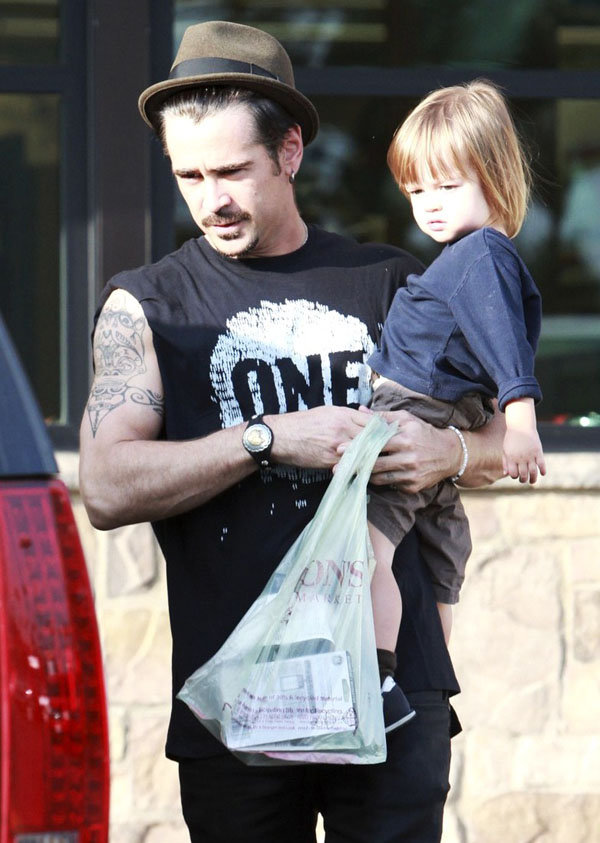 I would never have imagined Colin Farrell on this list of hottest celebrity dads but miracles do happen! Having a baby didn't seem to soften this bad boy's looks, but I'm willing to bet anything that he is a great dad as soon as the big doors of his mansion are closed to the eyes of the world.
---
11

David Beckham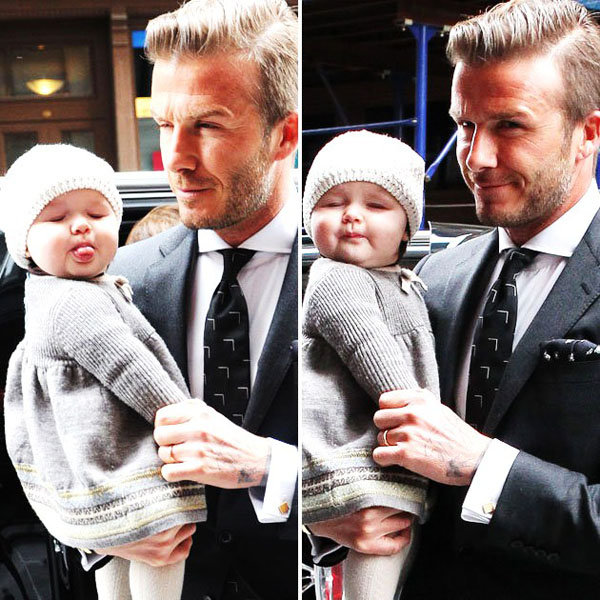 In an interview with ESPN, David had proudly said, "Three boys is difficult at times, but there's nothing that gives you that feeling of coming home and seeing the kids and spending time with them. Nothing better in the world than that." David says it so well that I had to give him the floor. And now with baby girl Harper Beckham, we imagine David's got his hands fuller than usual but I'm sure he's doing just fine. There's obviously nothing sexier than a dad who loves his children!
---
10

Christian Bale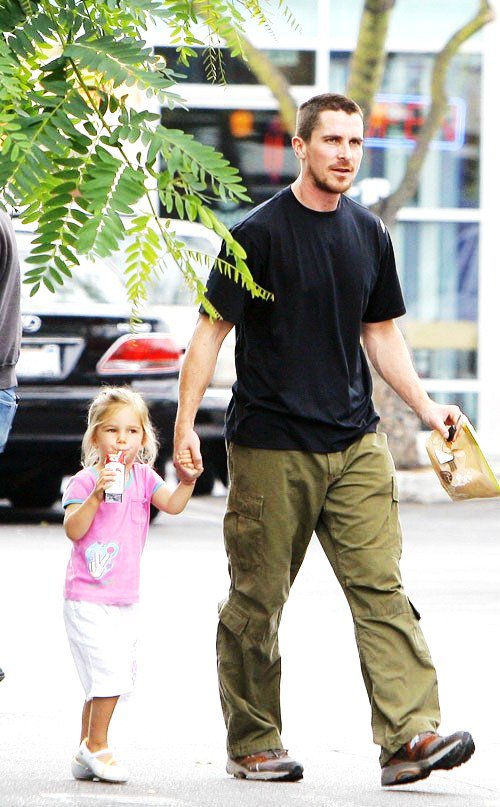 Don't be fooled by this dark knight's psychopathic past, hot celebrity dad, Christian Bale is on the road to redemption by playing perfect daddy to his adorable little girl, Emmeline. Besides, how many kids get to say, "My dad is Batman". Some girls have all the luck!
---
9

Will Smith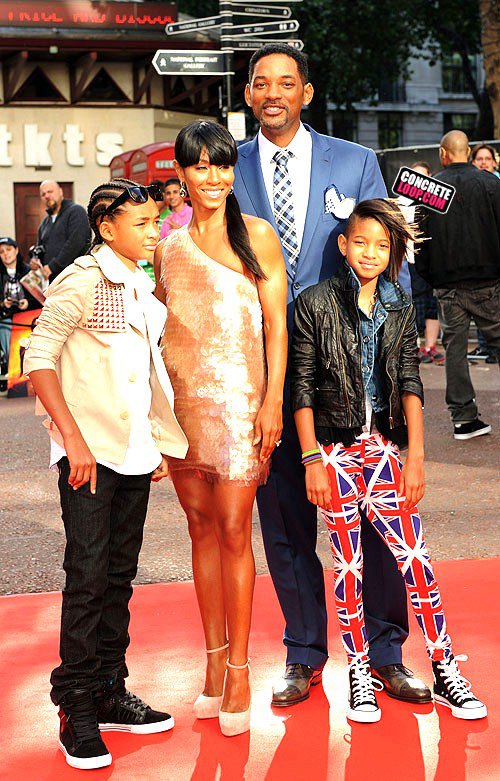 He may not have been the perfect super-hero in reel life, but is quite the opposite when it comes to real life. From reigning the box office with some brilliant movies to creating some chart topping music to being the ideal husband and father, Will can do anything! Now tell me that doesn't sound like a super-hero. Of course, his dashing good looks only add to his cause.
---
8

Neil Patrick Harris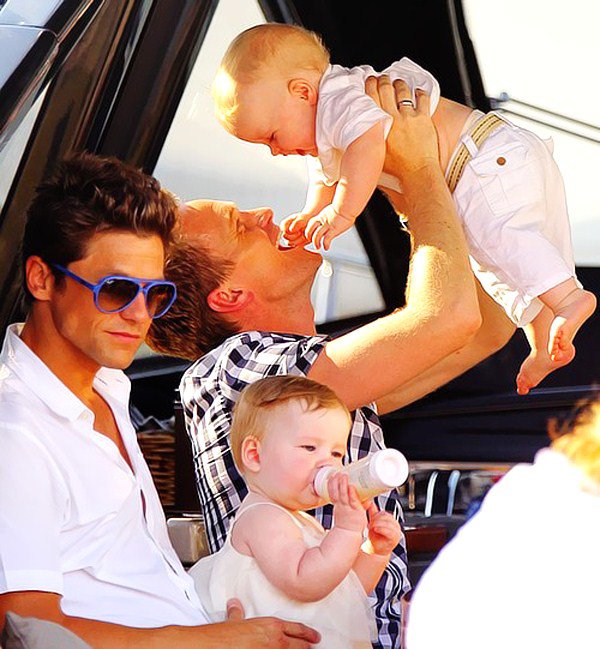 If there ever was a "Most Adorable Family" list, NPH, partner David and their darling twins, Gideon Scott and Harper Grace would definitely be on there. NPH of course is one of the most legen...wait for it...dary dads out there. I mean, who doesn't want a daddy who can sing, dance, do magic tricks and make you laugh like there's no tomorrow. His aching good looks don't hurt either.
---
7

Johnny Depp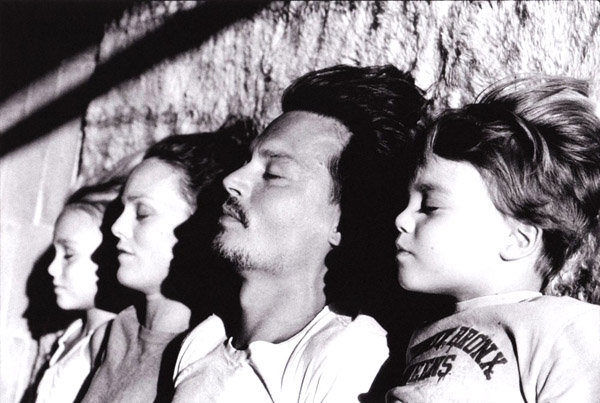 Despite his recent separation from partner Vanessa Paradis, I cannot leave Johnny Depp out of this list of hottest celebrity dads. He's wacky, fun-loving, extremely protective of his kids and of course insanely hot. Besides, who wouldn't want Jack Sparrow as their dad?! I mean, talk about bragging rights! Be warned though, if you dare go near his fortress sweet Johnny will go all Scissorhands on you!
---
6

Orlando Bloom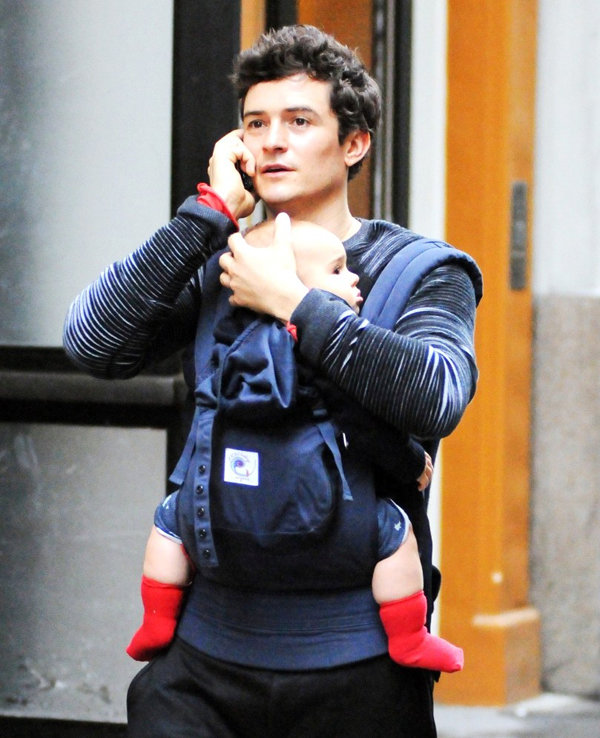 Orlando thinks being a father makes him more sexy. We agree 100%! He is an absolute hottie, a dedicated dad and husband and was voted most stylish dad. I cannot stop swooning at pictures of him with little Flynn, who by the way, with his genes, is going to grow up to be such a heartbreaker!
---
5

Matthew McConaughey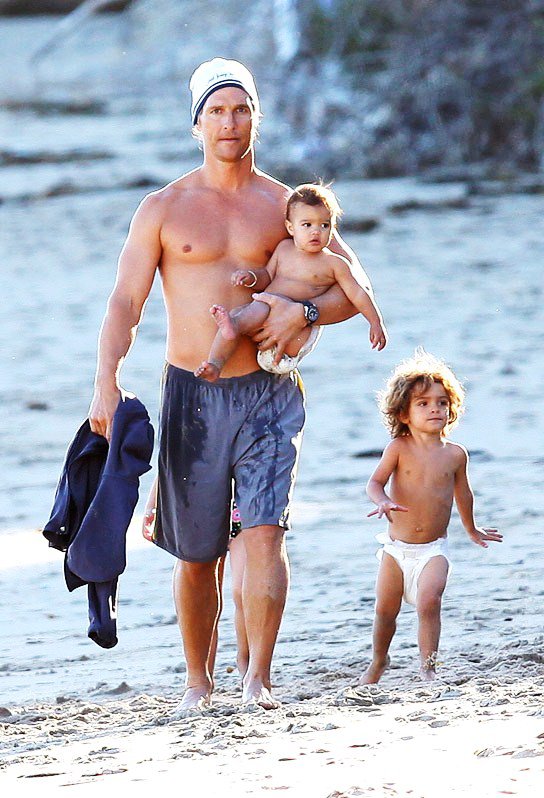 How could we not count Matthew as one of our yummy daddys, given his intense accent, deep voice and downright divine body. Seriously, we could stare at him shirtless all day long. Besides, there's got to be a reason why Matthew was voted Hollywood's sexiest dad on Fandango.com. Matthew recently announced that wife Camila and he are expecting their third child together. Congratulations you two!
---
4

Brad Pitt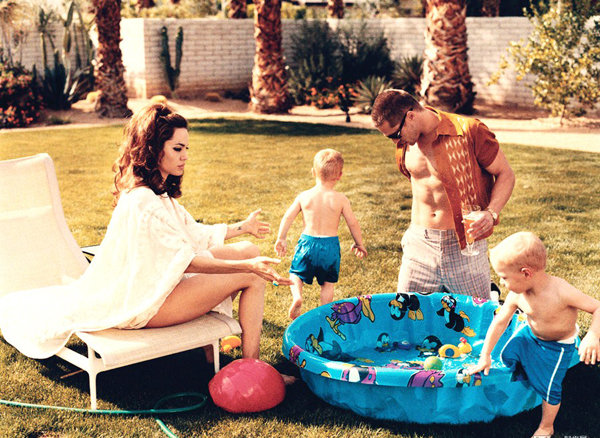 Having starred in numerous films over the years, yummy Brad has still found the time to care for his six adorable children with gorgeous Angelina Jolie. From vacations in Kenya to shopping sessions in LA, this father gives it all to his darling kids. In fact, we think he should be named the president of the "Hot Dads" club.
In his words, becoming a parent is the best thing he ever did. Aww! Wonder when and if there will be a child number se7en…
---
3

Robert Downey Jr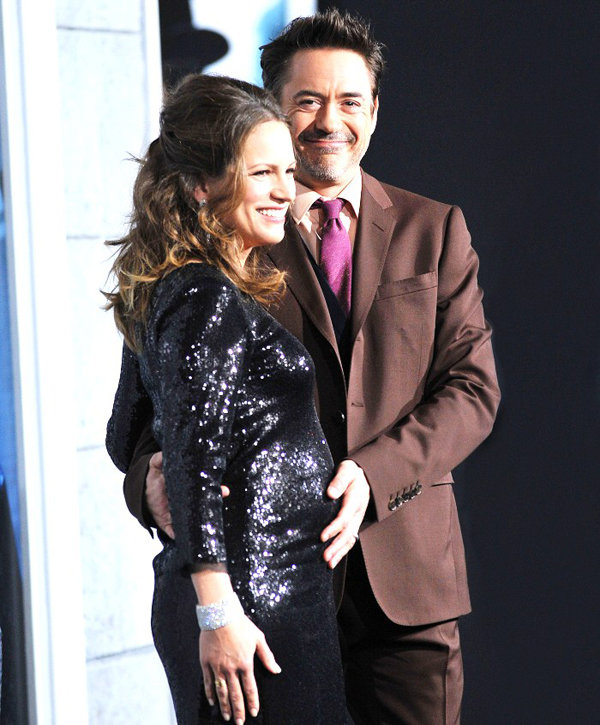 We love when a bad boy turns good and what better example than Robert Downey Jr. From homeless drunkard to billionaire playboy, only this celebrity daddy could have pulled it off! Tony Stark may have created the coolest weapon but his supreme creation to date has to be his offspring. Congratulations to Rob and Susan on the birth of their son, Exton Elias!
---
2

Chris Hemsworth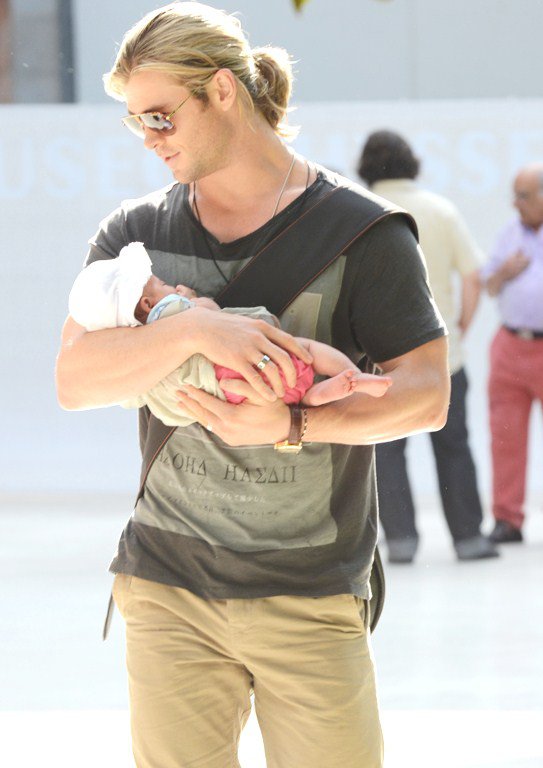 Chris may be relatively new to the "Celebrity Hottest Dads" club, considering he just celebrated his first Father's Day but I just can't get over those pictures of him holding his baby girl, India Rose. How cute are they! Chris reportedly said, "I'll be protective, absolutely. But in the best way." Aww, we believe you Thor!
---
1

Hugh Jackman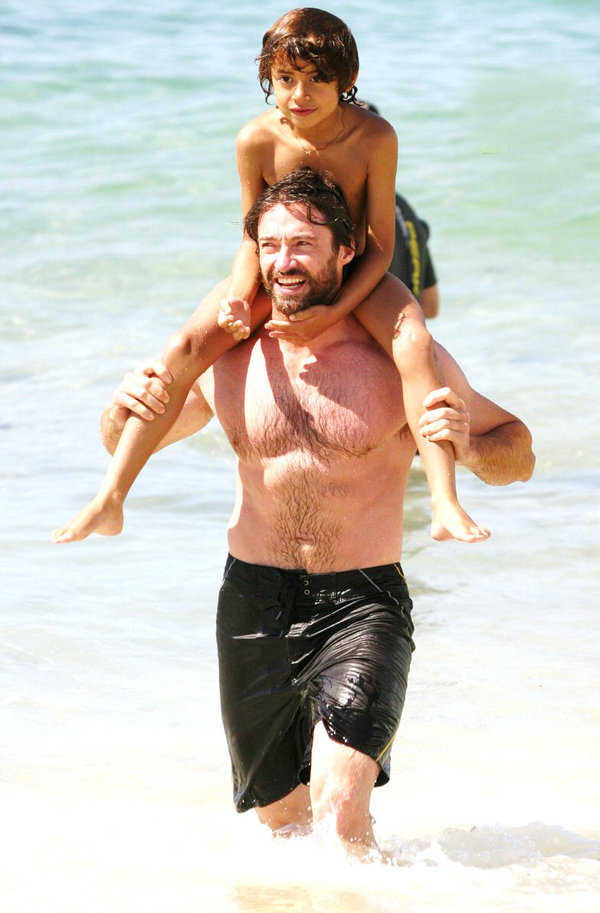 He can sing, he can dance, and when vampires come knocking, he'll put his Van Helsing cape on and save you! He's a devoted father to his two kids, Oscar and Eva and happily married to wife Deborra Lee for 16 years! Does it get any better? Why yes! Aside from all that, this Aussie actor is just insanely sexy and that's why we vote him No. 1 on our list of hottest celebrity dads!
Phew! Could this Hottest Celebrity Dads list get any hotter? While I go cool off with a glass of orange juice, tell me, did your favorite hot celebrity dad make it to our list?
Top image source:usmagazine.com
---
Comments
Popular
Related
Recent