Just like us brides our grooms have their own look as well, not every groom wants to wear the traditional black tuxedo. He can be funky while he rocks hisconverse sneakerswith a Fedoraor he can be cool **and simple with a nice grey J.Crewtailored suit. Check out these **7 hot looks for your groom and he'll be sure to walk down the aisle in style!
7

Cool and Calm...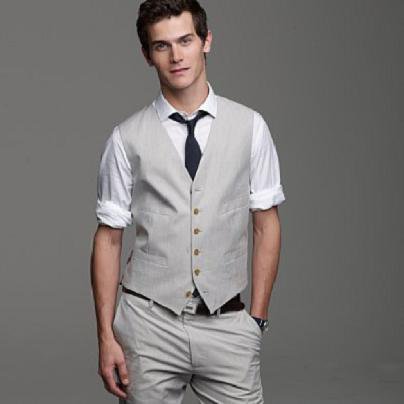 Photo: J. Crew
Vest: $98.00 Pant: $ 118.00
This groom is very simple. He looks so cool and dapper in his grey vest that he doesn't need a suit jacket, but he completes his nautical look with a pair of chino boat shoes and a knotted rope boutonniere as he says I do on the deck of the SS Katahdinin Maine. Is your groom tying the knotin gray?
6

A Taste for the Finer Things...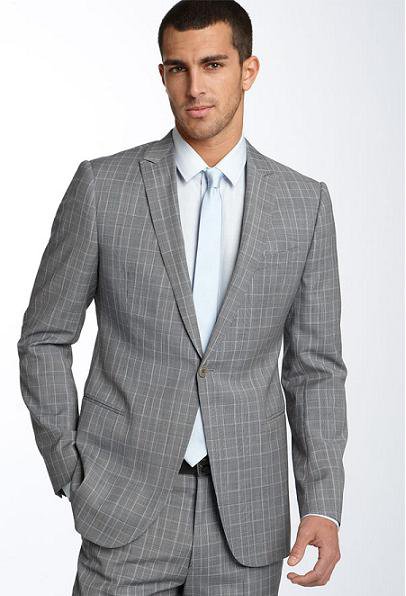 Photo: Shop.Nordstrom.com
Price: $859.00
With a cigarin the one hand and a glass of bourbon">http://www.makersmark.com%2findex.aspx%3fpgid%3d23">bourbon in the other, this groom knows what he likes including this sharp Armani****grey check wool suit. He waits for you to arrive at the Four Seasons Hotelwhere you get marriedand dance all night long in your Vera Wangmermaid gown, because you know what you like too! I love the very pale baby blue tie that matches his shirt, he is definitely a man who knows how to dress well! Does your groom care for the finer things in life?
5

Funky and Fresh...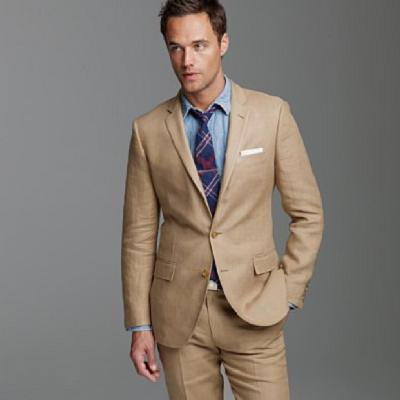 Photo: J.Crew
Suit Jacket: $258.00 Pant: $128.00
This british khaki Irish linen suit is fresh in style for the offbeat groom who rides on his skate board in converse sneakers to Central Parkto get hitched! He wears argyle socksto match his groomsmenalong with their awesome handlebar mustache cufflinks....we said he was funky! Can't you just hear Avril Lavigne's "Sk8er Boi" rocking as you walk down the aisle?
4

Pink with Stripes All over...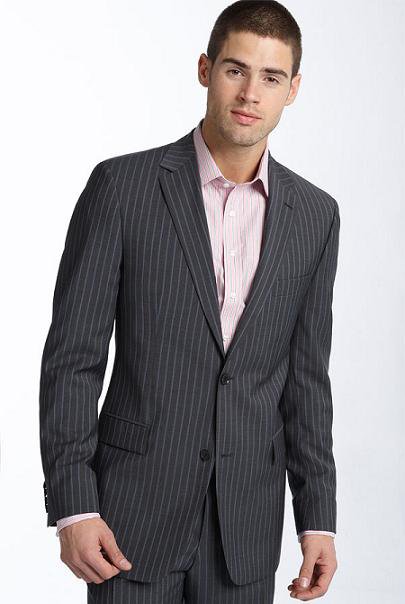 Photo: Shop.Nordstrom.com
Price: $795.00
He's a confident groom in Hugo Bosswho wears pink proudly, which will match his pink calla lily boutonniere perfectly! You love pinkjust as much and you found a beautiful Alfred Angelo gown with just the sweetest accents of pink. I love the classic look of the stripes in both the shirt and suit; a very smooth look for any occasion. Do you like the open collar, no tie look for your husband-2-be?
3

Bow Tie Wedding...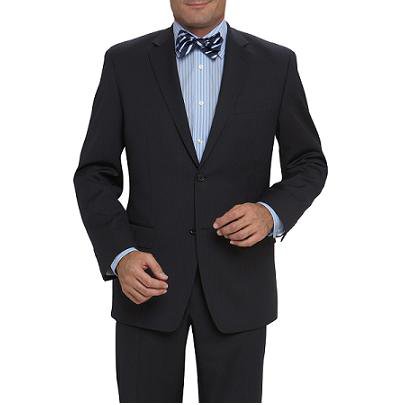 Photo: Menswearhouse.com
Price: $399.99
Your fiancecan be found studying in his office or experimenting in his lab while sporting an adorable bow tiethat gets your heart fluttering every time he wears it! You both love the chemistry that sparks between your souls and you want to share that with your guests in your fun science themed wedding with geeky table names and test tube candy favors. Is your man a bow tie guy?
2

Mad Men Inspired...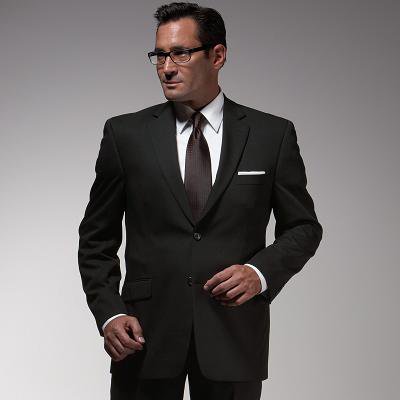 Photo: Menswearhouse.com
Price: $499.99
He doesn't need to be a salesman to have great style like the dashing gentlemen onAMC's Mad Men, he just needs a great suit and tie like this Joseph Abboud. It's 1960's sophistication meets 2010's independence. While he looks like part of the rat pack, you twirl around on the dance floor in your Dolly Couturevintage tea length gown that wows all the guests. Do you love the vintagelook as much as I do?
1

Lumberjack in Black...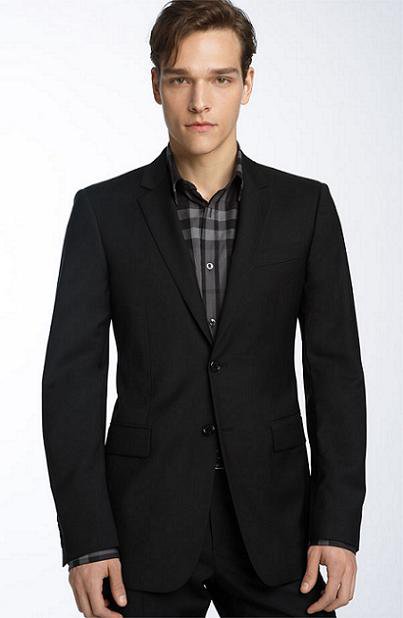 Photo: Shop.Nordstrom.com
Price: $1,095
Though he loves the outdoors he also loves to look good after chopping wood all day. I love how this style plays with classy and rugged together as one and still looks so charming. As your husband-2-be wears this handsome Burberrysuit down the aisle, you look just as charming in your darling Burberry rainboots, because as they say rain is good luck on yourwedding day! Are you having an outdoor wedding?
What style will your groom rock on your big day?
Top Photo: blog.jamesmoes.com