Everyone knows how important it is to take your make up off at night and the good thing is, what takes 15 minutes to an hour to put on, takes only about 5 minutes to take off. But how do you know what to use? From 99p (the drugstore variety) to £9.99 (the better branded ones), make up removers vary drastically in price, and in usefulness too! Here's my list of favourite make up removers to try...
---
1

Philisophy Purity Made Simple
Available at sephora.com
This is a very simple formula that is designed to remove make up, cleanse pores and leave your skin feeling soft and supple. It contains sage, carrots, and chamomile, and smells divine. It's perfect for even the driest skin, and will be an essential for the Winter for me!
---
2

Lancome BI-FACIL Double Action Eye Make up Remover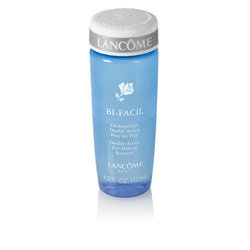 Available at sephora.com
This feels exactly like water, and makes your skin tingle with freshness when you apply it. Its super soft, and as well as removing all make up including waterproof mascara, it also cleanses and conditions the skin. It's a safe product for sensitive skin, and even for contact lens wearers!
---
3

Sephora Make up Removing Wipes – Face, Eyes and Lips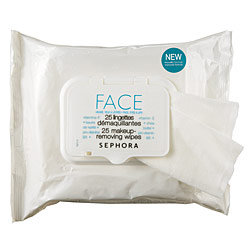 Available at sephora.com
I've been waiting for makeup wipes that work, as it makes removing make up completly effortless! I was impressed by these the first time I used them, as they seemed to remove everything, but the next day they struggled with my black eyeliner and waterproof mascara. These are perfect for lighter make up, and to carry round in your handbag, but for every day, you might need something a bit stronger.
---
4

Clinique Take the Day off Makeup Remover for Lids, Lashes and Lips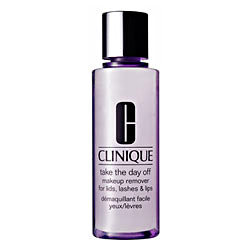 Available at sephora.com
I was a bit worried about how small the bottle was when it arrived, but it smelt divine, and I only needed to use a tiny bit to get rid of everything, including my dark eyeliner! It did take a bit of rubbing to take all of my mascara off, but it left my skin feeling clean and fresh and smelt divine too!
---
5

Korres Jasmine Eye Make up Remover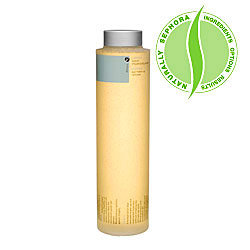 Available at sephora.com
This is scentless, which I found a bit surprising, as I'd been expecting a fresh jasmine smell! It was very soft on my skin, though, and even moisturizes eye lashes to promote growth! It leaves no residue at all, and as you only need the smallest amount, its cost effective too. I can't find a fault with this, and will definitely be ordering more!
---
6

Josie Maran Bear Naked Wipes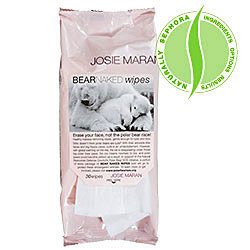 Available at sephora.com
It was the packet that attracted me to test these, as as well as being in a gorgeous baby pink, it has the cutest picture of polar bears on it too! These wipes are kind to the environment, as well as your skin, so I was keen to see if they were any good. They are full of good stuff, like chamomile, aloe vera and cucumber, and are so soft. They smell great, and easily removed even double layers of mascara and bright red lipstick! A percentage from each sale goes to save endangered animals, too, so as well as looking great, you'll feel great too!
---
7

Philisophy Just Release Me Dual Phase Oil Free Make up Remover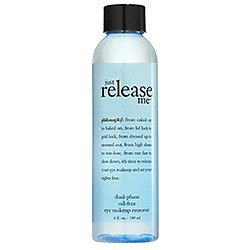 Available at sephora.com
The bottle of this is huge, and looks very professional. It easily wiped off blusher, foundation and concealer, and even several layers of eye shadow and liner. It didn't even struggle with water proof mascara! Its oil free, so it's good for your skin, but I didn't feel the same clean, healthy glow after using it, so I used a wipe too. Its perfect for removing make up, though, and I'll be buying some for make up emergencies!
---
8

Shiseido the Skincare Instant Make up Remover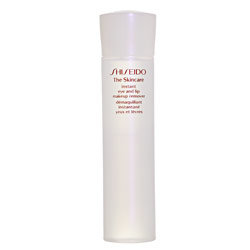 Available at sephora.com
This has become an essential in my handbag! It does what it says on the tin, removing all traces of make up, but is also an amazing cleanser and toner, and keeps skin hydrated and looking great! I use it all the time to give my skin an instant boost. This is definitely worth the money, and one of my faves!
---
9

Sens'Eyes Waterproof Sensitive Cleanser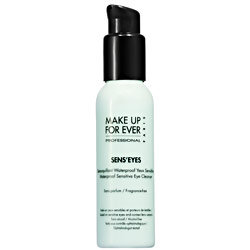 Available at sephora.com
This had a strange texture for a make up remover, as it was a thick gel that felt more like applying more to my skin then taking things off! It is very lightweight, though, and quickly removes traces of make up and plumps up skin. It doesn't leave skin greasy, either, which is perfect for those with oily skin.
---
10

Clinique Rinse-off Make up Solvent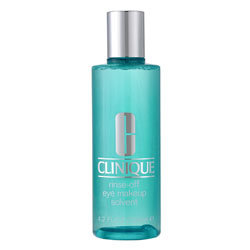 Available at sephora.com
This is very soft, and very fast. It's designed for touch ups, and is just fluid enough to work without running down your face, so other make up isn't disturbed. It takes no rubbing or smudging, and is oil free, so it leaves skin looking fresh and healthy, and more importantly, make up free!
---
11

Shu Uemura Skin Purified Cleanser Oil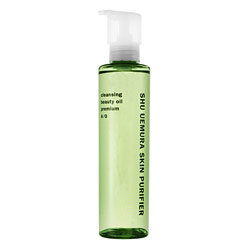 Available at sephora.com
This is designed to be a cleanser, not a make up remover, but it works perfectly for both purposes! It removes make up without a trace, and contains ingredients which cleanse and tone and prevents ageing. Its also very light, and doesn't strip natural oils. It's the perfect combined product!
---
12

Korres Pomegranate Cleansing and Make up Removing Wipes for Oily Skin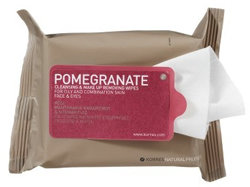 Available at sephora.com
I was excited to order these, as I love wipes, but they did disappoint me a little. They did remove all of my make up, including the harsh waterproof mascara, but they did dry my skin out. I have dry and sensitive skin, though, so for someone with oily skin, these could be perfect. For me, the drying feeling was just too intense, and I had to cover my face in thick moisturizer. Not the best look! They are perfectly sized for handbags or sleepovers, though!
Now that there is so many different types of make up remover, which such varying price tags, it can be an expensive struggle to separate what works from what doesn't. These twelve all do exactly what they say on the tin, though, and are perfect for all of your make up removing needs! Josie Maran Bear Naked Wipes are now my favourite thing ever, and I love saving the environment while I look after my skin. Check them out, and let me know what you think!
More
Comments
Popular
Recent