A good concealer can hide a multitude of sins, making your skin look perfect and flawless even after a long night at the club.
But how do you know which concealers are the best, and which aren't worth the money? Here's my list of the 12 best concealers, with details on why each one is so fab!
---
1

BareMinerals Multi-Tasking Face
Price: $18 at sephora.com
This one tiny vial of concealer does so many wonderful things! Aside from smoothing your complexion and masking flaws like scars, broken capillaries, and acne, it's the perfect eye shadow base. This concealer is also great for what it DOESN'T have: parabens, sulfates, synthetic fragrances or dyes, petro-chemicals, or phthalates. The Summer Bisque also provides SPF protection without the mess or eye-stinging of traditional creams and lotions.
---
2

Kat Von D Tattoo Concealer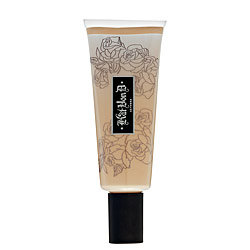 Price: $25 at sephora.com
Your ticket to tattoo freedom! Use this four-step process to hide a tattoo or just to mask dark under-eye circles or scars. This is a heavy-duty, long-lasting paraben-free and oil-free concealer. Perfect for prom or even your wedding day, or any other time you have a tattoo you do not want the world to see!
---
3

BareMinerals® Heal + Conceal – Medium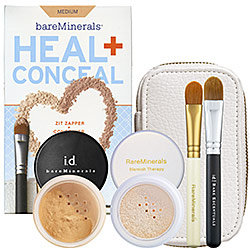 Price: $25 at sephora.com
The very first and only all-natural mineral-based concealer! It comes with everything you need to heal your blemishes, and to conceal them before they go away. This set comes with two brushes and a handy zipper case so you can take it with you for touch-ups no matter where you go.
---
4

Laura Mercier Flawless Face Kit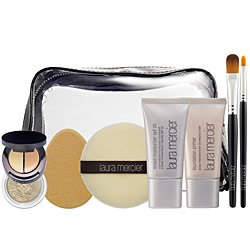 Price: $65 at sephora.com
This handy travel-ready kit comes with everything you could possibly need to conceal any sort of flaw before applying your make-up. It comes in two shades to ensure a perfect blend with your own skin, and is dermatologist-tested for gentleness.
---
5

Yves Saint Laurent Touche Éclat (Radiant Touch)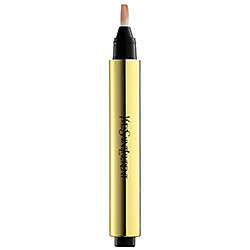 Price: $40 at sephora.com
Use this pen to instantly brighten tired eyes or a weary complexion. It can also be used in strategic places to widen your eyes and even make your lips look fuller! It's not a pen, it's a magic wand!
---
6

BareMinerals® Heal + Conceal – Light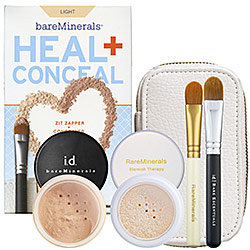 Price: $25 at sephora.com
You don't just want to hide those pesky blemishes, you want them to go away, and stay away! Use this set to conceal AND heal your skin! The set comes with everything you need for on-the-go or at-home camouflage and repair.
---
7

BareMinerals Well-Rested for Eyes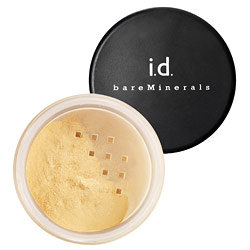 Price: $18 at sephora.com
Oh dear! Long day or late night? Use this little pick-me-up concealer to hide dark circles and to brighten your eyes. Keep it in your handbag, locker, or desk for an instant fresh-faced appeal!
---
8

Make up for Ever Full Cover Concealer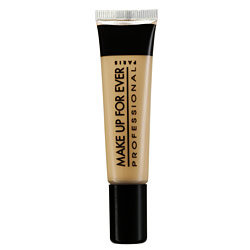 Price: $30 at sephora.com
This concealer is waterproof and ultra long-lasting. Use it to hide scars, burns, blemishes, and tattoos on your face or your body. No shine here! This concealer has a natural matte finish built in.
---
9

Benefit Cosmetics Erase Paste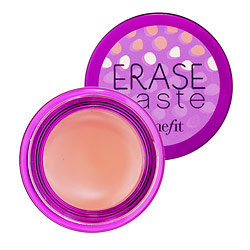 Price: $26 at sephora.com
Use the tiny spatula that comes with this pretty purple jar to spread on and blend this creamy concealer. It brightens and conceals, perfect for your eyes or your face. Perfect for hiding the signs of stress or fatigue.
---
10

Laura Mercier Secret Camouflage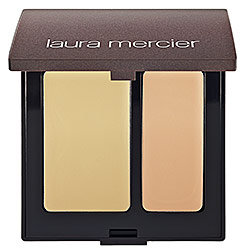 Price: $28 at sephora.com
This concealer compact holds two colors so every woman can mix her own perfect shade. One side matches your depth of color, the other matches your skin's unique undertone. Together, they can camouflage any blemish, dark circle, or other minor imperfection.
---
11

Amazing Cosmetics Amazing Concealer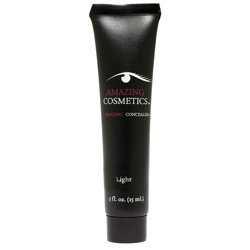 Price: $42 at sephora.com
Looking for a magic eraser to hide all kinds of flaws? Use a tiny dot of this and kiss those blemishes, dark circles, and scars good-bye! This tiny tube holds enough magic to give you a perfectly flawless, natural-looking complexion.
---
12

Amazing Cosmetics Boi-ing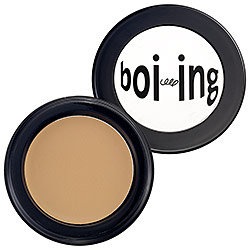 Price: $18 at sephora.com
Three shades to hide everything you can think of: scars, blemishes, dark circles. Not sure which shade you need? Choose the Medium. Touted as an "industrial strength" concealer, it's sure to get the job done!
Dark under-eye circles and Spring Break tattoo be gone! The concealers from my list are sure to hide anything you don't want the world to see, from scars to acne to the tell-tale signs of a late night party.
Do you have a concealer secret to share? Please let us know!
More
Comments
Popular
Recent