So you've found the perfect powder foundation or luminizer or eye shadow, but how to apply it? Do you use the mini-brush that comes with your make-up, or is it worth it to invest in a good brush?
My advice: buy the brush! It can make a big difference! As Bobbi Brown says, "The tools are as important as the makeup itself", and if experts think so, I'd definitely go for a brush. Using a good brush will also help you glam-up in lesser time than with the mini-brush.
If you use the wrong brush though, your make-up will look clumpy and un-natural, so it's important to go for quality here. These are the best make-up brushes that'll help you take your make-up to the whole new level!
---
1

Sephora Deluxe Antibacterial Brush Set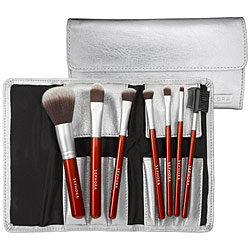 Price: $60 at sephora.com
Yuck, bacteria! I can't think of a worse way to ruin a good eye-shadow. This seven-piece set is treated with a non-toxic, hypoallergenic compound that destroys bacteria. The set comes in a sleek silver case, and has every kind of brush you could possibly need. Cool!
---
2

Sephora Vanity Brush Set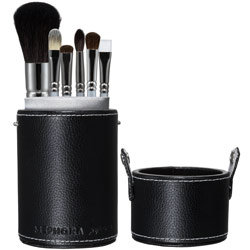 Price: $48 at sephora.com
This would look so pretty on your bathroom counter or on your vanity! Each of the six brushes in
this set fits right into its own little slot. You can even snap on the lid and take this set with you when you travel!
---
3

Sephora Perfect Ten Brush Set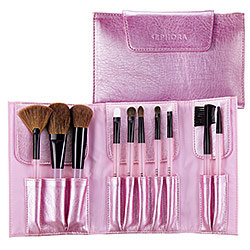 Price: $60 at sephora.com
This ten-piece set comes in a gorgeous pink metallic bag, perfect for travel or just to use at home. The set includes every kind of brush you could ever need for your pretty face, eyes, and lips. Also, during the month of October, $1 from each sale of this set will go to Breast Cancer Awareness.
---
4

Bare Escentuals Buffing Brushes the Essential Collection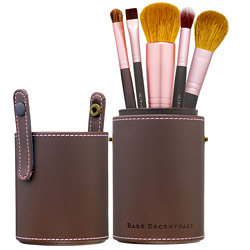 Price: $49 at sephora.com
If you use any of the Bare Escentuals powders, you know how vital the right brush can be! Included in this set are their top six brushes in a gorgeous brown cylinder case.
---
5

Kat Von D. Kat Eye Brush Set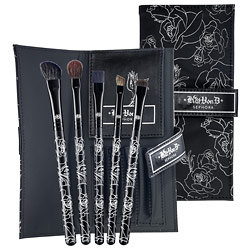 Price: $48 at sephora.com
I'm a total sucker for a good eyeshadow and a good eyeshadow brush. This set of five eye brushes even includes a flat eyeliner brush! And I LOVE the black vinyl case decorated with the same silver roses as Kat's favorite tattoo!
---
6

Sephora Two Tone Portfolio Brush Set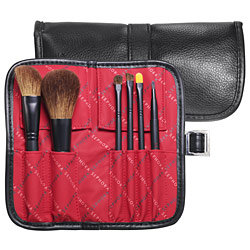 Price: $44 at sephora.com
Another handy set to travel with! This set features six essential brushes, including brushes for your face, lips, and eyes. Each brush has its own slot, and the set clasps together with a nice silver buckle.
---
7

Sephora Face and Eye Travel Tool Kit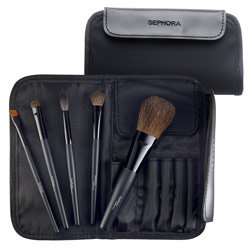 Price: $32 at sephora.com
What if you don't need a lip brush? This set has the five brushes you'll need for your eyes and face, without the lip brush. This set is also specially designed to slip into your purse or gym bag. Perfect for travel!
---
8

Juicy Loves Sephora Brush Set - Stripe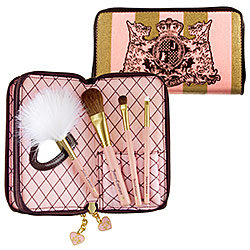 Price: $39 at sephora.com
Perfect for any princess! I love the gorgeous brown, gold, and pink clutch for this set! I have never seen a fluffier or more luxurious eyeshadow brush, have you? The set even comes with a heart-shaped mirror. Add this to my wish list!
---
9

BareMinerals® Refillable Buffing Brush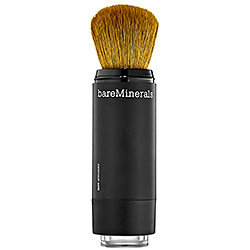 Price: $29.50 at sephora.com
Take your bareMinerals with you wherever you go! This handy brush is refillable and perfect for touch-ups, and is designed to be mess-free (won't spill in your bag).
---
10

Sephora Professionnel Bronzer Brush #44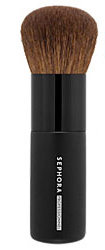 Price: $26 at sephora.com
The absolute BEST bronzer brush ever! It's exactly the right size to sweep across your cheekbone. It's made of all-natural goat hair, and is super-soft. It's not just for bronzer, either — feel free to use it for any powder make-up!
---
11

Bare Escentuals Handy Buki Brush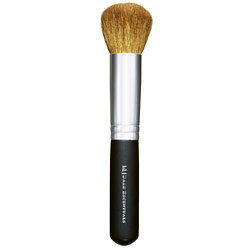 Price: $20 at sephora.com
Love the Bare Escentuals Kabuki brush, but have a hard time handling the handle? Try this one instead. It's the same brush with a longer handle for easier use.
---
12

Bare Escentuals Full Coverage Kabuki Brush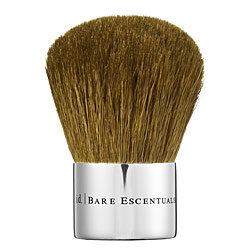 Price: $28 at sephora.com
The ideal brush for face and body. Super-soft, easy to use, with a comfortable to use, knubby handle. I love it, and so do a lot of other girls — this is their best-selling brush!
---
13

Bobby Brown Mini Brush Set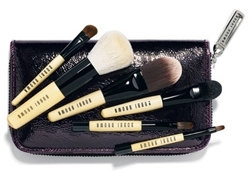 Price: $90 at neimanmarcus.com
If you are new to the world of make-up brushes, there's no better way to start exploring than with this Bobby Brown Mini Brush Set. It includes 6 travel ready brushes with professional-quality brush heads yet travel-friendly mini handles. I have a Bobby Brown Face Brush (neimanmarcus.com in my purse all the time and it lets me apply my powder like no other brush I've tried in my life. So, I'd say mini handles are not that bad, especially if you do re-touches through-out the day. But frankly, any Bobby Brown brush you buy will be a life time investment you'll love!
The right brush can make a big difference, especially when you've found the perfect eyeshadow or lumninizer. So try these ones and let us know what you think! Or do you already have a favorite? Please let us know!
More
Comments
Popular
Recent