Your man may pretend he doesn't care about his skin, and he may feign ignorance when you talk about your own skin care regimen, but chances are, he has a product or set of products he loves. If not, isn't it time you introduce him to the benefits of healthy skin? Here are some products he's guaranteed to love, and that won't make him smell all girly. Just in time for the holidays! Some of these make GREAT stocking stuffers!
---
1

Aveda Men Shave Cream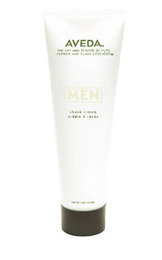 Price: $13.00 at aveda.com
Decades ago, men used shaving cream and a brush to lather and apply it. Then they used an aerosol shaving cream. Now they use a shaving cream that's more like a lotion, with no razor-burn causing foam. That's right — the tiny pockets of air in aerosol shaving foams actually cause razor burn. This shaving cream soothes skin before the shaving even begins, with peppermint, lavender, and aloe. It's mild and hypo-allergenic, and best of all, it helps the razor glide across the skin, minimizing nicks and scrapes.
---
2

Aveda Men after-Shave Balm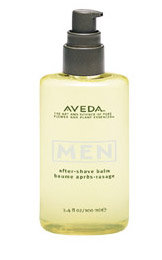 Price: $15.00 at aveda.com
I know what you're thinking: after shave? Like that nasty blue or green Aqua Velva my grandfather used to use? No way! This is alcohol-free and calms your fella's just-shaved skin with chamomile, aloe, and vitamins A and E. Apply to damp skin after shaving.
---
3

Clinique Post-Shave Healer

Price: $17.00 at clinique.com
Ouch! Razor burn happens, but with this post-shave healer, the pain doesn't have to last. The aloe in this after-shave lotion soothes dry or razor-burned skin, and encourages healing of minor nicks and cuts.
---
4

Clinique Scruffing Lotion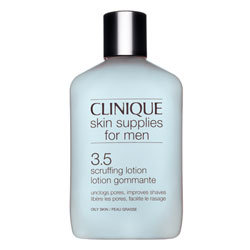 Price: $12.00 at clinique.com
This product works just as the name implies — it's an exfoliating cleanser specifically made for men's skin. Men might not admit to wanting smooth skin, so we'll just say it like this: it "deflakes" their skin. Does that sound more manly? I think so…
---
5

Clinique M Protect SPF 21

Price: $22.00 at clinique.com
Men need UV protection, too! This light-weight moisturizer keeps their skin hydrated and protected year-round. Perfect for all skin types, and for use after the Scruffing Lotion.
---
6

Burt's Bees Natural Skin Care for Men Shave Cream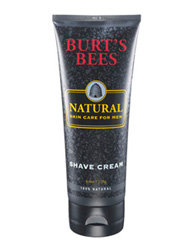 Price: $8.00 at burtsbees.com
I didn't even know Burt's Bees made a men's shave cream until my boyfriend got a tube for his birthday. This stuff is amazing, with all-natural skin-soothing ingredients like chamomile, calendula, and linden extract, to name a few. Just wet your face, apply in a thin, even layer, and shave… but be sure to rinse your razor often for best results.
7

Burt's Bees Natural Skin Care for Men Aftershave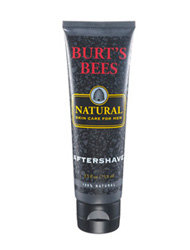 Price: $8.00 at burtsbees.com
Sunflower oil, coconut oil, aloe, and vitamin E. How could this lotion NOT give your man the smoothest, softest skin? Apply after shaving for skin that looks good, fells good, and is protected.
---
8

The Body Shop for Men Maca Root Face Wash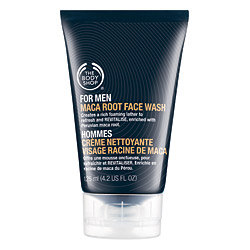 Price: $12.00 at thebodyshop-usa.com
This gentle cleanser gives your guy's skin a boost, with Peruvian maca root and creatine. The menthol cools and soothes skin, along with vitamins A, B, and E. I've actually snuck this into the shower with me when my boyfriend wasn't watching… I wish they made this for us girls!
---
9

The Body Shop for Men Maca Root Shave Cream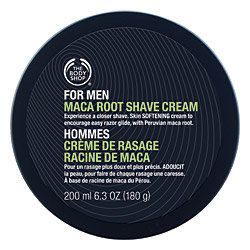 Price: $16.00 at thebodyshop-usa.com
This wonderful shave cream comes in a tube or in a jar, so you can choose whichever fits best in your shave kit or medicine cabinet. Aloe Vera helps protect skin during the shave, and Brazil nut and sesame oil help moisturize skin before and after.
---
10

The Body Shop for Men Maca Root Razor Relief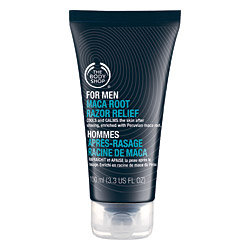 Price: $14.00 at thebodyshop-usa.com
After the shave, your guy would use this product to cool, calm and soothe skin. This has so many great ingredients! Peruvian maca root, creatine, Brazil nut oil, sesame oil, soy oil, aloe vera, and boswellia extract.
---
11

The Body Shop for Men Maca Root Face Protector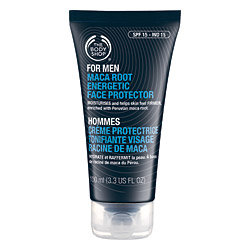 Price: $18.00 at thebodyshop-usa.com
A daily moisturizer just for guys! This has everything your man will need to keep his skin smooth and protected from the elements. It has an SPF 15, to keep his skin safe from UVA and UVB rays, and Aloe Vera, Peruvian maca root, and creatine to soothe, protect, and revitalize his skin.
---
12

Philosophy the Afterglow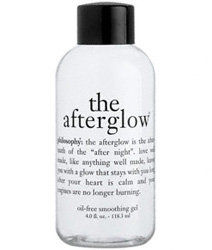 Price: $20.00 at philosophy.com
This wondrous product can be used by both men and women. For men, it's perfect as an after-shave or as an over-night pre-shave lotion. It clarifies, exfoliates, diminishes blocked pres, and gives a healthy glow. I use it in the summer when I just don't want to use a creamy moisturizer. I love it!
Introduce your guy to these products, and even the most macho man will secretly begin his own skin-care regimen. You may even catch him eying your medicine cabinet, looking for something new to try or just to compare notes. Does your guy have a favorite skin care product? What does he use? Please let me know!
Discuss these products and more over at our Twitter account!
---
Comments
Popular
Related
Recent