Winter weather is on the way, and along with the chill comes dry, chapped, ashy winter skin. Oh, but it doesn't have to be that way! What's the best way to soothe and protect your delicate skin this winter? Here are my favorites… and hopefully Santa will be leaving some of these under the tree!
---
1

Burt's Bees Soothingly Sensitive Aloe & Buttermilk Lotion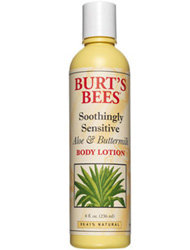 Price: $10 at burtsbees.com
This versatile aloe and buttermilk lotion can be used everywhere — your hands, neck, feet, legs, arms, even on your face! It's light-weight and gentle.
---
2

Burt's Bees Thoroughly Therapeutic Honey & Shea Butter Body Butter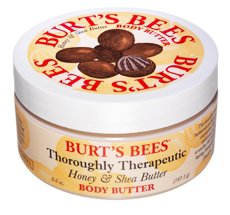 Price: $13 at burtsbees.com
Here's the formula: shea butter + aloe + mango = the perfect therapy for restoring and protecting the driest skin! Try this on seriously rough areas like your elbows and knees.
---
3

Philosophy when Hope is Not Enough

Price: $35 at philosophy.com
A classic! I've used this for years as a basic body lotion. It's straightforward and does the trick, especially with my super-dry winter skin!
---
4

Philosophy Apricots and Cream Ultra-Rich Body Lotion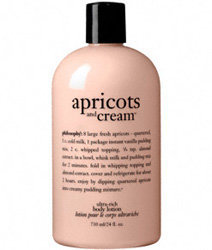 Price: $30 at philosophy.com
This one smells so good I've been tempted to taste it! It contains olive oil and macadamia nut oil to keep your skin soft and smooth, and is fragranced with apricots… so yummy!
---
5

Aveda Rosemary Mint Body Lotion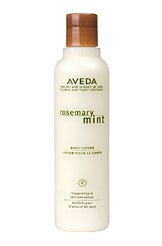 Price: $21 at aveda.com
My all-time favorite. I keep a bottle of this with me everywhere I go! The mint oil soothes skin and gives it a tingly boost, and the rosemary helps keep skin soft and silky.
---
6

Aveda Caribbean TherapyTM Body Crème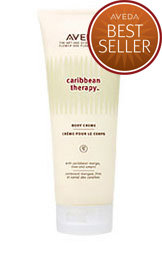 Price: $27 at aveda.com
If you can't travel to the Caribbean this winter, then this body cream is the next best thing! It's packed with skin-smoothing tropical ingredients like Amyris, Bay leaf, Cocoa butter, Lime, and Mango… yum!
---
7

The Body Shop Coconut Shimmer Body Lotion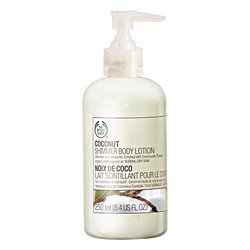 Price: $18 at thebodyshop-usa.com
During the winter, when summer sunshine seems a million years away, I love using a coconut-scented lotion to make me feel warmer… and this one is my favorite! It contains coconut oil to protect and soothe my skin, and give it a healthy shimmer.
---
8

The Body Shop Merry Cranberry Body Butter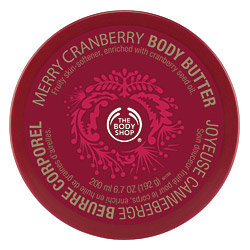 Price: $20 at thebodyshop-usa.com
Perfect for the holidays! This body butter includes cranberry oil, shea butter, and sesame seed oil for the smoothest, glowing-est skin!
---
9

Weleda Pomegranate Body Oil

Price: $28 at usa.weleda.com
Pomegranates aren't just tasty, they're also known for their anti-oxidant properties! This body oil protects your chapped or tired skin, and helps it heal.
---
10

Weleda Skin Food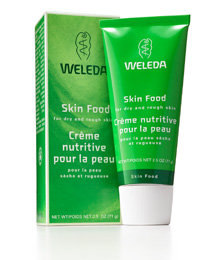 Price: $17 at usa.weleda.com
Use this ultra-rich skin food cream to nourish and protect the driest skin on your elbows, knees, feet, and hands. This cream contains organic pansy to help soothe and heal the most irritated skin!
---
11

Crabtree & Evelyn Goatmilk Comforting Body Cream

Price: $22.40 at crabtree-evelyn.com
Irritated winter skin needs chamomile to soothe, and grapeseed oil and goats' milk to moisturize and protect. This lush body cream has all three!
---
12

Crabtree & Evelyn Milk, Soy & Sugar Body Lotion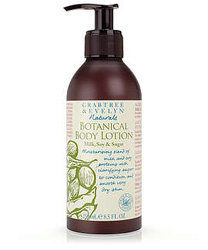 Price: $16 at crabtree-evelyn.com
With tons of natural ingredients, like milk protein, soybean oil, Amazon cupuaçu butter, macadamia seed oil, and bamboo this light-weight lotion is perfect for soothing and protecting even the driest of winter skin!
With all these lush body creams, butters, and lotions to protect and soothe my skin, I'm almost looking forward to winter weather! What's your favorite product to soothe your dry skin? Please let me know, so I can add it to my winter weather shopping list! Thanks!
More
Comments
Popular
Recent