It's always a good idea to have a big bin stuffed with crafting supplies for rainy days or any day your kids complain that they're bored. I keep a plastic bin on a shelf in the closet with all kinds of recycled items, like empty paper towel rolls and buttons, along with stuff we've bought so my little one always has something to keep her occupied. Not sure what to buy for your kid's craft bin? Here are some tried-and-true suggestions…
---
1

Tiny Acrylic Pom-poms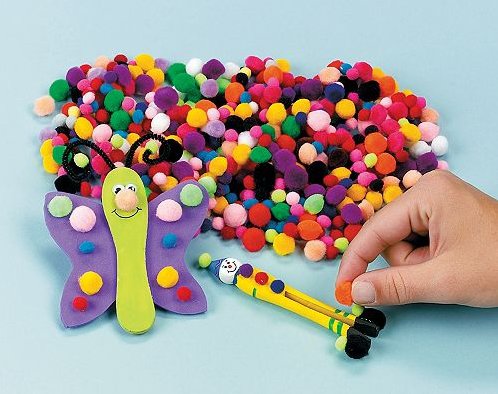 Price: $3.99 at orientaltrading.com
Stick them on paper plates, foam shapes, clothespins, and just about every other craft project your children will ever do! They're small, only ¼ to ½ inch each, in loads of bright colors, and even some black! This bag contains 500 little puffballs, which ought to be enough to keep your little ones in business for at least a few weeks. Maybe, you could join your kid for some added fun!
---
2

Flower Jewels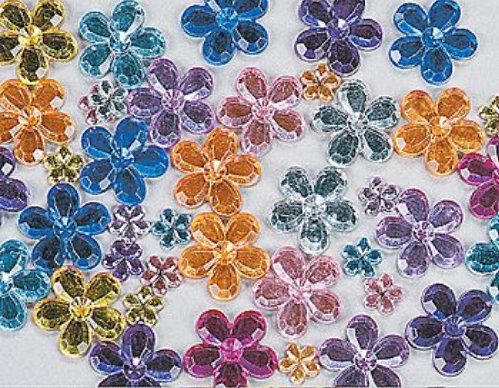 Price: $3.99 at orientaltrading.com
A tiny bit of glue on the back, and these will add a little spring-time sparkle to any crafting project! Make photo frames, hair clips, and more. This bag contains 150 flowers in various sizes and colors, with one tin rhinestone in the middle, and five pretty flower petals.
---
3

Self-Adhesive Jewels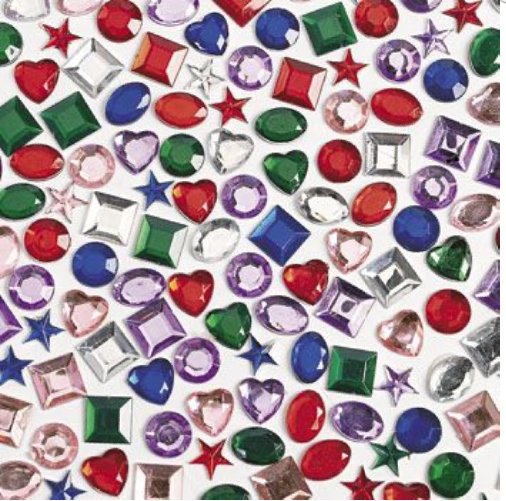 Price: $7.99 at orientaltrading.com
So convenient! You don't have to spend any time of effort applying glue, or cleaning it up later — these sparkly little gems are self-adhesive! Stick on anything for an extra gleam, like sunglasses, gift bags, notebooks… the possibilities are endless! Each bag contains squares, hearts, stars, circles, and ovals in various sizes and colors.
---
4

Self-Adhesive Foam Letters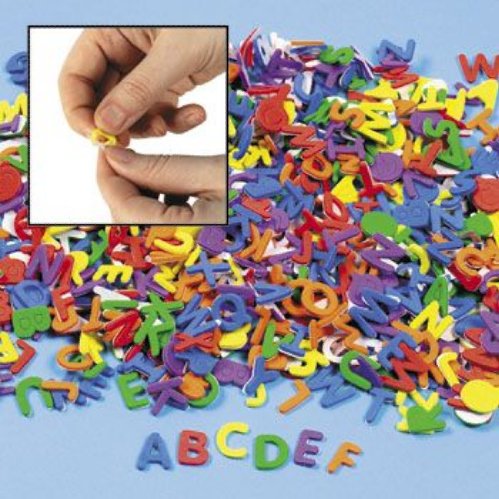 Price: $4.99 at orientaltrading.com
These half-inch foam letters are self-adhesive for personalizing any craft project! This big bag contains 40 of each letter in six bright, vibrant colors! Stick on notebooks, door hangers, photo frames, fun posters and so much more!
---
5

Bright Rainbow Craft Buttons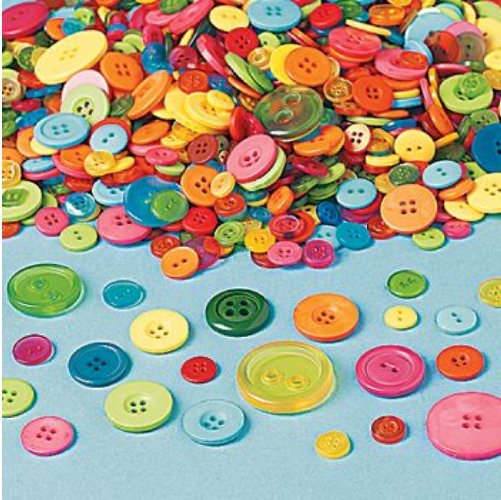 Price: $5.99 at orientaltrading.com
So many pretty, colorful buttons, so many craft projects! String them to make stylish necklaces, use them to embellish scrapbook pages, or add them to a sewing craft. Each bag contains 800 buttons from ¼ to 1½ inches in a rainbow of colors.
---
6

Large Geometric Self-Adhesive Foam Shapes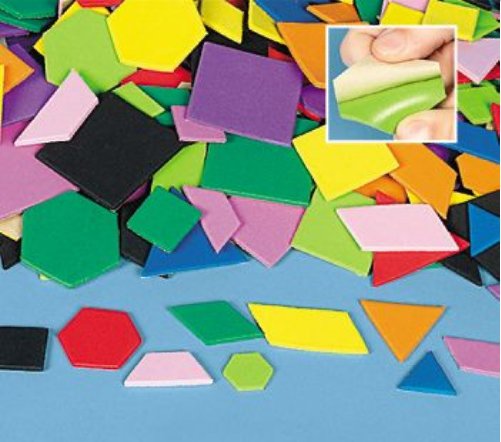 Price: $7.99 at orientaltrading.com
Make collages, mosaics, customize notebook covers, scrapbook pages, or magnets with these colorful self-stick shapes. Each bag contains 1,000 pieces in all sizes, shapes, and colors. Stack them together for a multi-dimensional project, or make a puzzle with them!
---
7

Mega Craft Shapes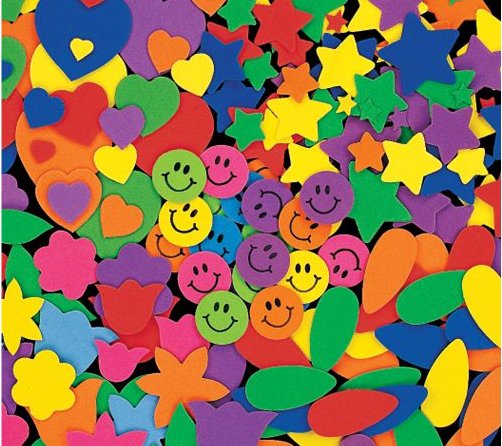 Price: $9.99 at orientaltrading.com
Shapes, shapes, everywhere! Hearts, stars, ovals, flowers, smiley faces, and so many other crafty shapes! Best of all, they're self-adhesive, so there's no messing with tapes, dots or glue. Just peel and stick for any little craft project.
---
8

Opaque Pony Beads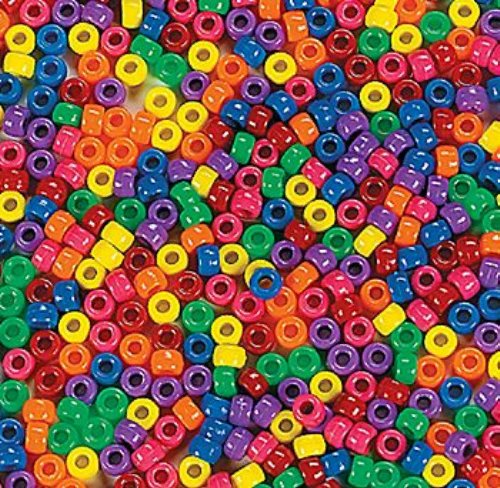 Price: $6.99 at orientaltrading.com
My little one is obsessed with making her own jewelry — necklaces, cool bracelets, key rings, you name it! This handy little bag of beads contains everything she needs to keep her occupied, and happy, for hours! Each bag contains 2,000 plastic beads in a rainbow of bright colors.
---
9

Totally Terrific Tipped Laces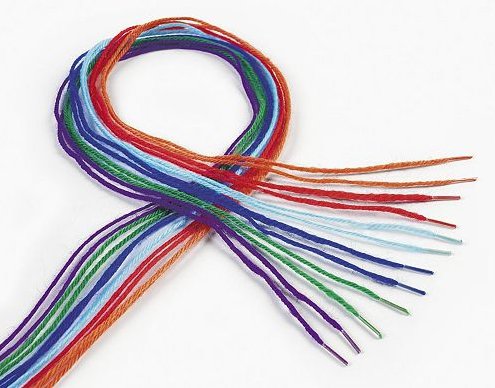 Price: $4.99 at orientaltrading.com
And what better way to make your own jewelry than with these cleverly tipped laces? They're 36" long, certainly long enough to bead, tie, and slip over a child's head. They come in a variety of colors and each has a handy plastic tip at the end to make stringing easy!
---
10

Bright Glitter Glue Pens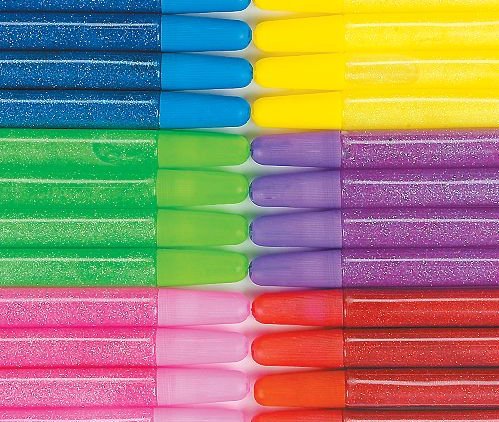 Price: $6.49 at orientaltrading.com
Do you need glue, and want glitter? Use these no-mess glitter glue pens and get both at once! Each set contains four each of pink, red, purple, green, yellow, and blue, and all are non-toxic. Personalize and glitter-ize endless crafting projects with ease!
I promise if you keep all this stuff on hand, your little ones will never complain of boredom again! Plus you might end up with lots of hand-crafted items your kids can give as gifts to Grandma and Auntie! Which of these goodies do you keep in your kid's craft bin? And what else do you keep in there? Please share!
Top Photo Credit: Trisha Brink Design
More
Comments
Popular
Recent