Gone are the days when knitting consisted of mums making school cardigans in vile colours for their kids. Now, you can buy a vast range of yarns, with so many colours and textures that a crafter is spoiled for choice. So, if you love crochet or knitting, why not see what you can do with some of these fabulous balls of wool?
---
1

Angel's Recycled Sari Silk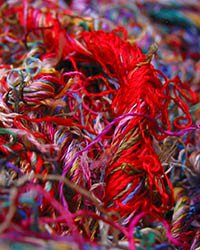 Price: £6.95 at angelyarns.com
Certainly not cheap, but what gorgeous colours! You could really make a fabulous, unique garment with this range of 8 colours – a scarf or poncho would look stunning. What's more, the yarn is fair trade and, because it is made from recycled fabric, each skein is different.
---
2

Angel Angora 4 Ply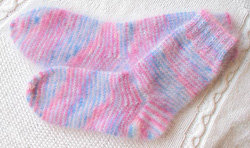 Price: £16.95 at angelyarns.com
Do you love soft, fluffy fabric? Then make yourself something from this gorgeous angora yarn. It's especially good for sensitive skins, and they promise that 'no bunnies are harmed'!
3

Wendy Cosmic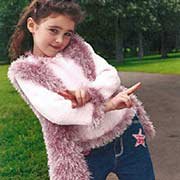 Price: £1.73 at angelyarns.com
Wendy is a well-known brand among knitters, and is a reliable brand for plainer yarns. However, they also come up with some stunning and unusual textures like this 'long-haired' yarn with a furry look when knitted up. Love it!
---
4

Jaeger Celeste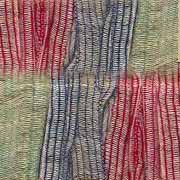 Price: £4.95 at angelyarns.com
Wow – I don't know how to describe this, you'll have to look for yourself! It almost has a look of fabric, which could be due to the part-linen content. Some nice colours, too.
---
5

Noro Aurora Wool Mix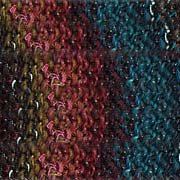 Price: £7.50 at angelyarns.com
Another stunner! This wool is hand-dyed, so no two balls will look the same. It also contains silk and mohair, for a beautiful silky texture. You could make the most amazing sweater with this.
---
6

Silk Yarn with Feathers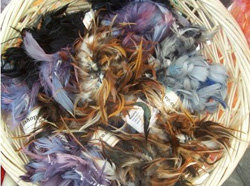 Price: £7.99 at knitshop.co.uk
Probably one for experienced knitters only, but this is just amazing! It contains real feathers mixed in with the silk yarn. I've never seen anything like it! Best avoid if you have cats though (budgies and canaries might also get a bit worried).
---
7

Chinese Silk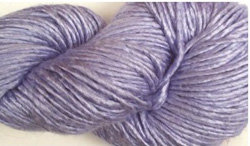 Price: £11.89 at knitshop.co.uk
I like this yarn for the amazing selection of colours. Greens, browns, wine, red, purples … beautiful colours and 100% silk. I can only imagine what I could make with this... but it will be lush for sure!
---
8

Simple Bag Kit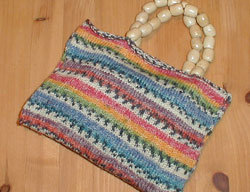 Price: £6.13 at fleming.flump.net
Now here's a great idea for beginners. Everything you need to make a colourful little bag is included in this well-priced little kit. It comes with yarn, beads for the handle, pattern, lining fabric, and even the needles.
---
9

Mou Ness Homegrown Pure Shetland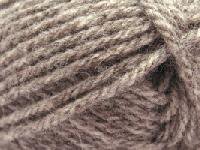 Price: £3.50 at simplywool.com
Made from the manufacturer's very own sheep, this yarn comes in four natural colours. If you need a nice chunky sweater to keep you warm in winter, this would be perfect. I love it!
---
10

Bergere De France Chantilly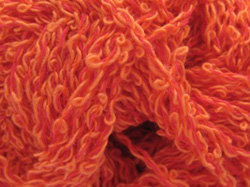 Price: £0.75 at simplywool.com
Wouldn't this make a lovely light summery top! I prefer the paler shade, but the orange is very eye-catching. Cotton with a boucle finish would give an interesting texture. This would look so pretty with gold shot through it.
I hope you're inspired to check out some of the yarns in your local shops and on the internet! Why not get out your needles and start knitting or crocheting, so that you can make something completely unique. Who wants to look like everyone else? Which of these yarns do you like best, and what would you make with it?
---
Popular
Related
Recent