While I'm definitely a fan of handing out candy at Halloween, sometimes I'll add a little something extra to my trick-or-treat bowl, so long after the sugar buzz has worn off, those sweet little princesses and darling little pirates will have something fun to do to celebrate the holiday. I love adding a little craft kit to their trick-or-treat bags, and Oriental Trading Company offers dozens of fantastic Halloween craft kits, all individually packaged and ready to hand out! Here are my picks for 7 great Halloween craft kits for kids. They're great for Halloween play-dates and parties, too!
---
1

Candy Corn Magnet Craft Kit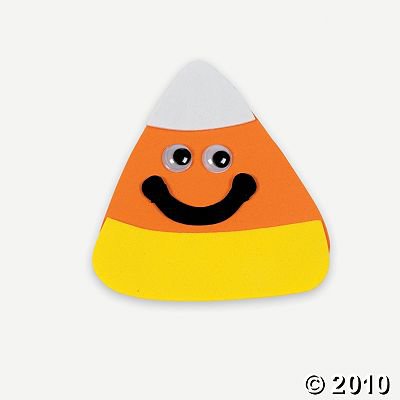 Price: $3.99 for 12 at orientaltrading.com
This little guy is great for younger kids who just can't handle the complex or more detailed crafts. It's only meant for kids who are aged 3 and up, though, since it does have small pieces that pose a choking hazard, but for kids who are a bit older than that, it's perfect!
---
2

"2010" Halloween Photo Frame Magnet Craft Kit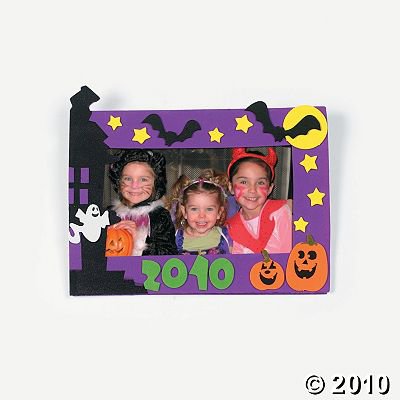 Price: $6.99 for 12 at orientaltrading.com
If you're hosting a Halloween party or play-date, this simple, colorful craft would be a great way to spend a half-hour and commemorate the occasion! Take a photo of the kids, then let them all decorate a frame for their own copy of the print.
3

Monster Mask Craft Kit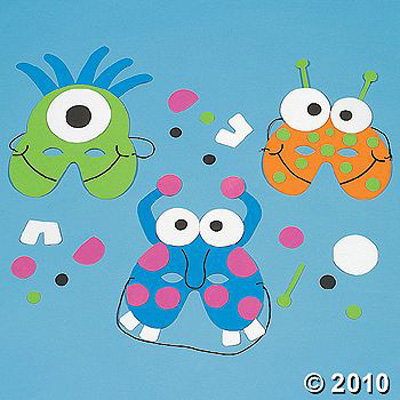 Price: $5.99 for 12 at orientaltrading.com
Why is it that so many craft kits are designed for girls, but so few are geared to boys? This one is great for both, because what little kid, girl or boy, wouldn't love to be a monster for a little while? The kits include one each of these three adorable monsters.
---
4

Beaded Jack-O'-Lantern Charm Pin Craft Kit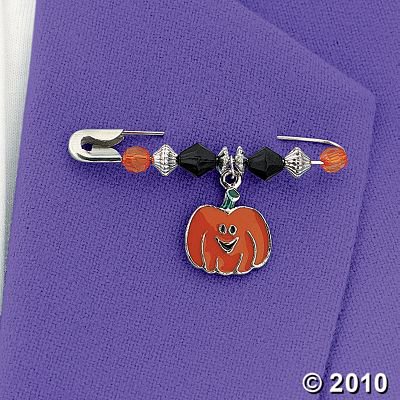 Price: $4.99 for 12 at orientaltrading.com
This Halloween craft kit is one of my favorites because when the kids are done making the craft, they have a gift they can give to a favorite auntie or even their teacher! The kit contains everything kids will need to make a pretty lapel pin featuring a perky little pumpkin.
---
5

Candy Pumpkin Bracelet Craft Kit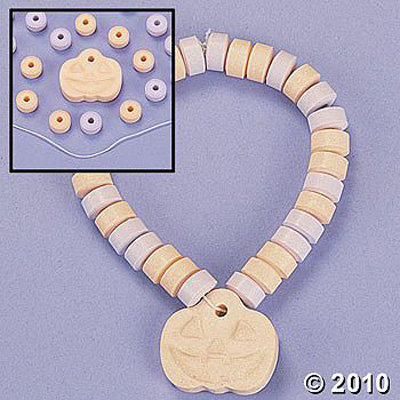 Price: $4.99 for 12 at orientaltrading.com
Here's another craft kit that gives the kids something to do once they're done making it — they can eat it! Each kit contains the ingredients to make one colorful, tasty little candy bracelet.
---
6

Color Your Own! Fuzzy Halloween Magnets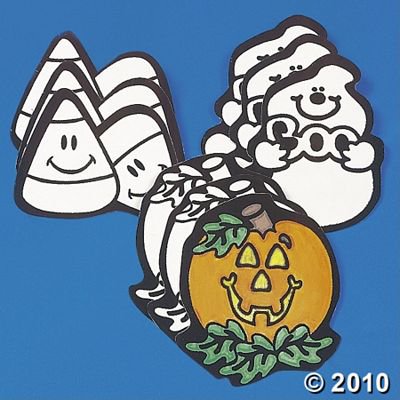 Price: $3.99 for 12 at orientaltrading.com
This craft is so much fun for little kids! They get to color their little magnet before they hang it on the fridge, and the velvety bits make it easy to stay in the lines. Each set of kits has three designs to choose from, and they're all so cute… I love the little ghost!
---
7

Foam Halloween Bookmark Magnet Craft Kit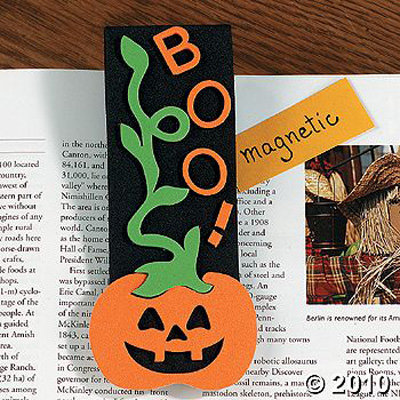 Price: $4.99 for 12 at orientaltrading.com
This is a great kit for kids doing a craft at a library or school, because it encourages a little extra reading. But this bookmark has an advantage over others — it's also magnetic and super-cute! It measures 5 inches long when complete.
So whether you're hosting a Halloween play-date or party, or you just want to hand out something other than candy to your little trick-or-treaters, these Halloween crafts are sure to make all of your little ghouls happy! Which of these craft kits do you think would be a big hit? Please let me know!
---
Comments
Popular
Related
Recent