It's that time of year again ladies. That's right, Summer. And with the change in weather and increase in sunshine, we get back our floral scents, floral skirts and floral accessories. The following are the best of the best when it comes to floral accessories that you just have to have!
1

Forever 21 Triple Row Flower Necklace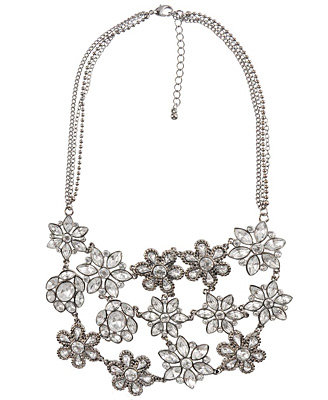 Price: $19.80 at forever21.com
It may not seem very summery with it's dark metal and crystal, but it's perfect for dressing up your neck on a cool summer night. Or, pair it with a white v-neck and a denim mini considering denim is delightful and so in right now.
2

Forever 21 Tiered Jeweled Flower Ring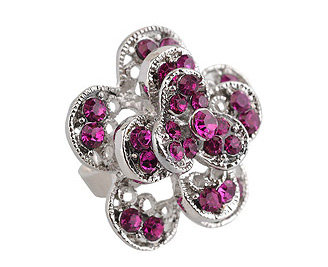 Price: $4.80 at forever21.com
For under $5 you really can't go wrong with this ring. It's got just enough color to make it pop without making your hand look like an exploded rhinestone factory. It really is the perfect finishing touch to any outfit. I can see myself wearing it with a fabulous cocktail dress.
3

Juicy Couture Long Floral Necklace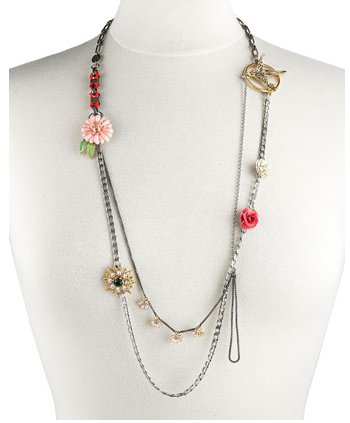 Price: $118 at neimanmarcus.com
I absolutely love this necklace. You really can pair it with anything. An adorable little summer dress? Absolutely! A cute pair of denim shorts and a tank top? Absolutely! It's the perfect length and has just enough pop to make your neck stand out!
4

Roberto Coin Flower Necklace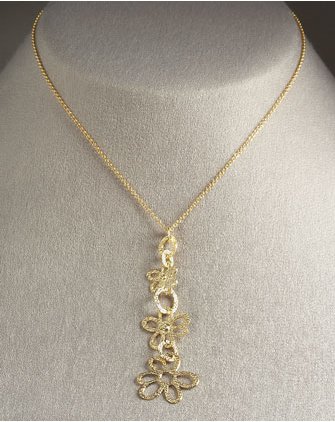 Price: $720 at neimanmarcus.com
Just imagine how beautiful and dainty this little necklace will look on your neck! The necklace itself is all about tiny imperfections and uniqueness, the flowers are all slightly out of proportion and they all have a bumpy braided look if you look really closely. It really is a beautiful accessory for spring!
5

Juicy Couture Flower Hoop Earrings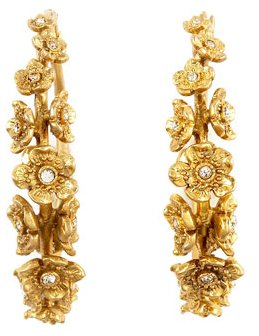 Price: $68 at neimanmarcus.com
Juicy Couture is really just pumping us with cute flower accessories this season! These cute little hoops are totally adorable and summery! Picture you hosting a little dinner party, sipping wine on the patio with these hanging from your ears, you'll be the envy of the earring party!
6

Kate Spade Triple Floral Drop Earrings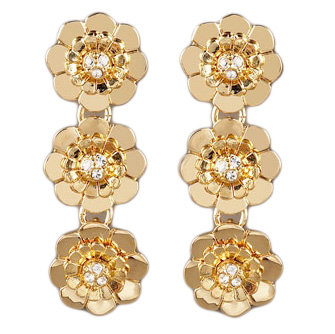 Price: $75 at neimanmarcus.com
These three little disc flowers are the total package, the draw the eye, they dangle just the right amount and they're Kate Spade! Really, you can't go wrong with these! Pair this awesome pair of spring accessories with a darling dress and some cute spring shoes!
7

Charlotte Russe Floral Print Cuff Bracelet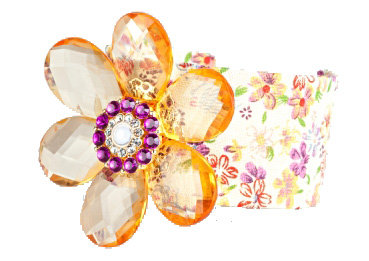 Price: $7.50 at charlotterusse.com
This is by far the youngest and cutest accessory on this list! The band is totally adorable with the little floral detail and the big flower although plastic doesn't look cheap at all! It's absolutely positively worth the $7.50!
Well ladies, I think I've shown you enough floral accessories for you to have a couple of new ideas! How do you feel about my picks? Do you have anything to add? Let me know down below!