The 1930s were a time of frilly feminine fashions, all in the details, like lace, buttons, and the like. If you love the look, you might be finding it difficult to find pieces that you can identify as 30s-inspired to add to your wardrobe… some look too 20s, some are too 40s… but I can help! Here are 7 ways to incorporate distinctly 1930s fashion to your look!
1

Ring of Desire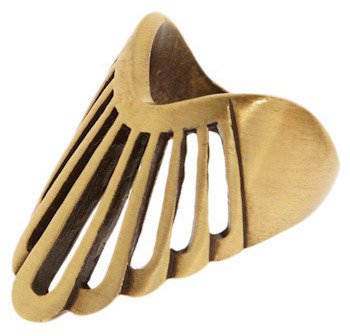 Price: $12.99 at modcloth.com
This beautiful brass ring is deco-inspired, ideal for adding just a touch of 1930s appeal to your wardrobe. I'd wear this with a slinky LBD and a tiny, shiny clutch, or with skinny jeans and a loose tunic. It's available in a size 7 or 8, which ought to fit most women.
2

Croquet Champ Top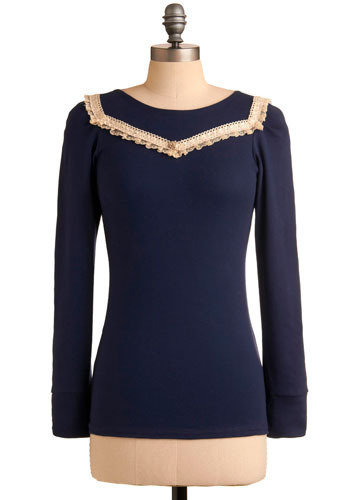 Price: $52.99 at modcloth.com
What a sweet blueberry-colored top! It's made by Jam, and features dainty detailing at the yoke, along with a pretty bow. I'd wear this with an a-line skirt, patterned tights, and vintage-inspired heeled oxfords to complete the look.
3

Gal Capone Hat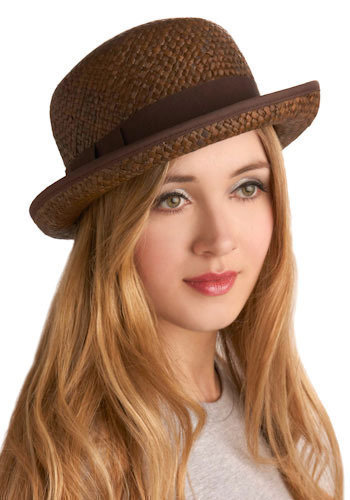 Price: $39.99 at modcloth.com
There are so many ways to wear this adorable straw bowler, you'll soon find it to be a wardrobe staple, worked into the rotation at least once a week. Wear it with tweedy high-waisted trousers and a plain white blouse, or with a vintage-inspired floral-print frock and patent Mary Janes.
4

Merrily Moonstruck Top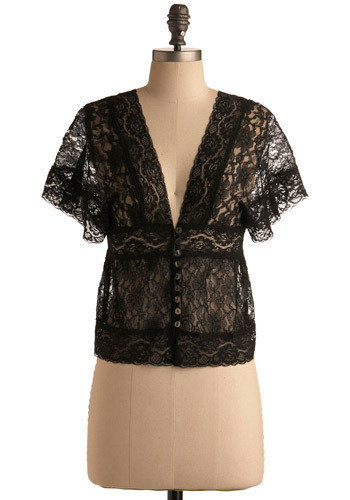 Price: $37.99 at modcloth.com
This gorgeous black lace top is an ideal layering piece, perfect for adding just a little vintage charm to any ensemble. Wear it over a corset or under a cardi, over a sundress or under a blazer… the possibilities are endless! I adore its fluttery, feminine shaping!
5

Let There Be Delight Shoe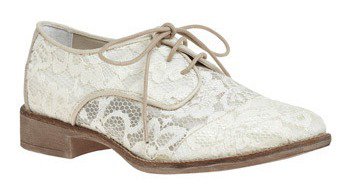 Price: $129.99 at modcloth.com
What pretty little oxfords! They're designed by Boutique 9 and feature creamy white lace, contrasting piping and laces, a modest one-inch heel, and classic oxford styling. Pair with soft anklets and a below-the-knee skirt, or with skinny jeans and a sequined top.
6

Bluegrass Singer Top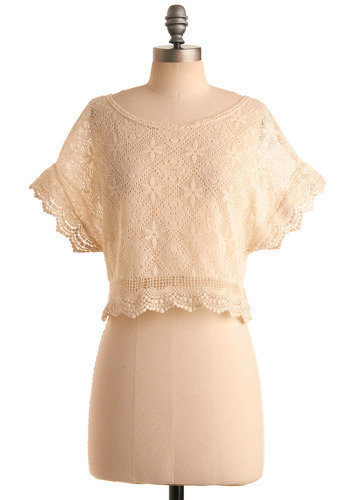 Price: $34.99 at modcloth.com
This ivory lace top is loose and lovely, ideal for layering over an LBD or under a blazer. The lace has a delicate diamond pattern with a sweet flower in the center of each, and a scalloped hem and sleeves. Wouldn't this look gorgeous with a long-line gold necklace, too?
7

White Chocolate Truffle Dress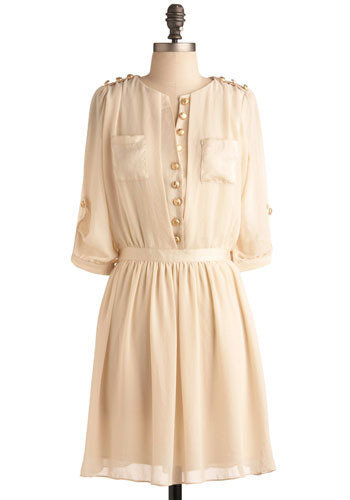 Price: $134.99 at modcloth.com
This knee-skimming dress is all 1930s, with its soft satiny fabric and row of gold foil buttons down the front and along the epaulets. The color is so neutral, but gorgeous, complimenting your peaches and cream complexion. Pair with patent heels, slinky chandelier earrings, and a faux fur wrap for a night on the town.
Any or all of these marvelous pieces would be ideal for adding the pretty 1930s look to your wardrobe… I adore the straw hat, and that last dress is so gorgeous! Which of these pieces do you like best, and what would you wear it with? Do tell!